I started playing pokemon with blue and played through to sapphire before I got bored with the games. I finally came back to pokemon last year and after discovering competitive battling found out that my old buddy venusaur was doing pretty well for himself. I knew I had to build a team around him so it had to be a sun team. However I'm sure there are huge holes in the team so any advice is welcome.
Team building:
...
In depth look
Venusaur-Sun Sweeper
Venusaur @ Life Orb
Trait: Chlorophyll
EVs: 252 Spd / 252 SAtk / 4 HP
Modest Nature
- Growth
- Giga Drain
- Hidden Power [Fire]
- Sludge Bomb
The pokemon this team was built around. He's always been a favourite and under the sun he becomes a powerful sweeper. I went with the standard special growth set to maximise his power and speed. Growth as the best set up move, giga drain over solar beam as a healing method as well as doing a lot of damage, hidden power fire to tackle any steel types that would resist his grass or poison moves and sludge bomb as a reliable stab.
Ninetales- Sun Starter
Ninetales @ Leftovers
Trait: Drought
EVs: 252 SAtk / 4 SDef / 252 Spd
Timid Nature
- SolarBeam
- Sunny Day
- Fire Blast
- Will-O-Wisp
Obviously for venusaur to function I needed a drought ninetales. I went with the special attacker set. Solarbeam to counter politoad and tyranitar, sunny day as a way to counter other weather users, fire blast as a powerful stab and will-o-wisp to shut down opposing physical walls. But really ninetales is just there to set up the weather the team needs.
Donphan- Spinner
Donphan @ Leftovers
Trait: Sturdy
EVs: 252 HP / 252 Atk / 4 Spd
Adamant Nature
- Rapid Spin
- Earthquake
- Ice Shard
- Stealth Rock
I wanted a pokemon that could remove entry hazards from the field and donphan seemed like a good choice. I went with the offensive set. Earthquake is obviously a good reliable stab, ice shard as a dragon/flying counter backup for mamoswine. His main job is still to remove hazards and set up stealth rock.
Victini- Physical Attacker
Victini @ Choice Scarf
Trait: Victory Star
EVs: 252 Atk / 4 Def / 252 Spd
Adamant Nature
- V-create
- Bolt Strike
- U-turn
- Trick
I wanted a strong physical attacker and with donphan removing entry hazards victini seemed like a good choice. V-create obviously does its job of bringing down opposing physical walls such as skarmory, bolt strike to try and counter bulky water opponents and brick break as a tyranitar counter.
Mamoswine- Dragon buster
Mamoswine @ Life Orb
Trait: Thick Fat
EVs: 252 Atk / 252 Spd / 4 HP
Adamant Nature
- Ice Shard
- Icicle Crash
- Earthquake
- Stone Edge
I needed a dragon/flying counter and mamoswine seemed to fit that role well while being able to function under the rare hail. Icicle crash and earthquake are there are good stab attacks while ice shard can handle some difficult pokemon like breloom and latios. The maximum attack and speed evs allow these moves to hit hard and fast.
Rotom-w- Water counter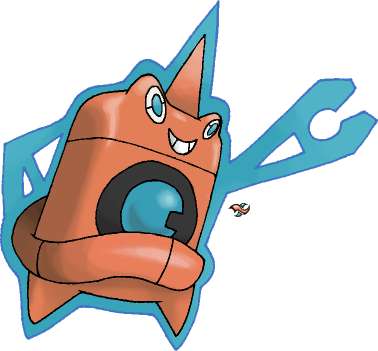 Rotom-Wash @ Leftovers
Trait: Levitate
EVs: 232 HP / 68 SAtk / 208 Spe
- Volt Switch
- Hydro Pump
- Will-O-Wisp
- Thunderbolt
The one member of the team I'm really unsure about. I wanted a pokemon that would be a good counter to water teams. With thunderbolt and volt switch he can do that and hydro pump provides a reliable stab while will-o-wisp can shut down physical attackers. He also makes for a good counter against steel types with will-o-wisp.
I would appreciate any advice you can give. The only team member that I really want to stay is venusaur and by default ninetales so any other changes would be welcome.