Smogon Premier League Season 1 - Statistics Thread [Update Coming Soon!]
So I decided to type up the stats of each team/player up to our current point - The wins/losses of each player and who they won/lost against during which week. That type of stuff. I'll do my best to keep the thread updated frequently for those who find this information useful or interesting.
***NEW AGAIN***
http://tinyurl.com/29emofp
Those are the overall player stats sortable by wins in each tier, decisions, and some more little things.


NOTE 1:
Traded players and received players are placed under separate lists in each team listing. The "Received Players" section provides the players' SPL stats and details. The "Traded Players" section simple tells you to look under the player's new team listing for their current details. This is to prevent confusion when a player has been listed to have won/lost against an opponent under one team name when he/she has been traded to another team (aka, I can't be assed to go through all those sections just to say "this person fought this match for this team, but has been traded to another team").
NOTE 2:
Some wins/losses are determined by player inactivity. The details in this post DO NOT account for that fact. If you haven't cross-referenced the data yourself, you may only assume that each match that wasn't declared a tie has been played out.
***NEW***
I've added in new sections which show win/loss details for each team

by generation

. You can now quickly view how well a team has done in a certain metagame
by scrolling down to these sections. I'll be updating these parts at the end of the week instead of frequently like I do with the Team Stats. Check it out.
This season is currently
Finished
! Congratulations to
THE INDIE SCOOTERS
!!!
And now, without further ado:
Team Stats
Code:
The Alpha Ruiners (4 - 2)
   Wins:
     - Week 2 vs Les Trous du Cul Elegants (5 wins, 3 losses)
     - Week 3 vs The Firebot Charmanders (5 wins, 2 losses, 1 tie)
     - Week 4 vs The Wifi Wolfpack (7 wins, 1 loss)
     - Play-offs - Semi Finals vs The Circus Maximus Tigers ( 6 wins, 1 loss)
   Losses:
     - Week 9 vs The Circus Maximus Tigers (3 wins , 5 losses)
     - Play-offs - Finals  vs The Indie Scooters ( 2 wins, 5 losses)
   Ties:
     - Week 1 vs The Ever Grande BIGS
     - Week 5 vs Smogon's Greatest Brits
     - Week 6 vs The Cryonicles
     - Week 7 vs The Congregation of the Classiest
     - Week 8 vs The Indie Scooters

*Points: 11
*Total Battle Wins: 39
*Total Battle Losses: 30
*BD: +9
*Current Ranking: 3rd


Player Stats:

_mind_ / mind (4 - 3)
Bid: 8,500 Credits
Metagames: DPP UU, DPP OU, DPP Ubers
   Wins:
     - Week 1 vs Maniaclyrasist (The Ever Grande BIGS) - DPP Ubers
     - Week 2 vs locopoke (Les Trous du Cul Elegants) - DPP Ubers
     - Week 4 vs reachzero (The Wifi Wolfpack) - DPP Ubers
     - Week 9 vs tito (The Circus Maximus Tigers) - DPP Ubers
   Losses:
     - Week 5 vs Megan_Fox (Smogon's Greatest Brits) - DPP Ubers
     - Week 6 vs DarkLucario (The Cryonicles) - DPP Ubers
     - Week 7 vs kd24 (The Congregation of the Classiest) - DPP Ubers
   Ties:
     - Week 3 vs Blue_Tornado (The Firebot Charmanders) - DPP Ubers
     - Week 8 vs Jibaku (The Indie Scooters) - DPP Ubers

_Rewer_ / Rewer (1 - 3)
Bid: 3,500 Credits
Metagames: RBY OU, ADV OU, DPP OU, DPP Ubers
   Wins:
     - Play-offs - Semi Finals vs Tito (Circus Maximus Tigers) - DPP Ubers
   Losses:
     - Week 1 vs vashta (The Ever grande BIGS) - DPP OU
     - Week 8 vs Atticus (The Indie Scooters) - DPP OU
     - Play-offs - Final vs Jibaku (The Indie Scooters) - DPP Ubers

Aldaron (8 - 2)
Bid: 12,000 Credits
Metagames: DPP UU
   Wins:
     - Week 1 vs LonelyNess (The Ever Grande BIGS) - DPP UU
     - Week 2 vs HR. (Les Trous du Cul Elegants) - DPP UU
     - Week 3 vs Minato (The Firebot Charmanders) - DPP UU
     - Week 4 vs Heysup (The Wifi Wolfpack) - DPP UU
     - Week 6 vs Stallion (The Cryonicles) - DPP UU
     - Week 7 vs Eo Ut Mortus (The Congregation of the Classiest) - DPP UU
     - Week 8 vs Folgorio (The Indie Scooters) - DPP UU
     - Play-offs - Semi Finals vs  Bluewind (The Circus Maximus Tigers ) - DPP UU
   Losses:
     - Week 5 vs Twist of Fate (Smogon's Greatest Brits) - DPP UU
     - Week 9 vs Bluewind (The Circus Maximus Tigers ) - DPP UU

brksocsc (0 - 2)
Bid: 3,000 Credits
Metagames: DPP OU, DPP Ubers
   Wins:
     - N/A
   Losses:
     - Week 1 vs Stone_Cold22 (The Ever Grande BIGS) - DPP OU
     - Week 6 vs Kinneas (The Cryonicles) - DPP OU

by.Flash / xianglongfa (0 - 2)
Bid: 6,000 Credits
Metagames: DPP UU, DPP Ubers
   Wins:
     - N/A
   Losses:
     - Week 1 vs Zak91 (The Ever Grande BIGS) - DPP OU
     - Week 2 vs M Dragon (Les Trous du Cul Elegants) - DPP OU

Duskie (2 - 5)
Bid: 3,000 Credits
Metagames: DPP OU
   Wins:
     - Week 4 vs Phyres (The Wifi Wolfpack) - DPP OU
     - Week 5 vs Philip7086 (Smogon's Greatest Brits) - DPP OU
   Losses:
     - Week 6 vs romeojustdie (The Cryonicles) - DPP OU
     - Week 7 vs Reverb (The Congregation of the Classiest) - DPP OU
     - Week 9 vs hanke (The Circus Maximus Tigers) - DPP OU
     - Play-offs - Semi Finals vs Philip7086 (The Circus Maximus Tigers) - DPP OU
     - Play-offs - Finals vs Gouki (The Indie Scooters) - DPP OU

HSA (0 - 1)
Bid: 3,000 Credits
Metagames: DPP UU, DPP Ubers
   Wins:
     - N/A
   Losses:
     Week 9 vs macle (The Circus Maximus Tigers) - DPP OU

IronBullet (0 - 0)
Bid: 3,000 Credits
Metagames: DPP OU, DPP Ubers
   Wins:
     - N/A
   Losses:
     - N/A

Jira (3 - 1)
Bid: 4,000 Credits
Metagames: RBY OU, GSC OU, ADV OU
   Wins:
     - Week 2 vs Thorns (Les Trous du Cul Elegants) - ADV OU
     - Week 3 vs Floppy (The Firebot Charmanders) - RBY OU
     - Week 9 vs CaptKirby (The Circus Maximus Tigers) - GSC OU
   Losses:
     - Week 5 vs spies (Smogon's Greatest Brits) - RBY OU

Junioritos / Junior (1 - 2)
Bid: 6,000 Credits
Metagames: ADV OU, DPP OU
   Wins:
     - Week 1 vs dbolt (The Ever Grande BIGS) - RBY OU
   Losses:
     - Week 2 vs zerowing (Les Trous du Cul Elegants) - RBY OU
     - Week 4 vs Jackal (The Wifi Wolfpack) - RBY OU

kael (2 - 2)
Bid: 3,000 Credits
Metagames: GSC OU, ADV OU, DPP OU
   Wins:
     - Week 4 vs homsar (The Wifi Wolfpack) - ADV OU
     - Week 8 vs husk (The Indie Scooters) - DPP OU
   Losses:
     - Week 9 vs GigaPunch  (The Circus Maximus Tigers) -GSC OU
     - Play-offs -  Finals vs G80 (The Indie Scooters) - ADV OU

LiNaInVeRsE (0 - 2)
Bid: 5,000 Credits
Metagames: DPP OU, DPP Ubers
   Wins:
     - N/A
   Losses:
     - Week 3 vs Arin (The Firebot Charmanders) - DPP OU
     - Week 7 vs Lady Bug (The Congregation of the Classiest) - DPP OU

Loki (6 - 4)
Bid: 25,000 Credits
Metagames: RBY OU, GSC OU, ADV OU, DPP UU, DPP OU, DPP Ubers
   Wins:
     - Week 3 vs wraith (The Firebot Charmanders) - ADV OU
     - Week 4 vs Mizuno (The Wifi Wolfpack) - DPP OU
     - Week 6 vs Aeolus (The Cryonicles) - ADV OU
     - Week 7 vs goofball (The Congregation of the Classiest) - ADV OU
     - Play-offs - Semi Finals vs hanke (The Circus Maximus Tigers) - DPP OU
     - Play-offs - Finals vs apologies (The Indie Scooters) - DPP OU
   Losses:
     - Week 1 vs JabbaTheGriffin (The Ever Grande BIGS) - ADV OU
     - Week 2 vs ENZ0 (Les Trous du Cul Elegants) - DPP OU
     - Week 5 vs Krack (Smogon's Greatest Brits) - DPP OU
     - Week 9 vs Kevin Garrett (The Circus Maximus Tigers) - DPP OU
   Ties:
     - Week 8 vs Gouki (The Indie Scooters) - DPP OU

Mechazawa (6 - 2)
Bid: 3,500 Credits
Metagames: DPP OU
   Wins:
     - Week 3 vs Plus (The Firebot Charmanders) - DPP OU
     - Week 4 vs Blue Kirby (The Wifi Wolfpack) - DPP OU
     - Week 5 vs Nachos (Smogon's Greatest Brits) - DPP OU
     - Week 6 vs Taylor (The Cryonicles) - DPP OU
     - Week 7 vs Mien. (The Congregation of the Classiest) - DPP OU
     - Play-offs - Semi Finals vs Kevin Garrett ( The Circus Maximus Tigers) -DPP OU
   Losses:
     - Week 8 vs apologies (The Indie Scooters) - DPP OU
     - Play-offs -  Finals vs Atticus (The Indie Scooters) - DPP OU

Sk (8 - 2)
Bid: 7,000 Credits
Metagames: RBY OU, GSC OU, ADV OU, DPP UU, DPP OU
   Wins:
     - Week 1 vs imperfectluck (The Ever Grande Bigs) - GSC OU
     - Week 2 vs GARLIC (Les Trou du Cul Elegants) - GSC OU
     - Week 3 vs MoP (The Firebot Charmanders) - GSC OU
     - Week 4 vs VIL (The Wifi Wolfpack) - GSC OU
     - Week 5 vs Lesm46 (Smogon's Greatest Brits) - GSC OU
     - Week 6 vs gotei(13) hyorinmaru (The Cryonicles) - GSC OU
     - Play-offs - Semi Finals vs CaptKirby (The Circus Maximus Tigers) - GSC OU
     - Play-offs - Finals vs Mr.E (The Indie Scooter) - GSC OU
   Losses:
     - Week 7 vs FM (The Congregation of the Classiest) - GSC OU
     - Week 8 vs Mr.E (The Indie Scooters) - GSC OU

The Chaser (6 - 3)
Bid: 3,500 Credits
Metagames: DPP UU, DPP OU, DPP Ubers
   Wins:
     - Week 2 vs Earthworm (Les Trous du Cul Elegants) - DPP OU
     - Week 5 vs Havak (Smogon's Greatest Brits) - ADV OU
     - Week 7 vs TTS (The Congregation of the Classiest) - RBY OU
     - Week 8 vs G80 (The Indie Scooters) - RBY OU
     - Week 9 vs Pirotechnix (The Circus Maximus Tigers) - RBY OU
     - Play-offs - Semi Finals vs  Pirotechnix (The Circus Maximus Tigers) - RBY OU
   Losses:
     - Week 3 vs 6A9 Ace Matador (The Firebot Charmanders) - DPP OU
     - Week 6 vs Shiv (The Cryonicles) - RBY OU
     - Play-offs - Finals vs husk (The Indie Scooter) - RBY OU
Generation Stats
Code:
DPP OU (12 - 20)
   Wins:
     - Week 2 vs Les Trous du Cul Elegants (The Chaser vs Earthworm)
     - Week 3 vs The Firebot Charmanders (Mechazawa vs Plus)
     - Week 4 vs The Wifi Wolfpack (Mechazawa vs Blue Kirby)
     - Week 4 vs The Wifi Wolfpack (Duskie vs Phyres)
     - Week 4 vs The Wifi Wolfpack (Loki vs Mizuno)
     - Week 5 vs Smogon's Greatest Brits (Duskie vs Philip7086)
     - Week 5 vs Smogon's Greatest Brits (Mechazawa vs Nachos)
     - Week 6 vs The Cryonicles (Mechazawa vs Taylor)
     - Week 7 vs The Congregation of the Classiest (Mechazawa vs Mien.)
     - Play-offs - Semi Finals vs The Circus Maximus Tigers (Mechazawa vs Kevin Garrett)
     - Play-offs - Semi Finals vs The Circus Maximus Tigers (Loki vs hanke)
     - Play-offs -Finals vs The Indie Scooters ( Loki vs apologies)

   Losses:
     - Week 1 vs The Ever Grande BIGS (by.Flash vs Zak91)
     - Week 1 vs The Ever Grande BIGS (brksocsc vs Stone_Cold22)
     - Week 1 vs The Ever Grande BIGS (_Rewer_ vs vashta)
     - Week 2 vs Les Trous du Cul Elegants (by.Flash vs M Dragon)
     - Week 2 vs Les Trous du Cul Elegants (Loki vs ENZ0)
     - Week 3 vs The Firebot Charmanders (The Chaser vs 6A9 Ace Matador)
     - Week 3 vs The Firebot Charmanders (LiNaInVeRsE vs Arin)
     - Week 5 vs Smogon's Greatest Brits (Loki vs Krack)
     - Week 6 vs The Cryonicles (Duskie vs romeojustdie)
     - Week 6 vs The Cryonicles (brksocsc vs Kinneas)
     - Week 7 vs The Congregation of the Classiest (LinaInVerse vs Lady Bug)
     - Week 7 vs The Congregation of the Classiest (Duskie vs Reverb)
     - Week 8 vs The Indie Scooters (_rewer_ vs Atticus)
     - Week 8 vs The Indie Scooters (Mechazawa vs apologies)
     - Week 9 vs The Circus Maximus Tigers ( Duskie vs hanke)
     - Week 9 vs The Circus Maximus Tigers (HSA vs macle)
     - Week 9 vs The Circus Maximus Tigers (Loki vs Kevin Garrett)
     - Play-offs - Semi Final vs The Circus Maximus Tigers (Duskie vs Philip7086)
     - Play-offs - Finals vs The Indie Scooters (Duskie vs Gouki)
     - Play-offs - Finals vs The Indie Scooters (Mechazawa vs Atticus)
   Ties:
     - Week 8 vs The Indie Scooters (Loki vs Gouki)

[B]Used Players:[/B] _Rewer_, by.Flash, brksocsc, Duskie, LiNaInVeRsE,  Loki, Mechazawa, The Chaser
[B]MVP:[/B] Mechazawa


DPP Ubers (5 - 4)
   Wins:
     - Week 1 vs The Ever Grande BIGS (_mind_ vs Maniaclyrasist)
     - Week 2 vs Les Trous du Cul Elegants (_mind_ vs locopoke)
     - Week 4 vs The Wifi Wolfpack (_mind_ vs reachzero)
     - Week 9 vs The Circus Maximus Tigers (_mind_ vs tito)
     - Play-offs - Semi Finals  vs The Circus Maximus Tigers (Rewer vs Tito)
   Losses:
     - Week 5 vs Smogon's Greatest Brits (_mind_ vs Megan_Fox)
     - Week 6 vs The Cryonicles (_mind_ vs DarkLucario)
     - Week 7 vs The Congregation of the Classiest (_mind_ vs kd24)
     - Play-offs - Finals vs The Indie Scooters (Rewer vs Jibaku)
   Ties:
     - Week 3 vs The Firebot Charmanders (_mind_ vs Blue Tornado)
     - Week 8 vs The Indie Scooters (_mind_ vs Jibaku)

[B]Used Players:[/B] _mind_


DPP UU (8 - 2)
   Wins:
     - Week 1 vs The Ever Grande BIGS (Aldaron vs LonelyNess)
     - Week 2 vs Les Trous du Cul Elegants (Aldaron vs HR.)
     - Week 3 vs The Firebot Charmanders (Aldaron vs Minato)
     - Week 4 vs The Wifi Wolfpack (Aldaron vs Heysup)
     - Week 6 vs The Cryonicles (Aldaron vs Stallion)
     - Week 7 vs The Congregation of the Classiest (Aldaron vs Eo Ut Mortus)
     - Week 8 vs The Indie Scooters (Aldaron vs Folgorio)
     - Play-offs - Semi Finals  vs The Circus Maximus Tigers (Aldaron vs Bluewind)
   Losses:
     - Week 5 vs Smogon's Greatest Brits (Aldaron vs Twist of Fate)
     - Week 9 vs The Circus Maximus Tigers (Aldaron vs Bluewind)

[B]Used Players:[/B] Aldaron


ADV OU (7 - 3)
   Wins:
     - Week 2 vs Les Trous du Cul Elegants (Jira vs Thorns)
     - Week 3 vs The Firebot Charmanders (Loki vs wraith)
     - Week 4 vs The Wifi Wolfpack (kael vs homsar)
     - Week 5 vs Smogon's Greatest Brits (The Chaser vs Havak)
     - Week 6 vs The Cryonicles (Loki vs Aeolus)
     - Week 7 vs The Congregation of the Classiest (Loki vs goofball)
     - Week 8 vs The Indie Scooters (kael vs husk)
   Losses:
     - Week 1 vs The Ever Grande BIGS (Loki vs JabbaTheGriffin)
     - Week 9 vs The Circus Maximus Tigers (kael vs GigaPunch) 
     - Play-offs -  Finals  vs The Indie Scooters (kael vs G80)


[B]Used Players:[/B] Jira, kael, Loki
[B]MVP:[/B] Loki


GSC OU (9 - 2)
   Wins:
     - Week 1 vs The Ever Grande BIGS (Sk vs imperfectluck)
     - Week 2 vs Les Trous du Cul Elegants (Sk vs GARLIC)
     - Week 3 vs The Firebot Charmanders (Sk vs MoP)
     - Week 4 vs The Wifi Wolfpack (Sk vs Veteran In Love)
     - Week 5 vs Smogon's Greatest Brits (Sk vs Lesm46)
     - Week 6 vs The Cryonicles (Sk vs gotei(13) hyorinmaru)
     - Week 9 vs The Circus Maximus Tigers (Jira vs CaptKirby)
     - Play-offs - Semi Finals  vs The Circus Maximus Tigers (Sk vs CaptKirby)
     - Play-offs Finals vs The Indie Scooters (Sk vs Mr.E
   Losses:
     - Week 7 vs The Congregation of the Classiest (Sk vs FM)
     - Week 8 vs The Indie Scooters (Sk vs Mr.E)
    

[B]Used Players:[/B]Jira, Sk
[b]MVP:[b]Sk


RBY OU (6 - 5)
   Wins:
     - Week 1 vs The Ever Grande BIGS (junior vs dbolt)
     - Week 3 vs The Firebot Charmanders (Jira vs Floppy)
     - Week 7 vs The Congregation of the Classiest (The Chaser vs TTS)
     - Week 8 vs The Indie Scooters (The Chaser vs G80)
     - Week 9 vs The Circus Maximus Tigers  (The Chaser vs Pirotechnix)
     - Play-offs - Semi Finals vs The Circus Maximus Tigers ( The Chaser vs Pirotechnix)
   Losses:
     - Week 2 vs Les Trous du Cul Elegants (junior vs zerowing)
     - Week 4 vs The Wifi Wolfpack (junior vs Jackal)
     - Week 5 vs Smogon's Greatest Brits (Jira vs spies)
     - Week 6 vs The Cryonicles (The Chaser vs Shiv)
     - Play-offs - Semi Finals vs The Indie Scooters (The Chaser vs husk)

[B]Used Players:[/B] Jira, junior, The Chaser
[b]MVP:] The Chaser
---------------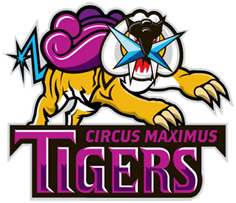 Team Stats
Code:
The Circus Maximus Tigers (6 - 4)
   Wins:
     - Week 1 vs Smogon's Greatest Brits (5 wins, 3 losses)
     - Week 3 vs The Cryonicles (5 wins, 3 losses)
     - Week 5 vs The Congregation of the Classiest (5 wins, 3 losses)
     - Week 6 vs The Wifi Wolfpack (7 wins, 1 loss)
     - Week 7 vs The Indie Scooters (6 wins, 1 loss, 1 tie)
     - Week 9 vs The Alpha Ruiners (5 wins , 3 losses)
   Losses:
     - Week 2 vs The Firebot Charmanders (3 wins, 5 losses)
     - Week 4 vs The Ever Grande BIGS (3 wins, 5 losses)
     - Week 8 vs Les Trous du Cul Elegants (2 wins, 6 losses)
     - Play-offs - Semi Finals  vs The Alpha Ruiners (1 win, 6 losses)
   Ties:
     - N/A

*Points: 10
*Total Battle Wins: 41
*Total Battle Losses: 30
*BD: +11
*Current Ranking: 2nd


Player Stats:

Bluewind (6 - 3)
Bid: 6,765 Credits
Metagames: DPP UU, DPP OU, DPP Ubers
   Wins:
     - Week 1 vs Krack (Smogon's Greatest Brits) - DPP UU
     - Week 3 vs Stallion (The Cryonicles) - DPP UU
     - Week 6 vs Heysup (The Wifi Wolfpack) - DPP UU
     - Week 7 vs Folgorio (The Indie Scooters) - DPP UU
     - Week 8 vs Bad Ass (Les Trous du Cul Elegants) - DPP UU
     - Week 9 vs Aldaron (The Alpha Ruiners) - DPP UU
   Losses:
     - Week 2 vs Minato (The Firebot Charmanders) - DPP UU
     - Week 4 vs LonelyNess (The Ever Grande BIGS) - DPP UU
     - Play-offs - Semi Finals vs Aldaron ( The Alpha Ruiners) - DPP UU

CaptKirby (0 - 4)
Bid: 3,500 Credits
Metagames: RBY OU, GSC OU, ADV OU
   Wins:
     - N/A
   Losses:
     - Week 1 vs Lesm46 (Smogon's Greatest Brits) - GSC OU
     - Week 8 vs zerowing (Les Trous du Cul Elegants) - RBY OU
     - Week 9 vs Jira (The Alpha Ruiners) - GSC OU
     - Play-offs - Semi Finals vs Sk (The Alpha Ruiners) - GSC OU

Delta2777 (2 - 2)
Bid: 4,000 Credits
Metagames: DPP OU, DPP Ubers
   Wins:
     - Week 4 vs Stone_Cold22 (The Ever Grande BIGS) - DPP OU
     - Week 6 vs Phyres (The Wifi Wolfpack)
   Losses:
     - Week 3 vs Blue Kirby (The Cryonicles) - DPP OU
     - Week 5 vs SevenDeadlySins (The Congregation of the Classiest) - DPP OU

Genny (0 - 0)
Bid: 3,000 Credits
Metagames: DPP OU
   Wins:
     - N/A
   Losses:
     - N/A

GigaPunch (3 - 6)
Bid: 17,500 Credits
Metagames: RBY OU, GSC OU, ADV OU, DPP OU
   Wins:
     - Week 3 vs Aeolus (The Cryonicles) - GSC OU
     - Week 5 vs FM (The Congregation of the Classiest) - GSC OU
     - Week 9 vs kael ( The Alpha Ruiners) -ADV OU
   Losses:
     - Week 1 vs Havak (Smogon's Greatest Brits) - ADV OU
     - Week 2 vs MoP (The Firebot Charmanders) - GSC OU
     - Week 4 vs dbolt (The Ever Grande BIGS) - GSC OU
     - Week 6 vs Veteran In Love (The Wifi Wolfpack) - GSC OU
     - Week 7 vs Mr.E (The Indie Scooters) - GSC OU
     - Week 8 vs Sapientia (Les Trous du Cul Elegants) - ADV OU

hanke (4 - 5)
Bid: 5,000 Credits
Metagames: ADV OU, DPP UU, DPP OU
   Wins:
     - Week 1 vs Megan_Fox (Smogon's Greatest Brits) - DPP OU
     - Week 3 vs SilentEcho (The Cryonicles) - DPP OU
     - Week 6 vs Blue Kirby (The Wifi Wolfpack) - DPP OU
     - Week 9 vs Duskie (The Alpha Ruiners) -DPP OU
   Losses:
     - Week 2 vs Plus (The Firebot Charmanders) - DPP OU
     - Week 4 vs Zak91 (The Ever Grande BIGS) - DPP OU
     - Week 5 vs Lady Bug (The Congregation of the Classiest) - DPP OU
     - Week 8 vs Earthworm (Les Trous du Cul Elegants) - DPP OU
     - Play-offs - Semi Finals vs Loki (The Alpha Ruiners) - DPP OU
   Ties:
     - Week 7 vs husk (The Indie Scooters) - DPP OU

macle (1 - 0)
Bid: 3,000 Credits
Metagames: DPP UU, DPP OU, DPP Ubers
   Wins:
     - Week 9 vs HSA (The Alpha Ruiners) -DPP OU
   Losses:
     - N/A

Pirotechnix / Pyrotechnix (6 - 4)
Bid: 5,000 Credits
Metagames: RBY OU, GSC OU, ADV OU
   Wins:
     - Week 1 vs spies (Smogon's Greatest Brits) - RBY OU
     - Week 2 vs Floppy (The Firebot Charmanders) - RBY OU
     - Week 3 vs Shiv (The Cryonicles) - RBY OU
     - Week 5 vs TTS (The Congregation of the Classiest) - RBY OU
     - Week 6 vs Jackal (The Wifi Wolfpack) - RBY OU
     - Week 7 vs JMC (The Indie Scooters) - RBY OU
   Losses:
     - Week 4 vs imperfectluck (The Ever Grande BIGS) - RBY OU
     - Week 8 vs Umby (Les Trous du Cul Elegants) - GSC OU
     - Week 9 vs The Chaser (The Alpha Ruiners) - RBY OU
     - Play-offs - Semi Finals vs The Chaser ( The Alpha Ruiners) - RBY OU

RT. (0 - 0)
Bid: 7,000 Credits
Metagames: DPP OU, DPP Ubers
   Wins:
     - N/A
   Losses:
     - N/A

slobroking / sbk (6 - 0)
Bid: 5,000 Credits
Metagames: ADV OU, DPP OU
   Wins:
     - Week 2 vs wraith (The Firebot Charmanders) - ADV OU
     - Week 3 vs Taylor (The Cryonicles) - ADV OU
     - Week 4 vs JabbaTheGriffin (The Ever Grande BIGS) - ADV OU
     - Week 5 vs goofball (The Congregation of the Classiest) - ADV OU
     - Week 6 vs homsar (The Wifi Wolfpack) - ADV OU
     - Week 7 vs G80 (The Indie Scooters) - ADV OU
   Losses:
     - N/A

tito (6 - 4)
Bid: 5,000 Credits
Metagames: DPP OU, DPP Ubers
   Wins:
     - Week 1 vs Kevin Garrett (Smogon's Greatest Brits) - DPP Ubers
     - Week 2 vs Blue_Tornado (The Firebot Charmanders) - DPP Ubers
     - Week 4 vs Maniaclyrasist (The Ever Grande BIGS) - DPP Ubers
     - Week 5 vs _Flygon_ (The Congregation of the Classiest) - DPP Ubers
     - Week 6 vs reachzero (The Wifi Wolfpack) - DPP Ubers
     - Week 7 vs Jibaku (The Indie Scooters) - DPP Ubers
   Losses:
     - Week 3 vs DarkLucario (The Cryonicles) - DPP Ubers
     - Week 8 vs locopoke (Les Trous du Cul Elegants) - DPP Ubers
     - Week 9 vs  mind (The Alpha Ruiners) - DPP Ubers
     - Play-offs - Semi Finals vs Rewer (The Alpha Ruiners) - DPP Ubers

undisput3d (1 - 0)
Bid: 3,000 Credits
Metagames: DPP UU, DPP OU
   Wins:
     - Week 5 vs Reverb (The Congregation of the Classiest) - DPP OU
   Losses:
     - N/A



Traded Players:

Mizuno
     Traded to The Wifi Wolfpack during Week 3.

panamaxis
     Traded to Smogon's Greatest Brits during Week 6

reyscarface
     Traded to Smogon's Greatest Brits during Week 6



Received Players:

Abutorn (1 - 1)
Original Team: The Wifi Wolfpack
Bid: 3,000 Credits
Metagames: DPP UU, DPP OU, DPP Ubers
Traded with j.franky to The Circus Maximus Tigers for Mizuno during Week 3.

Previous Record with The Wifi Wolfpack (1 - 1)
   Wins:
     - Week 3 vs vashta (The Ever Grande BIGS) - DPP OU
   Losses:
     - Week 2 vs Gouki (The Indie Scooters) - DPP OU

Current Record (0 - 0)
   Wins:
      - N/A
    Losses:
      - N/A


j.franky / franky(1 - 1)
Original Team: The Wifi Wolfpack
Bid: 3,500 Credits
Metagames: DPP UU, DPP OU
Traded with Abutorn to The Circus Maximus Tigers for Mizuno during Week 3.
  
Previous Record with The Wifi Wolfpack (0 - 0)
 Wins:
     - N/A
   Losses:
     - N/A

Current Record (0 - 1)
 Wins:
      - Week 6 vs Mizuno (The Wifi Wolfpack) - DPP OU
    Losses:
      - Week 5 vs Eo Ut Mortus (The Congregation of the Classiest) - DPP UU


Kevin Garrett (3 - 4)
Original Team: Smogon's Greatest Brits
Bid: 13,000 Credits
Metagames: DPP UU, DPP OU, DPP Ubers
Traded with Philip7086 to The Circus Maximus Tigers for panamaxis and reyscarface during Week 6.

Previous Record with Smogon's Greatest Brits (1 - 2)
   Wins:
     - Week 2 vs Stone_Cold22 (The Ever Grande BIGS) - DPP OU
   Losses:
     - Week 1 vs tito (The Circus Maximus Tigers) - DPP Uber
     - Week 4 vs SevenDeadlySins (The Congregation of the Classiest) -  DPP OU

Current Record (2 - 2)
  Wins:
     - Week 7 vs Atticus (The Indie Scooters) - DPP OU
     - Week 9 vs Loki (The Alpha Ruiners) -DPP OU
   Losses:
     - Week 8 vs ENZ0 (Les Trous du Cul Elegants) - DPP OU 
     - Play-offs - Semi Finals vs Mechazawa (The Alpha Ruiners)

Philip7086 (4 - 3)
Original Team: Smogon's Greatest Brits
Bid: 10,000 Credits
Metagames: DPP OU
Traded with Kevin Garret to The Circus Maximus Tigers for panamaxis and reyscarface during Week 6.

Previous Record with Smogon's Greatest Brtis (1 - 3)
   Wins:
     - Week 2 vs imperfectluck (The Ever Grande BIGS) - DPP OU
   Losses:
     - Week 1 vs reyscarface (the Circus Maximus Tigers) - DPP OU
     - Week 3 vs husk (The Indie Scooters) - DPP OU
     - Week 5 vs Duskie (The Alpha Ruiners) - DPP OU

Current Record (3 - 0)
  Wins:
      - Week 7 vs Gouki (The Indie Scooters) - DPP OU
      - Week 8 vs M Dragon (Les Trous du Cul Elegants) - DPP OU
      - Play-offs - Semi Finals vs Duskie (The Alpha Ruiners) - DPP OU
    Losses:
      - N/A
Generation Stats
Code:
DPP OU (15 - 14)
   Wins:
     - Week 1 vs Smogon's Greatest Brits (reyscarface vs Philip7086)
     - Week 1 vs Smogon's Greatest Brits (hanke vs Megan Fox)
     - Week 3 vs The Cryonicles (hanke vs SilentEcho)
     - Week 4 vs The Ever Grande BIGS (Delta2777 vs Stone_Cold22)
     - Week 5 vs The Congregation of the Classiest (undisput3d vs Reverb)
     - Week 6 vs The Wifi Wolfpack (j.franky vs Mizuno)
     - Week 6 vs The Wifi Wolfpack (hanke vs Blue Kirby)
     - Week 6 vs The Wifi Wolfpack (Delta2777 vs Phyres)
     - Week 7 vs The Indie Scooters (Philip7086 vs Gouki)
     - Week 7 vs The Indie Scooters (Kevin Garrett vs Atticus)
     - Week 8 vs Les Trous du Cul Elegants (Philip7086 vs M Dragon)
     - Week 9 vs The Alpha Ruiners (hanke vs Duskie)
     - Week 9 vs The Alpha Ruiners (macle vs HSA)
     - Week 9 vs The Alpha Ruiners (Kevin Garrett vs Loki)
     - Play-offs - Semi Finals vs The Alpha Ruiners (Philip7086 vs Duskie)
   Losses:
     - Week 1 vs Smogon's Greatest Brits (panamaxis vs Nachos)
     - Week 2 vs The Firebot Charmanders (hanke vs Plus)
     - Week 2 vs The Firebot Charmanders (panamaxis vs Arin)
     - Week 2 vs The Firebot Charmanders (reyscarface vs 6A9 Ace Matador)
     - Week 3 vs The Cryonicles (panamaxis vs romeojustdie)
     - Week 3 vs The Cryonicles (Delta2777 vs Blue Kirby)
     - Week 4 vs The Ever Grande BIGS (hanke vs Zak91)
     - Week 4 vs The Ever Grande BIGS (panamaxis vs vashta)
     - Week 5 vs The Congregation of the Classiest (Delta2777 vs SevenDeadlySins)
     - Week 5 vs The Congregation of the Classiest (hanke vs Lady Bug)
     - Week 8 vs Les Trous du Cul Elegants (hanke vs Earthworm)
     - Week 8 vs Les Trous du Cul Elegants (Kevin Garrett vs ENZ0)
     - Play-offs - Semi Finals vs The Alpha Ruiners ( Kevin Garrett vs Mechazawa)
     - Play-offs - Semi Finals vs The Alpha Ruiners (hanke vs Loki)
   Ties:
     - Week 7 vs The Indie Scooters (hanke vs husk)

[B]Used Players:[/B] Delta2777, hanke, j.franky, panamaxis, reyscarface
[b]MVP:[B] hanke

DPP Ubers (6 - 4)
   Wins:
     - Week 1 vs Smogon's Greatest Brits (tito vs Kevin Garrett)
     - Week 2 vs The Firebot Charmanders (tito vs Blue_Tornado)
     - Week 4 vs The Ever Grande BIGS (tito vs Maniaclyrasist)
     - Week 5 vs The Congregation of the Classiest (tito vs _Flygon_)
     - Week 6 vs The Wifi Wolfpack (tito vs reachzero)
     - Week 7 vs The Indie Scooters (tito vs Jibaku)
   Losses:
     - Week 3 vs The Cryonicles (tito vs DarkLucario)
     - Week 8 vs Les Trous du Cul Elegants (tito vs locopoke)
     - Week 9 vs The Alpha Ruiners (tito vs mind)
     - Play-offs - Semi Finals vs (tito vs Rewer)
[B]Used Players:[/B] tito


DPP UU (6 - 4)
   Wins:
     - Week 1 vs Smogon's Greatest Brits (Bluewind vs Krack)
     - Week 3 vs The Cryonicles (Bluewind vs Stallion)
     - Week 6 vs The Wifi Wolfpack (Bluewind vs Heysup)
     - Week 7 vs The Indie Scooters (Bluewind vs Folgorio)
     - Week 8 vs Les Trous du Cul Elegants (Bluewind vs Bad Ass)
     - Week 9 vs The Alpha Ruiners (Bluewind vs Aldaron)
   Losses:
     - Week 2 vs The Firebot Charmanders (Bluewind vs Minato)
     - Week 4 vs The Ever Grande BIGS (Bluewind vs LonelyNess
     - Week 5 vs The Congregation of the Classiest (j.franky vs Eo Ut Mortus)
     - Play-offs - Semi Finals vs The Alpha Ruiners (Bluewind vs Aldaron)

[B]Used Players:[/B] Bluewind, j.franky
[B]MVP:[/B] Bluewind


ADV OU (7- 2)
   Wins:
     - Week 2 vs The Firebot Charmanders (Slobroking vs wraith)
     - Week 3 vs The Cryonicles (Slobroking vs Taylor)
     - Week 4 vs The Ever Grande BIGS (Slobroking vs JabbaTheGriffin)
     - Week 5 vs The Congregation of the Classiest (Slobroking vs goofball)
     - Week 6 vs The Wifi Wolfpack (Slobroking vs homsar)
     - Week 7 vs The Indie Scooters (Slobroking vs G80)
     - Week 9 vs The Alpha Ruiners (GigaPunch vs kael)
   Losses:
     - Week 1 vs Smogon's Greatest Brits (GigaPunch vs Havak)
     - Week 8 vs Les Trous du Cul Elegants (GigaPunch vs Sapientia)

[B]Used Players:[/B] GigaPunch, Slobroking
[B]MVP:[/B] Slobroking


GSC OU (2 - 8)
   Wins:
     - Week 3 vs The Cryonicles (GigaPunch vs Aeolus)
     - Week 5 vs The Congregation of the Classiest (GigaPunch vs FM)
   Losses:
     - Week 1 vs Smogon's Greatest Brits (CaptKirby vs Lesm46)
     - Week 2 vs The Firebot Charmanders (GigaPunch vs MoP)
     - Week 4 vs The Ever Grande BIGS (GigaPunch vs dbolt)
     - Week 6 vs The Wifi Wolfpack (GigaPunch vs VIL)
     - Week 7 vs The Indie Scooters (GigaPunch vs Mr.E)
     - Week 8 vs Les Trous du Cul Elegants (Pirotechnix vs Umby)
     - Week 9 vs The Alpha Ruiners (CaptKirby vs Jira)
     - Play-offs - Semi Finals vs The Alpha Ruiners (CaptKirby vs Sk)

[B]Used Players:[/B] CaptKirby, GigaPunch
[B]MVP:[/B] GigaPunch


RBY OU (6 - 4)
   Wins:
     - Week 1 vs Smogon's Greatest Brits (Pirotechnix vs spies)
     - Week 2 vs The Firebot Charmanders (Pirotechnix vs Floppy)
     - Week 3 vs The Cryonicles (Pirotechnix vs Shiv)
     - Week 5 vs The Congregation of the Classiest (Pirotechnix vs TTS)
     - Week 6 vs The Wifi Wolfpack (Pirotechnix vs Jackal)
     - Week 7 vs The Indie Scooters (Pirotechnix vs JMC)
   Losses:
     - Week 4 vs The Ever Grande BIGS (Pirotechnix vs imperfectluck)
     - Week 8 vs Les Trous du Cul Elegants (CaptKirby vs zerowing)
     - Week 9 vs The Alpha Ruiners (Pirotechnix vs The Chaser)
     - Play-offs - Semi Finals vs The Alpha Ruiners (Pirotechnix vs The Chaser)

[B]Used Players:[/B] CaptKirby,Pirotechnix
[B]MVP:[B]Pirotechnix
---------------
Team Stats
Code:
The Congregation of the Classiest (3 - 3)
   Wins:
     - Week 1 vs The Indie Scooters (5 wins, 3 losses)
     - Week 3 vs Les Trous du Cul Elegants (8 wins, 0 losses)
     - Week 8 vs The Firebot Charmanders (5 wins, 3 losses)
   Losses:
     - Week 2 vs The Cryonicles (1 win, 5 losses, 2 ties)
     - Week 5 vs The Circus Maximus Tigers (3 wins, 5 losses)
     - Week 6 vs The Ever Grande BIGS (3 wins, 4 losses, 1 tie)
   Ties:
     - Week 4 vs Smogon's Greatest Brits
     - Week 7 vs The Alpha Ruiners

*Points: 8
*Total Battle Wins: 36
*Total Battle Losses: 33
*BD: +3
*Current Ranking: 7th


Player Stats:

_Flygon_ (0 - 1)
Bid: 10,000 Credits
Metagames: RBY OU, ADV OU, DPP UU, DPP OU, DPP Ubers
   Wins:
     - N/A
   Losses:
     - Week 5 vs tito (The Circus Maximus Tigers) - DPP Ubers

Deep Thought (3 - 3)
Bid: 4,000 Credits
Metagames: DPP OU, DPP Ubers
   Wins:
     - Week 1 vs Jibaku (The Indie Scooters) - DPP Ubers
     - Week 3 vs dragon9owns (Les Trous du Cul Elegants) - DPP Ubers
     - Week 8 vs LinIsKorean (The Firebot Charmanders) - DPP Ubers
   Losses:
     - Week 2 vs DarkLucario (The Cryonicles) - DPP Ubers
     - Week 4 vs Megan_Fox (Smogon's Greatest Brits) - DPP Ubers
     - Week 9 vs Pirikia  (The Wifi Wolfpack) - DPP  Ubers

Eo Ut Mortus (7 - 2)
Bid: 8,000 Credits
Metagames: DPP UU, DPP OU
   Wins:
     - Week 1 vs Folgorio (The Indie Scooters) - DPP UU
     - Week 2 vs Stallion (The Cryonicles) - DPP UU
     - Week 3 vs Bad Ass (Les Trous du Cul Elegants) - DPP UU
     - Week 4 vs Twist of Fate (Smogon's Greatest Brits) - DPP UU
     - Week 5 vs j.franky (The Circus Maximus TigerS) - DPP UU
     - Week 6 vs LonelyNess (The Ever Grande BIGS) - DPP UU
     - Week 9 vs Mizuno (The Wifi Wolfpack) - DPP UU
   Losses:
     - Week 7 vs Aldaron (The Alpha Ruiners) - DPP UU
     - Week 8 vs 6A9 Ace Matador (The Firebot Charmanders) - DPP UU

FM (5 - 3)
Bid: 11,000 Credits
Metagames: RBY OU, GSC OU, ADV OU, DPP UU, DPP OU, DPP Ubers
   Wins:
     - Week 3 vs Chomper the Sharptooth (Les Trous du Cul Elegants) - GSC OU
     - Week 6 vs Maniaclyrasist (The Ever Grande BIGS) - DPP Ubers
     - Week 7 vs Sk (The Alpha Ruiners) - GSC OU
     - Week 8 vs MoP (The Firebot Charmanders) - GSC OU
     - Week 9 vs Vil (The Wifi Wolfpack) - GSC OU
   Losses:
     - Week 2 vs Aeolus (The Cryoncles) - GSC OU
     - Week 4 vs Lesm46 (Smogon's Greatest Brits) - GSC OU
     - Week 5 vs GigaPunch (The Circus Maximus Tigers) - GSC OU

goofball (4 - 2)
Bid: 18,500 Credits
Metagames: RBY OU, GSC OU, ADV OU, DPP UU, DPP OU, DPP Ubers
   Wins:
     - Week 1 vs G80 (The Indie Scooters) - ADV OU
     - Week 3 vs Sapientia (Les Trous du Cul Elegants) - ADV OU
     - Week 4 vs Nachos (Smogon's Greatest Brits) - ADV OU
     - Week 8 vs imperfectluck (The Firebot Charmanders) - ADV OU
   Losses:
     - Week 5 vs Slobroking (The Circus Maximus Tigers) - ADV OU
     - Week 7 vs Loki (The Alpha Ruiners) - ADV OU
   Ties:
     - Week 2 vs Taylor (The Cryonicles) - ADV OU
     - Week 6 vs JabbaTheGriffin (The Ever Grande BIGS) - ADV OU
     - Week 9 vs homsar (The Wifi Wolfpack) -ADV OU

kd24 (1 - 1)
Bid: 3,000 Credits
Metagames: DPP UU, DPP OU, DPP Ubers
   Wins:
     - Week 7 vs mind (The Alpha Ruiners) - DPP Ubers
   Losses:
     - Week 9 vs reachzero (The Wifi Wolfpack) - DPP Ubers

Lady Bug (7 - 1)
Bid: 9,000 Credits
Metagames: DPP OU, DPP Ubers
   Wins:
     - Week 1 vs Atticus (The Indie Scooters) - DPP OU
     - Week 3 vs Earthworm (Les Trous du Cul Elegants) - DPP OU
     - Week 4 vs Pride (Smogon's Greatest Brits) - DPP OU
     - Week 5 vs hanke (The Circus Maximus Tigers) - DPP OU
     - Week 6 vs Stone_Cold22 (The Ever Grande BIGS) - DPP OU
     - Week 7 vs LiNaInVeRsE (The Alpha Ruiners) - DPP OU
     - Week 8 vs Plus (The Firebot Charmanders) - DPP OU
   Losses:
     - Week 2 vs romeojustdie (The Cryonicles) - DPP OU

Mien. (1 - 3)
Bid: 5,000 Credits
Metagames: DPP OU, DPP Ubers
   Wins:
     - Week 3 vs M Dragon (Les Trous du Cul Elegants) - DPP OU
   Losses:
     - Week 6 vs Justinawe (The Ever Grande BIGS) - DPP OU
     - Week 7 vs Mechazawa (The Alpha Ruiners) - DPP OU
     - Week 9 vs Blue Kirby ( The Wifi Wolfpack) - DPP OU

Reverb (2 - 4)
Bid: 4,000 Credits
Metagames: DPP OU
   Wins:
     - Week 3 vs snorlax (Les Trous du Cul Elegants) - DPP OU
     - Week 7 vs Duskie (The Alpha Ruiners) - DPP OU
   Losses:
     - Week 1 vs husk (The Indie Scooters) - DPP OU
     - Week 4 vs Krack (Smogon's Greatest Brits) - DPP OU
     - Week 5 vs undisput3d (The Circus Maximus Tigers) - DPP OU
     - Week 8 vs Arin (The Firebot Charmanders) - DPP OU
   Ties:
     - Week 2 vs Blue Kirby (The Cryonicles) - DPP OU

SevenDeadlySins / SDS (4 - 3)
Bid: 3,000 Credits
Metagames: DPP UU, DPP OU
   Wins:
     - Week 1 vs Gouki (The Indie Scooters) - DPP OU
     - Week 4 vs Kevin Garrett (Smogon's Greatest Brits) - DPP OU
     - Week 5 vs Delta2777 (The Circus Maximus Tigers) - DPP OU
     - Week 9 vs Phyres (The Wifi Wolfpack) -DPP OU
   Losses:
     - Week 2 vs SilentEcho (The Cryonicles) - DPP OU
     - Week 6 vs vashta (The Ever Grande BIGS) - DPP OU
     - Week 8 vs Minato (The Firebot Charmanders) - DPP OU

skarm (0 - 4)
Bid: 9,500 Credits
Metagames: RBY OU, GSC OU, ADV OU, DPP OU
   Wins:
     - N/A
   Losses:
     - Week 1 vs Mr.E (The Indie Scooters) - GSC OU
     - Week 2 vs Shiv (The Cryonicles) - RBY OU
     - Week 6 vs Floppy (The Ever Grande BIGS) - RBY OU
     - Week 9 vs Jackal ( The Wifi Wolfpack) - RBY OU

TTS (2 - 5)
Bid: 3,000 Credits
Metagames: RBY OU, GSC OU, ADV OU, DPP OU
   Wins:
     - Week 3 vs zerowing (Les Trous du Cul Elegants) - RBY OU
     - Week 8 vs Somebody (The Firebot Charmanders) - RBY OU
   Losses:
     - Week 1 vs JMC (The Indie Scooters) - RBY OU
     - Week 4 vs spies (Smogon's Greatest Brits) - RBY OU
     - Week 5 vs Pirotechnix (The Circus Maximus Tigers) - RBY OU
     - Week 6 vs dbolt (The Ever Grande BIGS) - GSC OU
     - Week 7 vs The_Chaser (The Alpha Ruiners) - RBY OU
Generation Stats
Code:
DPP OU (14 - 12)
   Wins:
     - Week 1 vs The Indie Scooters (SevenDeadlySins vs Gouki)
     - Week 1 vs The Indie Scooters (Lady Bug vs Atticus)
     - Week 3 vs Les Trous du Cul Elegants (Mien. vs M Dragon)
     - Week 3 vs Les Trous du Cul Elegants (Reverb vs snorlax)
     - Week 3 vs Les Trous du Cul Elegants (Lady Bug vs Earthworm)
     - Week 4 vs Smogon's Greatest Brits (SevenDeadlySins vs Kevin Garrett)
     - Week 4 vs Smogon's Greatest Brits (Lady Bug vs Pride)
     - Week 5 vs The Circus Maximus Tigers (SevenDeadlySins vs Delta2777)
     - Week 5 vs The Circus Maximus Tigers (Lady Bug vs hanke)
     - Week 6 vs The Ever Grande BIGS (Lady Bug vs Stone_Cold22)
     - Week 7 vs The Alpha Ruiners (Lady Bug vs LiNaInVeRsE)
     - Week 7 vs The Alpha Ruiners (Reverb vs Duskie)
     - Week 8 vs The Firebot Charmanders (Lady Bug vs Plus)
     - Week 9 vs The Wifi Wolfpack (SevenDeadlySins vs Phyres)
   Losses:
     - Week 1 vs The Indie Scooters (Reverb vs husk)
     - Week 2 vs The Cryonicles (Lady Bug vs romeojustdie)
     - Week 2 vs The Cryonicles (SevenDeadlySins vs SilentEcho)
     - Week 4 vs Smogon's Greatest Brits (Reverb vs Krack)
     - Week 5 vs The Circus Maximus Tigers (Reverb vs undisput3d)
     - Week 6 vs The Ever Grande BIGS (Mien. vs Justinawe)
     - Week 6 vs The Ever Grande BIGS (SevenDeadlySins vs vashta)
     - Week 7 vs The Alpha Ruiners (Mien. vs Mechazawa)
     - Week 8 vs The Firebot Charmanders (Arin vs Reverb)
     - Week 8 vs The Firebot Charmanders (Minato vs SevenDeadlySins)
     - Week 9 vs The Wifi Wolfpack (kd24 vs reachzero)
     - Week 9 vs The Wifi Wolfpack  (Mien vs Blue Kirby)
   Ties:
     - Week 2 vs The Cryonicles (Reverb vs Blue Kirby)

[B]Used Players:[/B] SevenDeadlySins, Lady Bug, Mien., Reverb
[B]MVP:[/B] Lady Bug


DPP Ubers (5 - 4)
   Wins:
     - Week 1 vs The Indie Scooters (Deep Thought vs Jibaku)
     - Week 3 vs Les Trous du Cul Elegants (Deep Thought vs dragon9owns)
     - Week 6 vs The Ever Grande BIGS (FM vs Maniaclyrasist)
     - Week 7 vs The Alpha Ruiners (kd24 vs _mind_)
     - Week 8 vs The Firebot Charmanders (Deep Thought vs LinIsKorean)
   Losses:
     - Week 2 vs The Cryonicles (Deep Thought vs DarkLucario)
     - Week 4 vs Smogon's Greatest Brits (Deep Thought vs Megan_Fox)
     - Week 5 vs The Circus Maximus Tigers (_Flygon_ vs tito)
     - Week 9 vs The Wifi Wolfpack (Deep Thought vs Pirikia)

[B]Used Players:[/B] _Flygon_, Deep Thought, FM, kd24
[B]MVP:[/B] Deep Thought


DPP UU (7 - 2)
   Wins:
     - Week 1 vs The Indie Scooters (Eo Ut Mortus vs Folgorio)
     - Week 2 vs The Cryonicles (Eo Ut Mortus vs Stallion)
     - Week 3 vs Les Trous du Cul Elegants (Eo Ut Mortus vs Bad Ass)
     - Week 4 vs Smogon's Greatest Brits (Eo Ut Mortus vs Twist of Fate)
     - Week 5 vs The Circus Maximus Tigers (Eo Ut Mortus vs j.franky)
     - Week 6 vs The Ever Grande BIGS (Eo Ut Mortus vs LonelyNess)
     - Week 9  vs The Wifi Wolfpack ( Eo Ut Mortus vs Mizuno)
   Losses:
     - Week 7 vs The Alpha Ruiners (Eo Ut Mortus vs Aldaron)
     - Week 8 vs The Firebot Charmanders (Eo Ut Mortus vs 6A9 Ace Matador)

[B]Used Players:[/B] Eo Ut Mortus


ADV OU (4 - 2)
   Wins:
     - Week 1 vs The Indie Scooters (goofball vs G80)
     - Week 3 vs Les Trous du Cul Elegants (goofball vs Sapientia)
     - Week 4 vs Smogon's Greatest Brits (goofball vs Nachos)
     - Week 8 vs The Firebot Charmanders (goofball vs imperfectluck)
   Losses:
     - Week 5 vs The Circus Maximus Tigers (goofball vs Slobroking)
     - Week 7 vs The Alpha Ruiners (goofball vs Loki)
   Ties:
     - Week 2 vs The Cryonicles (goofball vs Taylor)
     - Week 6 vs The Ever Grande BIGS (goofball vs JabbaTheGriffin)
     - Week 9 vs The Wifi Wolfpack ( goofball vs homsar)

[B]Used Players:[/B] goofball


GSC OU (4 - 5)
   Wins:
     - Week 3 vs Les Trous du Cul Elegants (FM vs Chomper the Sharptooth)
     - Week 7 vs The Alpha Ruiners (FM vs Sk)
     - Week 8 vs The Firebot Charmanders (FM vs MoP)
     - Week 9 vs The Wifi Wolfpack (FM vs Veteran in Love)
   Losses:
     - Week 1 vs The Indie Scooters (skarm vs Mr.E)
     - Week 2 vs The Cryonicles (FM vs Aeolus)
     - Week 4 vs Smogon's Greatest Brits (FM vs Lesm46)
     - Week 5 vs The Circus Maximus Tigers (FM vs GigaPunch)
     - Week 6 vs The Ever Grande BIGS (TTS vs dbolt)

[B]Used Players:[/B] FM, skarm, TTS
[B]MVP:[/B] FM


RBY OU (2 - 7)
   Wins:
     - Week 3 vs Les Trous du Cul Elegants (TTS vs zerowing)
     - Week 8 vs The Firebot Charmanders (TTS vs Somebody)
   Losses:
     - Week 1 vs The Indie Scooters (TTS vs JMC)
     - Week 2 vs The Cryonicles (skarm vs Shiv)
     - Week 4 vs Smogon's Greatest Brits (TTS vs spies)
     - Week 5 vs The Circus Maximus Tigers (TTS vs Pirotechnix)
     - Week 6 vs The Ever Grande BIGS (skarm vs Floppy)
     - Week 7 vs The Alpha Ruiners (TTS vs The Chaser)
     - Week 9 vs The Wifi Wolfpack (skarm vs Jackal)

[B]Used Players:[/B] skarm, TTS
[B]MVP:[/B] TTS
---------------
Team Stats
Code:
The Cryonicles (6 - 3)
   Wins:
     - Week 1 vs The Wifi Wolfpack (5 wins, 3 losses)
     - Week 2 vs The Congregation of the Classiest (5 wins, 1 loss, 2 ties)
     - Week 4 vs The Firebot Charmanders (6 wins, 2 losses)
     - Week 5 vs The Indie Scooters (5 wins, 3 losses)
     - Week 7 vs Smogon's Greatest Brits (7 wins, 1 loss)
     - Week 9 Les Trous du Cul Elegants ( 5 wins , 3 losses)
   Losses:
     - Week 3 vs The Circus Maximus Tigers (3 wins, 5 losses)
     - Week 8 vs The Ever Grande BIGS (2 wins, 6 losses)
     - Play-offs - Semi Finals vs The Indie Scooters ( 2 wins, 6 losses)
   Ties:
     - Week 6 vs The Alpha Ruiners

*Points: 13
*Total Battle Wins: 41
*Total Battle Losses: 29
*BD: +12
*Current Ranking: 1st


Player Stats:

Aeolus (5 - 5)
Bid: 14,000 Credits
Metagames: RBY OU, ADV OU, DPP OU
   Wins:
     - Week 2 vs FM (The Congregation of the Classiest) - GSC OU
     - Week 4 vs Floppy (The Firebot Charmanders) - ADV OU
     - Week 7 vs Havak (Smogon's Greatest Brits) - ADV OU
     - Week 8 vs JabbaTheGriffin (The Ever Grande BIGS) - ADV OU
     - Week 9 vs Sapientia (Les Trous du Cul Elegants) - ADV OU
   Losses:
     - Week 1 vs gotei(13) hyorinmaru (The Wifi Wolfpack) - GSC OU
     - Week 3 vs GigaPunch (The Circus Maximus Tigers) - GSC OU
     - Week 5 vs G80 (The Indie ScooterS) - ADV OU
     - Week 6 vs Loki (The Alpha Ruiners) - ADV OU
     - Play-offs - Semi Finals  vs G80 (The Indie Scooters) - ADV OU

B-Lulz ( 1 - 1)
Bid: 3,000 Credits
Metagames: DPP UU, DPP OU
   Wins:
    - Week 9 vs HR. (Les Trous du Cul Elegants) - DPP UU
   Losses:
    - Week 8 vs LonelyNess (The Ever Grande BIGS) - DPP UU

DarkLucario (6 - 4)
Bid: 25,001 Credits
Metagames: DPP UU, DPP OU, DPP Ubers
   Wins:
     - Week 2 vs Deep Thought (The Congregation of the Classiest) - DPP Ubers
     - Week 3 vs tito (The Circus Maximus Tigers) - DPP Ubers
     - Week 4 vs Blue_Tornado (The Firebot Charmanders) - DPP Ubers
     - Week 6 vs mind (The Alpha Ruiners) - DPP Ubers
     - Week 7 vs reyscarface (Smogon's Greatest Brits) - DPP Ubers
     - Week 8 vs Maniaclyrasist (The Ever Grande BIGS) - DPP Ubers
   Losses:
     - Week 1 vs reachzero (The Wifi Wolfpack) - DPP Ubers
     - Week 5 vs Jibaku (The Indie Scooters) - DPP Ubers
     - Week 9 vs locopoke (Les Trous du Cul Elegants) - DPP Ubers
     - Play-offs - Semi Finals  vs Jibaku (The Indie Scooters) - DPP Ubers

Kinneas (2 - 1)
Bid: 5,500 Credits
Metagames: RBY OU, GSC OU, DPP OU
   Wins:
     - Week 4 vs Plus (The Firebot Charmanders) - DPP OU
     - Week 6 vs brksocsc (The Alpha Ruiners) - DPP OU
   Losses:
     - Week 8 vs Justinawe (The Ever Grande BIGS) - DPP OU

romeojustdie / remlabmez (6 - 4)
Bid: 8,000 Credits
Metagames: DPP OU, DPP Ubers
   Wins:
     - Week 1 vs Phyres (The Wifi Wolfpack) - DPP OU
     - Week 2 vs Lady Bug (The Congregation of the Classiest) - DPP OU
     - Week 3 vs panamaxis (The Circus Maximus Tigers) - DPP OU
     - Week 5 vs Atticus (The Indie Scooters) - DPP OU
     - Week 6 vs Duskie (The Alpha Ruiners) - DPP OU
     - Week 7 vs Megan_Fox (Smogon's Greatest Brits) - DPP OU
   Losses:
     - Week 4 vs Arin (The Firebot Charmanders) - DPP OU
     - Week 8 vs Stone_Cold22 (The Ever Grande BIGS) - DPP OU
     - Week 9 vs ENZ0 (Les Trous du Cul Elegants) - DPP OU
     - Play-offs - Semi Finals  vs Atticus (The Indie Scooters) -DPP OU

Shiv (6 - 4)
Bid: 3,000 Credits
Metagames: RBY OU
   Wins:
     - Week 1 vs Jackal (The Wifi Wolfpack) - RBY OU
     - Week 2 vs skarm (The Congregation of the Classiest) - RBY OU
     - Week 5 vs JMC (The Indie ScooterS) - RBY OU
     - Week 6 vs The Chaser (The Alpha Ruiners) - RBY OU
     - Week 7 vs spies (Smogon's Greatest Brits) - RBY OU
     - Week 9 vs makiri (Les Trous du Cul Elegants) - RBY OU
   Losses:
     - Week 3 vs Pirotechnix (The Circus Maximus Tigers) - RBY OU
     - Week 4 vs Somebody (The Firebot Charmanders) - RBY OU
     - Week 8 vs dbolt (The Ever Grande BIGS) - RBY OU
     - Play-offs - Semi Finals vs husk (The Indie Scooters) - RBY OU

SilentEcho (6 - 2)
Bid: 5,000 Credits
Metagames: DPP OU
   Wins:
     - Week 1 vs VIL (The Wifi Wolfpack) - DPP OU
     - Week 2 vs SevenDeadlySins (The Congregation of the Classiest) - DPP OU
     - Week 4 vs 6A9 Ace Matador (The Firebot Charmanders) - DPP OU
     - Week 5 vs husk (The Indie Scooters) - DPP OU
     - Week 7 vs panamaxis (Smogon's Greatest Brits) - DPP OU
     - Week 9 vs M Dragon (Les Trous du Cul Elegants) -DPP OU
   Losses:
     - Week 3 vs hanke (The Circus Maximus Tigers) - DPP OU
     - Play-offs - Semi Finals vs apologies (The Indie Scooters) - DPP OU

Stallion (3 - 4)
Bid: 3,000 Credits
Metagames: ADV OU, DPP UU, DPP OU
   Wins:
     - Week 1 vs Heysup (The Wifi Wolfpack) - DPP UU
     - Week 4 vs Minato (The Firebot Charmanders) - DPP UU
     - Week 5 vs Folgorio (The Indie Scooters) - DPP UU
   Losses:
     - Week 2 vs Eo Ut Mortus (The Congregation of the Classiest) - DPP UU
     - Week 3 vs Bluewind (The Circus Maximus Tigers) - DPP UU
     - Week 6 vs Aldaron (The Alpha Ruiners) - DPP UU
     - Week 7 vs Twist of Fate (Smogon's Greatest Brits) - DPP UU

Taylor (3 - 5)
Bid: 23,000 Credits
Metagames: ADV OU, DPP OU
   Wins:
     - Week 5 vs Gouki (The Indie Scooters) - DPP OU
     - Week 7 vs Krack (Smogon's Greatest Brits) - DPP OU
    -Play-offs - Semi Finals  vs Gouki ( The Indie Scooters) - DPP OU
   Losses:
     - Week 1 vs homsar (The Wifi Wolfpack) - ADV OU
     - Week 3 vs Slobroking (The Circus Maximus Tigers) - ADV OU
     - Week 6 vs Mechazawa (The Alpha Ruiners) - DPP OU
     - Week 8 vs vashta (The Ever Grande BIGS) - DPP OU
     - Week 9 vs Earthworm (Les Trous du Cul Elegants) - DPP OU
   Ties:
     - Week 2 vs goofball (The Congregation of the Classiest) - ADV OU



Traded Players

Blue Kirby
     Traded to The Wifi Wolfpack during Week 3


Received Players:

gotei(13) hyorinmaru (4 - 5)
Original Team: The Wifi Wolfpack
Bid: 10,500 Credits
Metagames: RBY OU, GSC OU, ADV OU
Traded with Legacy Raider to The Cryonicles for Blue Kirby during Week 3.

Previous Record with The Wifi Wolfpack (1 - 1)
   Wins:
     - Week 1 vs Aeolus (The Cryonicles) - GSC OU
   Losses:
     - Week 2 vs G80 (The Indie Scooters) - ADV OU

Current Record (3 - 4)
   Wins:
      - Week 4 vs MoP (The Firebot Charmanders) - GSC OU
      - Week 9 vs  Umby (Les Trous du Cul Elegants) - GSC OU
      - Play-offs - Semi Finals  vs Mr.E (The Indie Scooters) - GSC OU
    Losses:
     - Week 5 vs Mr.E (The Indie Scooters) - GSC OU
     - Week 6 vs Sk (The Alpha Ruiners) - GSC OU
     - Week 7 vs Lesm46 (Smogon's Greatest Brits) - GSC OU
     - Week 8 vs Floppy (The Ever Grande BIGS) - GSC OU



Legacy Raider (0 - 1)
Original Team: The Wifi Wolfpack
Bid: 3,000 Credits
Metagames: DPP UU, DPP Ubers
Traded with gotei(13) hyorinmaru to The Cryonicles for Blue Kirby during Week 3.
  
Previous Record with the Wifi Wolfpack (0 - 1) 
  Wins:
     - N/A
   Losses:
     - Week 2 vs Folgorio (The Indie Scooters) - DPP UU 

Current Record (0 - 0)
  Wins:
      - N/A
    Losses:
      - N/A
Generation Stats
Code:
DPP OU (19 - 10)
   Wins:
     - Week 1 vs The Wifi Wolfpack (romeojustdie vs Phyres)
     - Week 1 vs The Wifi Wolfpack (SilentEcho vs Veteran In Love)
     - Week 1 vs The Wifi Wolfpack (Blue Kirby vs zorbees)
     - Week 2 vs The Congregation of the Classiest (romeojustdie vs Lady Bug)
     - Week 2 vs The Congregation of the Classiest (SilentEcho vs SevenDeadlySins)
     - Week 3 vs The Circus Maximus Tigers (romeojustdie vs panamaxis)
     - Week 3 vs The Circus Maximus Tigers (Blue Kirby vs Delta2777)
     - Week 4 vs The Firebot Charmanders (SilentEcho vs 6A9 Ace Matador)
     - Week 4 vs The Firebot Charmanders (Kinneas vs Plus)
     - Week 5 vs The Indie Scooters (SilentEcho vs husk)
     - Week 5 vs The Indie Scooters (Taylor vs Gouki)
     - Week 5 vs The Indie Scooters (romeojustdie vs Atticus)
     - Week 6 vs The Alpha Ruiners (romeojustdie vs Duskie)
     - Week 6 vs The Alpha ruiners (Kinneas vs brksocsc)
     - Week 7 vs Smogon's Greatest Brits (romeojustdie vs Megan_Fox)
     - Week 7 vs Smogon's Greatest Brits (SilentEcho vs panamaxis)
     - Week 7 vs Smogon's Greatest Brits (Taylor vs Krack)
     - Week 9 vs Les Trous du Cul Elegants (SilentEcho vs M Dragon)
     - Play-offs - Semi Finals vs The Indie Scooters (Taylor vs Gouki)
   Losses:
     - Week 3 vs The Circus Maximus Tigers (SilentEcho vs hanke)
     - Week 4 vs The Firebot Charmanders (romeojustdie vs Arin)
     - Week 6 vs The Alpha Ruiners (Taylor vs Mechazawa)
     - Week 8 vs The Ever Grande BIGS (romeojustdie vs Stone_Cold)
     - Week 8 vs The Ever Grande BIGS (Taylor vs vashta)
     - Week 8 vs The Ever Grande BIGS (Kinneas vs Justinawe)
     - Week 9 vs Les Trous du Cul Elegants (romeojustdie vs ENZ0)
     - Week 9 vs Les Trous du Cul Elegants (Taylor vs Earthworm)
     - Play-offs - Semi Finals vs The Indie Scooters (SilentEcho vs apologies)
     - Play-offs - Semi Finals vs The Indie Scooters (romeojustdie vs Atticus)
   Ties:
     - Week 2 vs The Congregation of the Classiest (Blue Kirby vs Reverb)

[B]Used Players:[/B] Blue Kirby, Kinneas, romeojustdie, SilentEcho, Taylor
[B]MVP:[/B] romeojustdie


DPP Ubers (6 - 4)
   Wins:
     - Week 2 vs The Congregation of the Classiest (DarkLucario vs Deep Thought)
     - Week 3 vs The Circus Maximus Tigers (DarkLucario vs tito)
     - Week 4 vs The Firebot Charmanders (DarkLucario vs Blue_Tornado)
     - Week 6 vs The Alpha Ruiners (DarkLucario vs _mind_)
     - Week 7 vs Smogon's Greatest Brits (DarkLucario vs reyscarface)
     - Week 8 vs The Ever Grande BIGS (DarkLucario vs Maniaclyrasist)
   Losses:
     - Week 1 vs The Wifi Wolfpack (DarkLucario vs reachzero)
     - Week 5 vs The Indie Scooters (DarkLucario vs Jibaku)
     - Week 9 vs Les Trous du Cul Elegants (DarkLucario vs locopoke)
     - Play-offs - Semi Finals vs The Indie Scooters (DarkLucario vs Jibaku)

[B]Used Players:[/B] DarkLucario


DPP UU (4 - 5)
   Wins:
     - Week 1 vs The Wifi Wolfpack (Stallion vs Heysup)
     - Week 4 vs The Firebot Charmanders (Stallion vs Minato)
     - Week 5 vs The Indie Scooters (Stallion vs Folgorio)
     - Week 9 vs Les Trous du Cul Elegants (B-lulz vs HR.)
   Losses:
     - Week 2 vs The Congregation of the Classiest (Stallion vs Eo Ut Mortus)
     - Week 3 vs The Circus Maximus Tigers (Stallion vs Bluewind)
     - Week 6 vs The Alpha Ruiners (Stallion vs Aldaron)
     - Week 7 vs Smogon's Greatest Brits (Stallion vs Twist of Fate)
     - Week 8 vs The Ever Grande BIGS (B-Lulz vs LonelyNess

[B]Used Players:[/B]B-lulz, Stallion
[B]MVP:[B] Stallion

ADV OU (5 - 5)
   Wins:
     - Week 2 vs The Congregation of the Classiest (Aeolus vs FM)
     - Week 4 vs The Firebot Charmanders  (Aeolus vs Floppy)
     - Week 7 vs Smogon's Greatest Brits (Aeolus vs Havak)
     - Week 8 vs The Ever Grande BIGS (Aeolus vs JabbaTheGriffin)
     - Week 9 vs Les Trous du Cul Elegants (Aeolus vs  Sapientia)
   Losses:
     - Week 1 vs The Wifi Wolfpack (Taylor vs homsar)
     - Week 3 vs The Circus Maximus Tigers (Taylor vs Slobroking)
     - Week 5 vs The Indie Scooters (Aeolus vs G80)
     - Week 6 vs The Alpha Ruiners (Aeolus vs Loki)
     - Play-offs - Semi Finals vs  The Indie Scooters (Aeolus vs G80)
   Ties
     - Week 2 vs The Congregation of the Classiest (Taylor vs goofball)

[B]Used Players:[/B] Aeolus, Taylor
[B]MVP:[B] Aeolus

GSC OU (4 - 5)
   Wins:
     - Week 2 vs The Congregation of the Classiest (Aeolus vs FM)
     - Week 4 vs The Firebot Charmanders (gotei(13)hyorinmaru vs MoP)
     - Week 9 vs Les Trous du Cul Elegants (gotei(13) hyorinmaru vs Umby)
     - Play-offs - Semi Finals vs The Indie Scooters (gotei(13)hyorinmaru vs Mr.E)
   Losses:
     - Week 1 vs The Wifi Wolfpack (Aeolus vs gotei(13)hyorinmaru)
     - Week 3 vs The Circus Maximus Tigers (Aeolus vs GigaPunch)
     - Week 5 vs The Indie Scooters (gotei(13)hyorinmaru vs Mr.E)
     - Week 6 vs The Alpha Ruiners (gotei(13)hyorinmaru vs Sk)
     - Week 7 vs Smogon's Greatest Brits (gotei(13)hyorinmaru vs Lesm46)
     - Week 8 vs The Ever Grande BIGS (gotei(13)hyorinmaru vs Floppy)
  
[B]Used Players:[/B]Aeolus, gotei(13)hyorinmaru
[B]MVP:[B] gotei(13)hyorinmaru

RBY OU (6 - 4)
   Wins:
     - Week 1 vs The Wifi Wolfpack (Shiv vs Jackal)
     - Week 2 vs The Congregation of the Classiest (Shiv vs skarm)
     - Week 5 vs The Indie Scooters (Shiv vs JMC)
     - Week 6 vs The Alpha Ruiners (Shiv vs The_Chaser)
     - Week 7 vs Smogon's Greatest Brits (Shiv vs spies)
     - Week 9 vs Les Trous du Cul Elegants (Shiv vs makiri)
   Losses:
     - Week 3 vs The Circus Maximus Tigers (Shiv vs Pirotechnix)
     - Week 4 vs The Firebot Charmanders (Shiv vs Somebody)
     - Week 8 vs The Ever Grande BIGS (Shiv vs dbolt)
     - Play-offs - Semi Finals vs The Indie Scooters (Shiv vs husk)


[B]Used Players:[/B] Shiv
---------------
Team Stats
Code:
The Ever Grande BIGS (4 - 4)
   Wins:
     - Week 4 vs The Circus Maximus Tigers (5 wins, 3 losses)
     - Week 5 vs The Firebot Charmanders (5 wins, 3 losses)
     - Week 6 vs The Congregation of the Classiest (4 wins, 3 losses, 1 tie)
     - Week 8 vs The Cryonicles (6 wins, 2 losses)
   Losses:
     - Week 2 vs Smogon's Greatest Brits (1 win, 7 losses)
     - Week 3 vs The Wifi Wolfpack (3 wins, 5 losses)
     - Week 7 vs Les Trous du Cul Elegants (2 wins, 6 losses)
     - Week 9 vs The Indie Scooters ( 1 win , 7 losses)
   Ties:
     - Week 1 vs The Alpha Ruiners

*Points: 9
*Total Battle Wins: 31
*Total Battle Losses: 40
*BD: -9
*Current Ranking: 5th


Player Stats:

dbolt (4 - 5)
Bid: 12,000 Credits
Metagames: RBY OU, GSC OU, ADV OU, DPP OU
   Wins:
     - Week 4 vs GigaPunch (The Circus Maximus Tigers) - GSC OU
     - Week 6 vs TTS (The Congregation of the Classiest) - GSC OU
     - Week 8 vs Shiv (The Cryonicles) - RBY OU
     - Week 9 vs husk (The Indie Scooters) - RBY OU
   Losses:
     - Week 1 vs junior (The Alpha Ruiners) - RBY OU
     - Week 2 vs Lesm46 (Smogon's Greatest Brits) - GSC OU
     - Week 3 vs Jackal (The Wifi Wolfpack) - RBY OU
     - Week 5 vs MoP (The Firebot Charmanders) - GSC OU
     - Week 7 vs zerowing (Les Trous du Cul Elegants) - RBY OU

JabbaTheGriffin (4 - 4)
Bid: 14,000 Credits
Metagames: ADV OU, DPP UU, DPP OU, DPP Ubers
   Wins:
     - Week 1 vs Loki (The Alpha Ruiners) - ADV OU
     - Week 3 vs homsar (The Wifi Wolfpack) - ADV OU
     - Week 5 vs imperfectluck (The Firebot Charmanders) - ADV OU
     - Week 7 vs Sapientia (Les Trous du Cul Elegants) - ADV OU
   Losses:
     - Week 2 vs Havak (Smogon's Greatest Brits) - ADV OU
     - Week 4 vs Slobroking (The Circus Maximus Tigers) - ADV OU
     - Week 8 vs Aeolus (The Cryonicles) - ADV OU
     - Week 9 vs G80 (The Indie Scooters) - ADV OU
   Ties:
     - Week 6 vs goofball (The Congregation of the Classiest) - ADV OU

LonelyNess (4 - 4)
Bid: 5,000 Credits
Metagames: DPP UU, DPP OU
   Wins:
     - Week 2 vs Twist of Fate (Smogon's Greatest Brits) - DPP UU
     - Week 4 vs Bluewind (The Circus Maximus Tigers) - DPP UU
     - Week 5 vs 6A9 Ace Matador (The Firebot Charmanders) - DPP UU
     - Week 8 vs B-Lulz (The Cryonicles) - DPP UU
   Losses:
     - Week 1 vs Aldaron (The Alpha Ruiners) - DPP UU
     - Week 3 vs Heysup (The Wifi Wolfpack) - DPP UU
     - Week 6 vs Eo Ut Mortus (The Congregation of the Classiest) - DPP UU
     - Week 9 vs Folgorio (The Indie Scooters) - DPP UU

Maniacalyrasist (2 - 7)
Bid: 5,000 Credits
Metagames: DPP OU, DPP Ubers
   Wins:
     - Week 3 vs Pirika (The Wifi Wolfpack) - DPP Ubers
     - Week 5 vs LinIsKorean (The Firebot Charmanders) - DPP Ubers
   Losses:
     - Week 1 vs mind (The Alpha Ruiners) - DPP Ubers
     - Week 2 vs Megan_Fox (Smogon's Greatest Brits) - DPP Ubers
     - Week 4 vs tito (The Circus Maximus Tigers) - DPP Ubers
     - Week 6 vs FM (The Congregation of the Classiest) - DPP Ubers
     - Week 7 vs locopoke (Les Trous du Cul Elegants) - DPP Ubers
     - Week 8 vs DarkLucario (The Cryonicles) - DPP Ubers
     - Week 9 vs Jibaku (The Indie Scooters) - DPP Ubers

PurpleWeezing (0 - 1)
Bid: 3,500 Credits
Metagames: DPP OU, DPP Ubers
   Wins:
     - N/A
   Losses:
     - Week 3 vs reachzero (The Wifi Wolfpack)  - DPP OU

Quantum Mechanics (0 - 1)
Bid: 3,500 Credits
Metagames: RBY OU, DPP UU, DPP OU
   Wins:
     - N/A
   Losses:
     - Week 2 vs spies (Smogon's Greatest Brits) - RBY OU

Stone_Cold22 (2 - 7)
Bid: 8,000 Credits
Metagames: DPP UU, DPP OU, DPP Ubers
   Wins:
     - Week 1 vs brksocsc (The Alpha Ruiners) - DPP OU
     - Week 8 vs romeojustdie (The Cryonicles) - DPP OU
   Losses:
     - Week 2 vs Kevin Garrett (Smogon's Greatest Brits) -  DPP OU
     - Week 3 vs Phyres (The Wifi Wolfpack) - DPP OU
     - Week 4 vs Delta2777 (The Circus Maximus Tigers) - DPP OU
     - Week 5 vs Minato (The Firebot Charmanders) - DPP OU
     - Week 6 vs Lady Bug (The Congregation of the Classiest) - DPP OU
     - Week 7 vs ENZ0 (Les Trou du Cul Elegants) - DPP OU
     - Week 9 vs apologies (The Indie Scooters) - DPP OU

vashta (5 - 4)
Bid: 9,000 Credits
Metagames: DPP Ubers
   Wins:
     - Week 1 vs Rewer (The Alpha Ruiners) - DPP OU
     - Week 4 vs panamaxis (The Cirucus Maximus Tigers) - DPP OU
     - Week 5 vs Plus (The Firebot Charmanders) - DPP OU
     - Week 6 vs SevenDeadlySins (The Congregation of the Classiest) - DPP OU
     - Week 8 vs Taylor (The Cryonicles) - DPP OU
   Losses:
     - Week 2 vs Krack (Smogon's Greatest Brits) - DPP OU
     - Week 3 vs Abutorn (The Wifi Wolfpack) - DPP OU
     - Week 7 vs Earthworm (Les Trous du Cul Elegants) - DPP OU
     - Week 9 vs Gouki (The Indie Scooters) - DPP OU


Zak91 (2 - 0)
Bid: 27,000 Credits
Metagames: ADV OU, DPP UU, DPP OU, DPP Ubers
   Wins:
     - Week 1 vs by.Flash (The Alpha Ruiners) - DPP OU
     - Week 4 vs hanke (The Circus Maximus Tigers) - DPP OU
   Losses:
     - N/A


Traded Players:

imperfectluck
     Traded to the Firebot Charmanders during Week 4


Received Players:

Floppy (5 - 4)
Original Team: The Firebot Charmanders
Bid: 7,500 Credits
Metagames: RBY OU, GSC OU, ADV OU
Traded with justinawe to The Ever Grande BIGS for imperfectluck during Week 4.

Previous Record with The Firebot Charmanders (1 - 3)
   Wins:
     - Week 1 vs zerowing (Les Trous du Cul Elegants) - RBY OU
   Losses:
     - Week 2 vs Pirotechnix (The Circus Maximus Tigers) - RBY OU
     - Week 3 vs Jira (The Alpha Ruiners) - RBY OU
     - Week 4 vs Aeolus (The Cryonicles) - ADV OU

Current Record (4 - 1)
   Wins:
     - Week 5 vs Somebody (The Firebot Charmanders) - RBY OU
     - Week 6 vs Skarm (The Congregation of the Classiest) - RBY OU
     - Week 7 vs Umby (Les Trous du Cul Elegants) - GSC OU
     - Week 8 vs gotei(13) hyorinmaru (The Cryonicles) - GSC OU
   Losses:
     - Week 9 vs Mr.E (The Indie Scooters) - GSC OU


justinawe (2 - 2)
Original Team: The Firebot Charmanders
Bid: 3,000 Credits
Metagames: DPP UU, DPP OU
Traded with Floppy to The Ever Grande BIGS for imperfectluck during Week 4.

Previous Record with The Firebot Charmanders (0 - 0)
   Wins:
     - N/A
   Losses:
     - N/A

Current Record (2 - 3)
   Wins:
     - Week 6 vs Mien. (The Congregation of the Classiest) - DPP OU
     - Week 8 vs Kinneas (The Cryonicles) - DPP OU
   Losses:
     - Week 5 vs Arin (The Firebot Charmanders) - DPP OU
     - Week 7 vs M Dragon (Les Trous Du Cul Elegants) - DPP OU
     - Week 9 vs Atticus (The Indie Scooters) - DPP OU
Generation Stats
Code:
DPP OU (11 - 15)
   Wins:
     - Week 1 vs The Alpha Ruiners (Zak91 vs by.Flash)
     - Week 1 vs The Alpha Ruiners (Stone_Cold22 vs brksocsc)
     - Week 1 vs The Alpha Ruiners (vashta vs _Rewer_)
     - Week 4 vs The Circus Maximus Tigers (Zak91 vs hanke)
     - Week 4 vs The Circus Maximus Tigers (vashta vs panamaxis)
     - Week 5 vs The Firebot Charmanders (vashta vs Plus)
     - Week 6 vs The Congregation of the Classiest (Justinawe vs Mien.)
     - Week 6 vs The Congregation of the Classiest (vashta vs SevenDeadlySins)
     - Week 8 vs The Cryonicles (Stone_Cold22 vs romeojustdie)
     - Week 8 vs The Cryonicles (vashta vs Taylor)
     - Week 8 vs The Cryonicles (Justinawe vs Kinneas)
   Losses:
     - Week 2 vs Smogon's Greatest Brits (vashta vs Krack)
     - Week 2 vs Smogon's Greatest Brits (Stone_Cold22 vs Kevin Garrett
     - Week 3 vs The Wifi Wolfpack (PurpleWeezing vs reachzero)
     - Week 3 vs The Wifi WolfPack (Stone_Cold22 vs Phyres)
     - Week 3 vs The Wifi Wolfpack (vashta vs Abutorn)
     - Week 4 vs The Circus Maximus Tigers (Stone_Cold22 vs Delta2777)
     - Week 5 vs The Firebot Charmanders (Justinawe vs Arin)
     - Week 5 vs The Firebot Charmanders (Stone_Cold22 vs Minato)
     - Week 6 vs The Congregation of the Classiest (Stone_Cold22 vs Lady Bug)
     - Week 7 vs Les Trous du Cul Elegants (Justinawe vs M Dragon)
     - Week 7 vs Les Trous du Cul Elegants (vashta vs Earthworm)
     - Week 7 vs Les Trous du Cul Elegants (Stone_Cold22 vs ENZ0)
     - Week 9 vs The Indie Scooters (vashta vs Gouki)
     - Week 9 vs The Indie Scooters (justinawe vs Atticus)
     - Week 9 vs The Indie Scooters (Stone_Cold22 vs apologies)
   Ties:
     - Week 2 vs Smogon's Greatest Brits (imperfectluck vs Philip7086)

[B]Used Players:[/B] imperfectluck, Justinawe, PurpleWeezing, Stone_cold22, vashta, Zak91
[B]MVP:[/B] vashta

DPP Ubers (2 - 7)
   Wins:
     - Week 3 vs The Wifi Wolfpack (Maniaclyrasist vs Pirika)
     - Week 5 vs The Firebot Charmanders (Maniaclyrasist vs LinIsKorean)
   Losses:
     - Week 1 vs The Alpha Ruiners (Maniaclyrasist vs _mind_)
     - Week 2 vs Smogon's Greatest Brits (Maniaclyrasist vs Megan_Fox)
     - Week 4 vs The Circus Maximus Tigers (Maniaclyrasist vs tito)
     - Week 6 vs The Congregation of the Classiest (Maniaclyrasist vs FM)
     - Week 7 vs Les Trous du Cul Elegants (Maniaclyrasist vs locopoke)
     - Week 8 vs The Cryonicles (Maniaclyrasist vs DarkLucario)
     - Week 9 vs The Indie Scooters (Maniaclyrasist vs Jibaku)

[B]Used Players:[/B] Maniaclyrasist


DPP UU (4 - 5)
   Wins:
     - Week 2 vs Smogon's Greatest Brits (LonelyNess vs Twist of Fate)
     - Week 4 vs The Circus Maximus Tigers (LonelyNess vs Bluewind)
     - Week 5 vs The Firebot Charmanders (LonelyNess vs 6A9 Ace Matador)
     - Week 8 vs The Cryonicles (LonelyNess vs B-Lulz)
   Losses:
     - Week 1 vs The Alpha Ruiners (LonelyNess vs Aldaron)
     - Week 3 vs The Wifi Wolfpack (LonelyNess vs Heysup)
     - Week 6 vs The Congregation of the Classiest (LonelyNess vs Eo Ut Mortus)
     - Week 7 vs Les Trous du Cul Elegants (LonelyNess vs Bad Ass)
     - Week 9 vs The Indie Scooters (LonelyNess vs Folgorio)

[B]Used Players:[/B] LonelyNess


ADV OU (4 - 4)
   Wins:
     - Week 1 vs The Alpha Ruiners (JabbaTheGriffin vs Loki)
     - Week 3 vs The Wifi Wolfpack (JabbaTheGriffin vs homsar)
     - Week 5 vs The Firebot Charmanders (JabbaTheGriffin vs imperfectluck)
     - Week 7 vs Les Trous du Cul Elegants (JabbaTheGriffin vs Sapientia)
   Losses:
     - Week 2 vs Smogon's Greatest Brits (JabbaTheGriffin vs Havak)
     - Week 4 vs The Cicus Maximus Tigers (JabbaTheGriffin vs Slobroking)
     - Week 8 vs The Cryonicles (JabbaTheGriffin vs Aeolus)
     - Week 9 vs The Indie Scooters (JabbaTheGriffin vs G80)
   Ties:
     - Week 6 vs The Congregation of the Classiest (JabbaTheGriffin vs goofball)

[B]Used Players:[/B]JabbaTheGriffin


GSC OU (5 - 3)
   Wins:
     - Week 3 vs The Wifi Wolfpack (imperfectluck vs VIL)
     - Week 4 vs The Circus Maximus Tigers (dbolt vs GigaPunch)
     - Week 6 vs The Congregation of the Classiest (dbolt vs TTS)
     - Week 7 vs Les Trous du Cul Elegants (Floppy vs Umby)
     - Week 8 vs The Cryonicles (Floppy vs gotei(13)hyorinmaru)
   Losses:
     - Week 1 vs The Alpha Ruiners (imperfectluck vs Sk)
     - Week 2 vs Smogon's Greatest Brits (dbolt vs Lesm46)
     - Week 5 vs The Firebot Charmanders (dbolt vs MoP)
     - Week 9 vs The Indie Scooters (Floppy vs Mr.E)
[B]Used Players:[/B] dbolt, Floppy, imperfectluck
[B]MVP:[/B] Floppy


RBY OU (5 - 4)
   Wins:
     - Week 4 vs The Circus Maximus Tigers (imperfectluck vs Pirotechnix)
     - Week 5 vs The Firebot Charmanders (Floppy vs Somebody)
     - Week 6 vs The Congregation of the Classiest (Floppy vs skarm)
     - Week 8 vs The Cryonicles (dbolt vs Shiv)
     - Week 9 vs The Indie Scooters (dbolt vs husk)
   Losses:
     - Week 1 vs The Alpha Ruiners (dbolt vs junior)
     - Week 2 vs Smogon's Greatest Brits (Quantum Mechanics vs spies)
     - Week 3 vs The Wifi Wolfpack (dbolt vs Jackal)
     - Week 7 vs Les Trous du Cul Elegants (dbolt vs zerowing)

[B]Used Players:[/B] dbolt, Floppy, imperfectluck, Quantum Mechanics
[B]MVP:[/B] Floppy
---------------
Team Stats
Code:
The Firebot Charmanders (2 - 5)
   Wins:
     - Week 1 vs Les Trou du Cul Elegants (5 wins, 3 losses)
     - Week 2 vs The Circus Maximus Tigers (5 wins, 3 losses)
   Losses:
     - Week 3 vs The Alpha Ruiners (2 wins, 5 losses, 1 tie)
     - Week 4 vs The Cryonicles (2 wins, 6 losses)
     - Week 5 vs The Ever Grande BIGS (3 wins, 5 losses)
     - Week 6 vs The Indie Scooters (1 win, 6 losses, 1 tie)
     - Week 8 vs The Congregation of the Classiest (3 wins, 5 losses)
   Ties:
     - Week 7 vs The Wifi Wolfpack

*Points: 7
*Total Battle Wins: 29
*Total Battle Losses: 40
*BD: -11
*Current Ranking: 9th


Player Stats:

6A9 Ace Matador (3 - 5)
Bid: 12,500 Credits
Metagames: ADV OU, GSC OU, DPP UU, DPP OU, DPP Ubers
   Wins:
     - Week 2 vs reyscarface (The Circus Maximus Tigers) - DPP OU
     - Week 3 vs The Chaser (The Alpha Ruiners) - DPP OU
     - Week 8 vs Eo Ut Mortus (The Congregation of the Classiest) - DPP UU
   Losses:
     - Week 1 vs Bad Ass (Les Trous du Cul Elegants) - DPP UU
     - Week 4 vs SilentEcho (The Cryonicles) - DPP OU
     - Week 5 vs LonelyNess (The Ever Grande BIGS) - DPP UU
     - Week 6 vs Folgorio (The Indie Scooters) - DPP UU
     - Week 7 vs Heysup (The Wifi Wolfpack) - DPP UU
Ties
      - Week 9 vs Twist Of Fate (Smogon's Greatest Brits) - DPP UU
Arin (6 - 3)
Bid: 10,000 Credits
Metagames: DPP UU, DPP OU, DPP Ubers
   Wins:
     - Week 2 vs panamaxis (The Circus Maximus Tigers) - DPP OU
     - Week 3 vs LiNAInVeRsE (The Alpha Ruiners) - DPP OU
     - Week 4 vs romeojustdie (The Cryonicles) - DPP OU
     - Week 5 vs justinawe (The Ever Grande BIGS) - DPP OU
     - Week 8 vs Reverb (The Congregation of the Classiest) - DPP OU
     - Week 9 vs Nachos (Smogon's Greatest Brits) - DPP OU
   Losses:
     - Week 1 vs Earthworm (Les Trous du Cul Elegants) - DPP OU
     - Week 6 vs husk (The Indie Scooters) - DPP OU
     - Week 7 vs Mizuno (The Wifi Wolfpack) - DPP OU

Blue_Tornado (1 - 2)
Bid: 3,248 Credits
Metagames: DPP OU, DPP Ubers
   Wins:
     - Week 1 vs locopoke (Les Trous du Cul Elegants) - DPP Ubers
   Losses:
     - Week 2 vs tito (The Circus Maximus Tigers) - DPP Ubers
     - Week 4 vs DarkLucario (The Cryonicles) - DPP Ubers
   Ties:
     - Week 3 vs mind (The Alpha Ruiners) - DPP Ubers

corndog (0 - 0)
Bid: 3,000 Credits
Metagames: DPP UU, DPP OU, DPP Ubers
   Wins:
     - N/A
   Losses:
     - N/A

Cristal (0 - 0)
Bid: 3,000 Credits
Metagames: ADV OU, DPP OU
   Wins:
     - N/A
   Losses:
     - N/A

Darklynx (0 - 1)
Bid: 3,000 Credits
Metagames: DPP OU, DPP Ubers
   Wins:
     - N/A
   Losses:
     - Week 6 vs Apologies (The Indie Scooters) - DPP OU

DawnBringer (0 - 0)
Bid: 3,500 Credits
Metagames: DPP OU, DPP Ubers
   Wins:
     - N/A
   Losses:
     - N/A

LinIsKorean (1 - 4)
Bid: 3,000 Credits
Metagames: ADV OU, DPP UU, DPP OU
   Wins:
     - Week 7 vs reachzero (The Wifi Wolfpack) - DPP Ubers
   Losses:
     - Week 5 vs Maniaclyrasist (The Ever Grande BIGS) - DPP Ubers
     - Week 6 vs Jibaku (The Indie Scooters) - DPP Ubers
     - Week 8 vs Deep Thought (The Congregation of the Classiest) - DPP Ubers
     - Week 9 vs reyscarface (Smogon's Greatest Brits) - DPP Ubers

Minato / Sage Abdul (6 - 2)
Bid: 3,236 Credits
Metagames: DPP UU, DPP OU, DPP Ubers
   Wins:
     - Week 1 vs Sapientia (Les Trous du Cul Elegants) - DPP OU
     - Week 2 vs Bluewind (The Circus Maximus Tigers) - DPP UU
     - Week 5 vs Stone_Cold22 (The Ever Grande BIGS) - DPP OU
     - Week 7 vs Blue Kirby (The Wifi Wolfpack) - DPP OU
     - Week 8 vs SevenDeadlySins (The Congregation of the Classiest) - DPP OU
     - Week 9 vs Krack (Smogon's Greatest Brits ) -DPP OU
   Losses:
     - Week 3 vs Aldaron (The Alpha Ruiners) - DPP UU
     - Week 4 vs Stallion (The Cryonicles) - DPP UU
   Tie:
     - Week 6 vs Gouki (The Indie Scooters) - DPP OU

MoP / Aeroblacktyl (3 - 5)
Bid: 27,501 Credits
Metagames: RBY OU, GSC OU, ADV OU, DPP UU, DPP OU, DPP Ubers
   Wins:
     - Week 1 vs Umby (Les Trous du Cul Elegants) - GSC OU
     - Week 2 vs GigaPunch (The Circus Maximus Tigers) - GSC OU
     - Week 5 vs dbolt (The Ever Grande BIGS) - GSC OU
   Losses:
     - Week 3 vs Sk (The Alpha Ruiners) - GSC OU
     - Week 4 vs gotei(13) hyorinmaru (The Cryonicles) - GSC OU
     - Week 6 vs Mr.E (The Indie Scooters) - GSC OU
     - Week 7 vs Veteran in Love (The Wifi Wolfpack) - GSC OU
     - Week 8 vs FM (The Congregation of the Classiest) - GSC OU

Plus (4 - 4)
Bid: 4,500 Credits
Metagames: DPP UU, DPP OU
   Wins:
     - Week 1 vs snorlax (Les Trous du Cul Elegants) - DPP OU
     - Week 2 vs hanke (The Circus Maximus Tigers) - DPP OU
     - Week 7 vs Mekkah (The Wifi Wolfpack) - DPP OU
     - Week 8 vs Lady Bug (The Congregation of the Classiest) - DPP OU
     - Week 9 vs panamaxis (Smogon's Greatest Brits) -DPP OU
   Losses:
     - Week 3 vs Mechazawa (The Alpha Ruiners) - DPP OU
     - Week 4 vs Kinneas (The Cryonicles) - DPP OU
     - Week 5 vs vashta (The Ever Grande BIGS) - DPP OU

Somebody (3 - 3)
Bid: 3,000 Credits
Metagames: RBY OU, ADV OU
   Wins:
     - Week 4 vs Shiv (The Cryonicles) - RBY OU
     - Week 6 vs JMC (The Indie Scooters) - RBY OU
     - Week 7 vs Jackal (The Wifi Wolfpack) - RBY OU
   Losses:
     - Week 1 vs Dark Wolf (Les Trous du Cul Elegants) - ADV OU
     - Week 5 vs Floppy (The Ever Grande BIGS) - RBY OU
     - Week 8 vs TTS (The Congregation of the Classiest) - RBY OU
Ties
      - Week 9 vs Lesm46 (Smogon's Greatest Brits) - GSC OU
TONY MONTANA (0 - 0)
Bid: 3,000 Credits
Metagames: DPP OU, DPP Ubers
   Wins:
     - N/A
   Losses:
     - N/A

wraith (0 - 4)
Bid: 5,500 Credits
Metagames: RBY OU, ADV OU, DPP OU
   Wins:
     - N/A
   Losses:
     - Week 2 vs Slowbroking (The Circus Maximus Tigers) - ADV OU
     - Week 3 vs Loki (The Alpha Ruiners) - ADV OU
     - Week 6 vs G80 (The Indie Scooters) - ADV OU
     - Week 9 vs Havak (Smogon's Greatest Brits) - ADV OU

Traded Players:

Floppy
     Traded to The Ever Grande BIGS during Week 4

justinawe
     Traded to The Ever Grande BIGS during Week 4



Received Players:

imperfectluck (3 - 5)
Original Team: The Ever Grande BIGS
Bid: 13,000 Credits
Metagames: RBY OU, GSC OU, ADV OU, DPP UU, DPP OU, DPP Ubers
Traded to The Firebot Charmanders for Floppy and justinawe during Week 4.

Previous Record with The Ever Grande BIGS (2 - 2)
   Wins:
     - Week 3 vs VIL (The Wifi Wolfpack) - GSC OU
     - Week 4 vs Pirotechnix (The Circus Maximus Tigers) - RBY OU
   Losses:
     - Week 1 vs Sk (The Alpha Ruiners) - GSC OU
     - Week 2 vs Philip7086 (Smogon's Greatest Brits) - DPP OU

Current Record (1 - 3)
   Wins:
     - Week 9 vs spies (Smogon's Greatest Brits) - RBY OU
   Losses:
     - Week 5 vs JabbaTheGriffin (The Ever Grande BIGS) - ADV OU
     - Week 7 vs homsar (The Wifi Wolfpack) - ADV OU
     - Week 8 vs goofball (The Congregation of the Classiest) - ADV OU
Generation Stats
Code:
DPP OU (16 - 9)
   Wins:
     - Week 1 vs Les Trous du Cul Elegants (Minato vs Sapientia)
     - Week 1 vs Les Trous du Cul Elegants (Plus vs snorlax)
     - Week 2 vs The Circus Maximus Tigers (Plus vs hanke)
     - Week 2 vs The Circus Maximus Tigers (Arin vs panamaxis)
     - Week 2 vs The Circus Maximus Tigers (6A9 Ace Matador vs reyscarface)
     - Week 3 vs The Alpha Ruiners (6A9 Ace Matador vs The_Chaser)
     - Week 3 vs The Alpha Ruiners (Arin vs LiNaInVeRsE)
     - Week 4 vs The Cryonicles (Arin vs romeojustdie)
     - Week 5 vs The Ever Grande BIGS (Arin vs Justinawe)
     - Week 5 vs The Ever Grande BIGS (Minato vs Stone_Cold22)
     - Week 7 vs The Wifi Wolfpack (Plus vs Mekkah)
     - Week 7 vs The Wifi Wolfpack (Minato vs Blue Kirby)
     - Week 8 vs The Congregation of the Classiest (Arin vs Reverb)
     - Week 8 vs The Congregation of the Classiest (Minato vs SevenDeadlySins)
     - Week 9 vs Smogon's Greatest Brits (Plus vs panamaxis)
     - Week 9 vs Smogon's Greatest Brits (Arin vs Nachos)
     - Week 9 vs Smogon's Greatest Brits  (Sage Abdul vs Krack)
   Losses:
     - Week 1 vs Les Trous du Cul Elegants (Arin vs Earthworm)
     - Week 3 vs The Alpha Ruiners (Plus vs Mechazawa)
     - Week 4 vs The Cryonicles (6A9 Ace Matador vs SilentEcho)
     - Week 4 vs The Cryonicles (Plus vs Kinneas)
     - Week 5 vs The Ever Grande BIGS (Plus vs vashta)
     - Week 6 vs The Indie Scooters (Arin vs husk)
     - Week 6 vs The Indie Scooters (DarkLynx vs apologies)
     - Week 7 vs The Wifi Wolfpack (Arin vs Mizuno)
     - Week 8 vs The Congregation of the Classiest (Plus vs Lady Bug)
   Ties:
     - Week 6 vs The Indie Scooters (Minato vs Gouki)

[B]Used Players:[/B] 6A9 Ace Matador, Arin, DarkLynx, Minato, Plus
[B]MVP:[/B] Arin


DPP Ubers (2 - 6)
   Wins:
     - Week 1 vs Les Trous du Cul Elegants (Blue_Tornado vs locopoke)
     - Week 7 vs The Wifi Wolfpack (LinIsKorean vs reachzero)
   Losses:
     - Week 2 vs The Circus Maximus Tigers (Blue_Tornado vs tito)
     - Week 4 vs The Cryonicles (Blue_Tornado vs DarkLucario)
     - Week 5 vs The Ever Grande BIGS (LinIsKorean vs Maniaclyrasist)
     - Week 6 vs The Indie Scooters (LinIsKorean vs Jibaku)
     - Week 8 vs The Congregation of the Classiest (LinIsKorean vs Deep Thought)
     - Week 9 vs Smogon's Greatest Brits (LinisKorean vs reyscarface)
   Ties:
     - Week 3 vs The Alpha Ruiners (Blue_Tornado vs _mind)

[B]Used Players:[/B] Blue_Tornado, LinIsKorean
[B]MVP:[/B] Blue_Tornado


DPP UU (2 - 6)
   Wins:
     - Week 2 vs The Circus Maximus Tigers (Minato vs Bluewind)
     - Week 8 vs The Congregation of the Classiest (6A9 Ace Matador vs Eo Ut Mortus)
   Losses:
     - Week 1 vs Les Trous du Cul Elegants (6A9 Ace Matador vs Bad Ass)
     - Week 3 vs The Alpha Ruiners (Minato vs Aldaron)
     - Week 4 vs The Cryonicles (Minato vs Stallion)
     - Week 5 vs The Ever Grande BIGS (6A9 Ace Matador vs LonelyNess)
     - Week 6 vs The Indie Scooters (6A9 Ace Matador vs Folgorio)
     - Week 7 vs The Wifi Wolfpack (6A9 Ace Matador vs Heysup)
  Ties
     - Week 9 vs Smogon's Greatest Brits (6A9 Ace Matador vs Twist Of Fate)

[B]Used Players:[/B] 6A9 Ace Matador, Minato
[B]MVP:[/B] 6A9 Ace Matador


ADV OU (0 - 9)
   Wins:
     - N/A
   Losses:
     - Week 1 vs Les Trous du Cul Elegants (Somebody vs Dark Wolf)
     - Week 2 vs The Circus Maximus Tigers (wraith vs Slobroking)
     - Week 3 vs The Alpha Ruiners (wraith vs Loki)
     - Week 4 vs The Cryonicles (Floppy vs Aeolus)
     - Week 5 vs The Ever Grande BIGS (imperfectluck vs JabbaTheGriffin)
     - Week 6 vs The Indie Scooters (wraith vs G80)
     - Week 7 vs The Wifi Wolfpack (imperfectluck vs homsar)
     - Week 8 vs The Congregation of the Classiest (imperfectluck vs goofball)
     - Week 9 vs Smogon's Greatest Brits (wraith vs Havak)

[B]Used Players:[/B] Floppy, imperfectluck, Somebody, wraith


GSC OU (3 - 5)
   Wins:
     - Week 1 vs Les Trous du Cul Elegants (MoP vs Umby)
     - Week 2 vs The Circus Maximus Tigers (MoP vs GigaPunch)
     - Week 5 vs The Ever Grande BIGS (MoP vs dbolt)
   Losses:
     - Week 3 vs The Alpha Ruiners (MoP vs Sk)
     - Week 4 vs The Cryonicles (MoP vs gotei(13) hyorinmaru)
     - Week 6 vs The Indie Scooters (MoP vs Mr.E)
     - Week 7 vs The Wifi Wolfpack (MoP vs Veteran In Love)
     - Week 8 vs The Congregation of the Classiest (MoP vs FM)
      Ties
     - Week 9 vs Smogon's Greatest Brits (Somebody vs lesm46)
[B]Used Players:[/B] MoP,Somebody
[b]MVP:[B] MoP


RBY OU (5 - 4)
   Wins:
     - Week 1 vs Les Trous du Cul Elegants (Floppy vs zerowing)
     - Week 4 vs The Cryonicles (Somebody vs Shiv)
     - Week 6 vs The Indie Scooters (Somebody vs JMC)
     - Week 7 vs The Wifi Wolfpack (Somebody vs Jackal)
     - Week 9 vs Smogon's Greatest Brits (imperfectluck vs spies)
   Losses:
     - Week 2 vs The Circus Maximus Tigers (Floppy vs Pirotechnix)
     - Week 3 vs The Alpha Ruiners (Floppy vs Jira)
     - Week 5 vs The Ever Grande BIGS (Somebody vs Floppy)
     - Week 8 vs The Congregation of the Classiest (Somebody vs TTS)

[B]Used Players:[/B] Floppy, Somebody
[B]MVP:[/B] Somebody
---------------
Team Stats
Code:
The Indie Scooters (6 - 4)
   Wins:
     - Week 2 vs The Wifi Wolfpack (6 wins, 1 loss, 1 tie)
     - Week 4 vs Les Trous du Cul Elegants (5 wins, 3 losses)
     - Week 6 vs The Firebot Charmanders (1 loss, 6 wins, 1 tie)
     - Week 9 vs The Ever Grande BIGS ( 7 wins, 1 loss]
     - Play-offs - Semi Finals vs The Cryonicles (6 wins, 2 losses)
     - Play-offs- Finals vs The Alpha Ruiners  (5 wins, 2 losses)
   Losses:
     - Week 1 vs The Congregation of the Classiest (3 wins, 5 losses)
     - Week 3 vs Smogon's Greatest Brits (3 wins, 5 losses)
     - Week 5 vs The Cryonicles (3 wins, 5 losses)
     - Week 7 vs The Circus Maximus Tigers (1 win, 6 losses, 1 tie)
   Ties:
     - Week 8 vs The Alpha Ruiners

*Points: 9
*Total Battle Wins: 37
*Total Battle Losses: 30
*BD: +7
*Current Ranking: 4h


Player Stats:

apologies (5 - 1)
Bid: 3,000 Credits
Metagames: DPP OU
   Wins:
     - Week 2 vs zorbees (The Wifi Wolfpack) - DPP OU
     - Week 6 vs DarkLynx (The Firebot Charmanders) - DPP OU
     - Week 8 vs Mechazawa (The Alpha Ruiners) - DPP OU
     - Week 9 vs Stone_Cold22 (The Ever Grande BIGS) - DPP OU
     - Play-offs - Semi Finals vs  SilentEcho (The Cryonicles ) - DPP OU
   Losses:
     - Play-offs - Finals vs  Loki (The Alpha Ruiners) - DPP OU

Atticus (7 - 3)
Bid: 11,500 Credits
Metagames: DPP OU, DPP Ubers
   Wins:
     - Week 2 vs reachzero (The Wifi Wolfpack) - DPP Uber
     - Week 3 vs Pride (Smogon's Greatest Brits) - DPP OU
     - Week 4 vs ENZ0 (Les Trous du Cul Elegants) - DPP OU
     - Week 8 vs Rewer (The Alpha Ruiners) - DPP OU
     - Week 9 vs Justinawe ( The Ever Grande BIGS) - DPP OU
     - Play-offs - Semi Finals vs romeojustdie ( The Cryonicles) - DPP OU
     - Play-offs -  Finals vs Mechazawa (The Alpha Ruiners) - DPP OU
   Losses:
     - Week 1 vs Lady Bug (The Congregation of the Classiest) - DPP OU
     - Week 5 vs romeojustdie (The Cryonicles) - DPP OU
     - Week 7 vs Kevin Garrett (The Circus Maximus Tigers) - DPP OU

Folgorio (3 - 6)
Bid: 3,000 Credits
Metagames:DPP UU, DPP OU
   Wins:
     - Week 2 vs Legacy Raider (The Wifi Wolfpack) - DPP UU
     - Week 6 vs 6A9 Ace Matador (The Firebot Charmanders) - DPP UU
     - Week 9 vs LonelyNess (The Ever Grande BIGS) - DPP UU
   Losses:
     - Week 1 vs Eo Ut Mortus (The Congregation of the Classiest) - DPP UU
     - Week 3 vs Twist of Fate (Smogon's Greatest Brits) - DPP UU
     - Week 4 vs Bad Ass (Les Trous du Cul Elegants) - DPP UU
     - Week 5 vs Stallion (The Cryonicles) - DPP UU
     - Week 7 vs Bluewind (The Circus Maximus Tigers) - DPP UU
     - Week 8 vs Aldaron (The Alpha Ruiners) - DPP UU

G80 (8 - 3)
Bid: 11,000 Credits
Metagames: RBY OU, GSC OU, ADV OU
   Wins:
     - Week 2 vs gotei(13) hyorinmaru (The Wifi Wolfpack) - ADV OU
     - Week 3 vs Havak (Smogon's Greatest Brits) - ADV OU
     - Week 4 vs Sapientia (Les Trous du Cul Elegants)
     - Week 5 vs Aeolus (The Cryonicles) - ADV OU
     - Week 6 vs wraith (The Firebot Charmanders) - ADV OU
     - Week 9 vs JabbaTheGriffin ( The Ever Grande BIGS) - ADV OU
     - Play-offs - Semi Finals vs Aeolus ( The Cryonicles) - ADV OU
     - Play-offs  Finals  vs kael (The Alpha Ruiners) - ADV OU
   Losses:
     - Week 1 vs goofball (The Congregation of the Classiest) - ADV OU
     - Week 7 vs Slobroking (The Indie Scooters) - ADV OU
     - Week 8 vs The Chaser (The Alpha Ruiners) - RBY OU

Gaborik (0 - 0)
Bid: 3,000 Credits
Metagames: DPP OU
   Wins:
     - N/A
   Losses:
     - N/A

Gouki (4 - 5)
Bid: 11,500 Credits
Metagames: ADV OU, DPP UU, DPP OU
   Wins:
     - Week 2 vs Abutorn (The Wifi Wolfpack) - DPP OU
     - Week 4 vs Earthworm (Les Trous du Cul Elegants) - DPP OU
     - Week 9 vs vashta (The Ever Grande BIGS) - DPP OU
     - Play-offs - Finals vs Duskie (The Alpha Ruiners) - DPP OU
   Losses:
     - Week 1 vs SevenDeadlySins (The Congregation of the Classiest) - DPP OU
     - Week 3 vs Krack (Smogon's Greatest Brits) - DPP OU
     - Week 5 vs Taylor (The Cryonicles) - DPP OU
     - Week 7 vs Philip7086 (The Circus Maximus Tigers) - DPP OU
     - Play-offs - Semi Finals  vs Taylor (The Cryonicles) - DPP OU
   Ties:
     - Week 6 vs Minato (The Firebot Charmanders) - DPP OU
     - Week 8 vs Loki (The Alpha Ruiners) - DPP OU

husk (5 - 4)
Bid: 18,500 Credits
Metagames: ADV OU, DPP OU
   Wins:
     - Week 1 vs Reverb (The Congregation of the Classiest) - DPP OU
     - Week 3 vs Philip7086 (Smogon's Greatest Brits) - DPP OU
     - Week 6 vs Arin (The Firebot Charmanders) - DPP OU
     - Play-offs - Semi Finals vs Shiv (The Cryonicles) - RBY OU
     - Play-offs - Finals vs The Chaser (The Alpha Ruiners) - RBY OU
   Losses:
     - Week 4 vs HR. (Les Trous du Cul Elegants) - DPP OU
     - Week 5 vs SilentEcho (The Cryonicles) - DPP OU
     - Week 8 vs kael (The Alpha Ruiners) - DPP OU
     - Week 9 vs dbolt (The Ever Grande BIGS) - RBY OU
   Ties:
     - Week 2 vs Phyres (The Wifi Wolfpack) - DPP OU
     - Week 7 vs hanke (The Circus Maximus Tigers) - DPP OU

Jibaku (5 - 4)
Bid: 6,000 Credits
Metagames: DPP OU, DPP Ubers
   Wins:
     - Week 5 vs DarkLucario (The Cryonicles) - DPP Ubers
     - Week 6 vs LinIsKorean (The Firebot Charmanders) - DPP Ubers
     - Week 9 vs Maniaclyrasist (The Ever Grande BIGS) DPP - Ubers
     - Play-offs - Semi Finals  vs DarkLucario (The Cryonicles) - DPP Ubers
     - Play-offs -  Finals  vs Rewer (The Alpha Ruiners) - DPP Ubers
   Losses:
     - Week 1 vs Deep Thought (The Congregation of the Classiest) - DPP Ubers
     - Week 3 vs Megan_Fox (Smogon's Greatest Brits) - DPP Ubers
     - Week 4 vs locopoke (Les Trous du Cul Elegants) - DPP Ubers
     - Week 7 vs tito (The Circus Maximus Tigers) - DPP Ubers
   Ties:
     - Week 8 vs mind (The Alpha Ruiners) - DPP Ubers

JMC (3 - 4)
Bid: 28,500 Credits
Metagames: RBY OU, GSC OU
   Wins:
     - Week 1 vs TTS (The Congregation of the Classiest) - RBY OU
     - Week 2 vs Jackal (The Wifi Wolfpack) - RBY OU
     - Week 4 vs Umby (Les Trous du Cul Elegants) - GSC OU
   Losses:
     - Week 3 vs spies (Smogon's Greatest Brits) - RBY OU
     - Week 5 vs Shiv (The Cryonicles) - RBY OU
     - Week 6 vs Somebody (The Firebot Charmanders) - RBY OU
     - Week 7 vs Pirotechnix (The Circus Maximus Tigers) - RBY OU

Mr.E (7 - 4)
Bid: 4,000 Credits
Metagames: RBY OU, GSC OU, ADV OU, DPP OU
   Wins:
     - Week 1 vs skarm (The Congregation of the Classiest) - GSC OU
     - Week 4 vs Thorns (Les Trous du Cul Elegants) - RBY OU
     - Week 5 vs gotei(13) hyorinmaru (The Cryonicles) - GSC OU
     - Week 6 vs MoP (The Firebot Charmanders) - GSC OU
     - Week 7 vs GigaPunch (The Circus Maximus Tigers) - GSC OU
     - Week 8 vs Sk (The Alpha Ruiners) - GSC OU
     - Week 9 vs Floppy (The Ever Grande BIGS) - GSC OU
   Losses:
     - Week 2 vs VIL (The Wifi Wolfpack) - GSC OU
     - Week 3 vs Lesm46 (Smogon's Greatest Brits) - GSC OU
     - Play-offs - Semi Finals  vs  gotei(13) hyorinmaru (The Cryonicles) - GSC OU
     - Play-offs - Finals vs  vs Sk (The Alpha Ruiners) - GSC OU
Generation Stats
Code:
DPP OU (19 - 11)
   Wins:
     - Week 1 vs The Congregation of the Classiest (husk vs Reverb)
     - Week 2 vs The Wifi Wolfpack (Gouki vs Abutorn)
     - Week 2 vs The Wifi Wolfpack (apologies vs zorbees)
     - Week 3 vs Smogon's Greatest Brits (husk vs Philip7086)
     - Week 3 vs Smogon's Greatest Brits (Atticus vs Pride)
     - Week 4 vs Les Trous du Cul Elegants (Gouki vs Earthworm)
     - Week 4 vs Les Trous du Cul Elegants (Atticus vs ENZ0)
     - Week 6 vs The Firebot Charmanders (husk vs Arin)
     - Week 6 vs The Firebot Charmanders (apologies vs DarkLynx)
     - Week 8 vs The Alpha Ruiners (Atticus vs _rewer_)
     - Week 8 vs The Alpha Ruiners (apologies vs Mechazawa) 
     - Week 9 vs The Ever Grande BIGS ( Gouki vs vashta)
     - Week 9 vs The Ever Grande BIGS ( Atticus vs Justinawe)
     - Week 9 vs The Ever Grande BIGS ( apologies vs Stone_Cold22)
     - Play-offs - Semi Finals vs The Cryonicles ( apologies vs SilentEcho)
     - Play-offs - Semi Finals vs The Cryonicles (Atticus vs romeojustdie)
     - Play-offs - Finals vs The Alpha Ruiners (  Atticus vs Mechazawa)
     - Play-offs Finals vs The Alpha Ruiners ( Gouki vs Duskie)
   Losses:
     - Week  1 vs The Congregation of the Classiest (Gouki vs SevenDeadlySins)
     - Week 1 vs The Congregation of the Classiest (Atticus vs Lady Bug)
     - Week 3 vs Smogon's Greatest Brits (Gouki vs Krack)
     - Week 4 vs Les Trous du Cul Elegants (husk vs HR.)
     - Week 5 vs The Cryonicles (husk vs SilentEcho)
     - Week 5 vs The Cryonicles (Gouki vs Taylor)
     - Week 5 vs The Cryonicles (Atticus vs romeojustdie)
     - Week 7 vs The Circus Maximus Tigers (Gouki vs Philip7086)
     - Week 7 vs The Circus Maximus Tigers (Atticus vs Kevin Garrett)
     - Play-offs - Semi Finals vs The Cryonicles ( Gouki vs Taylor)
     - Play-offs - Finals vs The Alpha Ruiners (apologies vs Loki)
   Ties:
     - Week 2 vs The Wifi Wolfpack (husk vs Phyres)
     - Week 6 vs The Firebot Charmanders (Gouki vs Minato)
     - Week 7 vs The Circus Maximus Tigers (husk vs hanke)
     - Week 8 vs The Alpha Ruiners (Gouki vs Loki)

[B]Used Players:[/B] apologies, Atticus, Gouki, husk
[B]MVP:[/B] Atticus


DPP Ubers (6 - 4)
   Wins:
     - Week 2 vs The Wifi Wolfpack (Atticus vs reachzero)
     - Week 5 vs The Cryonicles (Jiabku vs DarkLucario)
     - Week 6 vs The Firebot Charmanders (Jibaku vs LinIsKorean)
     - Week 9 vs The Ever Grande BIGS (Jibaku vs  Maniaclyrasist)
     - Play-offs - Semi Finals vs The Cryonicles (Jibaku vs Darklucario)
     - Play-offs - Finals  vs The Alpha Ruiners ( Jibaku vs Rewer)

   Losses:
     - Week 1 vs The Congregation of the Classiest (Jibaku vs Deep Thought)
     - Week 3 vs Smogon's Greatest Brits (Jibaku vs Megan_Fox)
     - Week 4 vs Les Trous du Cul Elegants (Jibaki vs locopoke)
     - Week 7 vs The Circus Maximus Tigers (Jibaku vs tito)
   Ties:
     - Week 8 vs The Alpha Ruiners (Jibaku vs _mind_)

[B]Used Players:[/B] Atticus, Jibaku
[B]MVP:[/B] Jibaku


DPP UU (3 - 6)
   Wins:
     - Week 2 vs The Wifi Wolfpack (Folgorio vs Legacy Raider)
     - Week 6 vs The Firebot Charmanders (Folgorio vs 6A9 Ace Matador)
     - Week 9 vs The Ever Grande Bigs (Folgorio vs LonelyNess)
   Losses:
     - Week 1 vs The Congregation of the Classiest (Folgorio vs Eo Ut Mortus)
     - Week 3 vs Smogon's Greatest Brits (Folgorio vs Twist of Fate)
     - Week 4 vs Les Trous du Cul Elegants (Folgorio vs Bad Ass)
     - Week 5 vs The Cryonicles (Folgorio vs Stallion)
     - Week 7 vs The Circus Maximus Tigers (Folgorio vs Bluewind)
     - Week 8 vs The Alpha Ruiners (Folgorio vs Aldaron)

[B]Used Players:[/B] Folgorio


ADV OU (8 - 3)
   Wins:
     - Week 2 vs The Wifi Wolfpack (G80 vs gotei(13) hyorinmaru)
     - Week 3 vs Smogon's Greatest Brits (G80 vs Havak)
     - Week 4 vs Les Trous du Cul Elegants (G80 vs Sapientia)
     - Week 5 vs The Cryonicles (G80 vs Aeolus)
     - Week 6 vs The Firebot Charmanders (G80 vs wraith)
     - Week 9 vs The Ever Grande BIGS (G80 vs JabbaTheGriffin)
     - Play-offs - Semi Finals vs The Cryonicles (G80 vs Aeolus)
     - Play-offs - Finals vs The Alpha Ruiners (G80 vs kael)
   Losses:
     - Week 1 vs The Congregation of the Classiest (G80 vs goofball)
     - Week 7 vs The Circus Maximus Tigers (G80 vs Slobroking)
     - Week 8 vs The Alpha Ruiners (husk vs kael)

[B]Used Players:[/B] G80


GSC OU (7 - 2)
   Wins:
     - Week 1 vs The Congregation of the Classiest (Mr.E vs skarm)
     - Week 4 vs Les Trous du Cul Elegants (JMC vs Umby) 
     - Week 5 vs The Cryonicles (Mr.E vs gotei(13) hyorinmaru)
     - Week 6 vs The Firebot Charmanders (Mr.E vs MoP)
     - Week 7 vs The Circus Maximus Tigers (Mr.E vs GigaPunch)
     - Week 8 vs The Alpha Ruiners (Mr.E vs Sk)
     - Week 9 vs The Ever Grande BIGS (MR.E VS Floppy)
   Losses:
     - Week 2 vs The Wifi wolfpack (Mr.E vs VIL)
     - Week 3 vs Smogon's Greatest Brits (Mr.E vs Lesm46)
     - Play-offs - Semi Finals vs The Cryonicles  (Mr.E vs gotei(13) hyorinmaru)
     - Play-offs - Finals vs The Alpha Ruiners ( Mr.E vs Sk)

[B]Used Players:[/B] JMC, Mr.E
[B]MVP:[/B] Mr.E


RBY OU (5 - 6)
   Wins:
     - Week 1 vs The Congregation of the Classiest (JMC vs TTS)
     - Week 2 vs The Wifi Wolfpack (JMC vs Jackal)
     - Week 4 vs Les Trous du Cul Elegants (Mr.E vs Thorns)
     - Play-offs - Semi Finals vs The Cryonicles  (husk vs Shiv)
     - Play-offs - Finals vs The Alpha Ruiners  (husk vs The Chaser)

        Losses:
     - Week 3 vs Smogon's Greatest Brits (JMC vs spies)
     - Week 5 vs The Cryonicles (JMC vs Shiv)
     - Week 6 vs The Firebot Charmanders (JMC vs Somebody)
     - Week 7 vs The Circus Maximus Tigers (JMC vs Pirotechnix)
     - Week 8 vs The Alpha Ruiners (G80 vs The Chaser)
     - Week 9 vs The Ever Grande Bigs (husk vs dbolt)

[B]Used Players:[/B] G80,Husk, JMC, Mr.E
[B]MVP:[/B] JMC
---------------
Team Stats
Code:
Les Trous du Cul Élégants (4 - 5)
   Wins:
     - Week 5 vs The Wifi Wolfpack (7 wins, 1 loss)
     - Week 6 vs Smogon's Greatest Brits (6 wins, 2 losses)
     - Week 7 vs The Ever Grande BIGS (6 wins, 2 losses)
     - Week 8 vs The Circus Maximus Tigers (6 wins, 2 losses)
   Losses:
     - Week 1 vs The Firebot Charmanders (3 wins, 5 losses)
     - Week 2 vs The Alpha Ruiners (3 wins, 5 losses)
     - Week 3 vs The Congregation of the Classiest ( 0 wins, 8 losses)
     - Week 4 vs The Indie Scooters (3 wins, 5 losses)
     - Week 9 vs The Cryonicles ( 3 wins , 5 losses)
   Ties:
     - N/A

*Points: 8
*Total Battle Wins: 37
*Total Battle Losses: 35
*BD: +2
*Current Ranking: 6th


Player Stats:

Bad Ass (5 - 2)
Bid: 3,000 Credits
Metagames: DPP UU, DPP OU
   Wins:
     - Week 1 vs 6A9 Ace Matador (The Firebot Charmanders) - DPP UU
     - Week 4 vs Folgorio (The Indie Scooters) - DPP UU
     - Week 5 vs Heysup (The Wifi Wolfpack) - DPP UU
     - Week 6 vs Twist of Fate (Smogon's Greatest Brits) - DPP UU
     - Week 7 vs LonelyNess (The Ever Grande BIGS) - DPP UU
   Losses:
     - Week 3 vs Eo Ut Mortus (The Congregation of the Classiest) - DPP UU
     - Week 8 vs Bluewind (The Circus Maximus Tigers) - DPP UU

Chomper The Sharptooth (0 - 1)
Bid: 3,000 Credits
Metagames: GSC OU, DPP OU, DPP Ubers
   Wins:
     - N/A
   Losses:
     - Week 3 vs FM (The Congregation of the Classiest) - GSC OU

Cost (1 - 1)
Bid: 3,000 Credits
Metagames: RBY OU, DPP OU
   Wins:
     - Week 5 vs Mekkah (The Wifi Wolfpack) - RBY OU
   Losses:
     - Week 6 vs spies (Smogon's Greatest Brits) - RBY OU

Dark Wolf (1 - 0)
Bid: 3,000 Credits
Metagames: ADV OU, DPP OU
   Wins:
     - Week 1 vs Somebody (The Firebot Charmanders) - ADV OU
   Losses:
     - N/A

dragon9owns (0 - 1)
Bid: 3,000 Credits
Metagames: RBY OU, GSC OU, DPP OU, DPP Ubers
   Wins:
     - N/A
   Losses:
     - Week 3 vs Deep Thought (The Congregation of the Classiest) - DPP Ubers

Earthworm (6 - 3)
Bid: 24,000 Credits
Metagames: DPP OU
   Wins:
     - Week 1 vs Arin (The Firebot Charmanders) - DPP OU
     - Week 5 vs Phyres (The Wifi Wolfpack) - DPP OU
     - Week 6 vs Krack (Smogon's Greatest Brits) - DPP OU
     - Week 7 vs vashta (The Ever Grande BIGS) - DPP OU
     - Week 8 vs hanke (The Circus Maximus Tigers) - DPP OU
     - Week 9 vs Taylor (The Cryonicles) - DPP OU
   Losses:
     - Week 2 vs The Chaser (The Alpha Ruiners) - DPP OU
     - Week 3 vs Lady Bug (The Congregation of the Classiest) - DPP OU
     - Week 4 vs Gouki (The Indie Scooters)

ENZ0 (6 - 1)
Bid: 3,000 Credits
Metagames: RBY OU, DPP OU
   Wins:
     - Week 2 vs Loki (The Alpha Ruiners) - DPP OU
     - Week 5 vs Mizuno (The Wifi Wolfpack) - DPP OU
     - Week 6 vs Pride (Smogon's Greatest Brits) - DPP OU
     - Week 7 vs Stone_Cold22 (The Ever Grande BIGS) - DPP OU
     - Week 8 vs Kevin Garrett (The Circus Maximus Tigers) - DPP OU
     - Week 9 vs romeojustdie (The Cryonicles) - DPP OU
   Losses:
     - Week 4 vs Atticus (The Indie Scooters) - DPP OU

GARLIC (0 - 1)
Bid: 3,000 Credits
Metagames: RBY OU, GSC OU, ADV OU
   Wins:
     - N/A
   Losses:
     - Week 2 vs Sk (The Alpha Ruiners) - GSC OU

HR. (1 - 2)
Bid: 3,000 Credits
Metagames: DPP UU, DPP OU
   Wins:
     - Week 4 vs husk (The Indie Scooters) - DPP OU
   Losses:
     - Week 2 vs Aldaron (The Alpha Ruiners) - DPP UU
     - Week 9 vs B-lulz (The Cryonicles) - DPP UU

locopoke (6 - 2)
Bid: 6,000 Credits
Metagames: RBY OU, GSC OU, ADV OU, DPP OU, DPP Ubers
   Wins:
     - Week 4 vs Jibaku (The Indie Scooters) - DPP Ubers
     - Week 5 vs reachzero (The Wifi Wolfpack) - DPP Ubers
     - Week 6 vs Megan_Fox (Smogon's Greatest Brits) - DPP Ubers
     - Week 7 vs Maniaclyrasist (The Ever Grande BIGS) - DPP Ubers
     - Week 8 vs tito (The Circus Maximus Tigers) - DPP Ubers
     - Week 9 vs DarkLucario (The Cryonicles) - DPP Ubers
   Losses:
     - Week 1 vs Blue_Tornado (The Firebot Charmanders) - DPP Ubers
     - Week 2 vs mind (The Alpha Ruiners) - DPP Ubers

M Dragon (4 - 3)
Bid: 6,000 Credits
Metagames: ADV OU, DPP UU, DPP OU, DPP Ubers
   Wins:
     - Week 2 vs by.Flash (The Alpha Ruiners) - DPP OU
     - Week 5 vs Blue Kirby (The Wifi Wolfpack) - DPP OU
     - Week 6 vs Nachos (Smogon's Greatest Brits) - DPP OU
     - Week 7 vs Justinawe (The Ever Grande BIGS) - DPP OU
   Losses:
     - Week 3 vs Mien. (The Congregation of the Classiest) - DPP OU
     - Week 8 vs Philip7086 (The Circus Maximus Tigers) - DPP OU
     - Week 9 vs SilentEcho (The Cryonicles) - DPP OU

 Sapientia (1 - 5)
Bid: 6,000 Credits
Metagames: RBY OU, ADV OU, DPP OU, DPP Ubers
   Wins:
     - Week 6 vs Havak (Smogon's Greatest Brits) - ADV OU
   Losses:
     - Week 1 vs Minato (The Firebot Charmanders) - DPP OU
     - Week 3 vs goofball (The Congregation of the Classiest) - ADV OU
     - Week 4 vs G80 (The Indie Scooters) - ADV OU
     - Week 7 vs JabbaTheGriffin (The Ever Grande BIGS) - ADV OU
     - Week 9 vs Aeolus (The Cryonicles) - ADV OU

snorlax (0 - 2)
Bid: 3,000 Credits
Metagames: DPP OU
   Wins:
     - N/A
   Losses:
     - Week 1 vs Plus (The Firebot Charmanders) - DPP OU
     - Week 3 vs Reverb (The Congregation of the Classiest) - DPP OU

Thorns (0 - 3)
Bid: 4,000 Credits
Metagames: RBY OU, ADV OU, DPP UU, DPP OU
   Wins:
     - N/A
   Losses:
     - Week 2 vs Jira (The Alpha Ruiners) - ADV OU
     - Week 4 vs Mr.E (The Indie Scooters) - RBY OU
     - Week 5 vs homsar (The Wifi Wolfpack) - ADV OU

Umby (2 - 5)
Bid: 3,000 Credits
Metagames: RBY OU, GSC OU, ADV OU
   Wins:
     - Week 5 vs VIL (The Wifi Wolfpack) - GSC OU
     - Week 8 vs Pirotechnix (The Circus Maximus Tigers) - GSC OU
   Losses:
     - Week 1 vs MoP (The Firebot Charmanders) - GSC OU
     - Week 4 vs JMC (The Indie ScooterS) - GSC OU
     - Week 6 vs Lesm46 (Smogon's Greatest Brits) - GSC OU
     - Week 7 vs Floppy (The Ever Grande BIGS) - GSC OU
     - Week 9 vs gotei(13) hyorinmaru (The Cryonicles) - GSC OU

zerowing / makiri (3 - 3)
Bid: 24,000 Credits
Metagames: RBY OU, GSC OU, ADV OU, DPP UU, DPP OU
   Wins:
     - Week 2 vs junior (The Alpha Ruiners) - RBY OU
     - Week 7 vs dbolt (The Ever Grande BIGS) - RBY OU
     - Week 8 vs CaptKirby (The Circus Maximus Tigers) - RBY OU
   Losses:
     - Week 1 vs Floppy (The Firebot Charmanders) - RBY OU
     - Week 3 vs TTS (The Congregation of the Classiest) - RBY OU 
     - Week 9 vs Shiv (The Cryonicles) - RBY OU
Generation Stats
Code:
DPP OU (17- 10)
   Wins:
     - Week 1 vs The Firebot Charmanders (Earthworm vs Arin)
     - Week 2 vs The Alpha Ruiners (M Dragon vs by.Flash)
     - Week 2 vs The Alpha Ruiners (ENZ0 vs Loki)
     - Week 4 vs The Indie Scooters (HR. vs husk)
     - Week 5 vs The Wifi Wolfpack (Earthworm vs Phyres)
     - Week 5 vs The Wifi Wolfpack (M Dragon vs Blue Kirby)
     - Week 5 vs The Wifi Wolfpack (ENZ0 vs Mizuno)
     - Week 6 vs Smogon's Greatest Brits (ENZ0 vs Pride)
     - Week 6 vs Smogon's Greatest Brits (M Dragon vs Nachos)
     - Week 6 vs Smogon's Greatest Brits (Earthworm vs Krack)
     - Week 7 vs The Ever Grande BIGS (M Dragon vs Justinawe)
     - Week 7 vs The Ever Grande BIGS (Earthworm vs vashta)
     - Week 7 vs The Ever Grande BIGS (ENZ0 vs Stone_Cold22)
     - Week 8 vs The Circus Maximus Tigers (Earthworm vs hanke)
     - Week 8 vs The Circus Maximus Tigers (ENZ0 vs Kevin Garrett)
     - Week 9 vs The Cryonicles (ENZ0 vs romeojustdie)
     - Week 9 vs The Cryonicles (Earthworm vs Taylor)
   Losses:
     - Week 1 vs The Firebot Charmanders (Sapientia vs Minato)
     - Week 1 vs The Firebot Charmanders (snorlax vs Plus)
     - Week 2 vs The Alpha Ruiners (Earthworm vs The Chaser)
     - Week 3 vs The Congregation of the Classiest (M Dragon vs Mien.)
     - Week 3 vs The Congregation of the Classiest (snorlax vs Reverb)
     - Week 3 vs The Congregation of the Classiest (Earthworm vs Lady Bug)
     - Week 4 vs The Indie Scooters (Earthworm vs Gouki)
     - Week 4 vs The Indie Scooters (ENZ0 vs Atticus)
     - Week 8 vs The Circus Maximus Tigers (M Dragon vs Philip7086)
     - Week 9 vs The Cryonicles (M Dragon vs SilentEcho)

[B]Used Players:[/B] Earthworm, ENZ0, HR., M Dragon, snorlax
[b]MVP:[B]Earthworm


DPP Ubers (6 - 3)
   Wins:
     - Week 4 vs The Indie Scooters (locopoke vs Jibaku)
     - Week 5 vs The Wifi Wolfpack (locopoke vs reachzero)
     - Week 6 vs Smogon's Greatest Brits (locopoke vs Megan_Fox)
     - Week 7 vs The Ever Grande BIGS (locopoke vs Maniaclyrasist)
     - Week 8 vs The Circus Maximus Tigers (locopoke vs tito)
     - Week 9 vs The Cryonicles (locopoke vs DarkLucario)
   Losses:
     - Week 1 vs The Firebot Charmanders (locopoke vs Blue_Tornado)
     - Week 2 vs The Alpha Ruiners (locopoke vs _mind_)
     - Week 3 vs The Congregation of the Classiest (dragon9owns vs Deep Thought)

[B]Used Players:[/B] dragon9owns, locopoke
[B]MVP:[/B] locopoke


DPP UU (5 - 4)
   Wins:
     - Week 1 vs The Firebot Charmanders (Bad Ass vs 6A9 Ace Matador)
     - Week 4 vs The Indie Scooters (Bad Ass vs Folgorio)
     - Week 5 vs The Wifi Wolfpack (Bad Ass vs Heysup)
     - Week 6 vs Smogon's Greatest Brits (Bad Ass vs Twist of Fate)
     - Week 7 vs The Ever Grande BIGS (Bad Ass vs LonelyNess)
   Losses:
     - Week 2 vs The Alpha Ruiners (HR. vs Aldaron)
     - Week 3 vs The Congregation of the Classiest (Bad Ass vs Eo Ut Mortus)
     - Week 8 vs The Circus Maximus Tigers (Bad Ass vs Bluewind)
     - Week 9 vs The Cryonicles (HR. vs B-lulz)

[B]Used Players:[/B] Bad Ass, HR.
[B]MVP:[/B] Bad Ass


ADV OU (3 - 6)
   Wins:
     - Week 1 vs The Firebot Charmanders (Dark Wolf vs Somebody)
     - Week 6 vs Smogon's Greatest Brits (Sapientia vs Havak)
     - Week 8 vs The Circus Maximus Tigers (Sapientia vs GigaPunch)
   Losses:
     - Week 2 vs The Alpha Ruiners (Thorns vs Jira)
     - Week 3 vs The Congregation of the Classiest (Sapientia vs goofball)
     - Week 4 vs The Indie Scooters (Sapientia vs G80)
     - Week 5 vs The Wifi Wolfpack (Thorns vs homsar)
     - Week 7 vs The Ever Grande BIGS (Sapientia vs JabbaTheGriffin)
     - Week 9 vs The Cryonicles (Sapientia vs Aeolus)

[B]Used Players:[/B] Dark Wolf, Sapientia, Thorns
[B]MVP:[/B] Sapientia


GSC OU (2 - 7)
   Wins:
     - Week 5 vs The Wifi Wolfpack (Umby vs Veteran in Love)
     - Week 8 vs The Circus Maximus Tigers (Umby vs Pirotechnix)
   Losses:
     - Week 1 vs The Firebot Charmanders (Umby vs MoP)
     - Week 2 vs The Alpha Ruiners (GARLIC vs Sk)
     - Week 3 vs The Congregation of the Classiest (Chomper the Sharptooth vs FM)
     - Week 4 vs The Indie Scooters (Umby vs JMC)
     - Week 6 vs Smogon's Greatest Brits (Umby vs Lesm46)
     - Week 7 vs The Ever Grande BIGS (Umby vs Floppy)
     - Week 9 vs The Cryonicles (Umby vs  gotei(13) hyorinmaru)

[B]Used Players:[/B] Chomper the Sharptooth, GARLIC, Umby
[B]MVP:[/B] Umby

RBY OU (4 - 5)
   Wins:
     - Week 2 vs The Alpha Ruiners (zerowing vs junior)
     - Week 5 vs The Wifi Wolfpack (Cost vs Mekkah)
     - Week 7 vs The Ever Grande BIGS (zerowing vs dbolt)
     - Week 8 vs The Circus Maximus Tigers (zerowing vs CaptKirby)
   Losses:
     - Week 1 vs The Firebot Charmanders (zerowing vs Floppy)
     - Week 3 vs The Congregation of the Classiest (zerowing vs TTS)
     - Week 4 vs The Indie Scooters (Thorns vs Mr.E)
     - Week 6 vs Smogon's Greatest Brits (Cost vs spies)
     - Week 9 vs The Cryonicles (makiri vs Shiv)

[B]Used Players:[/B] Cost, Thorns, zerowing
[b]MVP:[B] Zerowing
---------------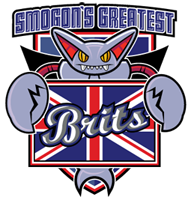 Team Stats
Code:
Smogon's Greatest Brits (3 - 3)
   Wins:
     - Week 2 vs The Ever Grande BIGS (7 wins, 1 loss)
     - Week 3 vs The Indie Scooters (5 wins, 3 losses)
     - Week 8 vs The Wifi Wolfpack (8 wins, 0 losses)
   Losses:
     - Week 1 vs The Circus Maximus Tigers (3 wins, 5 losses)
     - Week 6 vs Les Trous du Cul Elegants (2 wins, 6 losses)
     - Week 7 vs The Cryonicles (1 win, 7 losses)
    
   Ties:
     - Week 4 vs The Congregation of the Classiest
     - Week 5 vs The Alpha Ruiners

*Points: 8
*Total Battle Wins: 37
*Total Battle Losses: 34
*BD: +3
*Current Ranking: 6th


Player Stats:

Havak (4 - 4)
Bid: 3,500 Credits
Metagames: RBY OU, ADV OU, DPP OU
   Wins:
     - Week 1 vs GigaPunch (The Circus Maximus Tigers) - ADV OU
     - Week 2 vs JabbaTheGriffin (The Ever Grande BIGS) - ADV OU
     - Week 8 vs homsar (The Wifi Wolfpack) - ADV OU
     - Week 9 vs wraith (The Firebot Charmanders ) - ADV OU
   Losses:
     - Week 3 vs G80 (The Indie Scooters) - ADV OU
     - Week 5 vs The Chaser (The Alpha Ruiners) - ADV OU
     - Week 6 vs Sapientia (Les Trous du Cul Elegants) - ADV OU
     - Week 7 vs Aeolus (The Cryonicles) - ADV OU

Krack (5 - 4)
Bid: 12,000 Credits
Metagames: DPP UU, DPP OU, DPP Ubers
   Wins:
     - Week 2 vs vashta (The Ever Grande BIGS) - DPP OU
     - Week 3 vs Gouki (The Indie Scooters) - DPP OU
     - Week 4 vs Reverb (The Congregation of the Classiest) - DPP OU
     - Week 5 vs Loki (The Alpha Ruiners) - DPP OU
     - Week 8 vs Mizuno (The Wifi Wolfpack) - DPP OU
   Losses:
     - Week 1 vs Bluewind (The Circus Maximus Tigers) - DPP UU
     - Week 6 vs Earthworm (Les Trous du Cul Elegants) - DPP OU
     - Week 7 vs Taylor (The Cryonicles) - DPP OU
     - Week 9 vs Sage Abdul (The Firebot Charmanders) - DPP OU

Lesm46 (7 - 1)
Bid: 28,001 Credits
Metagames: RBY OU, GSC OU, ADV OU
   Wins:
     - Week 1 vs CaptKirby (The Circus Maximus Tigers) - GSC OU
     - Week 2 vs dbolt (The Ever Grande BIGS) - GSC OU
     - Week 3 vs Mr.E (The Indie Scooters) - GSC OU
     - Week 4 vs FM (The Congregation of the Classiest) - GSC OU
     - Week 6 vs Umby (Les Trous du Cul Elegants) - GSC OU
     - Week 7 vs gotei(13) hyorinmaru (The Cryonicles) - GSC OU
     - Week 8 vs Veteran In Love (The Wifi Wolfpack) - GSC OU
   Losses:
     - Week 5 vs Sk (The Alpha Ruiners) - GSC OU

Megan_Fox (4 - 3)
Bid: 13,999 Credits
Metagames: DPP UU, DPP OU, DPP Ubers
   Wins:
     - Week 2 vs Maniaclyrasist (The Ever Grande BIGS) - DPP Ubers
     - Week 3 vs Jibaku (The Indie Scooters) - DPP Ubers
     - Week 4 vs Deep Thought (The Congregation of the Classiest) - DPP Ubers
     - Week 5 vs mind (The Alpha Ruiners) - DPP Ubers
   Losses:
     - Week 1 vs hanke (The Circus Maximus Tigers) - DPP OU
     - Week 6 vs locopoke (Les Trous du Cul Elegants) - DPP Ubers
     - Week 7 vs romeojustdie (The Cryonicles) - DPP OU

Nachos (2 - 4)
Bid: 3,000 Credits
Metagames: DPP OU
   Wins:
     - Week 1 vs panamaxis (The Circus Maximus Tigers) - DPP OU
     - Week 8 vs Mekkah (The Wifi Wolfpack) - DPP OU
   Losses:
     - Week 4 vs goofball (The Congregation of the Classiest) - ADV OU
     - Week 5 vs Mechazawa (The Alpha Ruiners) - DPP OU
     - Week 6 vs M Dragon (Les Trous du Cul Elegants) - DPP OU
     - Week 9 vs Arin (The Firebot Charmanders) - DPP OU

Pride (0 - 3)
Bid: 3,000 Credits
Metagames: DPP OU
   Wins:
     - N/A
   Losses:
     - Week 3 vs Atticus (The Indie Scooters) - DPP OU
     - Week 4 vs Lady Bug (The Congregation of the Classiest) - DPP OU
     - Week 6 vs ENZ0 (Les Trous du Cul Elegants) - DPP OU

spies (6 - 3)
Bid: 4,500 Credits
Metagames: RBY OU, GSC OU, ADV OU
   Wins:
     - Week 2 vs Quantum Mechanics (The Ever Grande BIGS) - RBY OU
     - Week 3 vs JMC (The Indie Scooters) - RBY OU
     - Week 4 vs TTS (The Congregation of the Classiest) - RBY OU
     - Week 5 vs Jira (The Alpha Ruiners) - RBY OU
     - Week 6 vs Cost (Les Trous du Cul Elegants) - RBY OU
     - Week 8 vs Jackal (The Wifi Wolfpack) - RBY OU
   Losses:
     - Week 1 vs Pirotechnix (The Circus Maximus Tigers) - RBY OU
     - Week 7 vs Shiv (The Cryonicles) - RBY OU
     - Week 9 vs imperfectluck (The Firebot Charmanders) - RBY OU

Twist of Fate (4 - 3)
Bid: 9,000 Credits
Metagames: DPP UU, DPP OU, DPP Ubers
   Wins:
     - Week 3 vs Folgorio (The Indie Scooters) - DPP UU
     - Week 5 vs Aldaron (The Alpha Ruiners) - DPP UU
     - Week 7 vs Stallion (The Cryonicles) - DPP UU
     - Week 8 vs zorbees (The Wifi Wolfpack) - DPP UU
   Losses:
     - Week 2 vs LonelyNess (The Ever Grande BIGS) - DPP UU
     - Week 4 vs Eo Ut Mortus (The Congregation of the Classiest) - DPP UU
     - Week 6 vs Bad Ass (Les Trous du Cul Elegants) - DPP UU
   Ties
     - Week 9 vs 6A9 Ace Matador (The Firebot Charmanders ) - DPP UU



Traded Players:

Kevin Garrett
     Traded to the Circus Maximus Tigers during Week 6

Philip7086
     Traded to the Circus Maximus Tigers during Week 6



Received Players:

panamaxis (1 - 6)
Original Team: The Circus Maximus Tigers
Bid: 15,500 Credits
Metagames: DPP UU, DPP OU
Traded with reyscarface to Smogon's Greatest Brits for Kevin Garret and Philip7086 during Week 6.

Previous Record with The Circus Maximus Tigers (0 - 5)
   Wins:
     - N/A
   Losses:
     - Week 1 vs Nachos (Smogon's Greatest Brits) - DPP OU
     - Week 2 vs Arin (The Firebot Charmanders) - DPP OU
     - Week 3 vs romeojustdie (The Cryonicles) - DPP OU
     - Week 4 vs vashta (The Ever Grande BIGS) - DPP OU

Current Record (1 - 2)
   Wins:
     - Week 8 vs Blue Kirby (The Wifi Wolfpack) - DPP OU
   Losses:
     - Week 7 vs SilentEcho (The Cryonicles) - DPP OU
     - Week 9 vs Plus (The Firebot Charmanders) - DPP OU


reyscarface (3 - 2)
Original Team: The Circus Maximus Tigers
Bid: 8,000 Credits
Metagames: DPP UU, DPP OU, DPP Ubers
Traded with panamaxis to Smogon's Greatest Brits for Kevin Garret and Philip7086 during Week 6.

Previous Record with the Circus Maximus Tigers (1 - 1)
   Wins:
     - Week 1 vs Philip7086 (Smogon's Greatest Brits) - DPP OU
   Losses:
     - Week 2 vs 6A9 Ace Matador (The Firebot Charmanders) - DPP OU

Current Record (2- 1)
   Wins:
     - Week 8 vs reachzero (The Wifi Wolfpack) - DPP Ubers
     - Week 9 vs LinIsKorean (The Firebot Charmanders) - DPP Ubers
   Losses:
     - Week 7 vs DarkLucario (The Cryonicles) DPP Ubers
Generation Stats
Code:
DPP OU (10 - 17)
   Wins:
     - Week 1 vs The Circus Maximus Tigers (Nachos vs panamaxis)
     - Week 2 vs The Ever Grande BIGS (Philip7086 vs imperfectluck)
     - Week 2 vs The Ever Grande BIGS (Krack vs vashta)
     - Week 2 vs The Ever Grande BIGS (Kevin Garrett vs Stone_Cold22)
     - Week 3 vs The Indie Scooters (Krack vs Gouki)
     - Week 4 vs The Congregation of the Classiest (Krack vs Reverb)
     - Week 5 vs The Alpha Ruiners (Krack vs Loki)
     - Week 8 vs The Wifi Wolfpack (Nachos vs Mekkah)
     - Week 8 vs The Wifi Wolfpack (Krack vs Mizuno)
     - Week 8 vs The Wifi Wolfpack (panamaxis vs Blue Kirby)
   Losses:
     - Week 1 vs The Circus Maximus Tigers (Philip7086 vs reyscarface)
     - Week 1 vs The Circus Maximus Tigers (Megan_Fox vs hanke)
     - Week 3 vs The Indie Scooters (Philip7086 vs husk)
     - Week 3 vs The Indie Scooters (Pride vs Atticus)
     - Week 4 vs The Congregation of the Classiest (Kevin Garrett vs SevenDeadlySins)
     - Week 4 vs The Congregation of the Classiest (Pride vs Lady Bug)
     - Week 5 vs The Alpha Ruiners (Philip7086 vs Duskie)
     - Week 5 vs The Alpha Ruiners (Nachos vs Mechazawa)
     - Week 6 vs Les Trous du Cul Elegants (Pride vs ENZ0)
     - Week 6 vs Les Trous du Cul Elegants (Nachos vs M Dragon)
     - Week 6 vs Les Trous du Cul Elegants (Krack vs Earthworm)
     - Week 7 vs The Cryonicles (Megan_Fox vs romeojustdie)
     - Week 7 vs The Cryonicles (panamaxis vs SilentEcho)
     - Week 7 vs The Cryonicles (Krack vs Taylor)
     - Week 9 vs The Firebot Charmanders (panamaxis vs Plus)  
     - Week 9 vs The Firebot Charmanders (Nachos vs Arin)
     - Week 9 vs The Firebot Charmanders (Krack vs Sage Abdul)

[B]Used Players:[/B]Kevin Garrett, Krack, Megan_Fox, Nachos,panamaxis, Philip7086, Pride
[B]MVP:[/B] Krack


DPP Ubers (6 - 3)
   Wins:
     - Week 2 vs The Ever Grande BIGS (Megan_Fox vs Maniaclyrasist)
     - Week 3 vs The Indie Scooters (Megan_Fox vs Jibaku)
     - Week 4 vs The Congregation of the Classiest (Megan_Fox vs Deep Thought)
     - Week 5 vs The Alpha Ruiners (Megan_Fox vs _mind_)
     - Week 8 vs The Wifi Wolfpack (reyscarface vs reachzero)
     - Week 9 vs The Firebot Charmanders (reyscarface vs liniskorean)
   Losses:
     - Week 1 vs The Circus Maximus Tigers (Megan_Fox vs hanke)
     - Week 6 vs Les Trous du Cul Elegants (Megan_Fox vs locopoke)
     - Week 7 vs The Cryonicles (reyscarface vs DarkLucario)

[B]Used Players:[/B] Megan_Fox


DPP UU (4 - 4)
   Wins:
     - Week 3 vs The Indie Scooters (Twist of Fate vs Folgorio)
     - week 5 vs The Alpha Ruiners (Twist of Fate vs Aldaron)
     - Week 7 vs The Cryonicles (Twist of Fate vs Stallion)
     - Week 8 vs The Wifi Wolfpack (Twist of Fate vs zorbees)
   Losses:
     - Week 1 vs The Circus Maximus Tigers (Krack vs Bluewind)
     - Week 2 vs The Ever Grande BIGS (Twist of Fate vs LonelyNess)
     - Week 4 vs The Congregation of the Classiest (Twist of Fate vs Eo Ut Mortus)
     - Week 6 vs Les Trous du Cul Elegants (Twist of Fate vs Bad Ass)
   Ties
     - Week 9 vs The Firebot Charmanders (Twist Of Fate vs 6A9 Ace Matador)

[B]Used Players:[/B] Twist of Fate

ADV OU (4 - 5)
   Wins:
     - Week 1 vs The Circus Maximus Tigers (Havak vs GigaPunch)
     - Week 2 vs The Ever Grande BIGS (Havak vs JabbaTheGriffin)
     - Week 8 vs The Wifi Wolfpack (Havak vs homsar)
     - Week 9 vs The Firebot Charmanders (Havak vs wraith)
   Losses:
     - Week 3 vs The Indie Scooters (Havak vs G80)
     - Week 4 vs The Congregation of the Classiest (Nachos vs goofball)
     - Week 5 vs The Alpha Ruiners (Havak vs The Chaser)
     - Week 6 vs Les Trous du Cul Elegants (Havak vs Sapientia)
     - Week 7 vs The Cryonicles (Havak vs Aeolus)

[B]Used Players:[/B] Havak, Nachos
[B]MVP:[/B] Havak


GSC OU (7 - 1)
   Wins:
     - Week 1 vs The Circus Maximus Tigers (Lesm46 vs CaptKirby)
     - Week 2 vs The Ever Grande BIGS (Lesm46 vs dbolt)
     - Week 3 vs The Indie Scooters (Lesm46 vs Mr.E)
     - Week 4 vs The Congregation of the Classiest (Lesm46 vs FM)
     - Week 6 vs Les Trous du Cul Elegants (Lesm46 vs Umby)
     - Week 7 vs The Cryonicles (Lesm46 vs gotei(13) hyorinmaru)
     - Week 8 vs The Wifi Wolfpack (Lesm46 vs Veteran in Love)
   Losses:
     - Week 5 vs The Alpha Ruiners (Lesm46 vs Sk)

[B]Used Players:[/B] Lesm46


RBY OU (6 - 3)
   Wins:
     - Week 2 vs The Ever Grande BIGS (spies vs Quantum Mechanics)
     - Week 3 vs The Indie Scooters (spies vs JMC)
     - Week 4 vs The Congregation of the Classiest (spies vs TTS)
     - Week 5 vs The Alpha Ruiners (spies vs Jira)
     - Week 6 vs Les Trous du Cul Elegants (spies vs Cost)
     - Week 8 vs The Wifi Wolfpack (spies vs Jackal)
   Losses:
     - Week 1 vs The Circus Maximus Tigers (spies vs Pirotechnix)
     - Week 7 vs The Cryonicles (spies vs Shiv)
     - Week 9 vs The Firebot Charmanders (spies vs Imperfectluck)

[B]Used Players:[/B] spies
---------------
Team Stats
Code:
The Wifi Wolfpack (1 - 6)
   Wins:
     - Week 3 vs The Ever Grande BIGS (5 wins, 3 losses)
   Losses:
     - Week 1 vs The Cryonicles (3 wins, 5 losses)
     - Week 2 vs The Indie Scooters (1 win, 6 losses, 1 tie)
     - Week 4 vs The Alpha Ruiners (1 win, 7 losses)
     - Week 5 vs Les Trous du Cul Elegants (1 win, 7 losses)
     - Week 6 vs The Circus Maximus Tigers (1 win, 7 losses)
     - Week 8 vs Smogon's Greatest Brits (0 wins, 8 losses)
   Ties:
     - Week 7 vs The Firebot Charmanders

*Points: 3
*Total Battle Wins: 20
*Total Battle Losses: 47
*BD: -27
*Current Ranking: 10th


Player Stats:

Heysup (2 - 4)
Bid: 3,500 Credits
Metagames: DPP UU, DPP OU, DPP Ubers
   Wins:
     - Week 3 vs LonelyNess (The Ever Grande BIGS) - DPP UU
     - Week 7 vs 6A9 Ace Matador (The Firebot Charmanders) - DPP UU
   Losses:
     - Week 1 vs Stallion (The Cryonicles) - DPP UU
     - Week 4 vs Aldaron (The Alpha Ruiners) - DPP UU
     - Week 5 vs Bad Ass (Les Trous du Cul Elegants) - DPP UU
     - Week 6 vs Bluewind (The Circus Maximus Tigers) - DPP UU

homsar (3 - 4)
Bid: 3,500 Credits
Metagames: RBY OU, GSC OU, ADV OU
   Wins:
     - Week 1 vs Taylor (The Cryonicles) - ADV OU
     - Week 5 vs Thorns (Les Trous du Cul Elegants) - ADV OU
     - Week 7 vs imperfectluck (The Firebot Charmanders) - ADV OU
   Losses:
     - Week 3 vs JabbaTheGriffin (The Ever Grande BIGS) - ADV OU
     - Week 4 vs kael (The Alpha Ruiners) - ADV OU
     - Week 6 vs Slobroking (The Circus Maximus Tigers) - ADV OU
     - Week 8 vs Havak (Smogon's Greatest Brits) - ADV OU
    Ties
   - Week 9 vs goofball (The Congregation of the Classiest) - ADV OU 

Jackal (3 - 5)
Bid: 8,500 Credits
Metagames: RBY OU, GSC OU, ADV OU, DPP OU
   Wins:
     - Week 3 vs dbolt (The Ever Grande BIGS) - RBY OU
     - Week 4 vs Junior (The Alpha Ruiners) - RBY OU
     - Week 9 vs skarm (The Congregation of the Classiest) - RBY OU
   Losses:
     - Week 1 vs Shiv (The Cryonicles) - RBY OU
     - Week 2 vs JMC (The Indie Scooters) - RBY OU
     - Week 6 vs Pirotechnix (The Circus Maxmius Tigers) - RBY OU
     - Week 7 vs Somebody (The Firebot Charmanders) - RBY OU
     - Week 8 vs spies (Smogon's Greatest Brits) - RBY OU

Mekkah (0 - 3)
Bid: 6,000 Credits
Metagames: RBY OU, GSC OU, ADV OU, DPP OU
   Wins:
     - N/A
   Losses:
     - Week 5 vs Cost (Les Trous du Cul Elegants) - RBY OU
     - Week 7 vs Plus (The Firebot Charmanders) - DPP OU
     - Week 8 vs Nachos (Smogon's Greatest Brits) - DPP OU

Phyres (1 - 5)
Bid: 4,000 Credits
Metagames: DPP UU, DPP OU, DPP Ubers
   Wins:
     - Week 3 vs Stone_Cold22 (The Ever Grande BIGS) - DPP OU
   Losses:
     - Week 1 vs romeojustdie (The Cryonicles) - DPP OU
     - Week 4 vs Duskie (The Alpha Ruiners) - DPP OU
     - Week 5 vs Earthworm (Les Trous du Cul Elegants) - DPP OU
     - Week 6 vs Delta2777 (The Circus Maximus Tigers) - DPP OU
     - Week 9 vs SevenDeadlySins (The Congregation of the Classiest)
   Ties
     - Week 2 vs husk (The Indie Scooters) - DPP OU

Pirika (1 - 1)
Bid: 3,500 Credits
Metagames: DPP UU, DPP OU, DPP Ubers
   Wins:
     -  Week 9 vs Deep Thought (The Congregation of the Classiest ) - DPP Ubers
   Losses:
     - Week 3 vs Maniaclyrasist (The Ever Grande BIGS) - DPP Ubers

reachzero (3 - 6)
Bid: 24,501 Credits
Metagames: DPP OU, DPP Ubers
   Wins:
     - Week 1 vs DarkLucario (The Cryonicles) - DPP Ubers
     - Week 3 vs PurpleWeezing (The Ever Grande BIGS) - DPP OU
     - Week 9 vs kd24 (The Congregation of the Classiest) - DPP OU
   Losses:
     - Week 2 vs Atticus (The Indie Scooters) - DPP Ubers
     - Week 4 vs mind (The Alpha RuinerS) - DPP Ubers
     - Week 5 vs locopoke (Les Trous du Cul Elegants) - DPP Ubers
     - Week 6 vs tito (The Circus Maxmius Tigers) - DPP Ubers
     - Week 7 vs LinIsKorean (The Firebot Charmanders) - DPP Ubers
     - Week 8 vs reyscarface (Smogon's Greatest Brits) - DPP Ubers

VIL / Veteran In Love (3 - 6)
Bid: 23,000 Credits
Metagames: RBY OU, GSC OU, ADV OU, DPP OU
   Wins:
     - Week 2 vs Mr.E (The Indie Scooters) - GSC OU
     - Week 6 vs GigaPunch (The Circus Maximus Tigers) - GSC OU
     - Week 7 vs MoP (The Firebot Charmanders) - GSC OU
   Losses:
     - Week 1 vs SilentEcho (The Cryonicles) - DPP OU
     - Week 3 vs imperfectluck (The Ever Grande BIGS) - GSC OU
     - Week 4 vs Sk (The Alpha Ruiners) - GSC OU
     - Week 5 vs Umby (Les Trous du Cul Elegants) - GSC OU
     - Week 8 vs Lesm46 (Smogon's Greatest Brits) - GSC OU
     - Week 9 vs Fm (The Congregation of the Classiest) - GSC OU

zorbees (0 - 3)
Bid: 3,000 Credits
Metagames: DPP UU, DPP OU, DPP Ubers
   Wins:
     - N/A
   Losses:
     - Week 1 vs Blue Kirby (The Cryonicles) - DPP OU
     - Week 2 vs apologies (The Indie Scooters) - DPP OU
     - Week 8 vs Twist of Fate (Smogon's Greatest Brits) - DPP UU



Traded Players:

Abutorn
     Traded to The Circus Maximus Tigers during Week 3

gotei(13) hyorinmaru
     Traded to The Cryonicles during Week 3

j.franky
     Traded to The Circus Maximus Tigers during Week 3

Legacy Raider
     Traded to The Cryonicles during Week 3



Received Players:

Blue Kirby (3- 5)
Original Team: The Cryonicles
Bid: 7,500 Credits
Metagames: DPP OU
Traded to the Wifi Wolfpack for gotei(13) hyorinmaru and Legacy Raider during Week 3.

Previous Record with The Cryonicles (2 - 0)
   Wins:
     - Week 1 vs zorbees (The Wifi Wolfpack) - DPP OU
     - Week 3 vs Delta2777 (The Circus Maximus Tigers) - DPP OU
   Losses:
     - N/A
   Ties:
     - Week 2 vs Reverb (The Congregation of the Classiest) - DPP OU

Current Record (1 - 5)
   Wins:
     - Week 9 vs Mien (The Congregation of the Classiest) DPP OU
    Losses:
     - Week 4 vs Mechazawa (The Alpha Ruiners) - DPP OU
     - Week 5 vs M Dragon (Les Trous du Cul Elegants) - DPP OU
     - Week 6 vs hanke (The Circus Maximus Tigers) - DPP OU
     - Week 7 vs Minato (The Firebot Charmanders) - DPP OU
     - Week 8 vs panamaxis (Smogon's Greatest Brits) - DPP OU 


Mizuno (1 - 4)
Original Team: The Circus Maximus Tigers
Bid: 8,000 Credits
Metagames: ADV OU, DPP UU, DPP OU
Traded to the Wifi Wolfpack for Abutorn and j.franky during Week 3.

Previous Record with The Circus Maximus Tigers (0 - 0)
   Wins:
     - N/A
   Losses:
     - N/A

Current Record (1 - 5)
   Wins:
     - Week 7 vs Arin (The Firebot Charmanders) - DPP OU
    Losses:
     - Week 4 vs Loki (The Alpha Ruiners) - DPP OU
     - Week 5 vs ENZ0 (Les Trous du Cul Elegants) - DPP OU
     - Week 6 vs j.franky (The Circus Maxmius Tigers) - DPP OU
     - Week 8 vs Krack (Smogon's Greatest Brits) - DPP OU
     - Week 9 vs Eo Ut Mortus (The Congregation of the Classiest) - DPP UU
Generation Stats
Code:
DPP OU (6 - 20)
   Wins:
     - Week 3 vs The Ever Grande BIGS (reachzero vs PurpleWeezing)
     - Week 3 vs The Ever Grande BIGS (Phyres vs Stone_Cold22)
     - Week 3 vs The Ever Grande BIGS (Abutorn vs vashta)
     - Week 7 vs The Firebot Charmanders (Mizuno vs Arin)
     - Week 9 vs The Congregation of the Classiest (reachzero vs kd24)
     - Week 9 vs The Congregation of the Classiest  (Blue Kirby vs Mien)
   Losses:
     - Week 1 vs The Cryonicles (Phyres vs romeojustdie)
     - Week 1 vs The Cryonicles (Veteran in Love vs SilentEcho)
     - Week 1 vs The Cryonicles (zorbees vs Blue Kirby)
     - Week 2 vs The Indie Scooters (Abutorn vs Gouki)
     - Week 2 vs The Indie Scooters (zorbees vs apologies)
     - Week 4 vs The Alpha Ruiners (Blue Kirby vs Mechazawa)
     - Week 4 vs The Alpha Ruiners (Phyres vs Duskie)
     - Week 4 vs The Alpha Ruiners (Mizuno vs Loki)
     - Week 5 vs Les Trous du Cul Elegants (Phyres vs Earthworm)
     - Week 5 vs Les Trous du Cul Elegants (Blue Kirby vs M Dragon)
     - Week 5 vs Les Trous du Cul Elegants (Mizuno vs ENZ0)
     - Week 6 vs The Circus Maximus Tigers (Phyres vs Delta2777)
     - Week 6 vs The Circus Maximus Tigers (Mizuno vs j.franky)
     - Week 6 vs The Circus Maximus Tigers (Blue Kirby vs hanke)
     - Week 7 vs The Firebot Charmanders (Mekkah vs Plus)
     - Week 7 vs The Firebot Charmanders (Blue Kirby vs Minato)
     - Week 8 vs Smogon's Greatest Brits (Mekkah vs Nachos)
     - Week 8 vs Smogon's Greatest Brits (Mizuno vs Krack)
     - Week 8 vs Smogon's Greatest Brits (Blue Kirby vs panamaxis)
     - Week 9 vs The Congregation of the Classiest (Phyres vs SevenDeadlySins)
   Ties:
     - Week 2 vs The Indie Scooters (Phyres vs husk)

[B]Used Players:[/B] Abutorn, Blue Kirby, Mizuno, Phyres, Veteran in Love, zorbees
[b]MVP:[B]reachzero


DPP Ubers (1 - 7)
   Wins:
     - Week 1 vs The Cryonicles (reachzero vs DarkLucario)
     - Week 9 vs The Congregation of the Classiest  (Pirikia vs Deep Thought)
   Losses:
     - Week 2 vs The Indie Scooters (reachzero vs Atticus)
     - Week 3 vs The Ever Grande BIGS (Pirikia vs Maniaclyrasist)
     - Week 4 vs The Alpha Ruiners (reachzero vs _mind_)
     - Week 5 vs Les Trous du Cul Elegants (reachzero vs locopoke)
     - Week 6 vs The Circus Maximus Tigers (reachzero vs tito)
     - Week 7 vs The Firebot Charmanders (reachzero vs LinIsKorean)
     - Week 8 vs Smogon's Greatest Brits (reachzero vs reyscarface)

[B]Used Players:[/B] Pirika, reachzero
[B]MVP:[/B] reachzero


DPP UU (2 - 7)
   Wins:
     - Week 3 vs The Ever Grande BIGS (Heysup vs LonelyNess)
     - Week 7 vs The Firebot Charmanders (Heysup vs 6A9 Ace Matador)
   Losses:
     - Week 1 vs The Cryonicles (Heysup vs Stallion)
     - Week 2 vs The Indie Scooters (Legacy Raider vs Folgorio)
     - Week 4 vs The Alpha Ruiners (Heysup vs Aldaron)
     - Week 5 vs Les Trous du Cul Elegants (Heysup vs Bad Ass)
     - Week 6 vs The Circus Maximus Tigers (Heysup vs Bluewind)
     - Week 8 vs Smogon's Greatest Brits (zorbees vs Twist of Fate)
     - Week 9 vs The Congregation of the Classiest (Mizuno vs Eo Ut Mortus)

[B]Used Players:[/B] Heysup, Legacy Raider, zorbees
[B]MVP:[/B] Heysup


ADV OU (3 - 5)
   Wins:
     - Week 1 vs The Cryonicles (homsar vs Taylor)
     - Week 5 vs Les Trous du Cul Elegants (homsar vs Thorns)
     - Week 7 vs The Firebot Charmanders (homsar vs imperfectluck)
   Losses:
     - Week 2 vs The Indie Scooters (gotei(13) hyorinmaru vs G80)
     - Week 3 vs The Ever Grande BIGS (homsar vs JabbaTheGriffin)
     - Week 4 vs The Alpha Ruiners (homsar vs kael)
     - Week 6 vs The Circus Maximus Tigers (homsar vs Slobroking)
     - Week 8 vs Smogon's Greatest Brits (homsar vs Havak)
    Ties
     - Week 9 vs The Congregation of the Classiest (homsar vs goofball)

[B]Used Players:[/B] gotei(13) hyorinmaru, homsar
[B]MVP:[/B] homsar


GSC OU (4 - 5)
   Wins:
     - Week 1 vs The Cryonicles (gotei(13) hyorinmaru vs Aeolus)
     - Week 2 vs The Indie Scooters (Veteran in Love vs Mr.E)
     - Week 6 vs The Circus Maximus Tigers (Veteran in Love vs GigaPunch)
     - Week 7 vs The Firebot Charmanders (Veteran in Love vs MoP)
   Losses:
     - Week 3 vs The Ever Grande BIGS (Veteran in Love vs imperfectluck)
     - Week 4 vs The Alpha Ruiners (Veteran in Love vs Sk)
     - Week 5 vs Les Trous du Cul Elegants (Veteran in Love vs Umby)
     - Week 8 vs Smogon's Greatest Brits (Veteran in Love vs Lesm46)
     - Week 9 vs The Congregation of the Classiest ( Veteran in Love vs FM)

[B]Used Players:[/B] gotei(13) hyorinmaru, Veteran in Love
[B]MVP:[/B] Veteran in Love


RBY OU (3 - 6)
   Wins:
     - Week 3 vs The Ever Grande BIGS (Jackal vs dbolt)
     - Week 4 vs The Alpha Ruiners (Jackal vs Junior)
     - Week 9 vs The Congregation of the Classiest (Jackal vs skarm)
   Losses:
     - Week 1 vs The Cryonicles (Jackal vs Shiv)
     - Week 2 vs The Indie Scooters (Jackal vs JMC)
     - Week 5 vs Les Trous du Cul Elegants (Mekkah vs Cost)
     - Week 6 vs The Circus Maximus Tigers (Jackal vs Pirotechnix)
     - Week 7 vs The Firebot Charmanders (Jackal vs Somebody)
     - Week 8 vs Smogon's Greatest Brits (Jackal vs spies)

[B]Used Players:[/B] Jackal, Mekkah
[B]MVP:[/B] Jackal