I Thought We Were Just Supposed to Play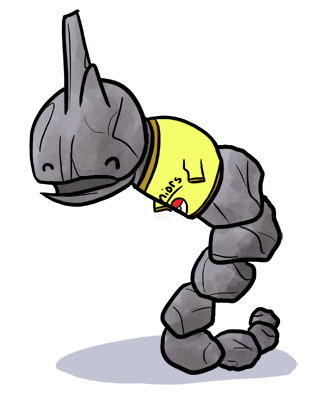 Introduction
Depending on where you live in the world, The Pokemon Company International (TPCi) might have events called the Video Game Championships (VGC), or Trading Card Game Championships (TCG Championships/Pokemon Championships). Some countries might have just one, and some counties are lucky enough to have both! Generally in larger countries, like the Untied States and Canada, they have multiple events that are placed strategically around the country to cover a populated area. However, some of you might live hundreds or even thousands of miles away from these super-fun events, and it can be quite costly to travel to the nearest one. This is especially true if you live in a smaller country, where they have 1 to 2 at the most. So let's just say you get enough money and make a pilgrimage all the way to an event. Now you're finally ready to kick some Poke-ass, then... your opponent's Sand Veil Garchomp manages to dodge every last one of your attacks, and they come back from a 3 to 1 deficit. Now you have missed Top Cut because you have a less than great record. (Top Cut can be related to professional sports playoffs.) Then you head on home, and it may feel like a wasted experience. Never fear, because Smogon is here!! Here are some tips to get the most out of your VG/TCG Championships!
Pre-Event
While some people are fortunate enough to have parents/family/friends to drive them, some people aren't as lucky. If you're one of those people, consider teaming up with some other users to make a journey to an event. The cost can be split between you, which is efficient for everyone. Maybe get together on Smogon IRC or through messages to plan a trip to an event. On the way, you decide to stop at the local T.G.I Friday's and agree to sample some of their specials with friends. Split the bill, and you're off to conquer your tournament! You can take a few game consoles with you to play in the hotel. I for one enjoy playing multi-player mini-games/party games like the Pokemon Stadium mini-games. After all, they say getting there is half the fun! Then when the event arrives, it's time to kick things up a notch! Get ready... to wake up early. -_- That's right, if you want to avoid long lines, waits, and to be guaranteed a spot in the contest in case of an overflow, please show up 30-60 minutes before registration for your event is set to begin. Half the time, they open the doors early anyway.
Events
At the event, there are numerous things to do and see. For instance, at the VGC'11 tournament, there was a display of a Pokedex 3D. I've never been to a TCG event myself, but I assume it's much of the same as VGC. The event is the perfect time to meet other Smogonites! Typically seeing people wearing a "#Seniors" shirt or other recognizable competitive website apparel is a giveaway for that. I like to call this the Dress Code. "Hey, this person knows how to play, and hey, this person might just be here to win!" The famous cach phrase you can bet 1 million dollars you hear almost every player say is "Do you EV train?" or "Are you on Smogon?". If I had a penny for every time I heard that... Other than what I call the "Dress Code", your best bet to locate some of your forum buddies is to ask them in advance what they look like/what they will be wearing so when they do show up, you'll know it's your good friend that you've shared many laughs with! Battling before the contest is fun, but it is not recommended unless you have a spare team/the other person is not in your age division. Another thing that some people may find interesting is talking to the official tournament staff. They have a great knowledge of the game, and it makes for great conversation.
One thing I just have to comment on is that I love seeing people walk around with their plushies for good luck. It's like a VGC tradition. Don't have any plushies on you? No problem, simply buy one from the store. Right? Well, ya got $25 to spare?
Other fun things to do is shop at the kiosks they have there. The kiosks usually carry the latest booster sets for the TCG, with some other interesting merchandise. Here is where it gets crazy because everything here is outrageously overpriced, and that's no exaggeration. For example, they have rare Pokemon cards (past, and present) locked up in a nice glass case, usually ranging from $3.00 to $150.00 (US). The more expensive cards are rare promotions and misprints. One I adored, but couldn't buy because it was too expensive, was a Persian misprint with no HP number. However, I am sure you can find a better deal for most of these cards at your local collector/ebay. It is quite cool that they offer stuff like that, but the price is a major downside. Other merchandise includes card binders, TCG play mats, badge pins (apparently from the Wizards of the Coast TCG era, still very cool and nostalgic), and Pokemon plushies. This leads me into multi-day events, such as Nationals and Worlds. Again, the merchandise is extremely overpriced, so I'd suggest only buying a few things perhaps as a souvenir.
Multi-Day Events
Nationals and Worlds differ greatly from their regional counterparts. A minor change is that the stores carry different merchandise, such as event exclusive items that are very collectable and valuable. Another thing that is nice: the events are multi-day, so you have much more time to goof off and have fun with friends. Whether it's eating at a restaurant, going mini-golfing, or just hanging out, multi-day events are more fun for this reason. It's also the perfect time for getting all of your Pokemon in your entire game to lv. 100! More competitive events like Nationals/Worlds just have that atmosphere that you don't often find at Regional/State/City events, which leads to some interesting competition and intense battles.
Hotels are indeed expensive
So get the most of it then! Just have a good time with your friends. Whatever you guys enjoy doing should be enough to keep you entertained and occupied during the off hours of the tournament. It just gives you that "Wow, I just had a good time!" sensation. For some reason, this one time I stayed in a hotel with a fountain and flicked a dime in it. I simply wished myself luck at the upcoming event. This was the only time where hax happened in my favor instead of against me. Just sayin', hotel fountains are magic!
Conclusion
Take advantage of any, and I mean any, opportunity you have to attend one of these events, especially with buddies. I feel bad for those who miss out on these because they are a great deal of fun, gracefully combining competitiveness and fun with friends!