VGC 2010 Atlanta (Coaster) - The Intrusive Storm
This is the story of my adventures of the Video Game Championship of 2010. Enjoy.
Before we begin, this team is called "The Intrusive Storm" because of its aggressiveness when under the power of the storm, or hail.
Well, I'll start off with the week before Saturday, June 5th with how I prepared for the VGC.
Part 1 – Week of May 30th
On Sunday, I spent hours after hours on Pokémon Online, battling other VGC hopefuls and tweaking my team every now and then. I also would go and read other warstories and see how attendees faired. Many of them sound happy and glad with what they accomplished, so I felt better and better about my team. Around Monday morning, I completely stopped going onto Pokémon Online and just relaxed, playing soccer with my friends, going out for a swim in the neighborhood pool, and watching new releases in theaters. It wasn't until late Wednesday that I realized that I needed to start to work on my team if I wanted to participate. I called on a friend I made here on the Smogon forums, Werecario, for help, for he had already attended the Dallas Regional Qualifier and told me that he was incredibly bored and had plenty of free time if I needed any help. I decided to take on that offer and asked him to breed me my Abomasnow, which I thought would be the easiest to handle out of all the Pokémon in my team.
Soon came Thursday afternoon, and I still stalled a bit about breeding and soft resetting my team. Instead, I still went on Pokémon Online to keep on testing my team, and at that point I made a new addition to my team, which was Dialga over a Mewtwo I was testing. Dang it, I thought. I already had started to Soft Reset for the Palkia in my Soul Silver game and I didn't have another game that I could get Dialga (Or at least I thought). I was looking through the forums for someone who might have had a Dialga they were willing to give to me when I remembered Werecario's Warstory from the Dallas Regional Qualifiers. He had a Modest Dialga! But I felt guilty that he was already working on my Abomasnow, I didn't really ask for his, I still went searching for my own.
Now it's Friday night, and I finished Soft Resetting for a Timid Palkia with 31x3 IVs and started breeding my Infernape, which I had to get from my Diamond and breed for a female in order to breed it with a Male Persian with Fake Out. Around 9 or 10pm EST, Werecario PM'd me with his latest result with the Abomasnow and it was a really decent one so I decided to keep it. I finally finished breeding my Infernape with Fake Out with 31x2 IVs, so thus continued my search for Dialga. I kept thinking and thinking, but then I remembered my Diamond, and quickly went to get my game. So luckily, the Dialga I had used in-game and didn't Soft Reset for was a Modest Nature with 31 IVs in HP and over 20 in Special Attack and Speed. What luck I had thought to myself. And thus begun a long process of EV training.
It wasn't until 4am EST that I finished EV training the team and finally got some shuteye.
Part 2 – Game Day
I woke up around 7am EST, not getting much sleep because of some tension and anxiety for the day. I had to do some work at my dad's office before heading out to the Gwinnett Center.
It wasn't until 10am EST that I left his office, and from there it was about a 30-minute drive. I hopped into my friend's car and we drove off. Unfortunately, there was an accident on I-285 and traffic was really bad. We sat in traffic for about an hour, and we weren't half way to the Gwinnett Center.
Finally, after all the madness of the traffic jam, we arrived at The Gwinnet Center around 11:10am EST. I told my friend to come pick me up around 4pm EST, assuming that it would be done by then (boy was I wrong). I hopped into the line and saw that it was pretty long.
The line for registration was indeed long.
During the 2-hour wait, I talked with the people in line with me. I didn't ask if they were members of any forums, but I could tell after awhile that they weren't. The people behind me were a mother with her two children, Kyle and Jessica. Kyle looked to be just the age requirement for the Junior division, but they mentioned that his sister participated in the Junior earlier in the morning, with not so great results.
The couple in front of me was from Florida, Sabrina and her boyfriend (I forgot his name). Sabrina was a nice lady who was 23 years old that drove up for some fun in the VGC. Eventually, Kyle, Jessica, Sabrina, and I did some battles for four and Pokéathleon, and I got to see some of their teams. Just from the looks of it, I could tell they didn't EV train or anything. There was also a group of people behind us that dressed up like Team Magma, and I had to get a picture.
Team Magma showed up to the event!
We finally hit registration and in about 10 minutes, the battling had begun.
Part 3 – The Battles
Before we get into the battles, here's a quick look at my team (Free cookies to anyone who can guess where they nicknames originated from[Not including the reserves]):

Finch the Infernape @ Life Orb
EVs: 252 Attack / 252 Speed / 6 HP
Naïve Nature (+ Speed, - Special Defense)
Ability: Blaze
~ Fake Out
~ Mach Punch
~ Overheat
~ Protect

Michele the Abomasnow @ Sitrus Berry
EVs: 252 HP / 252 Special Attack / 6 Attack
Quiet Nature (+ Special Attack, - Speed)
Ability: Snow Warning
~ Ice Shard
~ Blizzard
~ Grass Knot
~ Protect
Jim the Palkia @ Haban Berry
EVs: 252 Special Attack / 252 Speed / 6 HP
Timid Nature (+ Speed, - Special Attack)
Ability: Pressure
~ Spacial Rend
~ Thunder
~ Blizzard
~ Protect
Stifler the Dialga @ Chople Berry
EVs: 252 HP / 252 Special Attack / 6 Speed
Modest Nature (+ Special Attack, - Attack)
Ability: Pressure
~ Draco Meteor
~ Flamethrower
~ Blizzard
~ Protect
These next two were just for there for good luck, and because they're two of my favorite Pokémon:
Alexandria the Ampharos @ Leftovers
EVs:
Relaxed Nature (+Defense, - Speed)
Ability: Static
~ Discharge
~ Signal Beam
~ Light Screen
~ Thunder Wave
Salad the Meganium @ Miracle Seed
EVs:
Bold Nature (+ Defense, - Attack)
Ability: Overgrow
~ Magical Leaf
~ Synthesis
~ Body Slam
~ Rock Climb
Now, let's move on to the battles.
Battle #1: vs. Sabrina
Sabrina's Team:
|
|
|
Yeah, it was against Sabrina. I didn't really want to play her, and I was a bit nervous because usually the teams that you have no clue what they're going to do are the ones that screw you over the most. The battle begins with my leads versus her Giratina and Feraligatr. I knew that Feraligatr was going to use some water move on Infernape, so I went for Fake Out on that (and that I can't even Fake Out Giratina regardless). I also went for an Ice Shard on Giratina because I felt that it would Shadow Force, and I knew I would be slower.
--->

Finch used Fake Out!

--->

Michele uses Ice Shard! It's super effective!

Feraligatr flinched!

--->

Giratina used Earth Power! It's not very effective…
Hail continued to fall! (Not mentioning hail residual damage from here on)
Um… what? When I saw the Earth Power, I was definitely expecting it to hit Infernape, but instead, it went for Abomasnow, and it did absolutely nothing. Well, now I know that Infernape is basically useless, so I decide to switch him out and then go for a Blizzard.
Finch, come back! Go, Jim!

--->

Giratina used Dragon Claw! The Sitrus Berry restored some of Michele's health!

--->
Feraligatr used Hydro Cannon! It's not very effective…

--->

,

Michele used Blizzard! It's super effective!
It's not very effective...
Hail continued to fall!
Her Dragon Claw went for Abomasnow, and it activated my Sitrus Berry, so I definitely could take another one. And then her Feraligatr went for Hydro Cannon? I knew at this point she didn't have knowledge of competitive battling. So now I just Grass Knot the Feraligatr and spam Blizzard.
--->

,

(4-3)
Jim used Blizzard! It's super effective! Giratina fainted!
It's not very effective…

Feraligatr has to recharge!

--->

(4-2)
Michele used Grass Knot! It's super effective! Feraligatr fainted!
Hail continued to fall!
Double KO and that was done with. Now she sends out Typholsion and Togekiss. I knew what was going to happen, but I scouted anyways with Abomasnow.

Michele used Protect!
--->

Jim used Spacial Rend!

--->

Typholsion used Fire Blast! Michele protected itself!

--->
Togekiss used Aura Sphere!
Hail continued to fall!
Okay, this seems more legit than the Hydro Cannon Feraligatr. Spacial Rend didn't quite KO Typholsion, but after that and hail damage, an Ice Shard from Michele would. Aura Sphere did about a fourth to Palkia though.

--->

(4-1)
Michele used Ice Shard! It's not very effective… Typholsion fainted!
--->

(4-0)
Jim used Blizzard! It's super effective! Togekiss fainted!
Player won against Sabrina!
Well, despite how easy that battle was and how it calmed my nerves down, I felt really bad for Sabrina from the look on her face when she got 4-0'd. I told her sorry then quickly moved onto the next section. I didn't see her again sadly.
Battle #2: vs. Rocket Grunt
ROCK's Team:
|
|
|
Alright, I noticed this guy before getting into the room for battling because of the way he was dressed. He dressed up as Rocket Grunt and attracted a lot of attention from all the people. I was worried again, because I saw him hang around some people in duck shirts and MattJ, meaning he was a Smogonite, although I never got his name. Anyway, onto the battle.
--->

Finch used Fake Out!

Kyogre flinched!
--->
Blissey used Toxic! Finch was badly poisoned!

--->

(4-3)
Michele used Grass Knot! It's super effective! Kyogre fainted!
Finch was hurt by poison!
Right off the bat, I double-teamed the Kyogre. Just from the look of the leads, I was assuming that Kyogre was a Calm Mind set and the Blissey had Psych Up. But instead, the Blissey uses Toxic on Infernape, which will wear him down quickly with Life Orb and hail. Now he switches in his Giratina. This time I stuck with Blizzard rather than using Ice Shard and Mach Punch that Blissey.
--->
Finch used Mach Punch! It's super effective!

--->
Giratina used Dragon Claw!
--->

Blissey used Toxic! Michele was badly poisoned!
--->

,
Michele used Blizzard! It's super effective!
Finch was hurt by poison! Finch fainted! (3-3)
Michele was hurt by poision!
I lost my Infernape, which could be a bad thing assuming that this Blissey could take Special hits really well. I sent out Palkia again, knowing that I can outspeed the Giratina before it hits me.

--->
Michele used Ice Shard!
--->

, c
(3-2)
Jim used Blizzard! It's super effective! Giratina fainted!
Blissey fainted! (3-1)
Michele was hurt by poison!
Yes! Another double KO. I knew now that I have a healthy Diagla and Palkia ready to take my opponent's non Uber, so I knew I had this in the bag.

--->
Michele used Ice Shard!
--->
(3-0)
Jim used Spacial Rend! It's super effective! Kingdra fainted!
Player won against ROCK!
Yes, secured a spot into the next round. My confidence once again rose and now I felt that I had an easy ride to the finalist lounge. That is, until I saw who I was up against.
Battle #3: vs. MattJ
MattJ's Team:
|
|
|
I'm not going to discuss everything like I did for the other battles since I actually have this one recorded, so I think I will update this thread when I get the video onto Youtube, but for now if you want to see the battle, go to the GTS and download the following video number:
76-46244-45639
All I will say is that the Parahax on Palkia towards the end really affected the result, as I targeted the Kyogre with a Spacial Rend, which would leave Abomasnow to attack one or the other, since I think MattJ told me that his Abomasnow was pure Physical. Also, Werecario did some calcs for me and told me that the critical hit with Ice Shard did matter, but that one didn't bother me as much as the Parahax mainly because I didn't think I could take out Abomasnow with a -2 Flamethrower. But yeah, I ended up losing this one 0-1 and end my 2010 VGC adventure.
Part 4 – The Aftermath
After leaving the playing area, I went to the TV that had the fourth round match and watch MattJ play his next opponent. It was decently close battle, but MattJ took the win pretty easily at 2-0. From there, I remembered how hungry I was and got a chilidog with a coke. It was indeed delicious.
After eating my meal, I went in line for the King of the Hill, where I won 4 battles before losing my next one, just being one away form being the second person to win 5.
King of the Hill section.
After that, I remembered that I should pick up my shiny Eevee; I wouldn't want to leave without that!
The Info Booth telling you how to get the special Shiny Eevee.
Then I decided to play some Pokémon Rumble, just out of sheer boredom.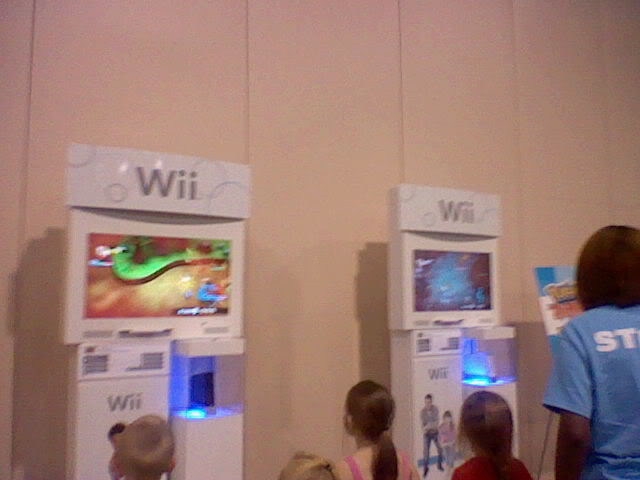 Pokémon Rumble section.
It was around 3:30pm EST when I decided that the next round was taking a bit long, so I went outside and just sat there, waiting for my friend to pick me up so I could head home after a long, tiring day.
Overall, the experience was very fun, but it left me wanting more. I really hope that I can go to LCQ and continue to have fun, although team "The Intrusive Storm" would have to retire. Thanks you for taking the time to read my warstory!
Props:
Having meeting new friends and people.
Abomasnow proving to be much more helpful than I had experienced in Pokémon Online.
Losing to someone good, not someone makes a random team and gets lucky.
The Intrusive Storm
Cons:
Only making it to the third round, failing to do better than last year.
Long wait.
The video game having to decide a battle with luck rather than letting two good players move on (just kidding lol).
Enjoy the sheer power of The Intrusive Storm's warstory!
~ Coaster