VGC 2010 Atlanta (HagridTwin)
I seriously did not think I would be doing this. A war report was the farthest thing from my mind entering the tournament. My plan was to battle as long as my two boys were still in the tournament and then bow out as soon as I either made the top 16 or had to face a little kid. I knew my daughter Grace had a great chance of going to the finals, as she does really well in these things. This was the first year for David and Ryan in the senior bracket and I know the competition is fierce here. I thought if they got to round two or three, I would be very pleased with the experience.
The road trip
Our trip down to Atlanta started bright and early on Friday: 4:30 wake up call. We loaded the kids into the minivan, checked to make sure everyone had their HG/SS game, and hit the road. Linda decides she will drive so the rest of us can battle. I have studied all of the most popular teams and competing in Seattle just a few weeks earlier really helped. I have about 10 dedicated teams on my HG cart and often just mix and match some Pokémon just to shake things up for the kids.
Each of the kids take turns battling me two or three teams at a time. I offer advice as to what to expect on opening moves and they learn quickly. Before long, they can each beat any team I throw at them. I'm feeling good about the tournament now. David is relentless. Every half hour he yells up "Dad, let's battle again". Just for all of you out there that think I threw the final, David usually beat me.
We finally arrive in Atlanta and check into the hotel. We see some folks we know from previous tournaments as well as a bunch of kids in the lobby playing Pokémon (my people!!!). We are tired and hungry, so we grab a bite to eat and beg out of any matches in the hotel so that we may get some much needed rest.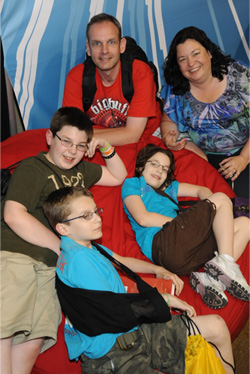 Tournament time
Saturday morning 5:00AM and we get the wake up call. Everybody gets a shower (hint hint to some of you out there) and off for a nice big breakfast. Having been to these things before, a nice breakfast really does help. Later, if you do make it to the finals you will not want to eat and having something substantial in the morning will carry you through the day. /end dad mode/
Off to the convention center at around 7:30. We get in line and as usual, we meet some really nice people. Pokémon people are the greatest around. The line gets moving and we send Gracie off with a kiss for good luck. Here is her team. All of the IV/EV and moves were pretty standard on her Pokémon so I won't post them here.
Hitmontop – Twister
Dialga – Dawn
Abomasnow – Blanca
Kyogre – Rani
Gracie moves through to the finalist lounge in almost no time at all and it's time for a break. By this time the seniors are showing up and I see a few Smogon people that I recognize from other tournaments, but nobody that I know very well until mattj walks up to say hi. I tell Matt how Gracie is doing and is genuinely happy. Matt is a great guy, we catch up a little, but Grace's battles are starting again so off I go. Grace moves into the finals and wins the tournament, defending her brother's title from Nashville the year before.
On to the senior tournament
David will be writing his own story, so you will have to wait for that. If you want to know my team, it was basically Havak's from the Birmingham event. I was toying with that idea before that event and the only changes were to add Earthquake instead of Protect on Giratina (huge mistake) and Muddy Water over AncientPower on Kyogre. I didn't use either move all day. In practicing with the kids, I found that Top and Tina were the most versatile. There isn't much that can hit them both hard and with all of the priority moves, I don't have to worry about speed. Oh, and the names are members of the Chicago Blackhawks in case you didn't get it. Hawks > Ducks :) GO HAWKS!!!

Hitmontop (Niemi) @ Life Orb
Adamant / Technician
- Fake Out
- Mach Punch
- Sucker Punch
- Detect

Giratina-O (Byfuglien) @ Griseous Orb
Adamant / Levitate
- Shadow Force
- Dragon Claw
- Shadow Sneak
- Earthquake

Kyogre (Kane) @ Choice Scarf
Modest / Drizzle
- Water Spout
- Thunder
- Blizzard
- Muddy Water

Abomasnow (Toews "C") @ Focus Sash
Quiet / Snow Warning
- Blizzard
- Grass Knot
- Ice Shard
- Protect
If I battled you and I got the match wrong, please PM me and I'll fix the story. It was a long day and some of the matches blend together in my mind.
Round 1 vs Isaiah
I hate it when people post this and it does a disservice to my opponent Isaiah, but I really don't remember the match that well. I was more interested in seeing if David and Ryan made it out of the first round. I remember that Isaiah was a nice young man, but wasn't much of a match. I moved on.
Round 2 vs Benjamin
This match was against Benjamin. If I recall correctly, Benjamin was running a Ludi/Kyogre lead and I knew exactly what to do with that. Dozens of matches against David's team made this match far easier that it should have been. Sorry, kid, but I knew your team better than you did.
Round 3 vs Vishal
This is where things get hinky. I move up after my round 2 win and I see one of the guys that were sitting by us in line. Now, when they got there only the boys were in line. I'm sure these guys were thinking that they would have a nice easy early match if they got paired against the thirteen-year-olds. Then I show up and tell the boys that their sister won juniors. I let it slip that David won juniors in Nashville last year and that he and I were at Worlds. Their demeanor changes significantly. Sorry for the digression, but one of the dudes is standing in line behind a young player when I walk up after round 2. They call the younger player over and he jumps the line to avoid me, taking the kid's place. I will maintain my inner Ned Flanders, but in my younger days we refered to that type of behavior with a word that rhymes with rouche. It's just me and the kid left in the line. We get called over and I introduce myself to Vishal. We start up the match and after a couple of turns it hits me, I know this kid. He lost to David in the finals last year. I am now on horns of a dilemma, beat the kid or flee. I see Ryan has lost and is waiting outside. I scan the next section and see that David has moved on. My decision is made to stay, but my victory is not certain.
Vishal is an excellent player. By far one of the best I've played against. He knew his team and he knew how to use it. I actually remember his team and the match, but I don't know if he is going to LCQ, so I won't post it here. The match comes down to one Pokémon each with me surviving with Abomasnow in the red and I think hail killed off his last poke. Vishal will be in the finals some day. He is very good.
Round 4 vs Antione
Win this and it's on to the finalist lounge. I walk up to meet Antione. I only wish I had saved that video. It was indeed an epic battle. The battle started slowly with a lot of switching, each trying to gain the advantage. We battle back and forth for quite a while and I remember thinking that Antione really knows his stuff. My memory of the exact moves is a bit fuzzy, but I know that my Kyogre survives three Mach Punches with the smallest margin of life left, while taking out his last two Pokémon with Thunders that were by no means assured KOs. On to the finalist lounge.
Finalists Lounge
I see David is already waiting there and we exchange high fives. The rumbling begins that there is a father and son in the finals, but I'm not getting excited yet. I've been here before and there is a long way to go. I head out to meet up with the family and get a bite to eat. I see that mattj has made it and a bunch of people from the Florida State Pokémon League. I eventually meet up with mingot and we have a nice conversation about what it's like to compete and have kids in the tournament. mingot has done so much for the game and to find out that he is a really nice guy was very cool. Alaka finally makes it through his battle and enters the finalists lounge as the last competitor. I remember Alaka from Nats and Worlds last year. We say hey to each other and I go back to join David.
Well, back to business and nasty business it is. There are 37 finalists. Extra battles will need to be played by some. I grab David and we take our cards. I'll admit it, if I had gotten a bye and he didn't, I would have bent the rules and given him my card. Luck was on our side and we both got the bye. In Seattle, Grace and I both had to fight an extra round, so I didn't feel a bit guilty. Sorry, mattj.
Round 5 vs James
Back in tournament mode and I'm battling James, a nice enough fellow. I may be getting my battle mixed up at this point, but I think this was a battle against an Abomasnow and something else lead. He starts with a Blizzard and Top froze and I'm thinking my incredible run of luck is over. Next turn Top thaws and lets out a Mach Punch then dies of Life Orb damage. Tina comes out of Shadow Force and eats a Blizzard and freezes. My luck ends there as Tina stays frozen for another Blizzard and is killed off. I do manage a strong comeback and take the battle.
Round 6 vs Ivan
This match is against Ivan. I remember Ivan as being very nervous guy. Again I'm foggy on this but IIRC he is running a Follow Me Clefable and Lugia. Top and Tina dispatch this pair with little effort and the game is mine.
Round 7 vs Joshua
Very little recollection on what happened here. My opponent was Joshua and he was very nervous as well. I try to joke around a little and Nick the MC is cracking wise as well. At some point Pikachu comes out and starts watching the match. Now I'm nervous. Can't lose in front of a ginormous electric rodent. I think this was the dragon match. I remember getting crit on a Palkia holding a Haban Berry for a OHKO and then OHKO the Kindra that replaced it. I win the match and it's either Alaka or David. They make the matchup. Bring it, Len!
Round 8 vs Len
This match against Alaka is the most bizarre, crazy matchup ever I've ever been in. The match starts and his Abomasnow Blizzards me. Top goes down to a critical hit. I don't let that get me down and after I take out his Kyogre and Shadow Force Abomasnow leaving it in the deep red, I feel the tide is turning in the match. I knock out his Abomasnow and he returns the favor to Giratina. Alaka then just looks at me and says "you are not going to like my next Pokémon". I'm left with Abomasnow and Kyogre against Giratina aaaaaand Blissey. OHHHHH NOOOOOZZZZZ. My only choice is to commence the Blizzards. It's raining and I'm missing I'm done for, but then everything changed. Blissey is frozen. Next turn Giratina is frozen. A ray of hope strikes. Blissey stays frozen for something like seven turns. I'm out of Blizzards and at some point I try a Grass Knot. I figure a STABbed Grass attack against that fat thing should do some damage. Alaka just smiles. I think it actually gained HP. "That thing is bulky" he tells me. Okay, only one arrow left in the quiver and it's Ice Shard. I decide to take out Giratina first for some stupid reason and after a couple of shots it goes down. I switch my attention to Blissey and Ice Shard actually does something to that big fat pink monster. After about the fifth turn of freeze I'm thinking that I should just run, it is totally not fair, but David walks by having just won his match. I'm in this to the end. I apologize to Len and tell him that I have to see this through and he understands. The Ice Sharding and freezing continues. Eventually what seems like ten more Ice Shards, Blissey goes down. Father / son finals time.
Round 9 vs The Prodigy
After the match I seek out Devon and tell him that I want to run from the battle. He asks if I want to just have a battle for the people in the audience. That sounds good and David deserves a final match. We start the match and it goes as you would expect. David quickly gains the upper hand. I'm spent and the last thing I want is to have a Blizzard situation again, so I stop the Blizzards and just Ice Shard the rest of the match. David proved he would have won that match, I just didn't want any more hax.
Props
Pokémon parents: For bringing their kids to the tournament and taking an interest
All the Smogonites
The Pokémon staff: You guys pulled off an awesome show
Alaka for being really cool in a difficult situation
Fantastic wife that puts up with all the madness
Slops
Battling the young ones
Long line for the king of the hill tournament
A/C starting to go on the car ride home