Havak's Birmingham VGC War Story
So, as with most people, my journey started last year after VGC 2009. I was underprepared last year and wanted to do well this time, so I played a lot and made sure I had a good team. However, the night before got a little messy. I had some friends round, and drank about 20 bottles of beer. I went to bed at 3:30am and woke up at 5:30am to get ready. Got the bus with Kirsty and Zoe, then sorted out my train tickets and got on board after Zoe had left. Our first train was from Manchester to Crewe, where we'd get on another to go to Birmingham New Street, and finally a third train to get to the International Station where the NEC was. I started to feel ill towards the end of the first train journey, which lasted maybe 40 minutes, but after getting off and getting some fresh air, I felt okay. On the next train, I started to feel under the weather yet again, and me being my usual lucky self found that the toilet on this train was out of order (there was only one on the whole train as first class was closed). However, I saw two guys playing on their DS's and they had Pokémon attire with them, so I had a quick chat with them to take my mind off of feeling sick. I quickly traded my team over to Soul Silver from Diamond, so I was fully ready now. The two guys I spoke to joined up with us after the train ride as they didn't know where to go for the next train, so we found it together and they got on. I felt really ill at this point, and just before I got on the train, BAM! I was sick. I got on the train and we walked along to find a toilet, but someone was in there. The train hadn't set off yet and the doors were still open, so BAM! Sick again, and again. But then I felt fine. By the time we'd sat down, we were already at the next train station. So we hurried to find the NEC's Pavillion entrance.
We make it to the NEC at about 10:45am and there's no queue outside, so I think this is a good sign. However, once we make it in, there's hundreds and hundreds of people there. I know quite a few of them will be juniors, and parents / guardians with the juniors, but I notice quite a long queue so start to get worried of securing a place. However, I see Pokérob in what must be the first 60~ people, so me and Kirsty go over to say hi and basically cut in the line. However, me, him, Kinneas, GEC, and Dan Dan had already discussed holding places in line for each other as long as people didn't complain too much. We all really wanted to get in and had spent a lot of money to be there. So, if you don't like it, oh well. They started forming a more organised line with barriers at around 11:00am and we find out that we're all within the first 64 players. I text Kinneas and tell him to hurry up as it's getting unlikely that he'll be able to compete. While lining up, we learn that Pokawaii hasn't made the cut, which was sad. But we're hopeful that the rest of the gang can get in. However, the same went for our friends bobdat and Samus222 who'd made the trip, and I later found out that Dan Dan hadn't made the cut either. This really sucked, but at least most of us had gotten in, and we had to do well!
So, here's my team:
First, I'd like to say a massive thank you to Tblakey89, as he RNGed my entire team for me, and I appreciate it so, so much. We then allowed Kinneas and GEC to use the same Pokémon, so none of us would have gotten anywhere at all if it wasn't for him. Thanks man.
Hitmontop @ Life Orb
Adamant nature
Technician
226 HP / 252 Atk / 32 Spe
- Fake Out
- Mach Punch
- Sucker Punch
- Detect
Hitmontop is a great lead, and it helps a lot against Trick Room Dialga. The damage it can do is immense and it always manages to do something important in every game. My EVs were designed to make sure I could beat other Hitmontop, as I doubted that anyone would use so many Speed EVs.
Kyogre @ Choice Scarf
Modest nature
Drizzle
6 HP / 252 SpA / 252 Spe
- Water Spout
- Thunder
- Blizzard
- AncientPower
My Kyogre differed from Kinneas' in that I used AncientPower to deal with Shedinja, but other than that, it's the same thing. Standard.
Abomasnow @ Focus Sash
Quiet nature
Snow Warning
194 HP / 44 Atk / 252 SpA / 20 Spe
- Blizzard
- Grass Knot
- Ice Shard
- Protect
Abomasnow has a real awkward EV set-up, but it's with good reason. I wanted a good damage output, so I went for max SpA, which I assume everyone does. 20 Spe is just so I can take down other Abomasnow before they take down me. 44 Atk EVs was taken from zerowing's set, and the HP is just for survivability. Focus Sash had helped more than Sitrus in my testing, so I opted for that.
Giratina-O @ Griseous Orb
Adamant nature
Pressure
150 HP / 252 Atk / 108 Spe
- Shadow Force
- Dragon Claw
- Shadow Sneak
- Protect
Giratina has enough Speed to beat maximum Speed Modest Abomasnow, just in case I came up against one, however unlikely. It's also enough to beat a few other things, without being too fast. I wanted to avoid being too quick, as predicting other Giratina's Shadow Forces (who are usually faster) was a way to get the game changing moment on them. I used Giratina-O because being able to switch in on Earthquake's was something I couldn't pass up. Groudon + Zapdos could have been problematic.
Mewtwo @ Lum Berry
Timid nature
Pressure
6 HP / 252 SpA / 252 Spe
- Aura Sphere
- Blizzard
- Grass Knot
- Flamethrower
Mewtwo was first planned to be used to just Blizzard spam if need be in the earlier rounds, but Water Spout proved so effective that I never bothered to use it. Simple set, hits stuff.
Palkia @ Haban Berry
Timid nature
Pressure
6 HP / 252 SpA / 252 Spe
- Dragon Pulse
- Blizzard
- Earth Power
- Protect
Palkia's job was similar to Mewtwo, as like in zerowing's team. However, as Kinneas and GEC were running the same main four, Palkia was there to take advantage of it and tear Giratina a new one.
I'm really happy with this team and I'm not sure that it can be improved upon. Testing started ages ago, where I first planned to run a team with Dialga in, before switching to leads involving Giratina and Metagross, and Giratina and Infernape. After seeing how successful zerowing was with Hitmontop, I had a go with that to see how it faired. I did miss the Speed of Infernape on occasion, but the things Hitmontop could do just seemed even more beneficial in this format, so I stuck with it. A lot of the idea for this came from Kinneas, as the use of Giratina-O being used not as a lead was entirely down to him. So I gave his set up a try, and it worked wonders. Throughout the week(s) leading up to the actual tournament, both myself and Kinneas had reached number 1 on the Pokémon Online ladder and were consistently winning matches. I'd say to anyone that they should try this team out, because it's amazing - which is why I'm so disappointed I didn't get to the top 4 with it (though both Kinneas and GEC did).
So, after an agonising wait in the line, literally over three hours, I'm ready to begin my matches. A lady comes to hack-check the players who are up in the next few minutes. She doesn't bother to ask me or Kirsty, possibly because we were in conversation, but she checks Pokérob's cartridge. He's clean, as are a few people behind him. But when she comes to check another of the fella's in Team Belgium attire, there seems to be a problem. She takes him to one side and I'm not fully sure what happened. He comes and gets back in line, but I stopped paying attention eventually, though I think he was eventually disqualified before he played. The other Belgian guy raged, which he did a lot that day, he was just speaking French so no one understood what he was saying. So, here it goes: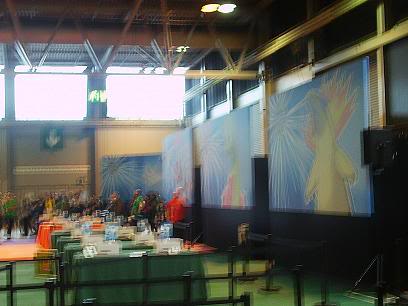 Round 1 vs. Ollie
I believe this guy was German. At least his game was in German, so it took us a while to get the battle set up. I doubt this guy was much older than 14, and when he sends out his Charizard and Dragonite leads, I feel as though I have this one already. I Fake Out Charizard with Hitmontop, as Dragonite has Inner Focus and Charizard could have possibly had a Sash, then blast them both with Water Spout - Dragonite lives with maybe 1/4 HP or so and uses Outrage which does a hell of a lot to Kyogre, bringing me to probably less than 1/3 HP. Charizard faints. I forget what he sends out next, but I believe I attacked it with Hitmontop and it was hit by Water Spout as well. Dragonite lived with a slither of HP from Water Spout and this time hit my Hitmontop with Outrage, which lived on less than 10 HP as well. I'm sure I Sucker Punch Dragonite with Hitmontop, ridding of Dragonite which had done some major damage to my team, and in the process, Hitmontop also fainted from Life Orb recoil. Kyogre's Water Spout does some damage to whatever his other Pokémon were, but due to being on low HP it's KOed as well. I really can't remember the end of this game now, but I win it 2-0 as I cleaned up with Giratina and Abomasnow rather easily.
Round 2 vs. Lim
This guy didn't use any Ubers, but his team was quite funky. He leads with Gallade and Hariyama, while I lead with Hitmontop and Kyogre. I know Hariyama will Fake Out, but I beat it to the punch with Hitmontop and flinch it. Water Spout brings his Gallade to 1 HP due to Focus Sash, and Hariyama faints. To my surprise, Gallade then uses Trick Room and I think this one could be a little tougher than I first thought. He brings in Tyranitar, so I go for the Mach Punch on it while I predict an incoming Close Combat on Kyogre and switch to Giratina, and I was right, so I avoided that attack. Mach Punch KOed Tyranitar (I was glad to see no Chople Berry) and the Sandstorm finishes off his Gallade. After this turn he says good game to me already. I can't fully remember the end of the game, but he sends in Scizor and I think I hit with one Mach Punch and a Shadow Force, then switched out Hitmontop just before it fainted for Abomasnow. I take the incoming Bullet Punch thanks to Focus Sash and hit him with Giratina again. He's almost fainted so I dual Protect next turn and he loses to Hail. I enjoyed this game really, even if it was a convincing 4-0. Good game bro, it was interesting.
Round 3 vs. Mark
I expect a tougher match from this guy, considering he's in the purple zone. However, he leads with Dialga and Shuckle, so I'm skeptical. It's obviously some kind of Trick Room team, so I keep my guard up. I Know Shuckle is absolutely zero threat with me having Kyogre and Hitmontop out, so I Fake Out Dialga and hit it with Water Spout for good damage. He Protected with Shuckle. I Mach Punch Dialga to death next turn, while Water Spout OHKOes Shuckle. He brings in Dusknoir and Metagross. I think he used Shadow Sneak on my Kyogre with Dusknoir, while I Mach Punch Metagross and use Water Spout again. Metagross faints and Dusknoir is down to about 1/4 HP. I Sucker Punch next turn for the win. 4-0.
So, I'm the 5th guy in the finalists lounge. It's about 2:15pm, and I'm told the finals won't start until 4pm. So I've got a long wait ahead of me. I notice that some of the people from another site I use (POkémonWorld) had done alright as well. Pokérob joined me in the last 32 soon after, while so did a kid called Zak whom we were hanging with. Osirus was already qualified. Josh (Ryu Shoji) and his brother both lost in Round 3 (Top 64) I believe, which was a bit lame as we didn't get us all in the lounge - however it was dragon9owns who beat Josh, so it was good to see another Smogon player through, and little did I know that he was to be my next opponent. I waited around a bit longer and watched some games on the screens, and noticed that my fianceé's third round match was on a screen against some guy with a Team Belguim shirt on.
I'd made Kirsty a team the night before, and she'd never had a competitive battle before in her life before this day. But she managed to pwn her first opponent, and just managed to win her second game thanks to Focus Sash on Abomasnow. This one proved one too much though. He lead with Kyogre and Qwilfish, her with Kyogre and Ludicolo. I was hoping she'd Fake Out Qwilfish, but she tried to hit Kyogre probably thinking it was Choice Scarved like her own. Kyogre Protected and Qwilfish used Explosion, however, she made a decent move and switched out Kyogre for Abomasnow, Ludicolo fainted and Abomasnow lived on 1 HP. She then went to Mewtwo and the other guy I believe had Kingdra. She Protected with Abomasnow, and used Grass Knot on Kyogre with Mewtwo almost KOing it. Kingdra had Protected as well while Kyogre used Surf. I prayed that she would use Blizzard this turn, as it would KO both of his remaining Pokémon, or come close to it, but she uses Grass Knot on Kingdra and takes it down to about 1/3 HP. Surf then finishes off her Mewtwo and Abomasnow. She brings back Kyogre and uses Water Spout, finishing off his Kyogre and doing decent damage to Kingdra. In comes Smeargle for him. Kingdra's Swift Swim activates and Draco Meteor hits, then Water Spout fails to KO and Smeargle uses Dark Void, which also hits. From there it takes another hit and a Draco Meteor for the win. But I'm still proud of her for getting that far. Here was Kirsty's team:
Ludicolo @ Lum Berry
Modest nature
Swift Swim
6 Atk / 252 SpA / 252 Spe
- Fake Out
- Grass Knot
- Ice Beam
- Toxic
Kyogre @ Choice Scarf
Modest nature
Drizzle
6 HP / 252 SpA / 252 Spe
- Water Spout
- Thunder
- Blizzard
- AncientPower
Abomasnow @ Focus Sash
Quiet nature
Snow Warning
194 HP / 44 Atk / 252 SpA / 20 Spe
- Blizzard
- Grass Knot
- Ice Shard
- Protect
Mewtwo @ Expert Belt
Timid nature
Pressure
6 HP / 252 SpA / 252 Spe
- Aura Sphere
- Blizzard
- Grass Knot
- Flamethrower
This was just a simple all out attacking team, spamming extremely powerful moves in order to breeze through as many games as possible. Due to it being all special based, Toxic was included on Ludicolo to stop Blissey - though the first idea was to use Leech Seed in order to keep both Ludicolo's and Kyogre's HP high. However, this was the Ludicolo I used last year and Leech Seed was an egg move.
After spending some time near the end of the battle zone waiting for Kirsty and the other guys I was with, they start to filter through. By the time the last few matches are getting done, we realise that a lot of the people we knew had managed to do well. Kinneas was the 31st player to make it to the finals, so the last person we were waiting for was Akiratron as I spotted him in Round 2.
Through to the last 32 were: Me, Pokérob, Osirus182, 7014gree, dragon9owns, jigglypaul, SP-Eevee, Giant Enemy Crab, PokéZak (Minirob), Shoeman, Cinaclov, Rees, Kinneas, and one of the guys I'd spoken too on the train earlier. Knowing so many people in the finalists lounge was a little strange.
Pokérob, Kinneas, Havak, GEC, PokéZak
Pokérob, Kinneas, Havak, GEC, PokéZak
I'd also found out that Picollo sadly lost in Round 1 to Zog, while Zog, B-Lulz, IAmMarti, Habitus, Wichu, Wichu's brother, Ryu Shoji, and his brother had all lost in either Round 2 or 3. Foodking had also lost in Round 1. DarkFinal from another site I go on (who was with us all day) won his first round match, but was hack checked before his second match and found out that the Weavile traded to him by Pokérob was hacked. I don't believe this was intentional, though.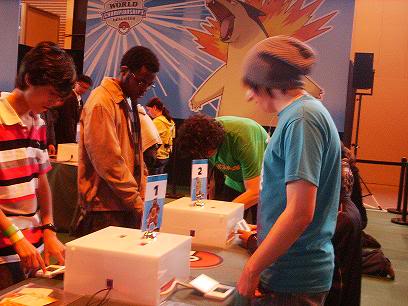 Round of 32 vs. Richard (dragon9owns)
You can view this battle here: 52-66456-35287 or here.
So, a little guy comes over to me in the finals, with a disheartend look on his face, he turns to his mother who's watching from the side lines and says "I've lost." So I guessed he knew who I was. I just said "don't say things like that" and asked who he was, as I assumed he was on Smogon as well. We shake hands and begin the battle. He leads with Lugia and Hitmontop, while I stick with Kyogre and Hitmontop. I know I'll be faster than his 'top, so I score a Fake Out on it and KO it with Water Spout, while Lugia is brought down to 1/4 HP. Lugia uses Thunder on Kyogre and he scores a critial hit, so Kyogre faints. I know that shouldn't KO so I'm a bit miffed at that as it's a bit more of a struggle now. He brings in his own Kyogre, while I bring in Giratina. I think I make a bit of a mistake here, but I'll talk about that in a moment. I Sucker Punch Lugia for the KO, and Shadow Force Kyogre. But first, I'm hit with Water Spout which KOes Hitmontop and does not so much to Giratina. I send in Abomasnow, and so does he. He uses Water Spout for okay damage to Abomasnow, while Shadow Force hits and I hit with Blizzard, KOing Kyogre and bringing Abomanow down to low orange health, while his Blizzard scores a higher damage output and knocks my Abomasnow into low red health and KOes Giratina. Now I'm pretty sure I've lost... I use Protect to scout for Ice Shard, just in case by some miracle he's not running it so I can Blizzard instead, as I know I'm faster than him, but alas, of course he's running Ice Shard. My Ice Shard fails to KO, he must have lived on about 5 HP, and his Ice Shard finishes me off for the win.
In retrospect, if I'd thought about it more, I should have used Shadow Sneak on Lugia and switched out Hitmontop to keep it for later, or at least used Detect. However, I didn't know Richard's last Pokémon, so I couldn't think in advance like I can now. Although, assuming it was Abomasnow wouldn't have been a bad idea as the majority of people had it in their teams anyway. Saving Hitmontop would have allowed me to still win. But the critical hit was also very costly and it obviously cost me that extra bit of damage that allowed Richard to win in the end.
I wished Richard good luck and went to watch some of the remaining games, cheering on Kinneas, GEC, Pokérob, and Osirus.
I find out that the main people I wanted to win had done just that, so I was waiting to see who got who. Kinneas had to play Pokérob, and he told me that he just outplayed Rob this time around, and Rob pretty much accepts that - Kinneas was on form. Pokézak had gotten to this stage, but lost to Rees. Shoe, last year's runner up, was eliminated by dragon9owns, and Osrius had also come out on top. GEC was also keeping up. So our top 8 included Osirus182, Kinneas, GEC, dragon9owns, and Rees. The Team Belgium guy was also there. I don't recall knowing any of the other top 8, but they lose at this point anyway.
Osirus182 knocks out the Team Belgium guy, seemingly to everyone's liking, while GEC defeats an Asian guy who I never got to talk to. Kinneas takes down dragon9owns and Rees wins his match against whoever the other guy was. So, I'm pleased with the results as I wanted to see Osirus, GEC, and Kinneas do well. No offence to Rees but I didn't know who he was, so I wasn't really enthusiastic about his victory. Our worst nightmare is upon as Kinneas and GEC have to play :( I was confident that Kinneas would win, because we'd both packed Palkia in the off chance we had to face off, so we could switch around and combat the same team. Kinneas did this and was victorious. I thought Osirus would make the final as he'd been plowing through everyone in a matter of seconds all day, but sadly he lost. Before Kinneas makes his way over to the finalists lounge again to fill out yet more forms, I grab his hand and give him the most strongth bromance hug you will ever see, offering him my congratulations.
I hoped Kinneas would win, but all hopes of this game being a contest were dismissed on the first turn after Rees' Giratina hit Dale's with a critical hit Dragon Claw. Rees wins, and he'd done really well and probably deserved it, so congratulations to him.
B-Lulz, Foodking, GEC, Kinneas, Havak
We all stuck around for pictures and watched the interviews, and just messed around for a while, checking everything out. However, they were already starting to take down everything and probably wanted us out pretty quickly. Before we left, Wichu challenged me to a battle. This was interesting as he used a Mr.Mime, but I had a pretty easy time here all in all and won 2 or 3-0. I'd met Samus222 for the first time after knowing him online for about six years, so he also challenged me to a battle. This was also pretty one-sided, but interesting none the less. I won 3-0. I was then challenged by Foodking in a match whilst at the bar, and defeated him 2-0 in a match that was closer than I expected it to be if I'm honest. Next up was B-Lulz, who used kind of a jokey team relying on luck for the most part, but I beat him 4-0. Next up was Kinneas, just to see how well I could have faired if I'd have gotten further than I did. He got an early crit so I felt as though this was going to go the way my game against Richard did, but I pulled this one back and beat Kinneas 1-0. Kirsty also challenged me on the train ride home, and I beat her only 1-0 as well after she froze one of my Pokémon.
Our train messed up on the way home, so we had to start getting on different ones. Luckily after our tickets were stamped, they didn't bother to check them properly and we got on a train that went directly from Birmingham to Manchester when we really shouldn't have. The rain poured when we got out of the train station, and it was madness. I'm actually glad I didn't have to carry a Wii and a trophy through that, or everything would have probably broke anyway xD.
Right now, I'm debating travelling to Lyon in two weeks to play in the French Qualifier, or seeing how much money I can raise towards going straight to Hawaii with Kinneas, GEC, and Osirus and play in the LCQ, as Kinneas can allow me, GEC, and someone else to stay in his hotel room with him at no extra charge. So, if I can do it, I will.
I had an amazing day and it was great to meet so many people. I especially enjoyed meeting up with Kinneas, GEC, Pokérob, Ryu Shoji, and Akiratron again, as well as meeting IAmMarti, Samus222, B-Lulz and Osirus182 for the first time. Osirus182 is such a sound guy, I can't wait to see how you fair in the Manchester tournament.
So, on that note, I'll hopefully see plenty of you guys in Manchester on July 3rd! We'll make it another amazing occasion.
Lastly, here's a run down of how everyone did (I think):

Havak - Top 32
Kirsty - Top 64
Akiratron - Top 64
Parallel - ?
Zog - Top 64
Kinneas - Top 2
B-Lulz - Top 64
Wichu - Top 64
Osirus182 - Top 4
Cinaclov - Top 32
Pokérob - Top 16
ZystraL - Lost Round 1
Dan Dan - Missed 256 cut-off
Picollo - Lost Round 1
Last Requiem - ?
Akayfortyseven - ?
Giant Enemy Crab - Top 4
dragon9owns - Top 8
Keelhauled - ?
Camm - ?
7014gree - Top 32
SP-Eevee - Top 32
Ludo - ?
Alex888 - ?
jigglypaul - Top 32
IAmMarti - Top 64
callforjudgement - Top 64
Habitus - Top 64
Insane85 - Missed 256 cut-off
Shoeman - Top 16
Foodking - Lost Round 1