VGC 2010 Birmingham (Kinneas)
(with images stolen from everyone else who was there)
First things first, massive thanks to Tom aka Tblakey89 for RNGing not only my etire team, but also the teams of GEC, Havak, Havak's girlfriend Kirsty, and even our friend JayJay's (even though he was too hungover to show up). Without Tblakey, our entire Birmingham campaign would never have even made it off of the ground. This entire warstory is only possible because of Tblakey89; you're the best, man.
Before I describe my day, I'd like to point out that I am [VGC] Skye on Pokemon Online, I was top of the ladder for the 2 days before Birmingham and wasn't kidding when I said to everyone there and on #stark that I would be in the final. I told you so. ;)
The day began in typical British fashion: grey, wet and miserable.The short walk to the bus stop was miserable. I was greeted by an equally miserable bus driver and made my way through town in the miserable rain to catch the train. I don't remember much of the journey apart from sitting across from the jolliest Millwall fans in the world. But anyway, this isn't a "public transport story", it's a warstory, so let's fast forward to registration at the NEC.
I made it there at roughly 12pm. The line outside was incredible. There must have been at least 300 people stretching from the registration desk inside, to all the way around the side of the NEC. I knew I was late and determine to wait out in the rain or risk not getting a place, I put my hood up, donned my pitch black shades, turned up some hardcore punk music on my phone and pushed my way through everybody until I was inside (lol I'm such a dick). I quickly found GEC and stole a spot next to him in line. He informed me that Havak and Kirsty were inside with Pokérob's group (Pokéwaii, DarkFinal and "Kazozak aka Minirob), we wouldn't be able to meet up with them until after registration because they weren't letting any more people inside. Despite being isolated from the people we intended to meet up with, we still managed to form a large group of our own, purely by chance:.
About 5 minutes later we were joined by Zy, who I met at last year's VGC. We let him cut in with us. Next to join us was our "special" friend Foodking, one of the greatest internet users of all time. After a few more minutes of chatting in line, and also meeting another Smogon user with a brilliant Mohawk (ChaosNinjask? correct me if I'm wrong, I'll refer to you as Mohawk guy for now), we were approached by a rather eccentric guy who decided he would be joining our group for the rest of the day. He said he lurked a few forums and knew myself and GEC from Smogon. His name was Rees and he was determined to stick with us in line, as he explained to me: "I was stood outside and they weren't letting anyone else in, so I snook in that door while no one was looking."
I liked his style so we were happy to let him steal a spot with us.
The next half an hour seemed like an eternity; we were all restless, legs were aching from being stood around for hours and we just wanted to get into the actual tournament. By the time myself, Rees, GEC, Zy, Mohawk Guy, and Foodking had made it to the registration desk, it had already been announced that Havak and Pokérob had already made it to the finalist lounge. This only made me more determined to make it there myself. An interviewing greeted us and asked us all a few questions; we told him we were all in a group together and planned on winning the competition. He wasn't taken aback by this at all, obviously everyone else had been saying the same thing all day, so we dropped the hint that two of our friends were already in the finalist lounge and we planned to join them. We were all interviewed individually and I think at this point he realised we were serious contenders (he came back to interview me and GEC a few times throughout the day).
We were literally a second away from receiving our pairings, when at the last second I made an impulsive decision to drop back in the line a good 35 places. I was watching how the pairings were sorted and quickly concluded that with 6 of us going into the 32 pairings at once, it was inevitable that some of us would have to face each other in the first 3 battles. With this in mind, I counted 32 people behind me and made my way backwards in line and made my way backwards. This worked a charm, as not only did I not face anybody who I knew for the first few rounds, but I also got to see the magnificant Zy Round 1 ragequit in all its splendor!
I was thrilled to see GEC and Rees qualify for the finalists lounge, and now it was my turn. Give me a chance to shine and I can blind the world.
The team
Unlike the majority of people playing this year, I had no intention of keeping the same team throughout the entire tournament. A lot of people brought 2 backups that they didn't use, but I brought Palkia and Mewtwo along with every intention of using them should I face a few key players at any point. A few people have been saying this is just "Zeromode", but it actually plays a lot differently due to a few different moves in places and the presence of Giratina-O over Palkia.

Hitmontop @ Life Orb * HitmonGEC
Technician
Adamant
244 HP, 252 Atk, 12 Spe
Fake Out
Protect
Mach Punch
Sucker Punch
This is probably the core of the team as it is used as a lead with both Gira-O and Kyogre, sticks around for as long as possible, and checks a number of leads that are problematic. The 12 Speed EVs are in place purely to outspeed other Hitmontop, which proved useful as it won every speed tie apart from against GEC, who had the same Hitmontop.

Kyogre @ Choice Scarf * TWASHogre
Drizzle
Modest
4 HP, 252 Satk, 252 Spe
Water Spout
Blizzard
Thunder
Muddy Water
Here is the first difference to Zwing's team. Muddy Water allows me to play Kyogre completely differently. I can Water Spout first turn knowing that Kyogre will survive a Thunder from other ScarfOgres, EQs from Groudon, Spacial Rends from Palkia and other various common attacks. This is why Gira-O is especially important, as it resists Thunder and is immune to Earthquake. Abomasnow can make a switch in to Palkias, then Protect next turn if I predict a Flamethrower, by which point they've usually been KO'd by Hitmontop anyway. The ability to come in late game on whatever health and hit both my opponent's Pokémon with a base 106 attack is unbelievably useful.

Abomasnow @ Focus Sash * Cryonicle
Snow Warning
Quiet
212 HP, 44 Atk, 252 Satk
Ice Shard
Protect
Blizzard
Grass Knot
Controlling the weather is important in this metgame, and I shouldn't have to explain why Abomasnow is here. A solid Kyogre check with auto weather, STAB priority, and just such a cool Pokémon. I had Focus Sash on Abomasnow to survive random fire attacks in the opening rounds. I intended on switching this with the Sitrus Berry that Mewtwo was holding for the later rounds, but in all the chaos I completely forgot.

Giratina-O @ Griseous Orb * GiraNACHOS
Levitate
Adamant
148 HP, 252 Satk, 108 Spe
Shadow Force
Dragon Claw
Protect
Shadow Sneak
One of the most important Pokémon on the team. Gira-O gives me even more powerful priority, which was an important theme of the team, as it allowed me to completely shut down water spouts and revenge kill an awful lot of Pokémon. Shadow Force is a monstrous move thanks to it's ability to make Gira-O immune for a turn (if it's faster) and being completely unblockable by protect. I had Protect on my own Gira-O as I relied heavily on luring attacks to certain Pokémon and buying myself free turns, while hail damage additionally builds up, allowing me to take advantage of my priority moves.
We didn't find out until the morning of the event, while we were already in line for registration, but we had absent mindedly put the Attack EVs in the wrong stat, meaning that we were going to be missing out on a lot of KOs that we should really be getting. When I first realised this I wasn't even worried for some reason. I was just so confident that I'd be winning today that I just dismissed it and made a few jokes about it with Zy and GEC.

Palkia @ Haban Berry * HAVAKia
Pressure
Timid
4 HP, 252 Satk, 252 Spe
Spacial Rend
Blizzard
Flamethrower
Protect
I used this Palkia with the intention of being able to counter my own team's strategies. It's an all round solid Pokémon that was key in securing my semi final victory.

Mewtwo @ Sitrus Berry * TBlakey89
Pressure
Timid
4 HP, 252 Satk, 252 Spe
Blizzard
Grass Knot
Aura Sphere
Protect
I actually had no plans to use this Mewtwo, but thought it would be wise to bring it along just in case. It was carrying Sitrus Berry for the Abomasnow strategy I mentioned earlier.
Onto the battles now:
Round 1
I was informed last night via PM that my round 1 opponent was Luneric. This was a refreshing start to the competition and he was a really nice guy with a cool team that was competitive despite having no ubers. He lead with Bronzong and Aggron, so I expected Trick Room. I hit Bronzong with Fake Out and fired off a Water Spout, KOing Bronzong and bringing Aggron down to 1HP. Aggron used Metal Burst for a surprise KO on Kyogre. He brought in Octillery and it this point I unofficially lost the match by default due to the cool rule. I brought in Abomasnow for the hail to kill Aggron regardless of next turns events. I Mach Punched Aggron but it protected, and I protect with Abomasnow fearing a Flamethrower from Octillery. I completely forgot that Octillery could learn Water Spout, and it OHKO'd Hitmontop. I don't remember the ending too well but his last was Machamp. It was a suprisingly close call with GiraNACHOS securing the win after Machamp seemingly locked itself into Earthquake.
Round 2
I was happy to return to a more familiar scenario for this battle, despite the team being much more threatening, I felt more comfortable as I felt as though I could take anybody on with standard teams. iirc my opponent's name was Chris, and he had an Ash hat on. He was pretty cool. He lead with Palkia and Rotom-H and I expected Rotom to throw up a light screen. Top used Fake Out on Palkia while Kyogre Water Spouted. His Rotom protected turn one, so next turn I Mach Punch Palkia and Water Spout again. Both his 'mon are now in the yellow and his Pakia Spacial Rends Hitmontop. Rotom-h Thunderbolts Kyogre, leaving it in the yellow, I expect a Thunder would have KO'd, so I was lucky in this respect. Assuming the same again next turn, I switch Kyogre for Gira-O to absorb the Tbolt, while Hitmontop uses Protect. Everything goes according to plan and I clean up next turn with my priority moves. The next few moves are a blur, but I'm fairly certain he sent out Metagross and Kyogre, which I quickly took care of my priority to kill off Water Spout.
Battling next to me during this match was Akira. I wish I'd have had the chance to talk to him more but the staff didn't give me a chance and we were both busy battling.
Round 3
This guy, who I think was called Adam, informs me that I just beat his friend who he travelled to the event with. I assumed he was the better of the two since he'd made it to the third round, but that speculation was quickly put to rest turn 1:
He opens with Dialga and Metagross, I Fake Out Metagross and Water Spout for the KO (Because I fucking hate Explosion), and his Dialga KOs Kyogre with, wait for it...
ROAR OF TIME!!
The rest is hazy but I managed an easy 3-0 victory. Again my opponet was really friendly, in fact, I didn't get drawn against a single annoying person all day.
Before making my way to the finalists lounge, I was stopped by the interviewer from earlier who said something like "You must be feeling great knowing that 3 of your team have made it to the finalists lounge!", I reminded him that 2 of us were already through (it was actually 3, I hadn't been informed that mini Rob was through too at that point), so roughly a fifth of the finalist lounge were friends of mine. I get to the lounge and meet up with GEC, Havak, Pokérob, MiniRob, and later on Osirus182, Rees and Dragon9owns. I didn't speak to anyone else, but I saw SP-Eevee and Cinaclov in the last 32 too. I also met B-Lulz at this point who went out in round 2.
Round 4 – Last 32
Onto the last 32 battles, and I'm facing a cool guy called Tom who said he didn't visit any forums but definitely knew what he was doing. I notice GEC is playing Cinaclov, a friend of ours from another forum, and Havak was playing someone who looked familiar, but I couldn't think who...
I wish I could remember more of this battle, but a few things threw me off. First was the crazy Belgian battling next to me who was trying to get his opponent disqualified for using a Rotom forme, and let out a huge roar whenever a move went in his favour.
The second thing was that Tom was so nervous, he spent about 5 minutes each turn selecting his moves. It was a very close battle and we had identical leads. My Hitmontop outsped his for a Fake Out on his Kyogre. I don't remember much else apart from his Kyogre KO'd Abomasnow with HP Fire and Hitmontop did the majority of the work for my team. He was very humble in defeat and stuck around to support me in the final, which I was really happy to see.
At this point Havak's girlfriend Kirsty shouts over to me to tell me that Havak was out. I asked who beat him and she pointed to "some kid" who I knew as Dragon9owns. I'd been talking to Dragon9 online before today, so I knew he had a good team. Kirsty also informs me that I'll be battling Pokérob in the last 16. I rub my hands together and an evil grin takes over my face. I'd been waiting for this. Me and Rob have a bit of a rivalry going on so i was looking forward to facing him.
Round 5 – Last 16
This was the first battle where I changed my team around, as I knew that Rob knew my leads. I open with Hitmontop and Giratina-O, Rob leads with something and Kyogre. I Fake Out Kyogre and Shadow Force. I honestly don't remember much more of this battle, except that his last was Shedinja and he was facepalming for the majority of the match as I outplayed him every turn.
After the match we hake hands and I notice GEC having an interivew behind me. I cheer his name really loudly just as the interview finishes, and we bro hug just before he makes his way to his Quarter Final match. The same interviewer stops me too and takes special interest in the fact that we're friends. She asks me how I feel about us both making the quarter finals and I tell her that I'm really happy we've both made it this far, as I've just had to beat one of my friends in the last round. Rob jokes that he won't be talking to me again after this, and I make my way to my Quarter Final match.
(Me vs Rob, Rees vs Kazozak aka Minirob)
Round 6 – Quarter Final
The staff place our carts in the big boxes and say to us "Dale, you'll be playing Richard" at this point it hits me that I'm playing Dragon9owns, who beat Havak, and also Rob's friend Josh from PokémonWorld earlier in the day. We shake hands and start the match. He lead with Hitmontop and Lugia, I lead with Gira-O and Hitmontop. Gira-O uses Shadow Force as Hitmontop Protects, his own Hitmontop Fake Outs mine and Lugia Aeroblasts it, but both fail.
Next turn Shadow Force lands on Lugia with a crit, OHKOing. Both Hitmontops Mach Punch each other. I don't remember the rest too well but it's gg from here really. I apologised for the crit and we shake hands once again, before I head back over to the finalist lounge.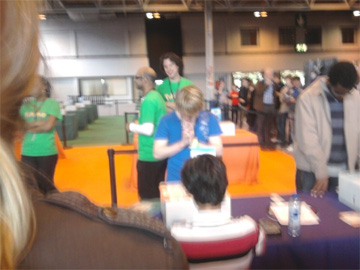 By now, people are cheering for me who I don't even know, there's people shouting my real name, other people cheering Kinneas. It's insane. The semi-finalists are all people I know too. Me, GEC, Osirus and... Rees?! The guy we let sneak in with us at the start had made it to the semis? I was slightly taken aback by this but to get this far he must have been either incredibly lucky or incredibly good. If he could beat Osirus or GEC then I'd know he was the real deal. We're all trying our best to relax in the finalists lounge, but have release forms and things to fill out, and at the same time loads of other players trying to talk to us. Eventually the crowd is moved back and we get a chance to talk amongst ourselves while Mike Liesek prepares to pair us up for the semi finals. He brings over 4 Energy Cards, "I know some of you are friends but at this stage we can't do anything about it. I figured this would be the best way to do this.". We each draw a card. I have a Fighting Energy and I see Lee (Osirus182) slowly turn over a Grass Energy next to me. I fear the worst, and look up to see GEC holding up a Fighting Energy and staring at me in utter disbelief. The final we promised you all unfortunately came one match too soon, but at least we both had our Worlds invites.
Round 7 – Semi Finals
We both had almost identical teams, so choosing from the 4 would be almost key to winning this. Fortunately for me, I had been over this in my head countless times, as I believed this match was destined to happen from the start. I lead with Hitmontop and Giratina-O, and I'm surprised to see that GEC doesn't change his team around at all. I protect with Hitmontop, not willing to risk the speed tie for the Fake Out, and Shadow Force with Giratina. GEC clearly knew I wouldn't Fake Out his own Hitmontop, and Sucker Punches Giratina. His Kyogre Water Spouts to bring Gira down to low health. Turn 1 is looking to favour GEC.
Next turn I Mach Punch Kyogre and Shadow Force it. I know that Kyogre can't Protect and whatever he brings in is hit hard by either of these attacks. He stays in and Water Spouts and Mach Punches Hitmontop, but it survives. His Kyogre is KO'd by Shadow Force. The next few I can't remember exactly, but the match continues to turn in my favour due to some well predicted protects, and Palkia comes in to really wrap up the game.
After the match the same interviewer comes up to us to remind everyone that we're best friends, and tells us to shake hands about 4 times. I make a comment about having to beat 3 of my friends in the Top 32 and knowing both of the other semi finalists as well, to which her reply was "Will Dale have any friends left at the end of this competition?". We had a good laugh about that and I head to the finalist lounge where I'm greeted by Rees.
Round 8 – The Final
"I bet you're glad we let you in the line with us now, aren't you?"
We didn't get much time to talk before being sent separate ways to fill in even more paperwork, and complete some more interviews. After about 10 minutes of being dragged all over the place for the press, a man escorts me to the stage, only to be met by another guys who tells us that I'm not supposed to be on stage yet because they want to film us both doing a slow motion walk to the stage. "Ooh slow motion. Fancy... I like it." I say as we both leave the stage once again. Rees has finished his interviews now and is waiting for me, we exchange a few words and shake hands before heading up to the grandest stage of them all. The cameraman tells us "Okay guys, try and look cool." Which makes us both laugh a little. On stage we're greatest by roars of applause, chants, a guy on the front row screaming that he "wants my babies", and handmade fan signs. Despite all this we were both relaxed because we had our trips to Hawaii bought and paid for. Neither of us were planning on taking it too seriously, but we wanted to put non a good show none-the-less.
The count down begins and Rees opens with Infernape and Giratina and I open with Hitmontop and Giratina.
Knowing I can't win the Fake Out battle with 'Nape, I protect with Hitmontop. I plan to Shadow Force with my own Giratina but any hopes of this being a competitive match are quickly dashed when his own Giratina OHKOs mine with a crit Dragon Claw. I turn the crowd and shrug my arms, which is met half by laughter and half by awkward oooooooh's. From this point onwards it was clear to everyone who knew their stuff that I'd lost. We still put on a good show anyway and Cryonicle refused to die right until the end.
You can see the final battle live here:
http://www.youtube.com/watch?v=Z2obp8mvFTs
On your DS the video no. is: 15-28740-58253
Continuing on from the live final video, the awards cermony is here:
http://www.youtube.com/watch?v=x6rGtHByW3k&feature=related
The awards ceremony was hilarious when Rees' friend Tim ran onto the stage and handed him a can of Carlsberg. The staff quickly took it off of him but it was caught on camera by pretty much everyone. Nintendo probably won't be too happy about that!
The press after the final were relentless. I couldn't get 2 minutes to talk to Havak between all the photos and interviews. By the time we'd finished with all of the press, they'd turfed everyone out apart from me, Rees and Tim. I had a chat with them and exchanged numbers, then had a chat with a few of the staff before meeting back up with Havak, GEC and the rest of the group outside.
(B-Lulz, Foodking, GEC, Kinneas, Havak)
All in all, it was a brilliant day. I met nearly all the people I set out to meet, and it was a real mindfuck getting to the final with the guy who was only competing because we let him sneak in with us. The journey home was horrible, carting around that trophy in a big black box, 2 trains and 2 buses to get back home, and having to walk through Nottingham City Centre in the rain with every drunken clubber stopping me to ask "what's in the box, mate?" was probably the most unpleasant experience of the day.
So there you have it. VGC Birmingham 2010. Where I made the finals with a Giratina that had 252 EVs in the wrong stat.
See you in Hawaii, motherfuckers.