VGC 2010 Birmingham (Zog)
So my VGC day starts at 5am for me—I get up out of bed for some last-minute theorymon and calculations and make one quick major change to my lead. Namely, changing Smeargle to Toxicroak. My team's one that's been developed over quite a long period of time so yeah it's pretty solid.
The Leads
Misty Bog


@Life Orb
Fake Out
Low Kick
Sucker Punch
Protect
Jacques


@Expert Belt
Aura Sphere
Grass Knot
Blizzard
Protect
The main purpose of this pair is to deal with almost any kind of opposing lead perfectly. There's one particular counter to this, but that's covered later. The Fake Out serves as the obvious utility stuff, with protect on both for if I fold on an opponent's faster Fake Out. Again that's covered later... but this is a very solid lead. Toxicroak's used to help ward off any Kyogres, Scarfogre being a particular pet hate of mine (more on that later, again...) and again I'm also weak to Dark Void (yet again more on that later).
Out Back
Dr. Shemp


@Choice Scarf
Blizzard
Grass Knot
Shadow Ball
Ice Shard
LoftyCastl


@Passho Berry
Sacred Fire
Brave Bird
Roost
Protect
These two are my other go-to Pokémon. Abomasnow is great, especially with a Scarf, and he can really kick up some dust. He's my only real port of call when faced with an enemy Kyogre which is a real issue. Since Ho-Oh in the face of Kyogre is, well, useless. More on that later...
Reserves
DarkPassge


@Focus Sash
Dark Void
Fake Out
Transform
Detect
Metalhead


@Sash Berry
Draco Meteor
Blizzard
Thunder
Protect
The reserves I didn't really have any intention of using. They're from old team builds and I liked the names so stuck them on, hehe.
The Actual Day
It's BED TIME for the Waterfalling Rayquaza. Wow that was lame.
I set off at 7:30 with my dad and brother for the fairly long drive to the NEC, and arrive at 10:00 during the juniors. Already the hall's full of people, including your typical bunches of gothy dudes toting neckbeards and hats who are quite obviously getting ready for the seniors. I just have a quick look around and take some pictures and see Pokérob by the TV screens. And yeah the juniors were using some pretty funny Pokés.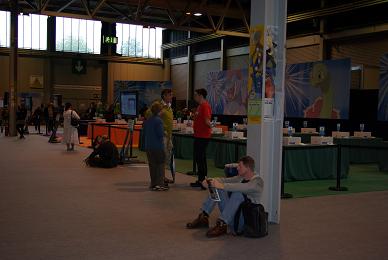 And then all of a sudden the queue for seniors is getting huge so my brother gets me to hop in before it's too late. At this point I still don't have a teamsheet due to my printer being broken so I'm bricking it that I get given one at some point. The queue's so big that everyone gets directed outside into the pouring rain. Yowch. And guess who's stood on the line just outside the entrance's awning, getting rain plops on his DS?
So seeing as it's pretty boring and there are literally hundreds of Pokédudes around me I go into the union room to mix records and connect Pokéwalkers with a lot of people. At this point I'm also worrying that my buddies Andy (Shoe, 2nd place last year) and Kyle haven't shown up yet, which they haven't. Thankfully Andy makes it right at the back of the line but at this point I'm worrying he won't get in at all given how quickly the line grew. And I'm still getting pretty worked up over my teamsheet.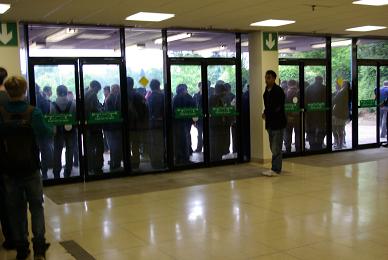 The queue starts building up outside. And yeah, queuejumpers ahoy here.
Then eventually after half an hour or so the queues start to be moved inside by this attendant guy who looks like an Italian Louie Spence or something so I can't help laughing. But yeah at this point I get given a teamsheet so I start feverishly scribbling it out on the floor, thinking it has to be done urgently, then notice the line's completely stopped. So I then look around and notice I'm in the line next to Picollo (Who I'd really hoped to not fight since I had him down as the best attendee today), Wichu and his brother Matej (juniors champion last year) and spend the next half hour or so chatting with them and the dude named Adam who was next to me in the line, which was cool. And then finally round 1 is underway! Seeing the huge amount of pretty uncompetitive players in the line I'm looking forward to seeing what kind of wacky Pokés I'll be fighting.
Round 1's underway. Shoe's at the back and Kinneas at the right.
And then I'm preparing to be assigned a station for my round 1 when, out of nowhere, Kyle appears from the sidelines! He's too late to join the line but it was great that he'd made it. Kind of a shame really since he'd been preparing all year and had a sweet tricksand team. But yeah I just get assigned my station and I'm waiting for an opponent who'll probably, like the Ember Ninetales kid my brother fought last year, be basically a bye. But... no, it was not to be.
My first round opponent is Picollo, the German invader and the one guy I'd been most scared of fighting at Birmingham. Oh dear. We both instantly ask the attendee to swap opponents but nope... no can do. So we just have to stick it out.
Round 1: vs. Picollo
Instantly I'm thinking, I'm going to lose round 1. I won't reveal Picollo's team since he's going to other qualifiers, but it's a close match in the most part. He just makes a few mispredictions which I beat down on with some brute force from Fighting attacks. My new Toxicroak which I actually bred for last year's VGC turns out to be a real MVP, scoring 3 kills and doing 70% to the other one which goes down to hail. Ho-Oh however doesn't make an appearance. Oh well. But yeah I'm so excited when I win, though I do feel sad for Picollo having travelled all the way from Germany for a first round loss. Losing early really does suck. And I can tell the poor fella's sad about it... aww.
So I then go through for round 2 and tell Pokérob the news as I pass. He's pretty surprised and to be honest I can't blame him lol. This match too is on the TV which is cool. Kyle's watching from the side and offering some support... hehe. My opponent is a guy I don't recognise in a striped hoodie, and soon battle begins.
Round 2: vs. ???
And jeez this opening is exactly the worst thing I could've met. Weavile/Smeargle. The faster Weavile means I can't Fake Out with Toxicroak, and the Smeargle is obviously Sashed with Dark Void. It's a tricky decision so I double protect, both the predicted moves being used, then I decide I have to take a risk. None of my guys are Sash'd so I decide to grin and bear it through the inevitable sleep while at least taking out Smeargle.
I switch out Toxicroak for Abomasnow and then blizzard with Mewtwo to get a hit in. Weavile's hit for paltry damage (interestingly my Modest Mewtwo outspeeds so I think this guy could be using unEVeds... bleh) and then hit Smeargle to 1HP. And then a stroke of luck appears: Smeargle's frozen solid! It dies from hail and things are looking good. Until... oh god, he brings out the one and only Kyogre. With Weavile still on the field I decide not to take a risk with Mewtwo, since it could've had a speed tie with Adamant Weavile and may go down to a night slash. I then go to Grass Knot Kyogre but he switches it out for Palkia and Abomasnow gets killed by Weavile. Toxicroak too dies at some point along with Weavile.
So it ends up 2-2, with the last two remaining Pokémon deciding the game. His now deduced to be Scarfed Kyogre and Palkia vs. my... low HP Mewtwo and ...Ho-Oh, in his only appearance. Yeah it's gg already and there's nothing I could've conceivably done about it even in hindsight. His team just well and truly countered me to oblivion and Ho-Oh's to blame. I go out through the walk of shame and say hi to Osirus and then go meet Kyle to watch how Andy's doing. The guy who beat me then goes on to knock out my brother in the next round.
The Rest of the Day
Be water, my friend.
So now I'm resigned to seeing how everyone else does. It's quite a lot of fun just watching anyway. Soon enough after some pretty laughable matches going on, including the pictured where the Dialga was in fact paralysed by his teammate Porygon Z's discharge, one with a Dragonair getting teamkilled and another with a Wobbuffet named Wobble, I'm pretty annoyed that I got such a hard run in terms of opponents. But either way I'm out of it now so there's not much else I can do. So from now on I'm just bumming around with Kyle having some fun. Soon enough the finalists' lounge is full with Andy in there along with a bunch of other guys.
Andy loses in the top 16 though to a really quite impressive team with an offensive Lugia of all things which I remembered seeing in r2 on the table next to me. After a while sat around just messing or whatever it's soon the final, Kinneas vs. Mrs. Blackbird/dragon9owns.
With a huge critical hit off Mrs. Blackbird's Scarfed Giratina OHKOing Kinneas' Giratina-O in the first turn it's gg already, drowning out the "Kin to win!" chant that's going on, which was pretty funny. And meanwhile there's some weird dickfest going on Pictochat (I hasten to add that it was Kyle using my DS not me, I didn't ask the girl dressed as Misty to show her tits it was him seriously). At one point there's a string of combopost penises going on about 5-6 posts in a row off different people. We're all so mature.
And with the final match being over, Mrs. Blackbird being the winner, there are some photos and Pikachu comes dancing and then the event comes to an end. Me, Shoe and my brother open the booster packs he got at the worlds last year, uncovering some pretty cool cards, and then we all go off home. It's definitely the best day out I've had in a long time, and I hope to somehow make it to the worlds for the LCQ. :D
Props
Meeting dudes
Toxicroak was absolutely amazing
Just a great day out in general
Excuse to wear a Frog the Jam card on a lanyard
There was a lot of cleavage on display
Slops:
I got a real tough run in terms of opponents
Aww I made Picollo sad :(
Unfortunately all the cleavage was of the wrong kind