THERE AND BACK AGAIN Episode IV: A New Hope, Part 2
CHAPTER TWO: Saturday, June 26th
We woke one by one early Saturday morning and showered up. Both Fish and OD were slated to be battling in the finals that day, so they both had to fill out their team sheets before the competition. Naturally, I got bored and took a video.
Notice how Fish could just feel the camera and started to make a funny face/pose. Anyway, once those sheets were finished, the three of us geared up and headed down and over to the convention center, which was connected to the hotel by a simple walkway. Nice. Also, the Indiana Democratic Party was holding their convention in our hotel that same weekend, so they were just getting underway. (This will be important soon.)
Once in the center, we wandered around the hallway outside the big battle room until we bumped into Huy, Duy, and godudette. I greeted them all warmly, but the Has were still a little sluggish from being up early out of their time zone. RC pic time, Huy first.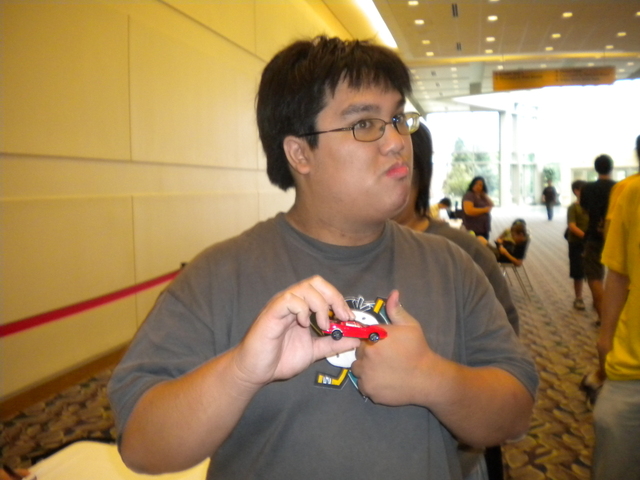 godudette, my fierce karaoke competition!
And last but certainly not least, Duy (nice, Fish).
Fish, OD, and all the other Smogonite competitors got in line to register their teams while I took stock of the room we would be in all afternoon. Huge ceilings, a big roped-off area of tables with DSes for battling, and a bunch of TCG and other shenanigans on the other side. I bumped into Kongler again, and he showed me a paper Koffing some kid had made and given to him. It was apparently mine to carry around for a little while, so I wanted to see if I could mimic its facial expression.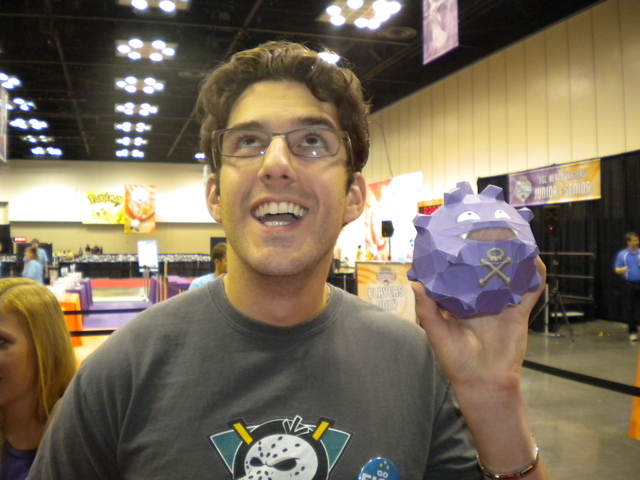 I think I did alright. And then... THE PINS. You probably noticed my super sweet avatar and were wondering, "what IS that?" Well my friend, that is the greatest pin the world has seen (just slightly better than the Nicolas Gazin pin). The Indiana Democrats had a man running for state Senate who just happened to share the moniker of our very own Jason Fisher-Short, so the guys had snagged some of his campaign pins the day before. What better for me to do than wear all three simultaneously with the man himself?
While everyone was milling around and waiting for the competition to start, I was introduced to Ninahaza, who was quiet around me at first but soon opened up. Notice on the left of the picture is Sixfortyfive, who I didn't realize at the time was a Smogonite.
Finally, the competition was underway! I followed all the Smogonites to their respective tables, noting whom each one was battling. I kept my eye on Fish, and it turned out he was fighting... Ninahaza. Damn.
Huy also fought godudette the first round, which sucked.
It was just the beginning of a long day of Smogonites knocking each other off. I was watching the battles with Arti, Fishy, evan, Dubs, and all the rest of the Smogonites who had not qualified for the finals. Someone in the group noticed rory was playing in the corner and his battle was on the TV, so we all ran over there.
NOTE: skarm had named rory's team for him, and the ONE thing rory said the previous that he didn't want was to have his battle on the TV for everyone to see. Of course, it happened in the very first round.
He also had one named xX LoRi Xx, which was my favorite. So, we watch rory fight this guy, and I decide to start rolling the camera, not only to watch the battle (as if I knew what was happening), but to watch everyone around me watch the battle. And then it happened...
WOW. Self-crit with Surf. rory's reaction is absolutely priceless, we spent all day watching and re-watching this video, laughing our asses off each time. Needless to say, he went on to be victorious in this battle.
The first round matches started winding down, with all the Smogonites emerging victorious (except for Ninahaza and godudette, but that wasn't their fault). After the battles ended, the competitors would come out and chat while they waited for all the battles of the round to finish. Here we are just hanging around: you can see a little bit of Tyler422 on the left, then Alaka, Huy, evan, Duy, skarm, Fishy, tad, and Synre.
When they called the competitors in for the second round, we stayed in the corner where we were because OD and Imawario got matched up right in front of us. rory also eventually sat down at the same table, and I wondered aloud if he would end up fighting another Smogonite.
Of course, over walks Fish to take his seat. TWO more intra-Smogon battles, it was starting to smell like the fix was in. I should have kept my mouth shut.
We watched those battles, in which Imawario got some pretty bad hax. Sixfortyfive was there watching too, making goofy comments along with me (and also helping me understand what we were commenting on). Some of the other guys were watching a different battle, so I got a pic of the other part of the cheering section.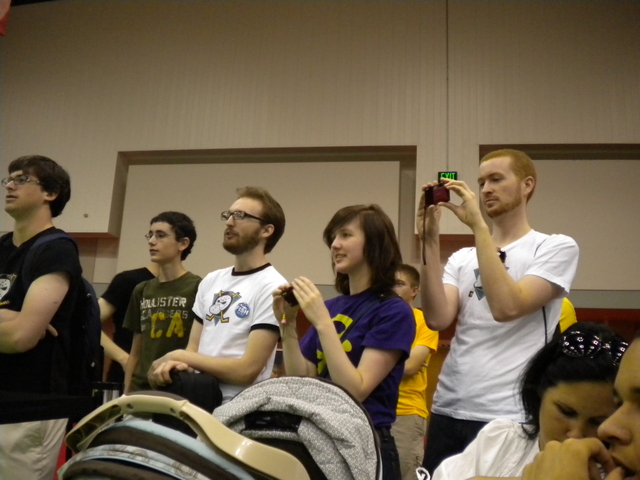 At one point I was super hungry (our hotel had no breakfast of any kind), so I went with Arti out to the convention center's eatery. They all told me the pizza from Pizza (another running joke) was good, but it was all closed, so I settled on some giant turkey wrap from the coffee shop. Ugh. The first three bites made me want to just throw it at the lady at the coffee counter, but I eventually stomached the rest.
About two hours and a few rounds later... I tried to line up a shot that got both Huy and Imawario in it. SUCCESS. Even got the back of mattj's head on the left, aren't I amazing?
After hanging around with tyler422 most of the morning, I finally officially introduced myself. I knew who he was because I had been trolling the VGC forum in the week before the trip, so I got an RC pic.
There was a giant Pikachu walking around the room all morning. I had sent my girlfriend a pic of it on my cell phone, and she demanded I pose with it. I walked over there and got a video of him posing with some other kids (I love the little dance he does).
They cut off pictures with Pikachu RIGHT after those kids. Apparently the dude in the costume really needed a break, because they actually turned some little kid and his dad away. I never got another chance, and I consider it an opportunity MISSED.
Back at the battles, it is now round seven, the final round of the Swiss round robin. As you might expect, two Smogonites on the cusp of making the final sixteen get paired up against each other: skarm and rory.
The excitement in the room was palpable at this point, as this was a do or die battle for about half of the field of 62 entrants. Heavy stuff. The crowd had grown considerably in size. Who'da thunk pokemon could be a spectator sport?
We all excitedly watched skarm fight rory, as their battle basically determined which of them moved on. It all came down to one exchange of moves, the very last turn, one poke against another... when RORY'S MOVE LEFT SKARM'S WITH A FRACTION OF LIFE. A huge surprised clamor of gasps and laughs came up from the crowd and skarm finished rory off with the next move. They both left the table in good spirits though, shaking hands and joking about the battle. True sportsmanship. rory said he was happy that if he was going to lose to anyone, at least it was skarm.
I finally officially met Alaka at that point, although I had been following his battles all day. RC pic.
Shortly thereafter, they posted the list of rankings, the entire field from 1 to 62. We were delighted to see the strong Smogon contingent in the top 16, meaning we would have a lot of people to root for on Sunday.
The people on the list, as I know them: 1: BadIntent, 3: Huy, 5: PokemonMaster, 6: Kongler, 10: skarm, 12: mattj, 13: TTS, 14: Duy, 15: Alaka, and 16.... RORY! Yes indeed, the only 4-3 trainer to sneak through was our very own rory, thanks to the strength of his opponents. I REALLY wish I had been rolling my camera at this point, because after the trainers started to thin out around the posting, tad pushed his way to the front and checked the paper... and then turned around and started screaming "RORY! RORY! YEAH, RORY, WHERE ARE YOU!?" He pushed his way back out of the crowd, clotheslining man, woman, and child alike, until he found rory, whom he then picked up in a bearhug and started jumping around. It was one of my favorite Indy moments, and it really defines how great tad is.
Some of the other Smogonites on the list: 17: Cybertron (sucks man, but someone had to be on the bubble), 19: TAY (should have been in the 16, but he'll rock out next year), 24: Ninahaza, 25: dtrain, 32: Fish, 34: Imawario (I talked with him constantly all day, after round three he already had a bad feeling about his day, nothing ever went right for him), 41: OD, 51: chalkey, 54: godudette. Every trainer played well and left it all on the field. Table. Whatever.
It was still early, so we had a lot of day left. They took the top 16 aside to fill out paperwork and take pictures and whatnot, so the rest of us fooled around while we waited.
Yep, that's me getting attacked by a Ho-oh and a... nother pokemon? Something. Anyway, they lined up the top 16 around Pikachu for some group pics, so I snuck in and took some as well.
Every time I see Huy proudly holding his little car, I chuckle. No one was really ready for that first one, though, and they ended up taking about 23 pics, so I took another one.
They had the final four trophies in a case near where they took the pictures, so Arti and I wandered over to check them out. Arti started at them longingly, knowing they could have been his, feeling in his heart of hearts that one day he, yes HE, would be the world pokemon master. I SWEAR THIS PIC IS NOT STAGED
I had noticed earlier the awesome modifications Arti made to his Ducks shirt, and I finally got a pic of it.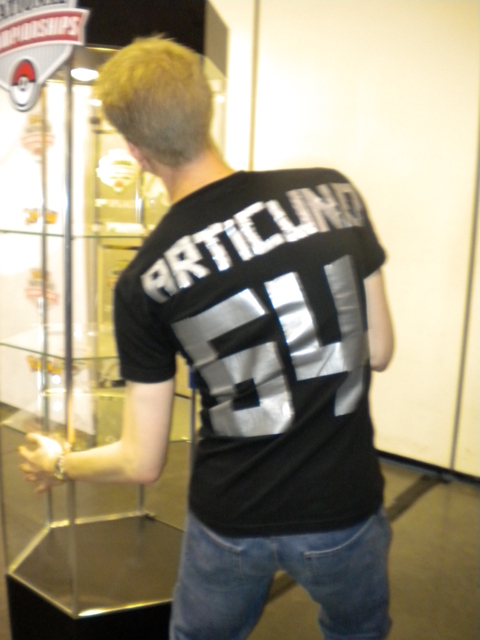 At that point, it was pretty much agreed upon that everyone was hungry, so we went to the eatery and all grabbed some food. I finally got some Pizza pizza, and I must say, although $4 a slice is ridiculous, it was surprisingly good. We went to the empty "free battle" room to finally get off our feet and rest up.
Yes, I like taking pictures of my surroundings while I'm hanging out.
Before long, the DSes started popping out and pokemon battles followed soon afterward. Dubs battled evan, TAY battled Arti, and I borrowed Fish's extra DS to but the stomp on Fishy's under-leveled team. (It was a complete mismatch, but DAMN did it feel good.) Then everyone switched dance partners (except me) and went again.
It's funny: in years past, I would have been sitting there like a grumpy prick, commenting on how I was surrounded by "nerds" or "nerdery". It shows how far I've come that I was a willing participant in the nerdery. In the second battle, Fishy switched up her team and stomped me into the ground with a group of CK clones. THAT sucked. (This led to me naming my rival "CK" during my current Fire Red run.)
Our table grew pretty big and full of Smogonites, so I tried to get a picture of the entire group.
We had been discussing since the night before the upcoming Ghana-USA soccer game and had planned on watching it, so the soccerphiles in the group decided we'd watch the game at the Champions sport bar located right across the street in our hotel. We rolled in about 20 strong, which took the hostess by surprise a little bit. They put us in the back by the second (empty) bar, but would NOT allow us to move the tables together, so we ended up sitting in groups of 4-6. (We eventually softened up the waitress a little to let us merge tables, no thanks to TAY.) I sat with Synre, Arti, Ninahaza, TAY, and rory, and poor rory was exhausted from staying up all night working on his team.
I was parched, so I ordered a beer. (I was the only one at my table to do so, and I got some weird looks.) The waitress asked me what size I wanted, and when I inquired about the sizes, she said: "16 ounce, 22 ounce, or 32 ounce." Um, DUH. Give me the barrel of beer, thank you very much. I ended up having four of those for a grand total of 128 ounces of delicious, refreshing beer.
There was a man and a young girl sitting at a table with tyler422 and Alaka whom I didn't know, so I asked Arti who they were. When he told me it was mingot, the bulb flashed on in my head. I had forgotten he was even going! Next time he walked by, I got an RC pic. (Please note on the TV the Ghana pussy rolling around pretending to be hurt.)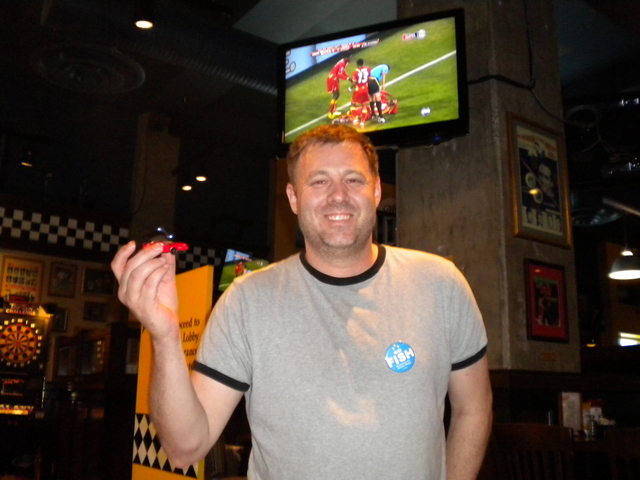 Shortly thereafter, USA was awarded a penalty kick for a bad Ghana tackle. I had a feeling Landon Donovan would score, so I started rolling on the camera. What I didn't expect to capture was the aftermath of TAY's rampage. You can hear me at the beginning of the video telling the waitress to put the plate near me; when she went to do so, Landon scored, TAY raised his fists in the air triumphantly... and punched the plate of spinach artichoke dip right out of her hands and all over the table. He got a bunch on Ninahaza's keyboard and nearly put the rest right in Synre's lap. In the video, you can see him ashamedly covering his face while I obliviously celebrate our goal. (Another running joke established: TAY punches waitresses.)
USA would go on to lose the game after extra time, which was quite heartbreaking to everyone left in the room (some of the other guys had gone back to the con center to watch the junior division). In need of a diversion from our patriotic sadness, we headed over to the darts machines and started just messing around. Fishy and I had a little competition (without putting money in) to see who could score more points in a round. We played first to ten, and she ended up winning 10-8. Don't be surprised that a hayseed can throw darts, it's in their blood. After that, I gave some pointers to Ninahaza, who ended up throwing some very good darts with my help.
There were also two arcade basketball games next to each other, so, being competitive in nature, we had ourselves a bunch of little mini tourneys. I was slow at first and lost to evan (or was it Fishy?), but once I found my stroke I got into a groove and put up big points. Synre, defying all gay logic, was the master of the game.
At some point, Sixonesix rejoined the group, as he had been with us earlier at lunch. I hadn't had a chance to meet him then, so I quickly got an RC pic.
evan had indeed brought his guitar to Indy, and he had been patiently carrying it around with him all morning at the con center (because we figured we'd go back to my room and jam sometime). Turns out he carried it for naught, for the group all went back to HIS room after we left Champions. I grabbed Sofia (my guitar) from my room and brought it with me, and we had a full-on jam session. I showed him a bunch of songs I knew, he played me some of his band's stuff, and we just rocked out. I had wanted to play and sing and everything, but both of us had spent the whole morning and afternoon screaming at the Smogonite trainers, so our voices were pretty shot.
Eventually, someone in the room suggested we sing the pokemon theme song. mingot found the tab on the internet on his phone, and I slightly altered/corrected the chords. mingot then got us the lyrics, and evan and I quickly learned it and shared it with everyone. The following is the result of our diligent work.
There was plenty more playing, and mingot also got a short video of me messing up "I Will Survive" by Donna Summer. We hung out in the room a while longer, and after we finished jamming we all got in on a pokemon trivia game ET had set up on the N64. I somehow got 3 questions right by completely guessing, which was the same amount some people got when they actually knew their pokemon.
After a while, we all got the itch to go out and get yet ANOTHER meal, so we headed back to the TGI Fridays that everyone had eaten at on Thursday. At one point, ET asked if he could borrow my camera for a minute. He and Fishy disappeared, and when they came back I had the following on my camera.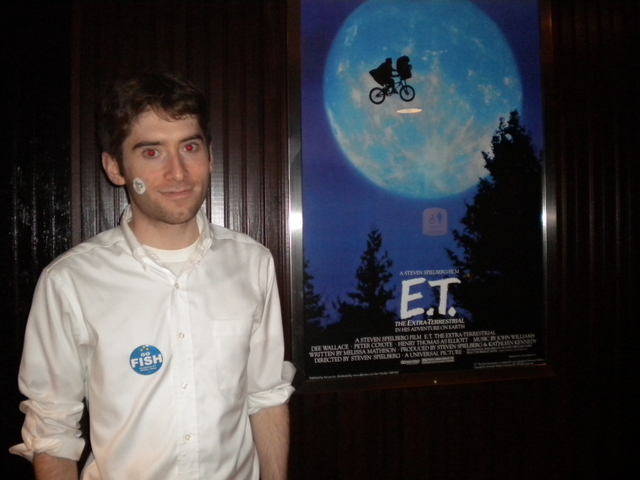 ET had found this poster on his way to the men's room and really wanted a picture with it. Fishy made him take another one, this time with him looking "longingly" at it.
Dinner went without much of a hitch, aside from everyone changing their orders at the last second (me included) which made the food take forever to come out. But I have to say, it was WELL worth it. We all got that 3-course for $12.99 deal, and it was AWESOME. My pot stickers ruled, the Santa Fe salad kicked ass, and the vanilla bean cheesecake... oh. My. GAWD. I believe you have already seen what Fishy and I thought of the cheesecake.
It might very well be the best cheesecake I have ever tasted. If I lived near a TGI Fridays, I would probably be about 25 pounds heavier by now, already.
TAY had been talking to evan earlier about his iPod, and being the brave boy he is, he brought it to dinner for evan, Dubs, and I (Three Little Indiens) to rate. RMi was a good time, probably not so much for TAY though. evan was very tough on him, giving him a 4 out of 10, while Dubs was a little more generous with his 6. I was going with a 4.5, but rounded it up to 5 to give him a nice average score of 5. Simply put, if he deletes Lady Gaga my score will automatically raise to a 6.
Fish and I had wanted to go off on our own for some quality time, and ET had also talked about going out after the meal for some adult beverages that were NOT Coors Light, so we tried to figure out where we could go. Dubs had been planning on having people up to his room (in our hotel) to watch the Big Lebowski and drink White Russians, which was also a pretty good idea. Fish and I decided to head back to our room to figure out what our next move was. We met up with OD there, who we thought would be asleep. He showed me a picture of himself on Facebook that will not be shared here, but that definitely solidifies his status in the Handsome Club of Smogon.
The three of us eventually headed up to Dubs's room to see what everyone was up to. Everyone was pretty much hanging out, about to watch the Big Lebowski.
We figured heading back out to bars for drinks was a poor idea, as everything was going to be a good walk from the hotel and it was all going to close in an hour anyway. I felt bad for not being able to get beers with ET, so next time he and I hang out I owe him a Stella Artois, or Heineken, or whatever classy brew he so desires.
Dubs had gone out and gotten the milk to mix with the booze, so our own Lebowskifest was about to happen. Dubs wasn't sure of the proper mixing amounts, so he nominated me as the bartender. I made a couple White Russians and asked who wanted them; rory and Sixonesix took those. I made a couple more and handed them out, and then made one for myself. Before I had even sat down, rory held up his empty lowball glass and asked for another drink. A second later, Sixonesix did the same. rory commented on how delicious the drink was: "It tastes just like chocolate milk!" Heh. Teenagers.
After I made those and gave them back, we got the movie rolling on Dubs's laptop. evan and I had a definite problem with saying all the lines out loud right before they were said in the movie, but overall everyone was enjoying the hell out of it anyway (except Fishy, who had fallen asleep, and OD, who smartly went back downstairs to bed).
We were only about a half hour into the movie when I realized that both rory and Sixonesix had put down three White Russians each. I admit I was making them strong, but that's just the way I prefer them. I probably should have taken my customers in account, because I noticed rory was getting a little... goofy. Sixonesix was fine, he was his usual, quiet self. After that, I cut rory off and gave his next drink to evan instead.
The movie eventually ended, but I don't think we were paying it much attention anymore at that point. Everyone was exhausted, rory was drunk, and the rest of us were getting tipsy. rory went on the internet on a phone and attempted to post a visitor message on evan's wall, instead posting complete gibberish.
rory, though, was a champ, and stayed awake much longer than other people in the room.
dtf indeed. At long last, I said goodnight to all the crazy kids and went back downstairs to my own room to sleep on the floor one last time. I think I finally conked out at about 4:30am, about the same time rory did. Of course, I didn't have to battle an undefeated BadIntent in four hours.