THERE AND BACK AGAIN Episode IV: A New Hope, Part 3
Day the Third and Epilogue
CHAPTER THREE: Sunday, June 27th
I heard someone in the room get up and walk by me for a shower, so I figured all three of us would be heading down together. I had an alarm set for 8am, but I groggily turned that right off and went back to sleep.
I was awoken by my phone ringing at a little after 9am by none other than chaos himself. He had been in Indy on Friday before I got there, had left for a wedding and had now returned for the festivities. He told me that the first round was already over and three Smogonites had already been knocked out of the tourney. I got up pretty quickly then and found Fish was still in bed as well, just waking up. I threw on some clothes and headed out the door, leaving Fish behind to shower. (I couldn't be bothered.)
I walked into the battle room slowly, still shaking off the sleep, and saw everyone standing in a group. They called my name and laughed at me a bit, which was fine. Then I saw chaos, and he came running up to me WAY too quickly and gave me a nice big bear hug. As you can see, the sleep in still in my eyes at this point.
chaos wanted me to take pictures of him with other people in the group, so here is him with Arti and evan.
Fish came over shortly thereafter, so chaos got a picture with him also.
We had heard the bad news: Huy and Duy, being 3rd and 14th seeds (respectively) were forced to play each other in the first round, with Duy being defeated. Deagle had beaten Kongler in the first round as well, and lastly, TTS had lost to some Quick Claw hax. The field of Smogonites had almost been cut in half right away.
The second round was underway, and unfortunately we were about to lose one more Smogonite: skarm and Alaka were in the same bracket and got matched up together. Behind them, Huy takes on Deagle.
Unfortunately, Huy also lost to Deagle, who was turning into quite the Duck-killer (EnFuego would be proud). There was also some last-minute excitement in the Alaka-skarm match (I'm sure you can read one of their stories to hear about it) with skarm narrowly pulling out the win, but I JUST missed recording it. It's worth it just for me learning Ninahaza's name, though.
At this point, all my so-called "friends" decided to pick on poor sleepless DM. I kicked my flip-flop at someone in mock frustration... bad idea. chaos picked it up and started playing keepaway with Arti, Synre, and evan. (Fishy's video details this entire awful ordeal perfectly.) I did eventually get it back... and then put it on TTS's backpack and blamed him for everything. Needless to say, he was pretty surprised.
Fish and Duy came back from outside the battle room with a special gift for chaos. Only two are in purple because Duy got sick of the color.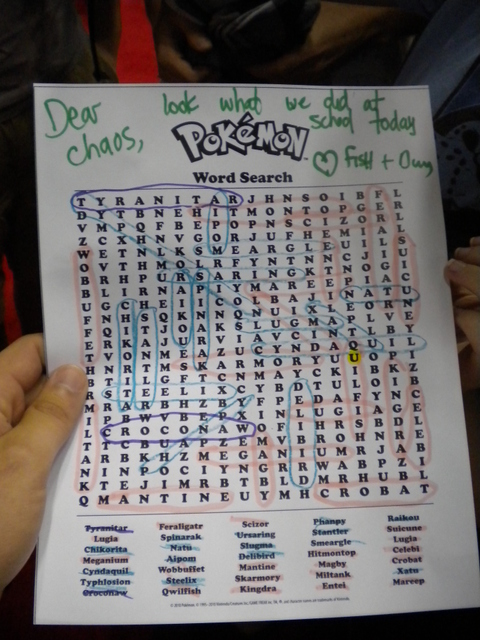 chaos asked me for another picture, this time with skarm and TTS. Huy made a special appearance as well.
Because I had basically become the videographer, skarm and TTS asked me to get a picture of them.
At this point, I realized I hadn't taken any pictures of the entire group. Alaka was still in the competition, so we had to take the picture with him standing behind the barrier. Kongler and Kevin must have been outside smoking because no one could find them, but we went ahead and took the picture. I asked a girl I had been talking with to take the picture for us; it turned out to be Nekusagi, who lurked and knew Smogon. We gave her about 4 or 5 cameras and cell phones at first to take pictures, and she did an admirable job.
Front row: Duy, Huy, godudette, Fishy, Dubs, ET.
Back row: Synre, Sixonesix, skarm, TAY, evan, rory, Alaka, tad, DM, chaos, Arti, Fish.
As Nekusagi took the pictures, someone noticed there were other Smogonites standing nearby who weren't in the picture, so they ran over. They also gave Nekusagi 3 or 4 more cameras/phones to use, and she never once complained.
Added back left: dtrain, Cybertron
Added front left: Blue Cookes, POKEMONBATTLEBRAIN – front right: OD, evan's guitar
She took one more on mine after people stopped posing, but I might like it better because it's in better focus.
Back to the action! Alaka was about to take on Deagle in the semi-finals, so we grabbed our front-row seats for the action. OD was interviewed by emcee Nick McCord.
They ran out of chairs, so some devoted Smogonites took to the floor to watch the battle.
chaos needed to get comfortable, so he used rory as a footrest.
Deagle beat Alaka the first round, but Alaka was not deterred. Spurred on by our consistent (and incredibly obnoxious) chants of "ALAKA! ALAKA!" he came back strong and won the second battle, pushing the best of 3 series to a final, winner-take-all fight. Of course, I recorded only the end of the battle.
The third battle started poorly for Alaka. Deagle got a little bit of luck early on and moved out to what seemed like a comfortable and possibly insurmountable advantage. I was recording everyone's reactions to the match, when all of a sudden...
POWER OUTAGE. Yes, if you can believe it, the power to all the DSes completely shit the bed, leaving all four competitors completely bewildered (and Deagle, I imagine, pretty pissed). We praised and gave thanks to the pokegods (or ET, whoever might have been responsible), because this meant Alaka would have one more chance at the third battle! They moved all the competitors to new tables and had them restart their matches.
We all picked up and moved over to the corner to watch the match on a different TV. Just then, ET returned from his secret trip with a present for chaos.
PITAS! chaos was ecstatic, and he let Deagle know the party was about to start. By then, chaos had been given what would be his prize for the weekend, the paper Koffing, so he asked me for a picture with ET and his new friend.
With the battle underway (and no chairs in sight), the Smogonite cheering section watched the battle unfold from the floor in high spirits.
Naturally, it wasn't long before li'l rory conked out. I guess four hours of sleep, along with a hangover, might be too much for him.
The battle itself was incredibly exciting, with a bunch of stuff happening. (I have no idea, read their stories.) It came down to the end, Deagle's two pokes against Alaka's Blissey, when all of a sudden the Smogonite cheering section became more and more animated. I couldn't understand what was happening, until chaos said next to me: "It's over. Alaka won."
He had done it! Alaka had overcome all odds and beaten Deagle to move on to the finals. Congradulaciens treiner!
chaos gave Alaka the rest of the pita as a prize for his accomplishment.
We milled around while we waited for them to set up the final battle. I saw chaos head over to talk to mattj, so I thought it was the perfect time to tag along and meet him as well. I wasted no time getting a Red Corvette pic.
mattj was pretty cool, definitely much cooler than the Firebot persona he has made for himself. After chaos saw the Red Corvette come out, he demanded a picture with it. I told him we didn't need to because I had probably done it when I visited him in Kentucky, but to be sure we took it anyway. I thought chaos wanted an action shot, so this is him driving the Red Corvette up into the air off the Koffing.
He thought that was awful, so we took another one. A slight improvement, I suppose.
The time had come for the final battle. Alaka and his opponent, Wes, were moved over to two podiums in the middle of the huge room. Our group split up, with half in the very front and my half toward the back. I tried to take a picture of the two trainers when IT showed up. Nick McCord: "LOOK WHO'S HERE!" And then the evil thing waddled out onto the stage.
Seriously, how fucking CREEPY can you get? Now I know why rory was so scared of that thing.
It didn't take long before rory fell asleep and missed the finals.
I suppose this is where I mention that Nick McCord is HILARIOUS. I can't do justice in this story, but he had us dying with laughter. As he had done with the juniors final, Nick narrated the entire match, move by move. That would have been funny enough, explaining pokemon through a loudspeaker, but the things he would say, his little repeated catch phrases, things like: "IT'S A REVOLVING DOOR OF POKEMON!" just had us in stitches. My personal favorite (note my CT) was at the end of a turn, when the screen showed the battle message "Rain continues to fall on the field." Nick wasted no time announcing: "Ladies and gentlemen, there is RAIN FALLING on the FIELD." You couldn't ask for a better face for the tournament, Nick did a great job and I look forward to seeing him at future events.
Long story short, Wes was pretty amazing and beat Alaka two matches to zero. The Smogonite cheering section kinda had the wind taken out of its sails, but we were proud not only with Alaka placing 2nd, but with how well Smogon did as a whole.
With the final battle over, I was facing a long drive home. It was just past noon, and it was going to take 7-8 hours to get home, so I had to leave soon. As I have done at every Smocon, I took one last video to get everyone's final thoughts on the trip.
Fish and Fishy had wanted me to take a picture of them all weekend long, so we finally got our chance to do that. Also, I know Synre is gay and all, but he is TOTALLY creeping on Fishy's ass.
Another picture I had wanted throughout the weekend was a "Make CK Jealous" picture. I told Fishy to gaze at me longingly, and I just improvised my own pose. (I'm guessing you've already seen this in Firebot, in what is probably the best thread EVER,)
It would have been incredibly remiss of me not to get a picture of the original Men of Room 3360, the Smocon Buds. I must say, the three of us have never looked so handsome as we do here.
chaos was posing with TAY and rory for someone else's camera, so I snapped a picture of them too.
I went around and gave goodbye hugs to everyone. My favorite was Synre; I shook his hand and said, "What, you're not going to hug me?" and he replied "Well, I wasn't sure." Bitch PLEASE. It's just like I told Hipmonlee back in the day: Smogonites don't shake hands, Smogonites HUG.
I sadly said goodbye to the group and walked out of the battle room for the last time. Fish came with me to help me get all my stuff back down to my car. Walking down the hallway, Fish asked me for my camera and said "you NEED a picture with your head in that mouth." So here I am, getting eaten by Totodile.
It was still hungry though, so it got Fish too.
I got all packed up and said goodbye to OD, who had been in the room. Fish helped me put my stuff in my car, gave me a hug goodbye, and sent me on my way. I made one last entry in my video log.
The trip home was long, boring, and incredibly depressing. I already missed the shit out of everyone in Indy and wanted to turn around and go back. Add to the mix the torrential downpour I drove through for about 5 hours, and yeah, I've had much better evenings.
I finally made it back to Buffalo after an 8-hour drive, dragged myself in the door and went right to my computer and got on irc. Some of the guys from Indy were chatting, so I contented myself to converse with them in that manner, although we had just been face to face earlier that very day.
EPILOGUE:
The weekend in Indianapolis was absolutely amazing. I met a whole slew of awesome new Smogonites, met a bunch of OLD Smogonites that I had known for years, and re-established relations with some that had drifted away.
Although it was incredibly sad to come home, I came back with a renewed sense of purpose on Smogon. I had stopped posting and chatting because I wasn't enjoying myself anymore, but now that I have been exposed not only to more pokemon, but also to the next generation of Smogonites, I see that I still have a place in this community. I loved everyone I met in Indy, and I cherish the time we spent together there.
I once again see myself as a worthwhile part of Smogon. I may no longer be an authoritative figure, but I'm excited to once again be active and give back in the relatively few ways I know how. I am glad to be a part of the solution, part of the future, rather than a part of the past, muttering grumpy nostalgic statements and shaking my cane at everyone.
Additionally, watching the competition in Indy has lit a fire under my ass to play pokemon! I am now going through Fire Red again, and have already logged WAYYY too many hours leveling every pokemon I catch. Each one is named after a Smogonite I like, and I haven't even come close to running out of names. That's a testament to this community and how close-knit it always has been, and always will be. I look forward to everything that is to come, but I ESPECIALLY look forward to the VGCs next year, when I will be competing and winning it all. You've all been put on notice. COUNT IT.
...And he lived happily ever after, for the rest of his days.