VGC 2010 Seattle (Sammy)
So basically, here's the line:
There was literally over 500 people. if you are going to a VGC event, PLEASE PLEASE PLEASE GET THERE an hour early. The line will be long, trust me.
Here's me with my two friends:
Oh, and here's gold, being humped by Jade (a new friend i made at the VGC).
The whole place was set up like this:
As you beat more people, the more you progress onto the right. You start off with Green, Purple, Orange, then finally Yellow.
To start off, you get into a line and you wait until a staff member registers you. Then they proceed to give you a wristband. THEY ALSO GIVE YOU AN EXCLUSIVE BLACK "HEART GOLD&SOUL SILVER" BAG! MAKE SURE YOU GET IT! Afterward, they lead you to a table.
They also give you this slip of paper. Every time you beat an opponent, you would advance to the next color. A staff member would always circle if you won or not.
OHH THERE WAS ALSO A DANCING PIKACHU THAT WAS FREAKKIN AWESOMMEEEEE! (Picture of me and all my friends at the VGC)
I <3 Hentei
Here's my friend Joey, losing to a small asian chick (right). She was really nice :3
And there was Team Rocket too.
Merriland was at the event. Here's a pic of him, along with Paul (Zerowing) in the background. It's blurry, I know. I didn't want Paul or Merriland to think I was a creeper.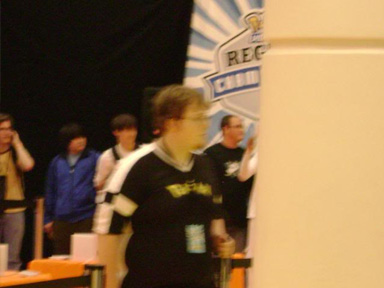 Oh, and an announcer guy came up to my "group" and asked if we would be able to dance with Pikachu for a dance-off thingy. We agreed, and he said it'll be up on the internet... I wonder where it is :/
Here's some videos on the semi-finals and finals. Enjoy!
Quacking for the finalists since they were from the Mighty Ducks group; the "countdown"
http://www.youtube.com/watch?v=FHJRVN9-H_Y
HERE'S THE LINK TO WATCH THE FINALS: