Charizard
Base
HP:
78
Attack:
84
Defense:
78
Sp. Atk:
109
Sp. Def:
85

Speed

:
100

Min (-ve nature, 0 IVs)
184
Default
236
Max Neutral
299
Max Positive
328
Max Neutral (+1)
448
Max Positive (+1)
492
Max Neutral (+2)
598
Max Positive (+2)
656
OverUsed
Dragon Dance (Adamant)
299
Dragon Dance (Jolly)
328
Wallbreaker (Modest)
299
Wallbreaker (Timid)
328
Bulky Will-O-Wisp
276
Swords Dance
290
Mega-Y
HP:
78
Attack:
104
Defense:
78
Sp. Atk:
159
Sp. Def:
115

Speed

:
100

Min (-ve nature, 0 IVs)
184
Default
236
Max Neutral
299
Max Positive
328
Max Neutral (+1)
448
Max Positive (+1)
492
Max Neutral (+2)
598
Max Positive (+2)
656
OverUsed
Dragon Dance (Adamant)
299
Dragon Dance (Jolly)
328
Wallbreaker (Modest)
299
Wallbreaker (Timid)
328
Bulky Will-O-Wisp
276
Swords Dance
290
Mega-X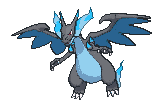 HP:
78
Attack:
130
Defense:
111
Sp. Atk:
130
Sp. Def:
85

Speed

:
100

Min (-ve nature, 0 IVs)
184
Default
236
Max Neutral
299
Max Positive
328
Max Neutral (+1)
448
Max Positive (+1)
492
Max Neutral (+2)
598
Max Positive (+2)
656
OverUsed
Dragon Dance (Adamant)
299
Dragon Dance (Jolly)
328
Wallbreaker (Modest)
299
Wallbreaker (Timid)
328
Bulky Will-O-Wisp
276
Swords Dance
290
Overview
Blessed with being the only Pokemon in OU with two Mega Evolutions, Charizard has found both of them to be top-tier threats. The first forme, Mega Charizard X, is known to be one of the best Dragon Dancers in the entire tier; the combination of a base 130 Attack and essentially a 1.33x boost on both of its main STAB moves thanks to Tough Claws allows it to OHKO most foes at +1 with STAB Flare Blitz, meaning it can sweep almost effortlessly through teams, especially given how easy it is to set up with such a great defensive typing. Furthermore, Mega Charizard X can utilize its amazing typing, bulk, and movepool to be very unpredictable; it can run a variety of sets, including a defensive set that utilizes Will-O-Wisp and even a Double Dance set that contains both Swords Dance and Tailwind to bring the pain on both defensive and offensive teams, respectively. Given all these traits, Mega Charizard X is simply one of the best Pokemon in OU and offers a lot as a Mega Evolution.
The second forme, Mega Charizard Y, is the most powerful wallbreaker in OU. At first glance, Mega Charizard Y's amazing Fire STAB type and base 159 Special Attack make it appear to be a powerful wallbreaker in and of themselves. However, Mega Charizard Y's claim to fame is its ability, Drought, which boosts its STAB Fire Blast's power even further, allowing it to OHKO or severely dent a significant portion of the tier, and makes Solar Beam a 120-Base Power Grass attack that takes only one turn to use, nullifying Water-types as possible checks. With Focus Blast rounding out the coverage, most of the metagame is in huge danger to Mega Charizard Y bar a select few—these are mostly limited to opposing Dragon-types such as Latios, Latias, Dragonite, Mega Altaria, and bulky Mega Charizard X and dedicated special walls such as Chansey and Cresselia. All of the aforementioned Pokemon are very easy to take advantage of, however; with the use of stallbreakers and Pursuit trappers, it is easy enough to clear a path for Mega Charizard Y. Outside of these Pokemon, Mega Charizard Y simply will dent the opponent's team every time it comes in, provided it can hit.
However, Charizard's base 100 Speed for both formes is no more than good and leaves it outpaced in such a quick metagame, which is compounded by a quadruple Stealth Rock weakness that severely hinders it from executing its job effectively—it is very easy to take advantage of this with the use of priority moves or faster attackers that can finish it off at such low health. Mega Charizard Y is an extremely easy Pokemon to pressure; while it OHKOes an absurd number of Pokemon, it often can be outsped and KOed by faster Pokemon unless it switches out, which can ruin the momentum at times. Mega Charizard X, on the other hand, is worn down very quickly between Stealth Rock damage, Flare Blitz recoil, and general miscellaneous damage. This makes it harder to sweep and wallbreak to an extent. However, despite these flaws, Charizard is no less than a metagame-defining Pokemon and should be looked at as such.
Moves
Dragon Dance simultaneously boosts Mega Charizard X's Attack and Speed, allowing it to sweep weakened teams. Flare Blitz in tandem with Tough Claws provides ridiculous damage output, capable of OHKOing many foes unboosted and severely denting almost everything in the metagame at +1. To give a measure of its power, Mega Charizard X's unboosted Flare Blitz matches the power of +2 Adamant Garchomp's Dragon Claw. Dragon Claw completes the feared Dragon / Fire coverage and is a safe option to use against Water-types as well as when the player wishes to avoid recoil. Roost keeps Mega Charizard X healthy and helps mitigate Flare Blitz recoil as well as avoid Sucker Punch mind games. Earthquake is an option that allows Mega Charizard X to beat Heatran and bulky variants of Tyranitar, but the extra longevity provided by Roost is generally more useful. Fire Punch is an option over Flare Blitz if recoil tends to be a problem, but it is seriously discouraged due to its significantly lower damage output.
Set Details
Maximum Attack investment is used to hit as hard as possible, and a Jolly nature is used to outspeed Jolly Choice Scarf Landorus-T, Jolly Choice Scarf Excadrill, Choice Scarf Kyurem-B, and Modest Choice Scarf Keldeo. This spread also allows Mega Charizard X to outspeed neutral-natured base 100 Pokemon such as Mega Gardevoir and Mega Medicham as well as most Kyurem-B before a Dragon Dance. Alternatively, a slightly bulkier spread of 104 HP / 220 Atk / 184 Spe can be used to have a good chance to survive two Hydro Pumps from Rotom-W while still outspeeding Choice Scarf Landorus-T after a boost and OHKOing uninvested Landorus-T after Stealth Rock damage. If outspeeding the previously mentioned Choice Scarf users after a boost is not a concern, a spread of 96 HP / 252 Atk / 160 Spe with an Adamant nature can be used to outspeed Adamant Excadrill, Jolly Mega Scizor, and Mega Heracross while providing a noticeable boost in power. Running an Adamant nature specifically allows Mega Charizard X to 2HKO Azumarill after Stealth Rock damage and grants a high chance at 2HKOing mixed defensive Hippowdon after Stealth Rock damage. Blaze is the chosen ability before Mega Evolving despite being very situational, as Solar Power would accomplish nothing other than reducing HP at times.
Usage Tips
It's best to set up Dragon Dance towards the end of the game, when Mega Charizard X's checks and counters are out of play or have been weakened enough to be picked off after a boost. Mega Charizard X should set up on Pokemon that it forces out, such as Mega Scizor and Celebi, or against Electric-types such as Mega Manectric and Raikou. If running HP investment, Rotom-W is an easy target to set up on, as it can't 2HKO Mega Charizard X with Hydro Pump and is stalled out with Roost. Take note of Charizard's typing change upon Mega Evolving; for example, not Mega Evolving against Latios after it uses Draco Meteor allows Mega Charizard X to safely set up Dragon Dance on it, whereas Mega Charizard X sets up on non-Thunder Wave Thundurus with ease thanks to its neutrality to Hidden Power Ice and resistance to Thunderbolt.
Team Options
Entry hazard removal is an absolute must, as having Charizard lose half its health makes a huge difference in the game. Excadrill is the best option for this, as it can remove hazards with Rapid Spin while preserving your own and has good synergy in general with Mega Charizard X. In addition, Swords Dance Excadrill can severely weaken physically bulky Pokemon such as Hippowdon and Slowbro to assist Mega Charizard X's sweep. The two of them also pair very well on sand teams, as Mega Charizard X can set up on or deal immense amounts of damage to the likes of Rotom-W, Celebi, and Mega Venusaur, which are bothersome to common Pokemon on these archetypes. Latios can nuke the opposition while using support options such as Tailwind and Memento to prepare for a sweep, in addition to clearing entry hazards for Mega Charizard X with Defog. Mew can support Mega Charizard X with Defog, while Mega Charizard X can absorb Knock Off for it. Powerful physical attackers such as Garchomp, Talonflame, and Terrakion can weaken or overwhelm Mega Charizard X's checks and counters. Grass-types such as Celebi and Serperior put immense amounts of pressure on the bulky Water-, Rock-, and Ground-types that are used to check Mega Charizard X. In addition, Celebi can take further advantage of these Pokemon by setting up a Substitute and passing it to Mega Charizard X for safety during setup. Chesnaught and Tangrowth work as well to combat sand teams, which are problematic for Mega Charizard X. Jirachi is a very notable teammate, as it can provide Healing Wish support, check Mega Altaria and Mega Diancie, and lure in bulky Water- and Ground-types and KO them with Grass Knot. Water-types such as Manaphy and Azumarill also pressure Rock- and Ground-types that bother Mega Charizard X, and the former can break down defensive cores for Charizard to clean up late-game.
Wallbreaker
Move 1

Fire Blast

10% chance to burn the target.

| | |
| --- | --- |
| Type | Fire |
| Category | Special |
| Power | 110 BP |
| Accuracy | 85% |

Flamethrower

10% chance to burn the target.

| | |
| --- | --- |
| Type | Fire |
| Category | Special |
| Power | 90 BP |
| Accuracy | 100% |

Move 2

Solar Beam

Charges turn 1. Hits turn 2. No charge in sunlight.

| | |
| --- | --- |
| Type | Grass |
| Category | Special |
| Power | 120 BP |
| Accuracy | 100% |

Move 3

Focus Blast

10% chance to lower the target's Sp. Def by 1.

| | |
| --- | --- |
| Type | Fighting |
| Category | Special |
| Power | 120 BP |
| Accuracy | 70% |

Move 4
Moves
In the sun provided by Mega Charizard Y's Drought, Fire Blast OHKOes or 2HKOes nearly all Pokemon that don't resist it as well heavily denting those that do. Flamethrower is a slightly less powerful alternative that is more reliable due to its perfect accuracy. Solar Beam doesn't require an extra turn to charge thanks to the sun, and it hits Water-types such as Azumarill, Suicune, Slowking, Slowbro, and Manaphy for great damage. Focus Blast rounds off Mega Charizard's coverage, targeting Tyranitar and Heatran. Roost keeps Mega Charizard Y healthy and somewhat mitigates Stealth Rock damage. Alternatively, Earthquake deals significantly more damage to Heatran than Focus Blast, but it does pitiful damage to Tyranitar.
Set Details
Maximum Special Attack investment is used to hit as hard as possible. A Timid nature allows Mega Charizard Y to Speed tie with other positive-natured base 100 Speed Pokemon, namely Manaphy, as well as Jolly Excadrill outside of sand and maximum Speed Kyurem-B. If outspeeding these Pokemon is not required, a Modest nature can be used for a significant increase in Mega Charizard Y's wallbreaking potential. If using a Modest nature, a spread of 40 HP / 252 SpA / 216 Spe provides some bulk while still outspeeding neutral-natured maximum Speed Kyurem-B. Note that Fire Blast is best used with a Timid nature and Flamethrower is best used with a Modest nature, as the high power of Fire Blast makes up for the decrease in power by not using a Special Attack-boosting nature; conversely, when using a Modest nature, Mega Charizard Y can afford to use a slightly weaker move.
Usage Tips
Mega Charizard Y is best played as an early- and mid-game wallbreaker, utilizing its high-powered STAB moves along with its near-perfect complementary coverage movepool. The best way for Charizard to get in safely is through a double switch, a Volt Switch, or U-turn user. However, more aggressive plays such as switching into Ferrothorn's Stealth Rock or Clefable's Moonblast can be useful depending on the given situation. Note that the risk of such plays can result in Mega Charizard Y being crippled by a potential Leech Seed or Thunder Wave. Keeping Stealth Rock off the field is important to maximize Mega Charizard Y's wallbreaking, as if Mega Charizard Y takes Stealth Rock damage, it is forced to use Roost more often and thus waste turns that could have been used to attack. Take advantage of the switches Mega Charizard Y tends to force into the likes of Latias, Latios, and Chansey in order to pressure them with a double switch into the appropriate teammate.
Team Options
Entry hazard removal is one of the most important aspects to cover with Mega Charizard Y's teammates, so the likes of Excadrill, Latios, and Latias make for good partners. In addition to providing Rapid Spin support, Excadrill has good offensive synergy with Mega Charizard Y, as it can break past some of the specially bulky Pokemon that Mega Charizard struggles with while in return Mega Charizard Y can plow through physically bulky Pokemon such as Rotom-W and defensive Landorus-T. Latios and Latias provide useful resistances to Water- and Electric-type attacks, and the latter provides Healing Wish support so that Mega Charizard Y can be played more recklessly at times. Mew is another option for Defog support, as it can reliably beat Chansey one-on-one with the use of Taunt and Knock Off. Pursuit support from the likes of Tyranitar, Weavile, and Assault Vest Metagross is essential to remove Latios and Latias, both of which are some of Mega Charizard Y's most common offensive checks. In addition, these Pokemon can either cripple Chansey, in the case of Weavile and Bisharp, or heavily dent it with their STAB moves. Other Pokemon to deal with Chansey, including Fighting-types such as Terrakion and Keldeo, make for good teammates too.
Bulky Will-O-Wisp
Move 1
Move 2
Move 3
Move 4

Earthquake

Hits adjacent Pokemon. Double damage on Dig.

| | |
| --- | --- |
| Type | Ground |
| Category | Physical |
| Power | 100 BP |
| Accuracy | 100% |
Moves
Will-O-Wisp cripples physical attackers and spreads residual damage, deterring the likes of Landorus-T, Azumarill, and Tyranitar from switching in. Even with minimal Attack investment, Flare Blitz hits very hard against neutral targets. Flare Blitz is also important to deal substantial damage to Clefable. Roost heals half of Mega Charizard's HP, extending its longevity. Earthquake targets Heatran, which gives Mega Charizard X problems, as it can absorb Will-O-Wisps and Flare Blitzes due to Flash Fire. Dragon Claw is an alternative option that doubles as a reliable STAB move; it is especially useful to hit opposing Dragon-types that don't mind being burned by Will-O-Wisp such as Latios, Latias, and Hydreigon, which otherwise could gain offensive momentum by pivoting into an Earthquake or a Flare Blitz given they are healthy. Dragon Claw also hits Mega Charizard Y, which this set can check in a pinch. Dragon Tail can be used to phaze setup sweepers such as Manaphy and Reuniclus and is useful to rack up entry hazard damage. However, it is not fully accurate and is significantly weaker than Dragon Claw.
Set Details
248 HP EVs are used to minimize the damage taken from Stealth Rock. 160 Speed EVs allow Mega Charizard X to outspeed Adamant Excadrill, Jolly Mega Scizor, and Jolly Bisharp. The rest of the EVs are placed into Defense alongside an Impish nature, which subsequently allows Mega Charizard X to avoid the 2HKO from Mega Metagross's Zen Headbutt and Life Orb Weavile's Icicle Crash from full HP. A specially defensive spread of 248 HP / 200 SpD / 60 Spe with a Jolly nature can be used to better handle the likes of Nasty Plot Thundurus and Mega Charizard Y.
Usage Tips
Pivot into Pokemon that Mega Charizard X checks, such as Mega Scizor, Weavile, and Volcarona. Early-game, throw out Will-O-Wisps in order to cripple Mega Charizard X's typical switch-ins and spread residual damage on the opposing team. Choosing the time to Mega Evolve can be very important at times when one set of resistances is more important than the other, such as when spamming Roost on Latios's Draco Meteor before Mega Evolving. Be sure to keep entry hazards off the field and preserve Charizard throughout the match if your opponent has a threat that Mega Charizard X checks.
Team Options
Entry hazard removal is very important for Mega Charizard X due to its crippling weakness to Stealth Rock. Due to how this set fits best on more balanced or defensive teams, the likes of Skarmory and Mew make for very good teammates to fulfill the role of entry hazard remover. Skarmory has excellent type synergy with Mega Charizard X, as it covers Ground- and Dragon-types to some degree while Mega Charizard X checks Fire- and Electric-types, which bother Skarmory. Mew appreciates having a bulky Mega Evolution to fall back on to absorb Knock Offs, as without Leftovers, it is pressured to use a recovery move more frequently. Regenerator Pokemon such as Tornadus-T, Slowbro, Slowking, and Amoonguss pair well with Mega Charizard X, as they fit on the balanced builds that this set is typically used on and appreciate Mega Charizard X's pivot support. Physical sweepers such as Swords Dance Garchomp appreciate the likes of Landorus-T and Slowbro being whittled down by Will-O-Wisp.
Moves
Swords Dance doubles Mega Charizard X's Attack, allowing it to plow through defensive cores. Roost is an alternative to provide Mega Charizard X with recovery, allowing it to heal off recoil and entry hazard damage. Flare Blitz is boosted by Tough Claws and deals massive damage to anything that does not resist it, even heavily denting some less bulky Pokemon that do resist it. Dragon Claw is a reliable secondary STAB move that hits most Pokemon that resist Fire for solid damage and has the benefit of not making Mega Charizard X suffer recoil damage, unlike Flare Blitz. Outrage is significantly more powerful than Dragon Claw, most notably 2HKOing Quagsire and having a high chance to OHKO Slowbro at +2, but it has the cost of locking Mega Charizard X into the move.
Set Details
Maximum Attack investment with an Adamant nature is used to hit as hard as possible, and 216 Speed EVs allow Mega Charizard X to outspeed maximum Speed neutral-natured Kyurem-B and below. A Jolly nature can be used to Speed tie with opposing positive-natured base 100 Speed Pokemon and outspeed neutral-natured base 100 Speed Pokemon as well as Jolly Excadrill outside of sand, but without an Adamant nature, Mega Charizard X loses out on quite a bit of wallbreaking power, most notably losing the ability to OHKO Azumarill after Stealth Rock with a +2 Flare Blitz.
Usage Tips
With this set, it is important to assess the given matchup to determine how Mega Charizard X should be played throughout the game. Versus more offensive teams, it is generally best to just outright attack when Mega Charizard X forces a switch early- or mid-game and, if possible. Against balanced and defensive builds, set up a Swords Dance when Mega Charizard X forces a switch on the likes of Ferrothorn, Amoonguss, and defensive Starmie. Don't set up if your opponent has a Quagsire; using Outrage on a forced switch is more beneficial. If possible, eliminate Unaware and Prankster Pokemon before attempting to set up in order to give Mega Charizard X much more breathing room. While Mega Charizard X can break through Quagsire with two Outrages and Clefable is cleanly 2HKOed by Flare Blitz, eliminating Quagsire means that Charizard doesn't have to lock itself into Outrage (or can forgo it for Dragon Claw), and eliminating Clefable is helpful because it can stall Mega Charizard X out between Wish and Protect. In most other scenarios, using Outrage generally has more risk than reward, so be wary of locking Mega Charizard X into the move.
Team Options
Entry hazard removal is very important, so teammates such as Excadrill, Latios, and Starmie fit well. Sand Rush Excadrill greatly appreciates Mega Charizard X's wallbreaking ability so it can clean up late-game versus offensive teams. Excadrill also appreciates Mega Charizard X's ability to set up on and eliminate Rotom-W and remove Slowbro if it is running Outrage. Azelf and Klefki can provide dual screens support, and the former provides Stealth Rock to wear down Mega Charizard X's checks and Explosion to get it in safely. Grass-types such as Celebi and Serperior have good offensive synergy with Mega Charizard X, most notably being able to pressure or eliminate Quagsire, which is a major nuisance to Mega Charizard X because it ignores its boosts with Unaware. Swords Dance Mega Charizard X struggles versus offensive teams, so fast Pokemon that perform well against those such as Weavile and Choice Scarf Jirachi pair well with it; the latter also provides Healing Wish support to give Mega Charizard X another chance at sweeping.
Other Options
Iron Tail is an alternate coverage move for Dragon Dance Mega Charizard X to hit Mega Altaria, which otherwise gives the set trouble because it resists both of Mega Charizard X's STAB moves and takes only neutral damage from Earthquake. Mega Charizard X can use a set of Roost and three attacks in order to combine its excellent dual STAB types, coverage, and longevity, but it faces stiff competition from other wallbreakers such as Kyurem-B and Latios.
Checks and Counters
There are no Pokemon that hard counter Charizard, as it has such impressive stats and diversity in its sets. It does have a variety of checks depending on the set, though, which must be scouted first.
Respective Defensive Pokemon: While Charizard's Mega Evolutions require different responses, they do in fact have defensive answers, albeit rather few. Mega Altaria is a solid check to both Mega Charizard formes, as it resists Mega Charizard X's STAB combination and can threaten to set up a Dragon Dance, while Mega Charizard Y's coverage of Fire / Grass / Fighting is ineffective against Mega Altaria. Mega Charizard X is very difficult to switch into, especially because it can boost its Attack. Assuming the standard offensive sets (as Will-O-Wisp from the defensive one greatly cripples many potential answers), Quagsire, Landorus-T, Rhyperior, and Hippowdon are its most reliable counters, all of which threaten it with STAB Earthquake. However, Quagsire can be 2HKOed by Outrage, Landorus-T and Rhyperior lack reliable recovery, and Hippowdon, even with full Defense investment, can be worn down with entry hazards until Mega Charizard X can force its way past it. Slowbro can recover off damage and doesn't care too much about Will-O-Wisp, though it is actually OHKOed by +1 Outrage from a Dragon Dance set after some prior damage; however, this is not the case with Mega Slowbro, which can tank an attack and proceed to use Thunder Wave or Scald. Although typically not physically defensive, Heatran can stomach many hits and stall with Toxic if Mega Charizard X lacks Earthquake. Azumarill gets a special mention for resisting every common attack Mega Charizard X has while not being weak to Earthquake; however, like most of the aforementioned Pokemon, it is severely crippled by Will-O-Wisp. Additionally, Assault Vest Azumarill can beat Mega Charizard Y one-on-one, making it a solid check to that. Mega Charizard Y's reliable switch-ins are also limited to specialized specially defensive Pokemon. Blissey and Chansey wall Mega Charizard Y hard and can heal back the damage while stalling it out with Seismic Toss or Toxic. Assault Vest Goodra is also notable for taking a pittance from its attacks and can attack back with hard-hitting moves, though it can be a poor choice against other Pokemon in the metagame, as it lacks reliable recovery, meaning that it can be worn down over a game's span. Hippowdon's sand limits Solar Beam to being a two-turn move and halves its power, and Hippowdon can use this opportunity to OHKO Mega Charizard Y with Rock Slide or Stone Edge. Politoed can also do this, except it summons rain instead of sand, which decreases the power of Fire Blast. Physically defensive Gliscor can beat Mega Charizard X due to its access to STAB Earthquake and high defenses, given that it has not taken any prior damage. Bulky Tyranitar can beat Mega Charizard X too, as it can take an Earthquake and retaliate with Stone Edge. Specially defensive Gyarados can check Mega Charizard X with Intimidate and can even counter Mega Charizard Y by being able to hit it hard with Waterfall even in sun and by resisting its main STAB move and not taking much from Solar Beam or Focus Blast. Cresselia can check both Mega Charizard formes with its enormous bulk and can threaten with Thunder Wave.
Offensively Inclined Bulky Pokemon: Mega Charizard X has very few answers outside of revenge killing it or using a dedicated defensive Pokemon on a stall or balanced team. However, Mega Charizard Y has a few common offensive responses that can actually switch into it. Without the rare Earthquake, Mega Charizard Y lacks good coverage against Fire-type Pokemon, though Drought's power boost allows it to often 2HKO frailer ones. Opponents can rely on bulkier Fire-types as good offensive responses. Specially defensive Talonflame can take Mega Charizard Y's typical attacks very easily and wear it down with Brave Bird. Mega Charizard X itself also hard walls any set without the rare and suboptimal Dragon Pulse and can proceed to set up on it or hit Mega Charizard Y hard with its powerful Dragon-type attacks. Entei risks being 2HKOed by Fire Blast or Focus Blast, but it can tank one of these attacks in a pinch and respond with Stone Edge or Extreme Speed. Fire-types aren't the only offensive answers, though; many Dragon-types can function similarly as checks, sometimes even if it is carrying Dragon Pulse. Latios, Latias, and Garchomp are all faster than Mega Charizard Y and can tank at least one attack before hitting back with a powerful attack of their own. Specially defensive Dragonite can also tank Mega Charizard Y's attacks with the aid of Multiscale and set up or attack it. RestTalk Mega Ampharos is a powerful Pokemon that can switch into Mega Charizard Y and use a powerful Volt Switch.
Faster Attackers: Mega Charizard Y's Speed is rather average and isn't boosted by any move on its common sets. This makes it very vulnerable to revenge killing from powerful Pokemon with super effective STAB moves. Thundurus, Terrakion, Keldeo, Mega Diancie, and many other common threats all possess super effective or very strong neutral moves while outspeeding it naturally. When using a Choice Scarf, some other common Pokemon such as Excadrill, Landorus-T, Diggersby, and Tyranitar can also surprise and revenge kill it. Revenge killing Mega Charizard X is a bit more complex, though it is almost always the most practical solution for defeating it when using an offensive team. Not all Choice Scarf users can outspeed it after a boost, however. At +1 Speed, Adamant Mega Charizard X can be revenge killed by a few Choice Scarf users, including Garchomp, Terrakion, Excadrill, Landorus-T, and Kyurem-B, all of which can OHKO it with their STAB moves. With a Jolly nature, however, only the first two listed Pokemon can outpace it. While priority would normally be an answer, Mega Charizard X is physically bulky enough to withstand a couple of Ice Shards, Mach Punches, Aqua Jets, and Bullet Punches, with Roost to heal any damage that is racked up through a combination of priority moves. Talonflame's Choice Band-boosted Brave Bird gets a special mention, though, as it can deal up to 86% damage instantly to offensive variants. To an extent, Thunder Wave from Prankster Thundurus is also problematic because it completely nullifies Mega Charizard X's Speed boosts, making it susceptible to a wider range of revenge killers. Sand is a very effective way to beat both Mega Charizard formes, as Mega Charizard X and Y aren't able to break through Hippowdon and the former isn't able to beat bulky Tyranitar, while Excadrill in the sand outspeeds and OHKOes both. Mega Aerodactyl can outspeed both sets if they're not boosted and can OHKO them with Stone Edge.
Residual Damage: Both of Charizard's Mega Evolutions are susceptible to an overload of passive damage. Mega Charizard X is more affected by this, as it takes recoil damage from Flare Blitz. However, some bulky Ground-types can use Toxic on either Mega Evolution before being 2HKOed, which allows them to wear Charizard down slowly. Perhaps the most significant form of passive damage that can be inflicted on either Charizard is Stealth Rock, which strips non-Mega-Evolved Charizard and Mega Charizard Y of half their health; Mega Charizard X still takes a heavy 25% damage from the entry hazard. Another issue is Ferrothorn, which, while OHKOed by Mega Charizard X's Flare Blitz, inflicts Iron Barbs recoil in addition to the regular Flare Blitz recoil.
Credits
Moves