Moderator
~~

NEVERUSED CIRCUIT PLAYOFFS

~~
~CIRCUIT STANDINGS~
​
Welcome to the culmination tour for the 2019 NeverUsed tournament circuit. After 11 months and 5 tournaments we finally have a competitive and accomplished top 16. Over the next few weeks they will be fighting for the chance to get the second NeverUsed ribbon!
Specific Rules:
This is a standard USM NU tournament.
Matches are to be played on PS!, preferably on the smogtours server.
All rounds will be a best of three in this single elimination tournament, and you are free to switch teams during your series.
The tier is LOCKED as of this post, and so any changes to the tier after this won't affect this tournament.
Standard Rules and Clauses:
Species Clause: A player cannot have two Pokemon with the same PokeDex number on his team.
Sleep Clause: You cannot inflict sleep upon more than one member of the opposing team.
Evasion Clause: The moves Double Team and Minimize are banned.
OHKO Clause: The moves Horn Drill, Guillotine, Sheer Cold, and Fissure are banned.
Endless Battle Clause: Anything capable of intentionally creating an endless battle is banned.
Other Smogon tournament rules also apply.
1. Osh
2. Jrdn
3. EviGaro
4. Eternally
5. FLCL
6. 0NI
7. Skelos
8. Finchinator
9. zben
10. Enzo Gorlami
11. SANJAY
12. blarghlfarghl
13. yeezyknows
14. Twixtry
15. Xiri
16. Pohjis
ROUND 1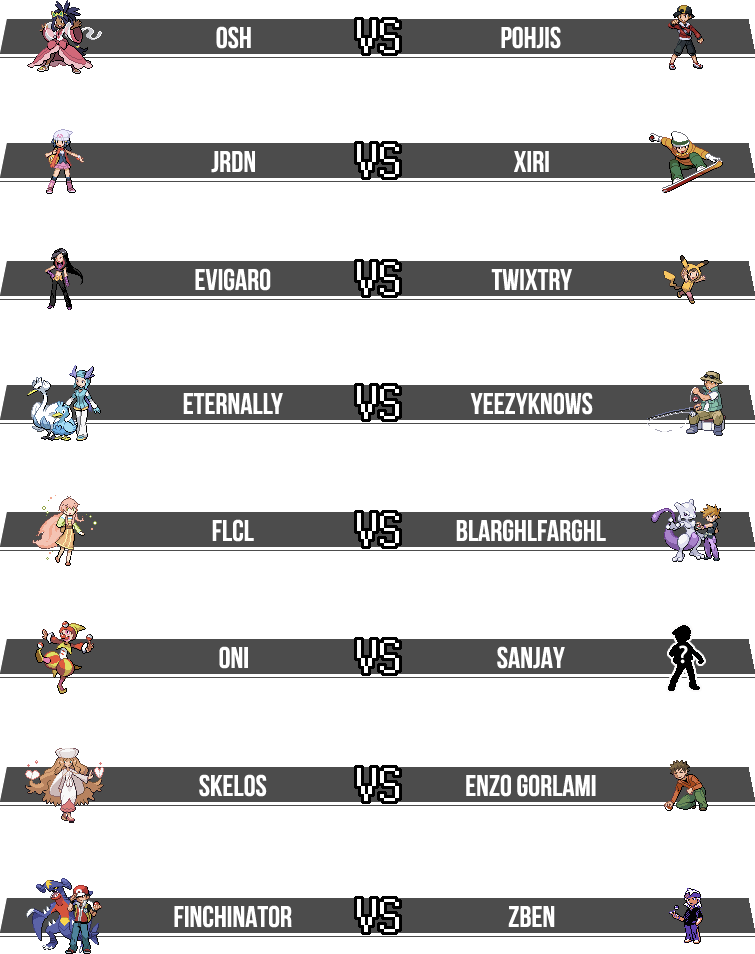 1.
Osh
vs 16.
Pohjis
2.
Jrdn
vs 15.
Xiri
3.
EviGaro
vs 14.
Twixtry
4.
Eternally
vs 13.
yeezyknows
5.
FLCL
vs 12.
blarghlfarghl
6.
0NI
vs 11.
SANJAY
7.
Skelos
vs 10.
Enzo Gorlami
8.
Finchinator
vs 9.
zben
ROUND 2
1.
Osh
vs 8.
Finchinator
2.
Jrdn
vs 7.
Skelos
14.
Twixtry
vs 11.
SANJAY
4.
Eternally
vs 13.
blarghlfarghl
ROUND 2 DEADLINE IS SUNDAY DECEMBER 8TH AT 11:59PM PST
Let us know when you are playing, and make sure to post all the replays!​
Last edited: