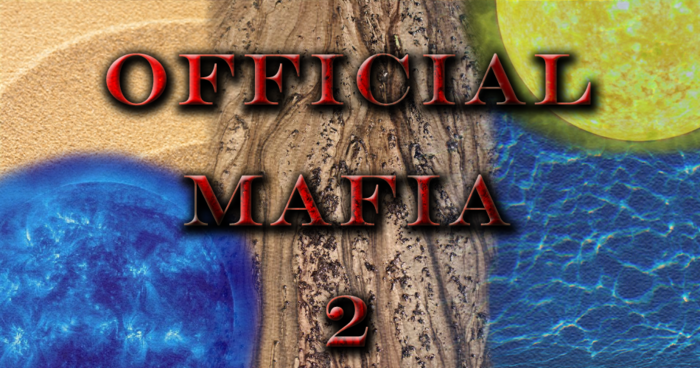 This game is
2official2mafia
. The latest in a long history of experimental multifactions, the second
OFFICIAL Mafia
melds exemplary strengths and weaknesses with flavor spanning years of Circus Maximus history. You will be immersed in a competitive, strategic game featuring the usual village against mafia dynamic, but expanded to a new level.
This game features three villages:
The STARS, a populous village with incredible control over the lynches. This team seeks to ensure their votes always matter and eliminate their opponents through each cycle's lynch;
The SANDS, an inquisitive village with the tools to gain information and great rewards for gaining it. The more they know, the better they are at swinging the game in their favor;
The MUDS, a hearty village that will fight to remain alive to the bitter end. They are survivors oriented around defensive plays and predictions.
And one mafia:
The AQUANAUTS, a powerful mafia team with strong roles just waiting to be utilized. They are a united team looking to hide within each village until they can overrun each town.
It would behoove people to think of this more as a multifaction game than as a 3v1 game.
This game is held on an ANONYMOUS FORUM off of Smogon that will be linked in the Game Thread in Circus Maximus. You will receive a USERNAME and PASSWORD PMed to you on Smogon—this is your new identity for the game. You will log into your account on the anonymous forum and receive your Role PM. Be VERY protective of your username, aka ALIAS. Anyone who learns of it, now has the means to kill you, whereas your Smogon username is safe from being lynched or killed. Remember to only share your Role Name until you are certain you trust someone and read the Newbie Guide in the Office of Strategic Influence for more information.
This is a unicycle game, which means Day and Night take place in one merged cycle. You will lynch at the same time you can kill, hook, protect, inspect, whatever your role may be.
Players:
6tennis
Sandshrewz
acidphoenix
Agape
Alfa610
Asek
Askaninjask
Da Letter El
Aubisio
blazade
Blue_Tornado
Darnell
DeathbyWobbuffet
Ditto
dogfish44
Drawesome532
Dentricos
Empoof
El Champoo
rssp1
epicsnorlax
Mithril
Former Hope
GoodMorningEspeon Vanillish Wafer
OM Room
Haruno
Hawkie
Internet
Jalmont
Josh
King_
Kirsche
Krauersaut
Lightwolf
LonelyNess
Martin
Memoric
MoodyCloud
Nomark
Oddish.
Paperblade
Pidge
Pilobacon
RODAN!!!
SaDiSTiCNarwhal
pancake
Seito Hakari
Shade
Steven Snype
Texas Cloverleaf
thetwinmasters
THE_IRON_...KENYAN?
Traceof Life
UncleSam
Walrein
XnadrojX
Flyhn
zorbees
Emphasis was placed on newer players, the rest were randomized. Sorry if you did not get in.
Sub list:
Shubaka17
Dentricos
Gale Wing Srock
ButteredToast
PMs going out now
Forum is here:
http://2official2mafia.prophpbb.com/
Discord link is here:
https://discord.gg/aMrrfaM
Last edited: