Approved by OM Staff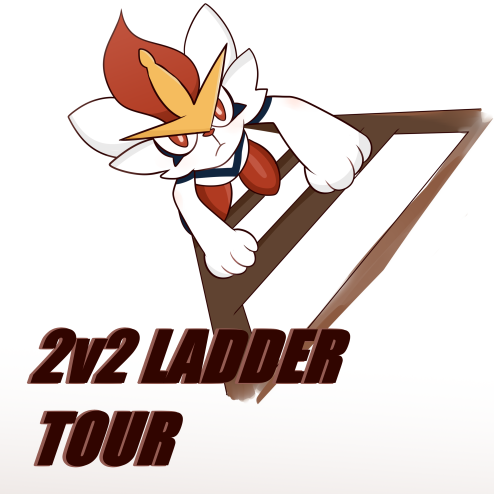 Artwork by
lei
​
Welcome to the first 2v2 Doubles Ladder Tournament!! The rules are simple, ladder as high as you can each week. The top four players of each cycle will qualify for playoffs. The playoffs are a 16-player seeded best-of-five single-elimination tournament, which will occur after all four weeks are completed.
General Guidelines:
I am the host of this tournament. Direct any questions to me.
This will take place on the regular "[Gen 8] 2v2 Doubles" ladder on the main Pokemon Showdown server.
The qualification period for the 2v2LT will run for a total of 4 cycles with roughly 7 days per cycle. After each 7 day cycle, the top 4 accounts that appear on the leaderboard (using ELO, GXE will be used as a tiebreaker between players with identical ELO) will qualify for the playoffs of the 2v2LT.
Do NOT ghost each other, boost each other, share alts, or do any other unsportsmanlike stuff. Break this and you will be disqualified from the tournament, along with likely being subject to other punishments.
Signup Rules:
You must sign up in this thread with your freshly made alt before starting battles with it.
Immediately after posting in this thread, go to Pokemon Showdown and register that account.

Sign up below before you start!
Cycle 1:
Code:
Forum Name: Arai
Cycle 1 Alts: 2v2LMK Arai, 2v2LMK Araii, 2v2LMK iraA
Do my alts for Cycle 1 contain my forum name or a very similar variation/abbreviation of it as required by the rules?: Yes!
The deadline for Cycle 1 is
Saturday, February 20th, 11:59 PM GMT-5.
Last edited: