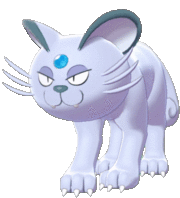 [OVERVIEW]
Alolan Persian's great Speed stat, valuable Dark typing, perfect special coverage in two attacks, and versatility through access to several coveted moves, including STAB-boosted Foul Play, Nasty Plot, Taunt, and U-Turn, are traits perfectly suited for success in LGPE OU. Unfortunately, Alolan Persian's effectiveness is limited by its other stats. Its poor offensive stats leave it struggling to deal much damage to Pokemon that don't fear Foul Play if it hasn't set up with Nasty Plot, limiting its ability to apply offensive pressure or revenge kill reliably, while its pitiful bulk limits its longevity and ability to set up safely. As a result, Alolan Persian is usually relegated to specific team structures that desire its aforementioned upsides, most notably Hyper Offense teams featuring several other fast special attackers and balanced teams where it can function as a utility-based pivot.
[SET]
name: Utility Pivot
move 1: Foul Play
move 2: Taunt
move 3: Toxic
move 4: U-turn
item: No Item
nature: Jolly
[SET COMMENTS]
Set Information
========
Foul Play is Alolan Persian's best unboosted attack, capable of reliably 2HKOing Mew and Mega Charizard X after Stealth Rock and dealing respectable damage to prominent physical attackers like Melmetal, Rhydon, and Snorlax. Taunt allows Alolan Persian to prevent the use of status moves, notably including Stealth Rock and instant recovery options. Toxic is used to punish Pokemon that can shrug off Alolan Persian's Foul Play, such as Mega Gyarados, Zapdos, and Poliwrath. U-Turn allows Alolan Persian to preserve momentum against switches and wear down its checks and counters. A Jolly nature is preferred in order to let Alolan Persian better handle Pokemon such as Alolan Dugtrio, Gengar, and Mega Pinsir.
Usage Tips
========
Due to its frailty, Alolan Persian should be brought into battle safely via means such as U-Turn and Teleport, or after a teammate faints. As one of Alolan Persian's main goals is to use Taunt to deny the use of Stealth Rock from anything other than Aerodactyl, it can often be a good idea to lead with it— if the opponent doesn't lead with their Stealth Rock user, Alolan Persian can be safely switched out either directly or via U-Turn. Alolan Persian appreciates being brought in against physical tanks like Melmetal and Rhydon via U-Turn, which both threaten it offensively but often can't afford to take a Foul Play without being left vulnerable to Alolan Persian's physical teammates. Alolan Persian can also be used as a revenge killer with Foul Play.
Team Options
========
Pokemon that excel at keeping up momentum are ideal partners for Alolan Persian, as they help provide it safer switch-in opportunities to put its utility to use and force switches. Mega Beedrill is a great example, as it benefits from Alolan Persian's ability to prevent the opponent from setting up Stealth Rock and lets Alolan Persian pressure some of its most common defensive responses, most notably Melmetal and Rhydon. Mew and Zapdos are pivots that have great longevity and can provide their own utility, such as setting Stealth Rock and Reflect respectively. Melmetal can help with handling Mega Aerodactyl, Mega Beedrill, and Mega Alakazam, which all threaten to revenge kill Alolan Persian with ease.
[SET]
name: Nasty Plot
move 1: Nasty Plot
move 2: Dark Pulse
move 3: Thunderbolt
move 4: Foul Play / Hypnosis / Hyper Beam
item: No Item
nature: Timid
[SET COMMENTS]
Set Information
========
Nasty Plot lets Alolan Persian significantly increase its damage output in order to successfully sweep or break down opposing walls. Dark Pulse is Alolan Persian's best STAB move and has a noteworthy chance to flinch Pokemon that could otherwise take a boosted hit, most notably Melmetal. Thunderbolt provides perfect coverage alongside Dark Pulse, making it Alolan Persian's go-to coverage option. Foul Play is Alolan Persian's strongest attack against most Pokemon prior to setting up, allowing Persian more opportunities to deal meaningful damage throughout a battle and bolstering the immediate threat it poses. Hypnosis is risky but useful for potentially giving Alolan Persian extra turns to set up against or attack Pokemon that can otherwise comfortably take it on, such as Alolan Muk and Snorlax. Hyper Beam is another risky option but is great for breaking unexpected holes in many of Alolan Persian's traditional answers, doing upwards of 50% to Alolan Muk, which can be exploited by Alolan Persian's specially offensive teammates. U-turn is another option that lets Alolan Persian wear down and pivot against its checks over the duration of a battle, helping to keep up momentum. A Timid nature lets Alolan Persian outspeed and handle the likes of Alolan Dugtrio, Gengar, and Mega Pinsir, making it preferred overall.
Usage Tips
========
Alolan Persian very rarely sweeps a team. As such, it is best used to break down bulky Pokemon for its more powerful teammates. Alolan Persian can survive most neutral attacks, affording it opportunities to set up with Nasty Plot or, if carried, use Hypnosis. It can also potentially force out Pokemon weak to its STAB, such as Mew and Gengar, in order to set up more safely. Alolan Persian's Speed grants it opportunities to act as a revenge killer, most commonly when carrying Foul Play. If carrying Hyper Beam against an opponent with fast setup sweepers, try to avoid using it until Alolan Persian will faint after using it— this prevents the opponent from exploiting Hyper Beam's recharge turn.
Team Options
========
Alolan Persian fits best on teams with a focus on fast offense that are designed to overwhelm shared checks such as Alolan Muk, Melmetal, and Mega Gyarados. Mega Aerodactyl and Mega Alakazam are great options for such teams, greatly appreciating having some of their most powerful answers worn down or removed for a lategame sweep, providing reliable means of revenge killing due to their unmatched Speed stats, and checking or outright countering the dangerous Mega Beedrill. Starmie is almost as valuable as the aforementioned Mega Evolutions, being able to soft check a variety of Pokemon thanks to its decent defensive typing and Recover while also threatening much of the metagame with its high Speed, powerful STAB Hydro Pump, and colorful coverage. Nasty Plot Mew has fantastic synergy with Alolan Persian, as both are proficient at forcing in and wearing down each others' best answers such as Alolan Muk, Snorlax, and Mega Gyarados. Gengar shares and wears down many of Alolan Persian's answers while also heavily threatening others such as Clefable.
[STRATEGY COMMENTS]
Other Options
=============
Alolan Persian's Utility set can use Hypnosis instead of Toxic in order to catch the opponent off guard and shut down a potentially vital Pokemon- however, the risk is generally not worth the less significant reward this set gains from landing it. Taunt can provide the Nasty Plot set with a means of disruption, but it doesn't work as well with the set's lack of momentum or immediate damage output courtesy of Foul Play.
Checks and Counters
===================
**Special Walls**: Alolan Muk and Chansey can hold Alolan Persian off for an entire battle with their Dark resistance and instant recovery respectively, while Snorlax can easily threaten it with a 2HKO via Facade. However, Alolan Muk doesn't appreciate Hypnosis and can't deal too much damage back, Snorlax must be wary of Foul Play, and Chansey gets worn down by repeated U-Turns into physical attackers it cannot heal against.
**Faster Pokemon**: Alolan Persian's poor bulk leaves it susceptible to revenge killing from faster attackers. Mega Beedrill and Mega Alakazam can OHKO Alolan Persian, while Aerodactyl can deal upwards of 60% with Rock Slide.
**Healthy Pokemon**: Alolan Persian's lacking offenses mean that most Pokemon can survive at least a single boosted attack if their health is preserved, allowing them to retaliate with attacks that Alolan Persian's poor bulk probably cannot withstand.
[CREDITS]
- Written by: [[, ]]
- Quality checked by: [[, ], [, ], [, ]]
- Grammar checked by: [[, ], [, ]]
Last edited: