(Click the sprites)
Introduction
One day, I was in the OU Chatroom in Showdown, and they were discussing M-Garchomp. Originally this was meant to be a meme team, but I changed by mind after realising that my meme teams are on the trash section of meme, so here we are. After testing it a bit, surprinsingly it did fare well, with 5 wins & 2 loses.
So, without further ado, let's *clap* jump *clap* into *clap* it.
The RockStar
Garchomp-Mega @ Garchompite
Ability: Rough Skin
EVs: 252 SpA / 4 SpD / 252 Spe
Hasty Nature
- Earthquake
- Draco Meteor
- Fire Blast
- Stealth Rock
The team's most important part on the early game, it has good matchups against two of the best rockers in the tier (Heatran & Mega Ttar) as well as some defoggers like Tornadus-T, Rotom-W and non-HP Ice Zapdos. Draco Meteor, paired with max. investment into Special Attack, nukes away many Chomp checks like Bulky Grass types, Flying types/Levitating mons, and other Grounds, while Fire Blast cover everything else that resist both STABs. The mega is preffered over a Life Orb due to the incresed longevity thanks to the extra bulk and lack of chip damage after each attack.
The Edgelord
Kartana @ Choice Scarf
Ability: Beast Boost
EVs: 252 Atk / 4 SpD / 252 Spe
Jolly Nature
- Leaf Blade
- Sacred Sword
- Knock Off
- Smart Strike
The team's primary revenge killer, Fairy-type answer & late game sweeper, Kart appreciate Chomp dent into it's common checks. Tornadus-T gives it the freedom of running Smart Strike over Defog, which let's it hit Fairies, Amoonguss/Venusaur & easing prediction overall. It also can be a Grass type switchin on a pinch.
The Backbone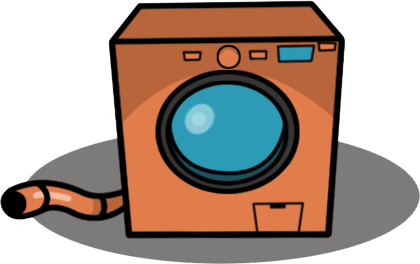 Magearna @ Assault Vest
Ability: Soul-Heart
EVs: 248 HP / 228 SpD / 32 Spe
Sassy Nature
- Fleur Cannon
- Iron Head
- Focus Blast
- Volt Switch
Rotom-Wash @ Leftovers
Ability: Levitate
EVs: 248 HP / 92 Def / 168 SpD
Careful Nature
IVs: 0 Atk / 30 Spe
- Hydro Pump
- Volt Switch
- Will-O-Wisp
- Pain Split
Mage is a good defensive pivot, given it's natural high bulk, Assault Vest, access to powerful moves & Volt Switch. However, it fares problems at handling physical attackers, which are handled by Rotom-Wash (courtesy of Will-o-Wisp). While Mage switch into things like Mega Alakazam, opposing Magearnas, Tapu Lele, etc. Rotom-W cripples Sand Rush Excadrill, Mega Swampert, Rockium Z Chomp, and Mega Mawile lacking Play Rough (if there's any). Both form a Voltturn core, very helpful for both Mega Garchomp, Kartana, and Greninja.
Note: Rotom-W also can soft check some Greninjas, mainly Protean sets, given it's EV spread (shoutouts to Finchinator). 30 IV is for having a slow Volt Switch in mirrors.
The Swearing Janitor
Tornadus-Therian @ Rocky Helmet
Ability: Regenerator
EVs: 252 HP / 52 Def / 204 Spe
Timid Nature
- Hurricane
- Knock Off
- Taunt
- Defog
The Team's Hazard Remover, this time also preventing those being setted, or removed in some cases. It also handles some threats that the Backbone cannot afford themselves, like Scarf Kartana, Mega Medicham, Ferrothorn (thanks to Taunt), and other Grass Types like Tapu Bulu. This EV spread let's it take an Ice Punch from Mega Medi from full HP, while being faster than Scarf Magnezone (very useful for Kartana). Should be noted, however, that this isn't an answer to some bulkier Grass types like Mega Venu.
The Jack of All Trades, Master of some
Greninja-Ash @ Choice Specs
Ability: Battle Bond
EVs: 4 Def / 252 SpA / 252 Spe
Timid Nature
- Hydro Pump
- Dark Pulse
- Spikes
- Water Shuriken
Tbh I didn't know what to put as the last member, so I put something that would be happy of not seeing Toxapex and Grass Types. Ash Gren is another way of speed control due to multiple factors, as well as threatening common answers to my main offensive core, such as Heatran, some Lando sets, fat phychics, as well as denting Kart & Chomp's common checks like Zapdos, Celesteela, and faster Scarf users (thanks to Water Shuriken). Spikes also are heavily appreciated.
Replays (only two cuz im stoopid)
https://replay.pokemonshowdown.com/gen7ou-865196202
Here Garchomp didn't that much, because I mistook the M-Latias sets with the CM one. Kart was able to sweep thanks to some lucky crits and Entry Hazards. Taunt Tornadus also had it's glory moment against the opposing Rotom-W.
https://replay.pokemonshowdown.com/gen7ou-865198352
Garchomp had it's redemption this time, taking away two important pieces of my opponents team. However, I think I played a bit too safe around Zapdos, since missing the 2HKO with Greninja could be disastrous.​
Last edited: