Awesome banner by Blue Frog :)
​
Introduction
Hello. I am Repeater1947. I'm usually found in the OU forum, where I'm seen running Pokemon threads or doing some contributions. Despite my low postcount, I've been starting to contribute more now that my school year has ended, yielding me more free time.
Moving on, here's a team built around my favorite Pokemon, Mega Diancie. Not only that I had fell in love with her because of her waifu-ish design, but because her 160 Atk / 160 SpAtk / 110 speed as well as its nice coverage - those are facts you shouldn't ignore when making preparations. This team was built ever since the very beginning of ORAS OU, even when Mega Salamence and Greninja were still legal. Speaking of Greninja though, Mega Diancie was one of the Pokemon who has benefited after the banning of the ninja frog. As the months passed, I've never forgotten this team. Now, the team involves the offensive core consisting of Mega Diancie + SD Talonflame + Latios. Now, I went with this team for quite a lot. I had indeed peaked 1500s with this team on January 30, 2015. However, I recently stopped laddering as I had tilted too much and now I'm currently 1330s, while also believing that the ladder isn't really that good for me at all. Despite that, this is one my proudest ORAS OU teams I've ever built and I never have any plans on disbanding it, ever.
I have started off wanting to build a team around my favorite waifu, Mega Diancie.
So, I have implemented Ferrothorn and Latios, completing the Fairy / Dragon / Steel core. Ferrothorn is able to provide SR while being able to provide a Water- and Grass-type resist for Mega Diancie, being able to check Mega Sceptile, Mega Gyarados, Gastrodon, Seismitoad, and Quagsire. On less significant cases, Ferrothorn can also provide a check to offensive Water-types such as Azumarill and Starmie if they lack super-effective coverage. Also, Ferrothorn provides a Fairy resist for Latios, being able to check opposing Mega Diancie and less significantly, other Fairy-types. Meanwhile, Latios provides Defog support tied with a Water- and Grass-type resist while being able to check Keldeo, Mega Venusaur, and Amoonguss more reliably. In addition, Latios serves as a stable check to most bulky Water-types with Thunderbolt. Mega Diancie complements the core by checking many Fire-, Fighting-, Dark-, and Dragon-types that fail to outspeed her.
Rotom-W provides another Water resist and Ground immunity while being able to wall offensive Water-types and cripple them with a Will-o-Wisp. Also serves as a pseudo-check to Mega Metagross able to cripple it with a Will-o-Wisp. Also, Rotom-W is a great defensive pivot being able to fire off slow Volt Switches in order to get Mega Diancie and Talonflame in safely.
As Chansey walls the team somewhat, I decided to add Bisharp in order to provide Knock Off support. Also, Bisharp addresses the problem with Mega Metagross, being able to knock him out after prior damage.
Lastly but highly important, I need a reliable priority attacker as well as a Pokemon able to reliably check many of the Grass- and Steel-types in OU. And that's where SD Talonflame comes in, one of the most convenient revenge killers in OU. And yeah, SD Talonflame and Mega Diancie have decent offensive synergy, is it not?
As
Enki
had pointed out, the team has problems with Mega Metagross, Mega Lopunny, Thundurus, and SubCM Keldeo. Ferrothorn was then swapped out in order to make room for support Celebi. Not only it provides a solid water resist and still be able to set up Stealth Rock, but it provides useful Thunder Wave support allowing me to cripple dangerous threats and set-up sweepers. Celebi also provides me a reliable form of recovery.
Team Analysis: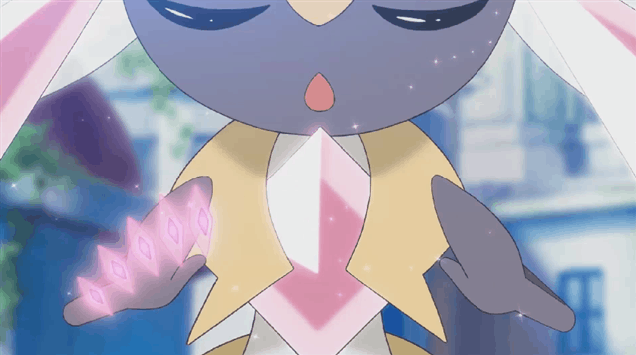 Diancie @ Diancite




Ability:

Clear Body


EVs:

16 Atk / 240 SpA / 252 Spe
Naive Nature
-

Diamond Storm


-

Moonblast


-

Earth Power


-

Protect

Mega Diancie is the star of the team, so let us begin with the waifu. Mega Diancie, having base 160 Atk / 160 SpAtk offenses, makes Mega Diancie hard to switch in to. Having a base 110 speed allows her to outrun a large portion of the metagame. Diamond Storm and Moonblast are your obligatory STAB moves. Earth Power is her standard coverage move of choice, as it prevents her from being walled by Steel-types. Lately, I have decided to run the Protect + 3 Attacks set. If you're rating this team please don't suggest replacing it, as it is one of the best moves you could run on her, it isn't funny. It saved me more games than Rock Polish does, since it allows Mega Diancie to mega evolve early and safely without taking unnecessary damage on the process; if Mega Diancie can't find an opportunity to mega evolve, then she's most likely going to be death fodder during the match. Protect also allows it to scout for potential super-effective moves that the opponent may be running just to snipe her (i.e. Iron Head Skarmory, Steel Wing Talonflame, etc.), as well as scouting for potential opposing Scarfers. EVs are standard.



Celebi

@ Leftovers




Ability:

Natural Cure


EVs:

248 HP / 160 Def / 84 SpD / 16 Spe
Bold Nature
IVs: 0 Atk
-

Stealth Rock


-

Giga Drain


-

Thunder Wave


- Recover


Celebi is a pretty underrated hazard setter right now. Ferrothorn was my original hazard setter, though I replaced it with Celebi as I had realized my team has problems dealing with Mega Metagross, Mega Lopunny, Thundurus, and SubCM Keldeo. In addition, Celebi provides a Water- and Ground-type resist for Mega Diancie and still being able to check Water-types including Keldeo. Thunder Wave over Baton Pass as it helps cripple the fuck out of set-up sweepers such as Dragonite, Mega Altaria, Mega Gyarados, Mega Charizard X as well as other dangerous threats such as Mega Lopunny, Scarf Tyraniar, Mega Metagross, and such allowing me to deal with them later. It should be taken into consideration that Thunder Wave provides a nice surprise factor, allowing you to surprise set-up sweepers as well as Celebi's usual switch-ins, seeing how many run Baton Pass instead. As always, Recover provides Celebi a reliable form of recovery preventing me from being worn down too quickly from chip damage. It also allows me to stall out LO recoil from the likes of Thundurus. Giga Drain is Celebi's standard STAB attack of choice. It was my decision to run an EV spread of 248 HP / 160 Def / 84 SpD / 16 Spe as to tank hits from Thundurus and Mega Diancie better.
Latios

(M) @ Life Orb




Ability:

Levitate


EVs:

252 SpA / 4 SpD / 252 Spe
Timid Nature
IVs: 29 HP / 0 Atk
-

Draco Meteor


-

Psyshock


-

Thunderbolt


- Defog


Latios is pretty much the most popular defogger in OU, due to its ability and good defensive typing supported by the decent offensive pressure it provides, as 130 BP Draco nukes isn't something to laugh at. Latios serves as a Water- and Grass-type resist while being able to provide a useful Ground-type immunity for Mega Diancie. Additionally, Latios serves as a check to Keldeo, Amoonguss, and Mega Venusaur. Thunderbolt is used over other coverage moves, as I require a check to bulky Water-types without having to be forced out after dropping a Draco Meteor. Draco Meteor and Psyshock are standard STAB moves.

From the very beginning of this team, I've tried HP Fire but then I found bulky waters such as Mega Slowbro troll me all day, so I had decided to run Thunderbolt instead. Despite having Celebi and Rotom-W on my team, I still decided to retain Thunderbolt in order to maintain offensive pressure on bulky Water-types.
Rotom-Wash

@ Leftovers




Ability:

Levitate


EVs:

248 HP / 216 Def / 44 Spe
Bold Nature
IVs: 0 Atk
-

Volt Switch


-

Hydro Pump


-

Will-O-Wisp


- Pain Split


And here we have Rotom-W. With the utility to fire slow Volt Switches as well as being able to cripple opponents with Will-o-Wisp, I decided to fit him on the team. Not only that, it provides a water resist and ground immunity for Mega Diancie and overall having good defensive typing in general. Rotom-W allows me to have a more stable check to birdspam, since Mega Diancie can't reliably switch in on Talonflame, Mega Pinsir, and Staraptor and therefore would only weaken Mega Diancie in the process. Needless to say, Volt Switch is something my team appreciates, given the fact that 2/3 of my team is composed of either frail Pokemon or those who lack any form of recovery. Besides that, Rotom-W allows me to reliably check Landorus-T, Heatran, Sand Rush Excadrill, and Scarf Tyranitar. And thanks to its good defensive typing, it can cripple and check offensive Water-types such as Azumarill, Feraligatr, Mega Swampert, and Starmie. Rotom-W also cripples Mega Metagross and Mega Scizor with Will-o-Wisp, something that my team appreciates. In general, this is my switch-in against many physical attackers. Standard EVs; 44 Speed EVs outrun max speed Azumarill.
Bisharp

(M) @ Lum Berry




Ability:

Defiant


EVs:

252 Atk / 4 Def / 252 Spe
Adamant Nature
-

Swords Dance


-

Sucker Punch


-

Knock Off


-

Iron Head




Ah, Bisharp. I needed a Pokemon to knock off Chansey's Eviolite, since Mega Diancie, Latios, Rotom-W, and Celebi can't do much shit on the opposing Chansey. Oh, and the utility of Knock Off and its access to priority STAB Sucker Punch is something that is hard to forego. And yeah, Defiant is something that makes this threat unique from the the others; it screws up opposing Defoggers and Sticky Web teams, potentially being able to conduct a semi-sweep, if not sweep outright. I've been running Swords Dance in order to allow Bisharp to sweep without relying on Defiant, to act as a threatening win condition. +2 Attack Bisharp is pretty threatening for offensive teams, it isn't funny. Oh, Lum Berry allows me to set-up on slower status-inducers and since I dislike having my sweep cut short from LO recoil or from a burn or paralysis. The reason to run Adamant over Jolly because it increases the damage output and since outspeeding Adamant Mega Altaria as well as forcing speed ties on other base 70s is neither important nor relevant.

Formerly, I've been running Low Kick + Life Orb, but

ZANBAKUResh

had suggested that LO recoil would easily wear my Bisharp down. Also,

Zephiros

had suggested to run SD over Low Kick. SD + Lum Berry is pretty viable and will potentially benefit my team and since Heatran, Magnezone, opposing Bisharp, and such can be handled by teammates anyways.
Talonflame

(M) @ Sharp Beak




Ability:

Gale Wings


EVs:

80 HP / 252 Atk / 176 Spe
Jolly Nature
-

Swords Dance


-

Brave Bird


-

Flare Blitz


- Roost


Now, why would you run an offensive team without Talonflame? Talonflame's 130 BP priority STAB nuke is one of the most convenient revenge killing tools in OU, and combined with its great speed tier and SD makes it a serious threat. Anyways, SD Talonflame and Mega Diancie both have decent offensive synergy. Talonflame is able to remove most Steel- and Grass-types that threaten Mega Diancie, while being able to provide priority in order to deal with threats such as opposing Mega Altaria and Volcarona after they have used a speed-boosting move, as Mega Diancie may have trouble dealing with them after the latter is outsped. 176 Speed EVs allows Talonflame to outspeed base 115s and Scarf Tyranitar. Moves are standard as what you'd expect from an SD set.

Dropped members:
Ferrothorn (M) @ Rocky Helmet
Ability: Iron Barbs
EVs: 252 HP / 88 Def / 168 SpD
Relaxed Nature
IVs: 0 Spe
- Stealth Rock
- Leech Seed
- Power Whip
- Gyro Ball
Ferrothorn was added to the team in order to set up Stealth Rock while being able to provide a Water-type resist. Rocky Helmet was chosen over Leftovers / Shed Shell in order to punish physical attackers including those who enjoy fucking Mega Diancie (lol Scizor, Azumarill, Landorus-T, etc.) as well as Pokemon that dare U-turn out of him. Rocky Helmet is also something that KOes the opposing Pokemon after taking damage from Rocky Helmet + Iron Barbs. Also, Breloom is KOed 87.5% of the time with Gyro Ball after Iron Barbs + Rocky Helmet damage. Leech Seed is only Ferrothorn's means of recovery while also being able to chip off damage to opponents, despite the absence of Protect. Power Whip serves as a check to Water-types such as Mega Gyarados, Seismitoad, Quagsire, Starmie, Azumarill, and Gastrodon assuming they lack super-effective coverage. Gyro Ball is able to dent Fairy-types and offensive Pokemon such as Breloom, Latios, Mega Sceptile, Landorus-T and such, as again, provided they lack super-effective coverage. That is the reason for my decision to forfeit Protect - in order for the sake of extra coverage. Standard EVs.
R.I.P. Ferrothorn. Replaced by Celebi. November 2014 - April 19, 2015.
Support Celebi > Ferrothorn
was suggested by
Enki
.
Proof of Ladder Peak:
Was taken on January 30, 2015. If you want to see more, check the first replay; it shows myself hitting 1500s.
Replays:
Importable:
Diancie @ Diancite
Ability: Clear Body
EVs: 16 Atk / 240 SpA / 252 Spe
Naive Nature
- Diamond Storm
- Moonblast
- Earth Power
- Protect

Celebi @ Leftovers
Ability: Natural Cure
EVs: 248 HP / 160 Def / 84 SpD / 16 Spe
Bold Nature
IVs: 0 Atk
- Stealth Rock
- Giga Drain
- Thunder Wave
- Recover

Latios (M) @ Life Orb
Ability: Levitate
EVs: 252 SpA / 4 SpD / 252 Spe
Timid Nature
IVs: 29 HP / 0 Atk
- Draco Meteor
- Psyshock
- Thunderbolt
- Defog

Rotom-Wash @ Leftovers
Ability: Levitate
EVs: 248 HP / 216 Def / 44 Spe
Bold Nature
IVs: 0 Atk
- Volt Switch
- Hydro Pump
- Will-O-Wisp
- Pain Split

Bisharp (M) @ Lum Berry
Ability: Defiant
EVs: 252 Atk / 4 Def / 252 Spe
Adamant Nature
- Swords Dance
- Sucker Punch
- Knock Off
- Iron Head

Talonflame (M) @ Sharp Beak
Ability: Gale Wings
EVs: 80 HP / 252 Atk / 176 Spe
Jolly Nature
- Swords Dance
- Brave Bird
- Flare Blitz
- Roost
Image Credits:
Celebi wallpaper submitted by
Evanjosh17
on Zerochan
Talonflame by
Ningeko16
on DeviantART
Mega Diancie Sword animation from the Pokemon anime
Latios + Pikachu animation from the Pokemon anime
Rotom-W Hydro Pump animation from the Pokemon anime
Bisharp animation from the Pokemon anime
Conclusion
Overall, the team was a success for me. Based on my experience, it was a solid team and this team was one of the teams that I felt comfortable using. As stated earlier, it was the team I used to hit the 1500s mark the first time, on January 30, 2015. At the moment though, I've probably tilted recently, so that's why I lost more frequently and had fallen to 1330s. At the moment, I'm not really laddering using my main account because of laziness/stress. However, the ladder tilt alone doesn't disprove my success with my team and I won't have any plans on dropping the team any time soon. Thank you for listening and I hope you enjoyed. :)
Last edited: