And we're back baby! Hello everyone, I am MDB, a well-known AG player, and welcome to my 6th RMT and second of the new generation! Last time I brought to Smogon Downtown, one of my most successful National Dex AG teams. Back when I originally built that team, the common meta consensus was that Xerneas was the big dog in town, with Yveltal playing second fiddle. My team along with other meta developments lead to the nigh ubiquitous opinion of Yveltal being far and away the most dangerous Pokemon in an extremely volatile tier. As many of you know, I value teambuilding creativity very high, and so after the success of Band Yveltal, I sought to innovate new defining sets. Unfortunately, due to the overcentralization around the top tier Pokemon, it was challenging for me to come up with fresh new ideas and memes, until I sought my old gen 7 AG builder.

has been my favorite Pokemon ever since I got hands on it in my first adventure through the wondrous experience that was Platinum, 10 years ago. My attachment to this fiery monkey hasn't burnt to a crisp since, as you could perhaps tell from my signature. Back in Generation 7 AG, I ended up building a Hyper Offense team with lead Infernape, which was extremely gimmicky, having niche mons like

on it. Nevertheless, it managed to peak ~1900 on ladder and net some roomtour wins. I ended up largely forgetting about it due to my distaste for HO in the gen 7 meta. However, when attempting to help
pichus
build a team for their upcoming match in Winter Seasonal, I remembered Infernape. I managed to come up with a rough skeleton of a team:



and decided to add

for Spin support plus

for much needed revenge killing. I was unable to come up with a suitable team member in the last slot, so the team was never used in the Seasonal.
I knew I had the beginnings of something great, so I strived to find a good fit for the team.

ended up being a crucial pick, finally completing the team. I was still dissatisfied, as I felt Zygarde was often dead weight in my games. I substituted it out for Double Dance

, and later SD

. Neither truly belonged, and I eventually settled upon Choice Scarf

, which gave me another revenge killer and sealed the deal on the team slots. Or did it? While I posted the current






team in the AG Team Bazaar, and used it in my AGLT r1 MU, I had willingly suppressed information in an effort to use my most beloved Pokemon...
In-Depth
|

|

|

|

|

Lycanroc @ Focus Sash
Ability: Keen Eye
Nature: Naive
EVs: 252 Atk | 252 Spe
IVs: 0 HP | 0 Def | 0 SpD
Moves: Rock Tomb | Endeavor | Stealth Rock | Taunt
"Wait, where's Infernape?" is what some of you may be asking right about now. Trust me, I'll explain. Back when I built my first ever Infernape HO, I had come up with this exact same moveset. Now, I also did the /ds command on Pokemon Showdown, and to my chagrin, found out that Lycanroc pretty much was superior to Infernape in absolutely every field I wanted it to be. However, because no one was really bothering using these Pokemon, I was able to sweep this under the rug and make it appear as if only my favorite 'Mon had this unique niche. I mentioned how I had used the finalized original variant in my AGLT r1 match. In my r2 match against my good friend
Bread Sandwich
, I wanted to both use a team that could give me a worry-free matchup versus Balance while also being able to throw him off on what I was running. So, unfortunately, I switched some Pokemon slots around and added Lycanroc to the team, forever erasing

from the team.
So, what does Lycanroc due over Infernape and more importantly, over other suicide leads such as Excadrill and Deoxys-Speed? What's most important is its ability to get off reliable Endeavors with a beneficial support movepool, and also secure hazards vs most Pokemon. Focus Sash is the preferred item here, as coupled with a Special Defense lowering nature and no IVs in any defensive stat, it allows Lycanroc to guarantee it survives a turn while also popping Sash when hit by most attacking moves. Keen Eye is the chosen ability, as it prevents Lycanroc from losing to low ladder strategies such as Mud-Slap, while not being able to miss due to Evasion spam. EVs are allocated into Attack and Speed, respectively, while a Speed boosting nature is chosen to get the jump on base 100 Speed Pokemon. Rock Tomb is needed as a nice hitting STAB attack that can lower speed to soften up enemy Pokemon for the rest of the team, or put a halt to dangerous threats, such as Dynamax Yveltal attempting to boost its Speed via Max Airstream. Stealth Rock allows Lycan to get up hazards for the team, which can be pivotal in securing OHKOs and 2HKOs that would otherwise not be possible. Taunt is used to fend off Defoggers, Glare Zygarde, Rocks on Pokemon such as Defensive Dusk Mane and Primal Groudon, and prevent Support Arceus forms from Toxicing turn 1 and preventing Endeavor, the last move. Endeavor is the selling point behind this set, giving it a defined role over

and

, as it can both cripple Balance teams that do not have an appropriate means of dealing with this lead, and prevent the sub on Zacian Crowned. This tactic essentially forces teams to lead mons that force either Stealth Rock or Endeavor, but not both. This is very good, as it allows the team to chip these threats, like

early in the game, making them less of a threat in late-game scenarios.

|
|

|

|

|

Cloyster @ Focus Sash
Ability: Skill Link
Nature: Adamant
EVs: 4 HP | 252 Atk | 252 Spe
Moves: Icicle Spear | Spikes | Shell Smash | Rapid Spin
Cloyster is an infamous menace in the SS OU metagame, capable of sweeping teams via good matchup or simply getting lucky flinches. In AG, Cloyster sweeps are much harder to pull off, due to the comparatively greater bulk and more priority available. Cloyster is instead used as a suicide lead due to its access to Spikes and Toxic Spikes, which coupled well with its ability to threaten other leads due to its relatively high damage output. However, due to the rise of Heavy-Duty Boots Ho-Oh, suddenly a suicide lead that set only hazards which affected grounded Pokemon wasn't very appealing, and Cloyster went from a niche lead in Gen 7, to being almost nonexistent in Gen 8.
However, Cloyster simply provided incredible synergy with Lycanroc, as while Cloyster cannot handle most Pokemon, it thrives off of beating opposing suicide leads, while Lycanroc almost always loses to them. Couple that with access to Rapid Spin, which removes the biggest answer to my team in Stealth Rock, while also keeping hazards up on my opponent's side. Before I continue, I must make you aware of just how crucial Rocks being off the field are for this team to function. Simply put, most times you will lose in late-game situations if Rocks are up, as the team is not adequately prepared to handle many threats while hazards are on your side of the field. Essentially,
Win the Hazard War At All Costs
. It is certainly possible to win while losing said war, but it is made monstrously more difficult and is not the ideal way to play the team. With that being said, on to Cloyster's spread. Focus Sash is once again here to prevent being OHKOed by Pokemon such as

and

. Skill Link is opted as the ability here over the potentially useful Overcoat to allow the use of Icicle Spear to dish out solid damage, while also punishing the use of Substitute. An Adamant nature is used to maximize damage output as much as possible, especially seeing as Cloyster does not outspeed anything crucial with a Jolly Nature. EVs are used to bolster both Attack and Speed even further. The aforementioned Rapid Spin and Icicle Spear are both pivotal moves for the teams function, as Spin is arguably the only reason why the team works. Shell Smash allows Cloyster to be an offensive threat while also discouraging setup from the likes of Yveltal, Xerneas, and Dusk Mane. Finally, Spikes allows Cloyster the potential to hazard stack, which can further pressure opposing teams, although it is important to note that there are not many situations where Spikes is the best move to click.

|

|
|

|

|

Marshadow @ Focus Sash
Ability: Technician
Nature: Jolly
EVs: 4 HP | 252 Atk | 252 Spe
Moves: Spectral Thief | Shadow Sneak | Endeavor | Close Combat
If you've ever played the Generation 7 Anything Goes ladder, there is probably one set, more than any other, that sticks out to you. For most people, that is the infamous Sash Marshadow, further embroiled in infamy after
Chloe
's legendary April Fools post. While up to this point you must think I'm quite insane due to my first two Mon choices, and the fact that the first three Pokemon I've introduced to you fine folks have all had the item Focus Sash, trust me, there is a point other than it being really fun to use. Marshadow's fantastic dual STAB combo made it a force to be reckoned with in gen 7, the rise of faster threats, Dynamax, and Ditto becoming the premier revenge killer has left Marshadow in a sad spot. It's awkward to fit on teams, and is often not worth the risks of being brought. However, Marshadow on this team basically turns autoloss MUs into rather easy ones to maneuver around.
Why Focus Sash again and not Life Orb? Marshadow's role on this team is almost strictly a revenge killer and an emergency answer to boosted threats, rather than it trying to be an offensively threatening Pokemon on its own. The spread is pretty basic; Jolly to allow it to outspeed threats such as Ultra Necrozma before a boost, along with a max Attack and Speed spread. Spectral Thief is a reliable STAB option that allows Marshadow to stop opposing sweeps, while also being able to minimize the effect Ditto can have on the team. Shadow Sneak is here as a nice priority option that enables Marsh to revenge kill the likes of weakened DD Mray, Zacian C, and Mega Gengar. Close Combat also provides a solid STAB attack that can dish out heavy damage to Steels, along with Yveltal attempting to come in on a predicted Ghost move. Endeavor rounds off the set, once again allowing multiple Pokemon to be softened up for the sweepers of the team. Marshadow is often put into positions where it wants to be brought down to its Sash, to allow it to cripple the defensive Pokemon coming in. Overall, Marsh proves to be absolutely vital to the team, as necessitates hazards being off to properly check the threats it wants to.

|

|

|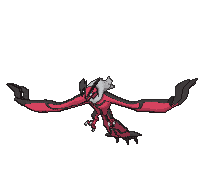 |

|

Yveltal @ Life Orb
Ability: Dark Aura
Nature: Naughty
EVs: 252 Atk | 4 SpA | 252 Spe
Moves: Sky Attack | Knock Off | Steel Wing | Hidden Power [Ice]
When I referenced my discovery of Choice Band Yveltal at the introduction of this RMT, I was not just alluding to discovering a new set in general but a new devastating one for arguably the best Pokemon any iteration of AG has ever seen. This Pokemon's shadow not only looms over games but in the teambuilder, and this new set is designed to take advantage of common practices to keep Yveltal in check. Out of all the contributions H e y Y a! has made to the National Dex AG metagame, I believe none is more pertinent than this one right here.
The most common Yveltal set is the Special Life Orb one, which can cleave through unprepared teams with little to no resistance. In an effort to combat this, Pokemon such as Tyranitar, Chansey, and Diancie have all risen to try and combat this behemoth. Using this teambuilding insight, I sought to create a set that would not only still blow through what it normally did, but also beat all of the Pokemon being ran to try and defeat it. And thus, Physical Life Orb was born.
Life Orb is the natural choice for an item, as it boosts Yveltal's Attack to monstrous levels, while also remaining active during the effects of Dynamax and only losing 5% during those 3 turns. A Naughty nature is opted for here, as Yveltal wants to be able to hit as hard as possible, while not lowering its Special Attack, since one of its moves requires the use of that stat. A Special Defense lowering nature is also more optimal here, as otherwise Yveltal would be more prone to being picked off by priority from

and

. Standard EVs are run to maximize offensive potential while maintaining a high Speed. Sky Attack is the Physical Flying move of choice, as it deals the most damage while Dynamaxed out of Yveltal's other options, while also forcing opposing Ditto to Dynamax in turn to have a chance to revenge kill Yve. Knock Off is a superb spammable STAB option that is boosted to even more devastating power while turned into Max Darkness. While this set originally had U-Turn,
BananaLaddersPS
made the helpful tip to change it to Steel Wing, which enables Yveltal to break defensive Arceus Fairy, Diancie, Tyranitar, and additionally beat Zacian C 1v1 provided Yveltal is at a high HP. It also has the added benefit of making this Mon that much harder to revenge kill, courtesy of the Defense boost. Lastly, HP Ice is here to eliminate Zygarde Complete, which would otherwise be a major thorn in this sets side, but it has the added benefit of being able to break the rare Magnemite, and take advantage of the Special Defense drops by Max Darkness to pressure out Arceus Ground spamming Recover to waste Dynamax.

|

|

|

|

|

Necrozma-Dusk-Mane @ Weakness Policy
Ability: Prism Armor
Nature: Jolly
EVs: 4 HP | 252 Atk | 252 Spe
Moves: Dragon Dance | Sunsteel Strike | Stone Edge | Earthquake
Necrozma Dusk Mane very much has the feel of a Landorus Therian in OU, where no matter how much a metagame shifts, it will always be an incredible Pokemon. Top tier in both Gen 7 AG and Ubers, Gen 8 proves no exception to this, as Dusk Mane offers itself as the best answer to Staples in

and

. However, Dusk Mane is also capable of running a fantastic offensive set that further adds to its insane versatility and usefulness. While Solgaleo may have been a mistake, Dusk Mane highlights what it means to be terrifying, in every sense of the word.
Weakness Policy pairs up insanely well with Necrozma's wonderful ability in Prism Armor, along with Dynamax. This allows DM to take essentially any hit, super effective or not, and retaliate appropriately. Jolly nature is necessary in order to outspeed the camp of 130 Speed Pokemon, along with Adamant Zacian C, at plus 1. The EVs are once again standard, as bulk on Dusk Mane is not necessary. Dragon Dance is run over Rock Polish as it allows DM to pose an immediate threat without needing to be hit by a super effective attack, while also allowing it to be potent even while not Dynamaxed. Sunsteel Strike is a fantastic STAB option that enables DM to pressure Lugia, thanks to Sunsteel ignoring abilities. Stone Edge is run to deal with the omnipresent Ho-Oh, and also hit Yveltal for significantly more than Sunsteel Strike. Edge is preferred over Rock Blast as to guarantee higher damage output, despite the greater miss chance and not hitting through Substitute. Finally, Earthquake is here to deal with Steel types and Primal Groudon. Both Max Quake and Max Steelspike boost Necrozma Dusk Mane's Special Defense and Defense, respectively, making it exceptionally hard to revenge kill once it gets going.

|

|

|

|

|
Kyogre @ Choice Scarf
Ability: Drizzle
Nature: Timid
EVs: 4 HP | 252 SpA | 252 Spe
Moves: Water Spout | Origin Pulse | Thunder | Ice Beam
The last member of the squad was a journey, but it was a fun one to embark on, just like I hope you've felt while reading this RMT. Kyogre was finally chosen in this slot, as I felt the team needed another reliable revenge killer that could also threaten Zacian C with an OHKO, which Kyogre provided. I certainly think that this slot can be switched around depending on what sort of matchup you're hoping to encounter, or to suit your style of play.

and

were both Pokemon that brought things to the table that Kyogre couldn't, but overall, I believe this is the most optimal option here.
Choice Scarf Kyogre is a great secondary revenge killer that pairs nicely with Marshadow, while also serving as a powerful wincon. As more teams opt to not run Ferrothorn and completely forego Specially Defensive Primal Groudon, Scarf Kyogre's viability has soared since Generation 7. Timid is the preferred nature here, as it allows Kyogre to get the jump on Jolly

and plus one

, which are both big benchmarks to hit. Water Spout is a nuclear STAB move that threatens to OHKO practically everything that doesn't resist it while under the effects of rain. Origin Pulse is used once Kyogre's HP has been lowered, and still provides a strong option that deals with

and

. Thunder is here to deal with Arceus Water, which can otherwise stall Kyogre out fairly easily, and opposing Primal and regular Kyogre. This, however, makes the team a fair bit weaker to Ditto, as there is no Electric resist on the team. In place of Thunder, Icy Wind can be run to further try and cripple the enemy team to try and assist the pair of Dynamax users. Finally, Ice Beam is Kyogre's best way of hitting

,

,

, and

. Kyogre is rarely, if ever Dynamaxed, as it severely cripples the rest of the team to allow a rather weak Pokemon those three crucial turns. As such, Kyogre acts strictly as the speed control option on the team, ensuring that teams get punished if they opt to run softer checks to Kyogre, such as

.
Information and Importable
​
Thank you all for reading this! This took me nearly four hours to write, as I wanted to make my reasoning behind the team that I created clear and concise, as to aid those who may seek to use this team. I appreciate most of the peeps in AG and Tours Plaza chat, u guys are a pleasure to interact with everyday. Most importantly,
Stay Safe
, these are scary times and I hope that each and every one of you who reads this is healthy. With that out of the way,
Sneaky Pebbles
- As I mentioned, these devilish things ruin the team, As such, you must always play in such a way to force your opponent to never want to click Rocks. You have many ways of preventing hazards, so it's just a matter of executing it properly.

- Very annoying to deal with, requires aggressive play to not let Ditto repeatedly come in and claim kills. Not impossible but not favorable either.

- If hazards are up and this comes in, forfeit, because there's nothing you can do most of the time.

- Stall in general can be adeptly handled by Yveltal, but Mega Sableye is a huge nuisance to deal with, as it completely shuts down half of the team. If you're confident of a stall matchup, I recommend switching Kyogre to
Choice Specs
as it will afford the team greater breaking power and make the matchup fairly easy.

- Specifically Arceus Water is a general pain to deal with. While regular Refresh variants can be pressured fairly simply, the rare Wisp versions essentially auto win, as the only way to break it is to bop it with Yveltal on the switch, or kill it with Thunder, both or which are hard to pull off.
Last edited: