approved by Arcticblast, most base content/wording token from gen 5 thread
art by Andrew ^_^
What Is AAA?
Almost Any Ability OU is what it might imply: it's a variation of the OverUsed tier where any Pokemon can have almost any ability! They are still bound to their movesets, typing, and still must follow the EV restrictions. Ubers are banned, just like in regular OU; being able to have any ability is the only thing that changes. You'd be surprised (or not, seeing Balanced Hackmons exists), however, at how interesting and creative people can be in such a tier.
Banlist
But with every tier comes bans, so here are the forbidden ones:
Weavile, Aerilate,
Ubers, Kyurem-Black, Slaking, Simple, Regigigas, Archeops, Prankster Smeargle, Contrary, Fur Coat, Huge Power & Pure Power, Speed Boost, Imposter, Sturdy Shedinja, Shadow Tag & Arena Trap, Parental Bond and last but definitely not least Wonder Guard
Everything else, though, is up for your wild imagination to contemplate. And, yes, Drizzle and Swift Swim are legal here. (STANDARD OU CLAUSES ARE IN EFFECT)
Examples of good sets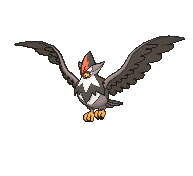 Staraptor @ Toxic Orb
Trait: Poison Heal
EVs: 252 Atk /4 Def/ 252 Spe
Nature: Adamant or Jolly
- Facade
- Brave Bird
- U-turn
- Close Combat
Those are just examples of some things you could try. Some other Pokemon that might get some looking into by people:






IS THIS PLAYABLE?
Now playable on
the main pokemon showdown server
Last edited: