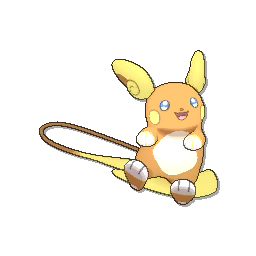 [OVERVIEW]
Alolan Raichu distinguishes itself from fellow Electric-types such as Zapdos and Electrode by virtue of its STAB Psychic, allowing it to hit Nidoqueen and Mega Venusaur for super effective damage and deal heavy damage to other Ground-types like Rhydon and Sandslash. Alolan Raichu also has access to Calm Mind, letting it set up in order to attempt a sweep or soften the opponent's defensive backbone for its teammates. However, Alolan Raichu's complete lack of defensive utility, stemming from its poor defenses and terrible defensive typing, and its inability to pivot usually leave it overshadowed by the aforementioned Zapdos.
[SET]
name: Wallbreaker
move 1: Thunderbolt
move 2: Psychic
move 3: Calm Mind
move 4: Toxic
item:
nature: Timid
[SET COMMENTS]
Set Information
========
Thunderbolt is a reliable STAB move that devastates Water-types such as Poliwrath and Starmie, as well as hitting Mega Charizard Y and Mega Pinsir. Psychic complements Thunderbolt, allowing Alolan Raichu to break through bulky Poison-types and Ground-types that would otherwise wall it such as Nidoqueen, Mega Venusaur, and Rhydon. Calm Mind bolsters Alolan Raichu's wallbreaking capabilities by providing additional power, letting it break past soft checks such as Mew and Dragonite. Toxic cripples Pokemon with recovery that could otherwise hinder Alolan Raichu, such as Mew and Chansey, while also limiting the effectiveness of other checks such as Snorlax and Exeggutor.
Usage Tips
========
Alolan Raichu is best utilized early- to mid-game as a wallbreaker, pressuring Water- and Flying-types and wearing down the opponent's defensive backbone. Also, it is capable of potentially functioning as a sweeper if it manages to set up multiple Calm Mind boosts safely. Alolan Raichu should not switch into a damaging move, even a resisted attack, due to its frailty. Furthermore, taking unnecessary damage limits the number of opportunities Alolan Raichu receives to set up Calm Mind.
Team Options
========
Water-types such as Mega Gyarados and Poliwrath appreciate Alolan Raichu's wallbreaking capabilities and ability to threaten Mega Venusaur. In return, they can threaten opposing Ground-types and specially defensive Pokemon such as Snorlax and Chansey. Ground-types such as Rhydon and Alolan Dugtrio can provide Stealth Rock support, wearing down revenge killers such as Mega Aerodactyl and Mega Beedrill that can limit Alolan Raichu's effectiveness. Melmetal serves as a check to Mega Aerodactyl and Mega Beedrill while also threatening Snorlax and Chansey. In turn, Alolan Raichu can pressure opposing Mega Charizard Y and Water-types that give Melmetal trouble. U-turn support from Mega Beedrill is also beneficial, allowing Alolan Raichu to enter the battle safely and weaken Mega Beedrill's checks enough to let it potentially clean late-game.
[STRATEGY COMMENTS]
Other Options
=============
Substitute bestows more opportunities upon Alolan Raichu to set up Calm Minds. Thunder Wave can be employed as a utility option, providing speed control for Alolan Raichu's teammates. Encore is a high-risk, high-reward option that can be used to lock targets that would otherwise beat Alolan Raichu into a non-damaging move, turning them into setup fodder.
Checks and Counters
===================
**Faster Attackers**: Mega Aerodactyl, Mega Alakazam, and Mega Beedrill outspeed Alolan Raichu and can revenge kill it.
**Alolan Dugtrio**: Alolan Dugtrio is capable of KOing Alolan Raichu with Earthquake while being immune to Thunderbolt, resisting Psychic, and being unaffected by Toxic.
**Special Walls**: Specially defensive Pokemon such as Alolan Muk, Snorlax, and Chansey take minimal damage from Alolan Raichu and limit its effectiveness. However, Snorlax and Chansey should be wary of Toxic.
**Other Ground-types**: Although Ground-types such as Rhydon, Sandslash, and Nidoqueen do not appreciate taking a Psychic, with the former two also being vulnerable to Toxic, they can heavily damage Alolan Raichu with a very powerful Earthquake.
**Dragonite**: Dragonite is able to survive a Calm Mind-boosted hit, even after Stealth Rock, from Alolan Raichu and retaliate with Earthquake. However, it should fear a potential Toxic.
**Exeggutor**: Exeggutor resists both of Alolan Raichu's STAB moves and can beat it one-on-one through the combination of Sleep Powder, Leech Seed, and Mega Drain. However, it should be wary of potentially being inflicted with Toxic poison.
[CREDITS]
- Written by: [[Dreamcatcher, 449990]]
- Quality checked by: [[Eve, 375272], [McCoolDude, 469684], [Vengeance417, 198446]]
- Grammar checked by: [[The Dutch Plumberjack, 232216], [Rabia, 336073]]
Last edited: