TABLE OF CONTENTS:
Introduction

Proof of Peak

Team + Description

Team Building Process

Team Usage Tips

Threatlist

Replays

Shoutouts

Importable

Outro
1. INTRODUCTION
Hello everyone! It's Pinkacross, and I've got another team. When I first heard news of a new DLC item that changed normal abilities to hidden abilities, I immediately thought of Arctozolt and Arctovish. In my opinion, both of these pokemon outclass the previous best abuser, Alolan Sandslash. After spending months working on a largely unsuccessful hail team pre DLC 2, the prospect of a viable hail team excited me greatly. This team exceeded viability, and borders on being broken. It is one of the most fun teams I have ever used. Without further ado, here is my Arctozolt Hail.
2. PROOF OF PEAK
I will soon be adding a new peak image achieved by 70to90gxe, who reached 2104 and #4 with the team. I will also add the 2104 replay (it is private and I need to get permission to share). At the moment I have added a game to the replays section, played by 70to90gxe at 2072 GXE.
I'm #12 in this image, but the ladder later shifted to put me at #10. My GXE is substandard due to testing things like Graploct on this account. This team actually got me from 1627 to 2059 with only FOUR LOSSES, raising my GXE from around 75% to 81.2%.
3. TEAM + DESCRIPTION
Va
ni
llu
xe @ Choice Specs
Ability: Snow Warning
EVs: 4 Atk / 252 SpA / 252 Spe
Rash Nature
- Blizzard
- Freeze-Dry
- Aurora Veil
- Ice Shard
This is the big breaker of the team. Vanilluxe is the strongest special ice type breaker available to OU. Its Blizzard does more than a Modest Choice Specs Kyurem Ice Beam, not even counting Hail damage. Vanilluxe straight up beats certain teams, even at a high level. Nobody is ready for this ice cream cone. This team has lots of momentum moves: two U Turners, one Flip Turner, and a Teleporter. The most common thing to bring in after these momentum moves is Vanilluxe. Blizzard is your strongest move, and it is what you should click when you have a Future Sight up, or the opponent has no water types. Freeze Dry, although not as strong as blizzard, still 2hkos or ohkos the majority of the tier. This is a better move when the opponent has a healthy Tapu Fini or Toxapex. Note that Blizzard does 2HKO both Gastrodon and Swampert, making it the superior option often. Aurora Veil is an uncommon move to click, but it tends to help most against offensive builds, and when the opponent is sacking a pokemon. The opponent will often sack off a pokemon to hail damage, or send in an almost dead pokemon so another, more healthy pokemon won't have to take a powerful attack. This is a good time to go for Aurora Veil. This is good for when the team is getting overwhelmed by a powerful breaker, such as a banded Pheromosa-- the 5 turns of Aurora Veil allow you to rejuvenate your defensive core, or swap in an offensive pokemon like Cinderace on a move that would usually threaten it. Ice shard is a great move for finishing off weakened threats, such as SD Landorus-Therian, Hydreigon, Pheromosa, Garchomp, or Hawlucha.
NOTABLE CALCS:

252+ SpA Choice Specs Vanilluxe Freeze-Dry vs. 252 HP / 252+ SpD Toxapex: 188-224 (61.8 - 73.6%) -- guaranteed 2HKO after hail damage

252+ SpA Choice Specs Vanilluxe Blizzard vs. 252 HP / 4 SpD Magearna: 116-137 (31.8 - 37.6%) -- guaranteed 3HKO after hail damage

252+ SpA Choice Specs Vanilluxe Freeze-Dry vs. 252 HP / 4 SpD Slowbro: 402-474 (102 - 120.3%) -- guaranteed OHKO

252+ SpA Choice Specs Vanilluxe Blizzard vs. 248 HP / 8 SpD Pelipper: 348-411 (107.7 - 127.2%) -- guaranteed OHKO

252+ SpA Choice Specs Vanilluxe Blizzard vs. 252 HP / 0 SpD Moltres: 301-355 (78.3 - 92.4%) -- guaranteed 2HKO after hail damage and Leftovers recovery

4 Atk Vanilluxe Ice Shard vs. 0 HP / 0 Def Garchomp: 172-208 (48.1 - 58.2%) -- guaranteed 2HKO after hail damage

4 Atk Vanilluxe Ice Shard vs. 0 HP / 0 Def Pheromosa: 90-106 (31.8 - 37.4%) -- guaranteed 3HKO after hail damage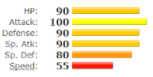 Ar
c
t
o
z
o
l
t
@ Heavy-Duty Boots
Ability: Slush Rush
EVs: 252 Atk / 4 SpD / 252 Spe
Adamant Nature
- Bolt Beak
- Icicle Crash / Substitute
- Low Kick
- Icicle Spear / Substitute
Arctozolt is both a sweeper and a breaker, and it covers everything that Vanilluxe doesn't, making this an extremely potent weather core. Even with an adamant nature and poor speed, Slush Rush allows Dracozolt to outspeed Timid Spectrier, Adamant/Modest Pheromosa, and Tapu Koko. Note that even with hail up, almost every scarf pokemon will outspeed you. Without hail, you will outspeed almost no offensive pokemon, but every wall save Mandibuzz, Zapdos, and Moltres. Arctozolt is the best abuser of Future Sight on this team. Utilize Future Sight + Arctozolt against bulky balances and stall teams. It even has decent bulk. From full health, it can live an Adamant Choice Band Grassy Glide from a Rillaboom, as well as a +1 Life Orb Sucker Punch from an Urshifu. Heavy Duty Boots was chosen over Choice Band or Life Orb due to increased longevity, as well as the ability to come in unharmed on Toxic Spikes, since this team has no poison type to absorb them. Bolt Beak is Arctozolt's best move, and the primary reason I chose it as an abuser. This move allows it to 2HKO or OHKO notable walls such as Moltres, Zapdos, Magearna, Heatran, and Blissey. It is also necessary to have an ice type move, as it complements Bolt Beak very well. Arctozolt is the only pokemon other than Rotom Frost to have STAB BoltBeam coverage, making it extremely threatening. You can run Icicle Crash, Icicle Spear, or both. Some prefer to run substitute on Arctozolt to avoid having to predict whether the opponent will go into their ground type or not. The last move, and one I find absolutely necessary, is Low Kick. This allows Arctozolt to OHKO Tyranitar, one of the few things that can tank a hit from Vanilluxe, and it also lets it do good damage to Ferrothorn.
NOTABLE CALCS:

252+ Atk Arctozolt Bolt Beak (170 BP) vs. 252 HP / 252+ Def Blissey: 460-543 (64.4 - 76%) -- guaranteed 2HKO

252+ Atk Arctozolt Bolt Beak (170 BP) vs. 252 HP / 0 Def Heatran: 241-285 (62.4 - 73.8%) -- guaranteed 2HKO after hail damage and Leftovers recovery

252+ Atk Arctozolt Bolt Beak (170 BP) vs. 252 HP / 0 Def Magearna: 226-267 (62 - 73.3%) -- guaranteed 2HKO

252+ Atk Arctozolt Bolt Beak (170 BP) vs. 252 HP / 252+ Def Zapdos: 204-240 (53.1 - 62.5%) -- guaranteed 2HKO after hail damage and Leftovers recovery

252+ Atk Arctozolt Low Kick (120 BP) vs. 252 HP / 4 Def Tyranitar: 440-520 (108.9 - 128.7%) -- guaranteed OHKO

252+ Atk Choice Band Rillaboom Grassy Glide vs. 0 HP / 0 Def Arctozolt in Grassy Terrain: 261-307 (81.3 - 95.6%) -- guaranteed 2HKO after Grassy Terrain recovery

+1 252+ Atk Life Orb Urshifu Sucker Punch vs. 0 HP / 0 Def Arctozolt: 266-316 (82.8 - 98.4%) -- guaranteed 2HKO
Sl
o
w
b
ro
@ Rocky Helmet
Ability: Regenerator
EVs: 248 HP / 248 Def / 12 SpA
Relaxed Nature
IVs: 0 Atk / 0 Spe
- Teleport
- Future Sight
- Slack Off
- Scald
Slowbro is useful for many reasons. It's #1 purpose is setting up Future Sight, to allow Arctozolt and Vanilluxe to break stall builds and bulky balances. However, it serves many other useful roles. Slowbro is also a good way to safely switch into frail pokemon such as Vanilluxe, Cinderace, and Arctozolt. Slowbro's final main purpose is checking Melmetal and punishing U-Turners with it's Rocky Helmet, primarily Pheromosa, Cinderace, and Rillaboom. Teleport is a great move for gaining momentum, especially when paired with a Future Sight. Slowbro has minimum speed IVs so it will teleport last against other Slowbro, Slowking, Clefable, and Blissey. The 12 EVs in special attack allow Vanilluxe's Blizzard, plus a Slowbro Future Sight, plus hail damage, to guarantee an OHKO on defensive Toxapex. Future Sight is a very helpful breaking move. Against stall teams, I typically use Future Sight, then teleport into Arctozolt. This will typically take a kill every time it comes in. Against more balanced teams, Vanilluxe is usually the preferable Future Sight abuser, though not always. Against more offensive builds, Cinderace or Arctozolt with hail up is typically the best option to abuse Future Sight. Scald is a good move to use to threaten pokemon such as Landorus, Garchomp, and Excadrill, and even to spread burns when facing a bulky team. Lastly, Slack Off is a move I rarely use, but it's helpful when Slowbro is being worn down too much, and can no longer rely on Regenerator to keep itself healthy. If you need a defensive pivot, generally use Slowbro over Mandibuzz and Swampert, as Slowbro can regen off damage.
NOTABLE CALCS:

12 SpA Slowbro Future Sight vs. 252 HP / 4 SpD Toxapex: 194-230 (63.8 - 75.6%) -- guaranteed 2HKO

252+ Atk Choice Band Rillaboom U-turn vs. 248 HP / 248+ Def Slowbro: 166-196 (42.2 - 49.8%) -- guaranteed 3HKO after Grassy Terrain recovery

252 Atk Pheromosa U-turn vs. 248 HP / 248+ Def Slowbro: 162-192 (41.2 - 48.8%) -- guaranteed 3HKO

252+ Atk Libero Cinderace U-turn vs. 248 HP / 248+ Def Slowbro: 158-188 (40.2 - 47.8%) -- guaranteed 3HKO

252+ Atk Choice Band Iron Fist Melmetal Double Iron Bash (2 hits) vs. 248 HP / 248+ Def Slowbro: 140-166 (35.6 - 42.2%) -- approx. 3HKO
C
in
de
ra
ce
@ Heavy-Duty Boots
Ability: Libero
EVs: 252 Atk / 4 SpD / 252 Spe
Adamant / Jolly Nature
- Court Change
- U-turn
- High Jump Kick
- Pyro Ball
Cinderace is a huge asset to this team, and to hail in general. Decent bulk, combined with a great speed and attack stat allows Cinderace to be very threatening even without a choice item, especially with a Future Sight up. Court Change is the main reason I put Cinderace on this team. Heavy duty boots were chosen so Cinderace could swap in and use Court Change without taking hazard damage. The main breaker, and the hail setter on our team, Vanilluxe, is a frail ice type without heavy duty boots. It hates hazards being up. Cinderace can reverse these hazards, and even lure in the opponent's defogger, giving Vanilluxe an opportunity to come in on the defoging turn and start clicking Blizzard. Cinderace forces so many pokemon to switch out that Court Changes are often easy to get off. It is often beneficial to NOT set rocks with Swampert, and simply wait for the opponent to set rocks. The exception to this rule is when the opponent either doesn't seem to want to set rocks, and they are weak against rocks, or the opponent has a Pheromosa, particularly a banded one. In this situation, you need to wear this pokemon down as much as possible, and it is best to set rocks ASAP. U-turn is a great momentum move, and it often helps Vanilluxe get in. Things that swap in on Cinderace, such as Defensive Landorus-Therian, Hippowdon, Moltres, Zapdos, and Slowbro, all fall to Vanilluxe attacks. High Jump Kick was picked here because it allows Cinderace to hit Heatran and Tyranitar, two pokemon that can wall Vanilluxe. Be wary, however. Missing is catastrophic, so don't use this move when Pyro Ball will do. Pyro Ball is a 120 accuracy fire move, 90% accurate, with a chance to burn. It is physical, but not a contact move, making it great for damaging pokemon such as Zapdos, Moltres, Ferrothorn, and Hippowdon. This is the move I use most when breaking with Cinderace. Future Sight plus a strong fire move is unwallable for most teams. Note that while I am running Adamant, Jolly is also an option. Jolly allows Cinderace to outspeed Jolly Kartana. I didn't find this worth the lesser damage output, but Kartana is a threat to the team. If it becomes more common in the future metagame, I would recommend switching its nature to Jolly.
NOTABLE CALCS:

252+ Atk Libero Cinderace High Jump Kick vs. 252 HP / 0 Def Heatran: 410-486 (106.2 - 125.9%) -- guaranteed OHKO

252+ Atk Libero Cinderace High Jump Kick vs. 252 HP / 0 Def Chople Berry Tyranitar: 398-470 (98.5 - 116.3%) -- 93.8% chance to OHKO

252+ Atk Cinderace Pyro Ball vs. 252 HP / 252+ Def Zapdos: 160-189 (41.6 - 49.2%) -- guaranteed 3HKO

0 SpA Heatran Earth Power vs. 0 HP / 4 SpD Cinderace: 204-242 (67.7 - 80.3%) -- guaranteed 2HKO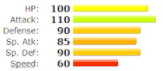 S
w
a
m
p
e
rt
@ Leftovers
Ability: Damp
EVs: 252 HP / 4 Atk / 252 SpD
Careful Nature
IVs: 22 Spe
- Stealth Rock
- Flip Turn
- Earthquake
- Toxic
Swampert fills many roles for our team. Most importantly, it is a ground type. Tapu Koko, Rotom Heat, and Regileke still do exist, and you don't want to be caught without a Volt Switch immunity. Secondly, Swampert is a specially defensive wall. This lets it tank a +1 Pheromosa Focus Blast, a Choice Specs Magearna Fleur Cannon, as well as a Choice Specs Kingdra Hydro Pump in the rain. Damaging both of these pokemon is important, as they are big threats to the team. Swampert is also the Stealth Rocker of the team. As I previously mentioned, often it is best to not set rocks and simply Court Change the opponent's rocks with Cinderace. However, when rocks are needed, Swampert can set them up. Flip Turn lets Swampert pivot out into other pokemon, typically Vanilluxe, Cinderace, or Arctozolt. Flip Turn is also the move Swampert uses to hit Pheromosa. Swampert has 22 IVs in speed so that it can slow Flip Turn on Clefable, Corviknight, Mandibuzz, and Pelipper while still outspeeding Blissey. You can give Swampert even lower speed if you would like to slow Flip Turn on Blissey as well, at the expense of not being able to threaten it with Earthquakes as effectively. Earthquake gives Swampert a strong move to hit pokemon like Magearna, Blissey, and Heatran. Toxic is good for breaking down walls such as Buzzwole, Moltres, Zapdos, Slowbro, Tangrowth, and Hippowdon. Damp is chosen over Torrent to be immune to lead Explosion Mew, Misty Explosion Hatterene, and other rogue explosion users.
NOTABLE CACS:

+1 252+ SpA Life Orb Pheromosa Focus Blast vs. 252 HP / 252+ SpD Swampert: 337-398 (83.4 - 98.5%) -- guaranteed 2HKO after Leftovers recovery

252+ SpA Choice Specs Kingdra Hydro Pump vs. 252 HP / 252+ SpD Swampert in Rain: 276-325 (68.3 - 80.4%) -- guaranteed 2HKO after Leftovers recovery

252+ SpA Choice Specs Magearna Fleur Cannon vs. 252 HP / 252+ SpD Swampert: 270-318 (66.8 - 78.7%) -- guaranteed 2HKO after Leftovers recovery

252 SpA Tornadus-Therian Hurricane vs. 252 HP / 252+ SpD Swampert: 124-147 (30.6 - 36.3%) -- guaranteed 4HKO after Leftovers recovery

4 Atk Swampert Flip Turn vs. 0 HP / 0 Def Pheromosa: 151-178 (53.3 - 62.8%) -- guaranteed 2HKO
M
a
n
d
i
bu
zz
(F) @ Heavy-Duty Boots
Ability: Overcoat
EVs: 248 HP / 116 Def / 144 SpD
Impish Nature
IVs: 26 Spe
- Foul Play
- Defog
- Roost
- U-turn
Mandibuzz is a classic wall and Defogger. Heavy duty boots are chosen so that Mandibuzz can freely come in on hazards and Defog them away. A defensive Mandibuzz set is better here, so it can check Rillaboom, Kartana, and Dragonite. It also lets Mandibuzz tank Wicked Blows from a Choice Band Urshifu. It's good special bulk, combined with a little investment, allows it to reliably check Spectrier as well. Mandibuzz's Overcoat ability allows it to not take any hail damage. Foul Play was chosen over Knock Off so that Mandibuzz can better check Kartana, Rillaboom, and other physical sweepers. U-turn is a good momentum move, letting Mandibuzz go into strong breakers such as Cinderace, Vanilluxe, and Arctozolt. Mandibuzz has a 26 speed IV here so it can slow U-turn on other Mandibuzz, while still outspeeding walls, letting it Roost and Defog without fear of being taunted by a Corviknight, for instance. It is important to keep Mandibuzz healthy if the opponent has a physical sweeper like Kartana or Rillaboom. If you are facing a team where there is no need for removal, nor Mandibuzz's walling capabilities, you can sack it off in a tough situation to get momentum.
NOTABLE CALCS:
252+ SpA Choice Specs Spectrier Shadow Ball vs. 248 HP / 144 SpD Mandibuzz: 105-124 (24.8 - 29.3%) -- 100% chance to 4HKO

252+ Atk Choice Band Urshifu Wicked Blow vs. 248 HP / 116+ Def Mandibuzz on a critical hit: 126-149 (29.7 - 35.2%) -- 20.9% chance to 3HKO

+2 252+ Atk Mandibuzz Foul Play vs. 0 HP / 4 Def Rillaboom: 360-424 (105.5 - 124.3%) -- guaranteed OHKO

+2 252 Atk Mandibuzz Foul Play vs. 0 HP / 0 Def Kartana: 315-372 (121.6 - 143.6%) -- guaranteed OHKO
4. TEAM BUILDING PROCESS
I started off with Vanilluxe, the best hail setter. No other hail setter provides the breaking ability that Vanilluxe does. I knew I would then need to utilize at least one of the two new Slush Rushers.
I settled on using Arctozolt, as it's BoltBeam coverage generally was more threatening than Arctovish.
I added a Slowbro, because I knew that however powerful Vanilluxe and Arctozolt were, they wouldn't be able to break stall and bulky teams without Future Sight. Slowbro also provided good defensive utility (chiefly shutting down Melmetal, a big threat to my ice types) and a way to safely get in Vanilluxe and Arctozolt.
Boots Cinderace seemed like a good option due to my hazard weakness. Vanilluxe and Slowbro both didn't appreciate hazard wear. Cinderace provided out of hail speed control, a good Future Sight abuser, and Court Change (a blessing to hail teams).
I knew I would need a Stealth Rocker, as well as a ground type. Swampert provided both of those things, as well as being a solid Heatran check, which I was in great need of.
At this point, I realized I had no real removal, and I completely lost to Spectrier. Furthermore, any physical sweeper that could break past Slowbro ruined my team. The only pokemon that fixed all of these problems was Mandibuzz.
5. TEAM USAGE TIPS
Before I begin, I would like to say something that I rarely have the pleasure of saying: This team is not that difficult to use. Usually, creative teams are very hard to adjust to, but this functions quite similarly to most balance offenses. In general, try to get in breakers when you can, set up for a sweep if possible, and use your walls to avoid losing pokemon. Now, for more specific tips:
Practice using Future Sight. This is a fantastic move (I have been advocating for it since pre DLC 1). This is a 120 BP psychic type attack that hits two turns after being used. It is very helpful for breaking bulkier builds, and can even get kills against offensive teams.
Get Vanilluxe in whenever you can. Whenever I click U-turn, Flip Turn, or Teleport, this is what I switch into the most. This can OHKO or 2HKO almost the entire tier with Blizzard. Even the best of teams struggle to take a hit from this beast.
Don't set up hazards when you can just steal your opponent's hazards. It is better to Court Change usually.
Play aggressively. This team has a defensive backbone, but it is NOT a stall team and it can't function as one. There are times when playing defensively is useful, but generally this team is best used by keeping up momentum and pressure.
Practice. Odds are, you've never played hail before and it will take a little adjustment. Be patient, keep a cool head, and watch your opponents get blown back by a 3 foot tall ice cream cone.
6. THREATLIST
In this turbulent meta, every team has threats. This team doesn't outright lose to anything, but here are a few difficult pokemon to watch out for:
A standard boots Pheromosa is not threatening. The scary sets are Choice Band and LO Quiver Dance. If you see a Pheromosa, I advise leading Swampert and clicking stealth rocks. That way if the Pheromosa is banded, Rocky Helmet damage from Slowbro, Stealth Rock damage, and hail damage will chip it down to a manageable percent. When facing LO Quiver Dance sets, make sure Swampert is at full so it can live a +1 Focus Blast. Switch it in, Flip Turn, then go into Vanilluxe and finish it off with an Ice Shard. Note that if the Pheromosa is Adamant or Modest, Arctozolt can outspeed under hail.
Magearna can be a real pain in general, but the most threatening set is the Iron Defense Calm Mind sets. We can deal with them, however. When you see one of these, go hard Vanilluxe and start clicking Blizzard. They will always use Iron Defense first due to the presence of Cinderace. After two Blizzards, you can bring in Cinderace and Pyro Ball. If screens are up, there is nothing you can do. Just make sure when facing screen teams, that you Court Change the screens before Magearna gets a chance to come in.
Powerful dragon moves take kills against this team. Our best wall for a Draco Meteor is Swampert, which doesn't take it too well. Also, Kyurem's Freeze Dry OHKOs Swampert, making the switch even riskier. Try to play very aggressively if you see a Kyurem or an offensive Hydreigon (most are bulky at the moment due to Spectrier) and lead with Cinderace. This will give you a free U-turn.
Special rain sweepers can be difficult for this team. I faced many high ladder rain teams and managed to beat them all, however. The key is to keep bringing in Vanilluxe. Don't lead with Vanilluxe, but rather Teleport or Flip Turn it in. Rain teams struggle greatly against Freeze Dry and Blizzard, with Blizzard 2HKOing even fully specially defensive Ferrothorn. If a Kingdra manages to get in with rain up, pick a sack (usually Mandibuzz) and hit it with an Earthquake from Swampert. Kingdra should have a tough time getting in however-- between Vanilluxe and Slowbro frequently putting out Future Sights, getting Kingdra in with rain is a difficult task for your opponent.
Keep Mandibuzz healthy when facing Kartana, and play aggressively. Mandibuzz can deal with Kartana soundly, but things get scary when rocks are up and Kartana has knocked off Mandibuzz's Boots. Note that running Jolly Cinderace makes this less of a threat, but is in my opinion not worth it due to Kartana being quite uncommon.
Banded Urshifu is sort of scary, but we can deal with it fine using Mandibuzz + Slowbro. The most threatening set is Bulk Up. Try to not let Bulk Up Urshifu set up in the first place, but if it does get set up, wear it down with hail damage, Mandibuzz using U-Turn, and note that Arctozolt can live an LO +1 Sucker Punch and get off a powerful Low Kick, dealing about half even with a +1 defense.
7. REPLAYS
Game that got me to 2059, vs Contorted Lies (who was #1 at the time):
https://replay.pokemonshowdown.com/gen8ou-1232951451-c2wbcg93p3reowrguu79tk4xd076vrqpw
Game vs Steez Ibanez's Rain team:
https://replay.pokemonshowdown.com/gen8ou-1232948783-25dq39r9k6x4o3qp0i31vgahk950x51pw
High ladder game with 70to90gxe:
https://replay.pokemonshowdown.com/gen8ou-1234749649
MORE COMING SOON (If you get any good replays feel free to send over Smogon!)
8. SHOUTOUTS
Big thanks to Zaza, Tenebricite, and Storm Zone, who consistently believed that hail could be a top tier strategy. Lastly, shoutouts to all of you who made it this far reading the thread… you're almost there.
9. IMPORTABLE
Standard Pokepaste for the team:
https://pokepast.es/53ed267475706462
Pokepaste with my nicknames:
https://pokepast.es/5a18e03a86bf116d
:)
10. OUTRO
Thank you to anyone who has read all of this. The metagame is more fun than it has been in a while, which is great. Most of you reading this are probably in some sort of quarantine, and I hope this fun hail team helps make that more bearable. If you see me on PS (I'm always on Pinkacross) I'd be glad to hear building ideas or do some battles. Good luck with the team, and have a great day everyone!
Last edited: