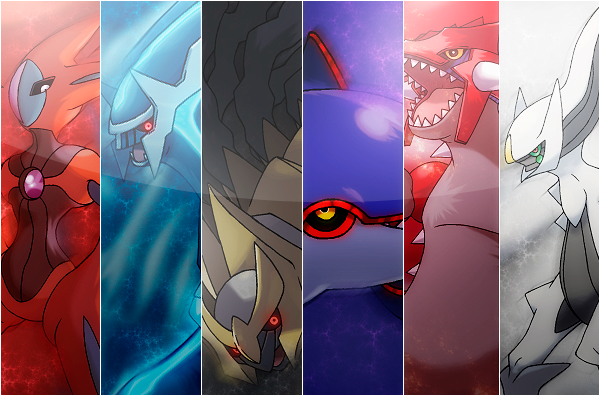 I
ntroduction
| (导入)
*こんにちは ... Well, a long time ago that I wanted to leave OU aside because I was tired and a bit and decided to try BW Ubers, thanks to my friend Seiryu, made me want to try their luck in Ubers, which until then had not played ever. I tried other equipment at first, as Stalls, balanced, etc, but none came to me just as well as those of the team. A HO, which in my opinion, is the style that best gives me, is the best suited to my game. Without further ramble, I present the! Team!
E
quipo thoroughly
| (彻底 的 机器)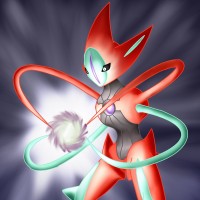 Deoxys-A
@ Focus Sash
Trait: Pressure
EVs: 4 HP / 252 Atk / 252 Spd
Adamant Nature (+ Atk,-SATK)
- Stealth Rock
- Spikes
- Fire Punch
- ExtremeSpeed
Yes, at first glance may seem silly and very random version of this poke. But believe me, it is not for nothing. With this version of Deoxys-A I can always take off the Forretress me to step out with Fire Punch and then put the Steath Rock on a possible change to another pokemon rival Forretress. The downside to this are things like Arceus Poké normal, ghost, that can boostearse on his face. So I always change to Kyogre for example. Also hard to hit and Ferros Skarmorys. Extreme Speed ​​to hit almost weakened rivals.
Giratina-O
@ Griseous Orb
Trait: Levitate
EVs: 212 HP / 72 Def / 224 SATK
Modest Nature (+ SATK,-Atk)
- Calm Mind
- Substitute
- Dragon Press
- Shadow Ball
For me one of the best versions of this pokemon, the Sub Calm. Before this team had to Sub Calm Latias with Soul Dew, but I changed it to Giratina-O. Why? Because this can end Poké both fat (Chansey and Blissey) Latias thing that could not. You can also with Ferrothorn, provided they do not take Gyro Ball. This Poké when enclosed in Sub and boostear starts against Kyogre caught in Surf or Water Spout, whenever something is touched, it is practically gg.
Kyogre
@ Choice Specs
Trait: Drizzle
EVs: 252 HP / 252 SATK / 4 Spd
Modest Nature (+ SATK,-Atk)
- Water Spout
- Thunder
- Surf
- Ice Beam
My favorite version of Kyogre, bulky Choice Specs. Not see how this thing spreads, giving 2 OHKO Chansey Water Spout. With Surf OHKO Arceus gives normal SD. This Habre poke enough holes in the opposing team by hitting hard and work easier if there are rocks and spikes in the field. It also gives you 2 OHKO splashing Ferro, provided you have a lifetime. With Thunder gives 2 OHKO Palkia.
Groudon
@ Life Orb
Trait: Drought
EVs: 80 HP / 252 Atk / 176 Spd
Adamant Nature (+ Atk,-SATK)
- Rock Polish
- Swords Dance
- Earthquake
- Stone Edge
Seeing Deox-A put garbage into the field, and this team is HO, could not miss the Double Dancer Groudon version. If the other team is another quick pokes HO and weak physical defense, I put a Rock Polish, if I see that I used Stall because Sword Dance and stick a very hard hit with the help of Life Orb. With that speed Ho-oh beats per bag giving a Stone Edge.
Dialga
@ Choice Scarf
Trait: Pressure
EVs: 52 HP / 252 SATK / 204 Spd
Modest Nature (+ SATK,-Atk)
- Thunder
- Draco Meteor
- Fire Blast
- Dragon Press
With Specs Kyogre needed a Scarf in the team. And what better than Dialga? At first torn between this or Kyurem-W, but seeing that this is the best of Specs and lose more by rocks, finally I chose Dialga. This poke has saved me more than a defeat thanks to the Scarf, advancing things like Mewtwo, Darkrai, etc., than with a Draco Meteor can say goodbye. Fire Blast for Skarm annoying, Ferro, Forre and even Excadrill, and the CVV no Sand.
Arceus
@ Silk Scarf

Trait: Multitype
EVs: 88 HP / 252 Atk / 168 Spd
Adamant Nature (+ Atk,-SATK)
- Swords Dance
- ExtremeSpeed
- Shadow Claw
- Brick Break
Typical SD Arceus version. Not much to say, after a SD is almost unstoppable. Extreme Speed ​​is enhanced thanks to the silk scarf object, which enhances normal type attacks. Shadow Claw for coverage for things like Giratina (both) and then the option to Tyranitars Brick Break, Dialgas, Excadrills and others.
I
mportable
| (インポート 可能 な)
Deoxys-A
@ Focus Sash
Trait: Pressure
EVs: 4 HP / 252 Atk / 252 Spd
Adamant Nature (+ Atk,-SATK)
- Stealth Rock
- Spikes
- Fire Punch
- ExtremeSpeed
Dialga
@ Choice Scarf
Trait: Pressure
EVs: 52 HP / 252 SATK / 204 Spd
Modest Nature (+ SATK,-Atk)
- Thunder
- Draco Meteor
- Fire Blast
- Dragon Press
Kyogre
@ Choice Specs
Trait: Drizzle
EVs: 252 HP / 252 SATK / 4 Spd
Modest Nature (+ SATK,-Atk)
- Water Spout
- Thunder
- Surf
- Ice Beam
Giratina-O
@ Griseous Orb
Trait: Levitate
EVs: 212 HP / 72 Def / 224 SATK
Modest Nature (+ SATK,-Atk)
- Calm Mind
- Substitute
- Dragon Press
- Shadow Ball
Groudon
@ Life Orb
Trait: Drought
EVs: 80 HP / 252 Atk / 176 Spd
Adamant Nature (+ Atk,-SATK)
- Rock Polish
- Swords Dance
- Earthquake
- Stone Edge
Arceus
@ Silk Scarf
Trait: Multitype
EVs: 88 HP / 252 Atk / 168 Spd
Adamant Nature (+ Atk,-SATK)
- Swords Dance
- ExtremeSpeed
- Shadow Claw
- Brick Break
U
Finally Glance
| (見納め)