Hi all!
Since I haven't done any teambuilding for a long while, I thought I could challenge myself by building an OU team around an under-appreciated Pokemon, Galarian Articuno. I feel as though this Pokemon deserves more attention as if played correctly, can make a dangerous sweeper. After some careful thinking, here's the team that can play the long-game with its support and offensive plays. Without further ado, here's the team!
Articuno-Galar @ Heavy-Duty Boots
EVs: 248 HP/8 SpD/252 Spe
Timid Nature
- Hurricane
- Stored Power
- Calm Mind
- Recover
Here's the main star of the team, Articuno! This Pokemon's not to be underestimated at all with its nasty trickery. Quite a pain to catch in The Crown Tundra but all that effort didn't go to waste when it comes to building a tough legendary. As I looked at what moves it knows, a Calm Mind + Stored Power moveset is the best option for it. With Competitiveness and Calm Mind, Stored Power becomes an even bigger threat for late-game sweeps. Not even Sableye can wall this Pokemon. Consider this the next Magearna but with no gears.
Hurricane even though it can miss a lot can blow its enemies away (such as Venusaur, Rillaboom, Amoonguss, Conkeldurr and Mienshao) with one flap of its wings. After a couple of Calm Minds, Stored Power will hit like Armageddon. That's what Articuno is made for. Urshifu, Toxapex, Virizion and Terrakion? Get outta here. I thought the Galarian form knows Roost but I found out it only knows Recover. Still, it's needed for it to survive. Heavy-Duty Boots' well, duty is to make sure Articuno doesn't get worn down by entry hazards.
Unfortunately, Dark types (especially Bisharp and Obstagoon) won't have ANY trouble facing it. One heavy-hitting Knock Off spells DOOM for Articuno. Once I see a threat like that, Kommo-o tags in to bring them down to their knees. Phazers, Chanseys and Blisseys are able to stop Articuno's late-game sweeping with ease when they're still on the field. I'm not a fan of horticulture but I know that fieldwork is recommended for a healthy victory.
Corviknight @ Shed Shell
Ability: Pressure
EVs: 248 HP/252 Def/8 SpD
Impish Nature
- Brave Bird
- U-Turn
- Defog
- Roost
The brave, courageous raven of the night sky strikes again as a Defog supporter. As we all know, entry hazards play a vital role and in order to keep the team advantage at hand, a Pokemon with entry hazard removal is mandatory. Otherwise, all the team's hopes and dreams will be chipped. Skarmory was going to be an option but Corviknight has a better movepool and more bulk than it. Sorry Skarmory but Corviknight takes the spot here.
Brave Bird makes it hit hard against the likes of Rillaboom, Conkeldurr, Ludicolo and others that are weak against Flying types, U-Turn helps it scout out for another team member to take its place. Defog as I told you gets rid of persistent floating rocks and spikes and Roost to keep it in the game. Magnezone and other Arena Trap users have more speed than Corviknight. That's why Shed Shell's there to prevent it being trapped.
One thing I don't to see is Corviknight becoming fried turkey. Any Fire and Electric type spells danger for this warrior, especially from Sunny Day teams. I have to make sure anything that knows a Fire type move is to be taken out to keep Corviknight safe. Taunt and Trick users can cripple the Pokemon's usage to a minimum, stopping team support from it entirely. We're now in a metagame where we've become more self-aware on situations we must overcome.
Blissey @ Leftovers
Ability: Natural Cure
EVs: 252 HP/252 Def/4 SpD
Bold Nature
- Seismic Toss
- Toxic
- Stealth Rock
- Softboiled
Eviolite Chansey was the dominant special wall for a long time but not anymore. Blissey's back from the R/S/E/D/P era and it's a special sweeper's worst and most frustrating nightmare. This Pokemon scoffs at special attacks as if they're nothing! Ah, good times where we use the SkarmBliss combo. Now here's the CorviBliss combo if that's not a thing already. Anyway, this Pokemon takes the role as an entry hazard user with Seismic Toss which does fixed damage every time it hits. With it, she doesn't have to worry about not dealing a decent amount of damage. Take my word, this Pokemon definitely goes all the way with her moves.
Seismic Toss not only does 50/100 damage but it has 32 PP after a PP Max, capable of winning PP wars against other opponents. Toxic wears down attackers and walls that can't heal themselves. It benefits other sweepers to finish them off. Stealth Rock gives the other side a great collection of floating rocks that give him/her a bad time and Softboiled to leave Blissey in egg-cellent condition.
She may not have a Knock Off weakness compared to Eviolite Chansey but she have her flaws. Strong physical sweepers (such as Dragon Dance Dragonite and Bulk Up Conkeldurr crack her chances of surviving even with max HP and defense EVs, but Taunt/Trick users are her biggest weakness as mentioned in Corviknight's case. One Choice item obtained can make her more unplayable in the team. She can still fight yes, but not much with a choice item equipped.
Kommo-o @ Life Orb
Ability: Soundproof
EVs: 4 HP/252 Atk/252 Spe
Jolly Nature
- Close Combat
- Scale Shot
- Poison Jab
- Dragon Dance
For a balanced team, it needs a strong hard-hitter that can break plates of clay. And my choice goes to Kommo-o, another under-appreciated Pokemon. This Pokemon is chosen as a physical sweeper with its variety of moves. Plus, it won't have any problems facing anything that involves loud noises because Soundproof completely mutes them. Kommo-o is back and better than ever after the Isle of Armor update and Scale Shot is the reason why.
Close Combat makes it go for an all-out attack, fists flurrying like the main character from Jojo's Bizarre Adventures going "ORAORAORAORAORAORA"! Opposing Eviolite Chanseys, Blisseys, Obstagoons, Bisharps, Duraludons and Snorlaxs shall be left head first down on the floor as the dust settles. Scale Shot is a move that makes Kommo-O gain more and more and more Speed after every use. It prevents Focus Sash and Sturdy users from surviving and brings the likes of Dragapults, Dragonites and other Dragon types down to their knees. After a few Dragon Dances and whenever there's an opening, Poison Jab kicks in take out Fairy types (like non-Unaware Clefable and even the Tapu legendaries). Lastly, Dragon Dance is the only reason what this Kommo-o is made for. Without it, how can it sweep?
I think Kommo-O is not a big favourite compared to other pseudo-legendaries is because it has a lot of weaknesses. Flying, Fairy, Psychic, Ice and other Dragon types can fracture it in one hit if I'm not careful. I consider Kommo-o to be a double or nothing sort of Pokemon. It's powerful, but with many type weaknesses. Another thing it does struggle at is burns. One burn can make it outmatched against others as it does not hold Lum Berry. That was the original plan but Life Orb is proven to be the better to add some extra power to its fists.
Rotom-W @ Choice Scarf
EVs: 252 SpA/4 SpD/252 Spe
Timid Nature
- Hydro Pump
- Volt Switch
- Will-O-Wisp
- Trick
Get ready for a real washdown because here's Rotom-W! This Pokemon takes the role as a Choice user that can wash away enemies as quick as a flash. This team does need something that can revenge sweep, get through speedy foes and cripple walls so Rotom-W is the one so chosen so far. Designed to take and cripple walls as well.
Popular back then, popular still now.
Hydro Pump soaks away anything that's Fire, Rock and Ground if they don't have an ability that resist it. Volt Switch swats Flying and Water types out of the field. (Bye bye Gyarados!) Will-o-Wisp cuts away half of a fighter's full power to stop any clean sweeps from happening and thanks to Choice Scarf, Trick cripples anything that's designed to make battles last longer than they should. Trick Room users wouldn't do a thing whenever Trick happens to them.
This cheeky Pokemon likes to prance around but not against Grass types and Ground types with Water type immunity abilities. Rillaboom, Amoonguss, Tapu Bulu, Tangrowth, Water Absorb Quagsire, Storm Drain Gastrodon and Volt Absorb Lanturn are some of several Pokemon that wouldn't have any trouble facing Rotom-W at all. If it faces any of the Pokemon mentioned on the list, it's s strategic retreat to another team member.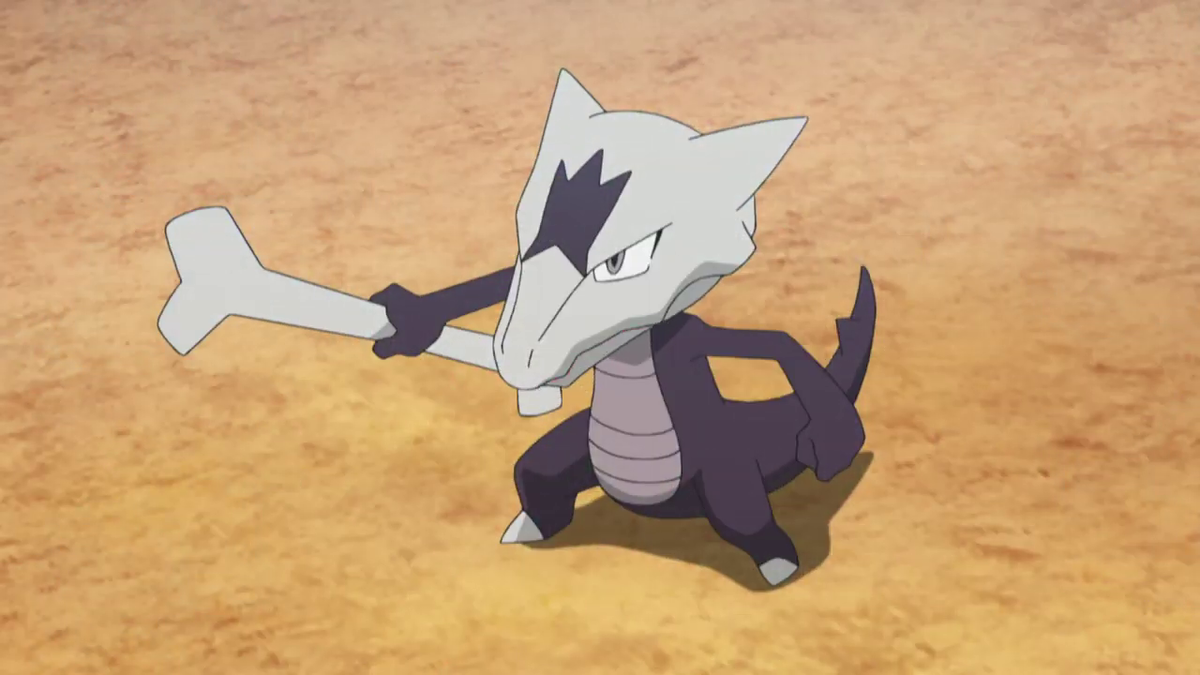 Marowak-Alola @ Thick Club
Ability: Lightning Rod
EVs: 252 Atk/4 SpD/252 Spe
Adamant Nature
- Flare Blitz
- Poltergeist
- Earthquake
- Knock Off
All that was missing is one more Pokemon. I need a Pokemon that I believe would make this team complete. One that gives the entire team more type coverage. After looking through all of the Pokemon, my option goes to...Alolan Marowak! This wallbreaker breaks through other defensive Pokemon with the help of Thick Club which DOUBLES the user's attack power. It is also a good spin blocker and anti-Electric user with Lightning Rod, keeping Corviknight safe and sound without taking any of the damage itself.
Flare Blitz heats up the barbecue, leaving the likes of Bronzong, Scizor, Amoonguss, Ferrothorn, Skarmory and opposing Corviknights with a fiery surprise. If an enemy is holding an item such as Leftovers or Choice Scarf, Poltergeist whacks him/her and let me tell you, it does a lot of damage. Shadow Bone is another option I would go with but I want Marowak to go all out. Earthquake knocks out other Fire types, Electric types and Steel types as well. Tapu Koko, Xurkitree and Heatran will be sitting ducks when that happens and Knock Off to leave Eviolite users (such as Dusclops, Chansey and Porygon2) with no support.
It's powerful with the Thick Club, but slow so any Water, Rock, Ground and Ghost types that have higher Speed than Marowak and crush it before it could even do anything. Plus, it relies on Thick Club. That makes it Knock Off/Trick bait. A Marowak without a Thick Club is like a gamer without a game console or a steam train without coal. I could be wrong to say that Marowak makes the spot as the last team member but that's where the team rating comes in.
PokePaste version:
Articuno-Galar OU Balance (pokepast.es)
Like the rest of the teams built, I feel like this team could go all the way if there are a few changes I didn't think of to be made for this to perform better. It has the components on making a balanced team, both with offensive and defensive capabilities, but to me it still look slightly incomplete. When it comes to finding what sort of other teams this one will have trouble facing, I think it's well-constructed defensive teams. I know this one has some counters against them but the result is whether I make the right plays. As I inspected, there are three Pokemon that are weak to Trick users. I don't want to see the danger of Tricking one of the Pokemon, then set up with a Dragon Dance or a Quiver Dance and sweep. That would never do. In a Pokemon battle, it could be anyone's game. So it's my job to make sure this team's in top shape to obtain the glory, especially when using a favourite.
And that's the team featuring the whimsical Articuno. What do you think? Hope you enjoyed looking at the team I've constructed. It's more fun (and sometime challenging) to build a team around a certain Pokemon and see what you've come up with. Don't you agree? If you find anything I must improve to make this team perform better, please let me know if you do. Your feedback will greatly be appreciated.

Take care everyone and happy battling! ;)