Behind These Walls - A 6th Gen OU RMT.
​

Hi there, guys. This is a team I have been using in OU for quite a while. However, with so many changes to the OU Metagame, it's effectiveness has changed drastically. Because OU isn't my best tier, I would like to get help on reviving this team.

---



Solstice (Espeon) (M) @ Light Clay
​
Ability: Magic Bounce
EVs: 252 Spd / 248 HP / 8 Def
Timid Nature
IVs: null Atk
- Reflect
- Light Screen
- Wish
- Psychic​


Espeon is usually my lead (sometimes I trick the opponent and swith in to Espeon to reflect entry hazzards), as its speed stat allows it to outspeed many things. Max HP gives it bulk to survive a few hits, especially after Reflect / Light Screen. I picked Wish because it allows me to switch into something else and shrug off the damage. If Espeon faints, Wish heals damage after Dragon Dance / Swords Dance. Psychic allows Espeon to deal damage when required.


After the walls are set, I proceed to switching in one of my three sweepers. Let's take a look: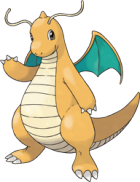 The Original (Dragonite) (M) @ Weakness Policy
​
Ability: Multiscale
EVs: 252 Spd / 252 Atk / 4 Def
Adamant Nature
- Dragon Dance
- Dragon Claw
- Fire Punch
- ExtremeSpeed​


As much as I hate standard sets, this was probably the best option for Dragonite, as Dragon Dance allows it to sweep with ease. Multiscale and Reflect / Light Screen make Dragonite very bulky. Dragon Claw is for STAB, Fire Punch for Steel types, specifically Skarmory, and ExtremeSpeed for priority, something that, in my opinion, every Pokemon needs. Weakness Policy is freaking scary, and the EV's are to make the most out of Dragon Dance.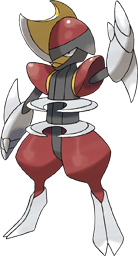 Bisharp @ Black Glasses
Ability: Defiant
EVs: 162 HP / 252 Atk / 94 Spe
Adamant Nature
- Swords Dance
- Iron Head
- Brick Break
- Sucker Punch

​
Somehow, Bisharp has become one of my favorite Pokemon. It's got an awesome design and an awesome movepool. I mean, STAB Sucker Punch? It does a little more damage than Mawile's Sucker Punch, I love this thing, it's horribly amazing. It also gets massive Attack boosts randomly; try switching into Rock Tomb and get a free +2 boost, and watch the opposing team tremble in fear.

In most cases, I begin with Swords Dance for the boost. Then I proceed for Sucker Punch, which deals incredible damage. Iron Head is an alternative Stab move that deals with some Fairies while Brick Break provides coverage and support. The EV's are for bulk and power, while allowing Bisharp to outspeed things like Mandibuzz.



Megasus (Pinsir) (M) @ Pinsirite
​
Ability: Moxie
EVs: 252 Spd / 252 Atk / 4 SDef
Jolly Nature
- Swords Dance
- Return
- Close Combat
- Quick Attack / Feint​
​
Pinsir is a recent addition to my team. I needed a Mega-Evolution that could appreciate Reflect / Light Screen support after I had replaced my Mawile with Bisharp. After some thought, I considered Pinsir. I tried it for a while and the results were amazing. Aerilated Returns and Quick Attacks deal terrible damage, and with access to a wide variety of Fighting Type moves, even Rock Types are scared of Pinsir. Even Talonflame trembles, as it can't really take too many Aerilated Quick Attacks. I added Feint because 30 power plus Aerilate and stab with +2 priority, with the bonus of ignoring Protect, seems better to me than 40 power and +1 priority. Go ahead and use whichever you like best. With an amazing design and movepool, Pinsir has found a spot in my team, and may reside there for a long time.

I picked Jolly Nature over Adamant since 105 base speed outspeeds a handful of things. When it comes to the ability, I picked Moxie for the following reasons:

Hyper Cutter: I thought that this ability would only be useful during one-on-one situations involving Intimidate, but since Pinsir is supposed to switch in, this ability would be useless.

Mold Breaker: I decided to go for Close Combat rather than Earthquake for more power, and the only reason Earthquake would be there is to deal with Rotom, which I haven't had problems with. This ability would dissapear after Mega-Evolving anyways.

Moxie: I picked Moxie because Pinsir can pick on weakened opponent's and get a free Attack boost. Quick Attack allows me to pick on Sturdy / Focus Sash Pokemon for easy kills and a free boost.


These are my three main Sweepers, which provide flexibility as they cover some of their weaknesses. Bisharp resists Rock and Ice Types for Dragonite and Pinsir, Dragonite and Pinsir resist Fighting and Ground Types for Bisharp, Dragonite resists Fire Types for Pinsir and Bisharp, and the list goes on for a while.


With two slots left on my team, I decided to fit in a Rapid Spinner / Defogger, since I figured that Espeon may not be around with Magic Bounce for such a long time in certain cases.. For that, I picked: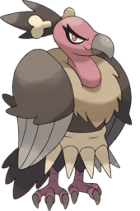 Dry Bones (Mandibuzz) (F) @ Rocky Helmet
​
Ability: Overcoat
EVs: 252 Def / 248 HP / 8 SDef
Impish Nature
IVs: null Atk
- Defog
- Roost
- Toxic
- Foul Play​


Mandibuzz punishes physical sweepers with Rocky Helmet, and it can take special hits really good. It can use Roost, meaning that it won't depend on Leftovers. Foul Play allows it to do considerable damage without having to invest anything in Attack. It also has Defog, to clear hazzards, and it isn't worn down by weather. It's also faster than Bisharp, somehow. Mandibuzz is an awesome teammate for my physically frail Pokemon and those who get screwed up by hazzards..


After testing my team for a long time, I realized I needed a cleric to heal Burns and Poison. After trying out so many Pokemon, this one was the best:



Miracle (Chansey) (F) @ Eviolite
​
Ability: Natural Cure
EVs: 252 Def / 248 HP / 8 SDef
Bold Nature
- Soft-Boiled
- Thunder Wave
- Seismic Toss
- Aromatherapy​


Poor Blissey, one of the only Pokemon to be ever outclassed by its pre-evolution. Baby Blissey, with Eviolite and maximum Defensive bulk, can take any hit really well, even some physical Fighting type moves. Not only that, it gets Softboiled to shrug away any damage. Thunder Wave cripples many Pokemon and is pretty annoying. Instead of Toxic, Seismic Toss provides reliable damage. Aromatherapy is there to heal burns and wipe that hax away.


Well, that's it. This team has been wonderful both in-game and in Pokemon Showdown. I've used it for a while and I haven't stumbled across a specific Pokemon that has become a huge threat for all six. Don't hesitate to provide criticism, as I will take any opinions and suggestions positively.


Here it is if you want to try it out:

Espeon @ Light Clay
Ability: Magic Bounce
EVs: 252 Spd / 248 HP / 8 Def
Timid Nature
IVs: null Atk
- Reflect
- Light Screen
- Wish
- Psychic

Dragonite @ Weakness Policy
Ability: Multiscale
EVs: 252 Spd / 252 Atk / 4 Def
Adamant Nature
- Dragon Dance
- Dragon Claw
- Fire Punch
- Extreme Speed

Chansey @ Eviolite
Ability: Natural Cure
EVs: 252 Def / 8 SDef / 248 HP
Bold Nature
IVs: null Atk
- Thunder Wave
- Seismic Toss
- Softboiled
- Aromatherapy

Bisharp @ Black Glasses
Ability: Defiant
EVs: 162 HP / 252 Atk / 94 Spe
Adamant Nature
- Swords Dance
- Iron Head
- Brick Break
- Sucker Punch

Mandibuzz @ Rocky Helmet
Ability: Overcoat
EVs: 252 Def / 248 HP / 8 Sp Def
Impish Nature
- Defog
- Roost
- Toxic
- Foul Play

Pinsir @ Pinsirite
Ability: Moxie
EVs: 252 Spd / 252 Atk / 4 SDef
Jolly Nature
- Swords Dance
- Return
- Close Combat
- Feint