Approved by: Dragonwhale and cant say
Series 7 Battle Stadium Singles Good Cores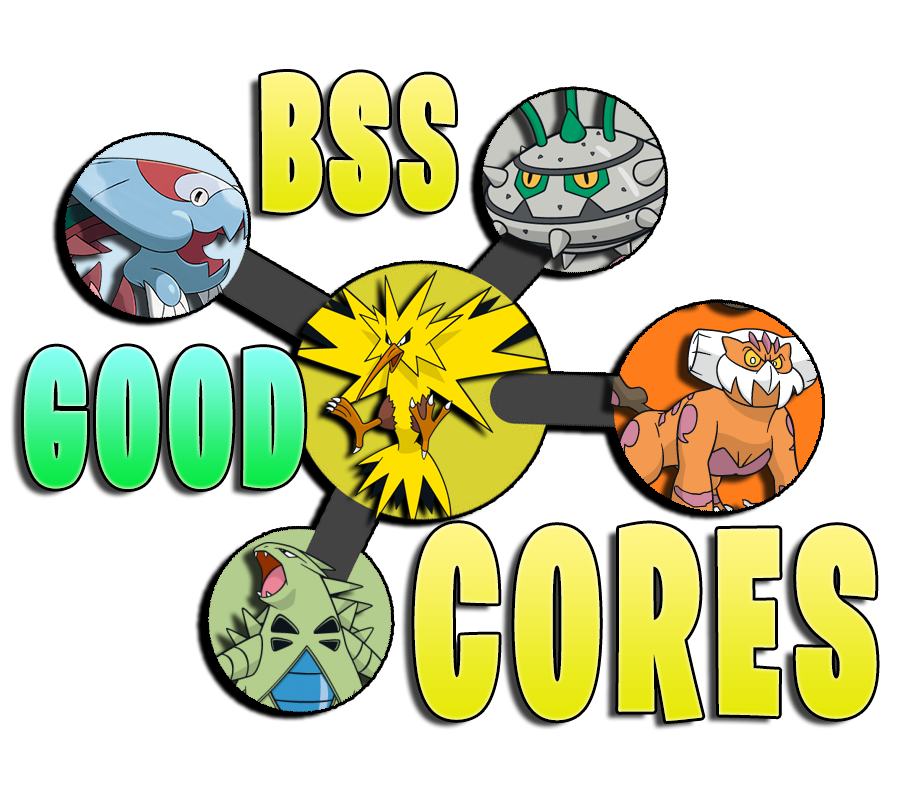 ​
For Series 8 Legendary Cores: Click
HERE
The purpose of this thread is to help familiarize newer players with current metagame cores and archetypes that have been successful in Sword and Shield Crown Tundra Battle Stadium Singles.
This list is not exhaustive, it is just a few examples (most of which are featured in cartridge top 1000 teams for Season 12)! If you have had success with a core or know of a successful core not included here, feel free to post it in this thread, and it will be reviewed/potentially added to the compendium.
Hyper Offense Cores
Offensive Stealth Rocks
: Features a less passive Stealth Rock setter paired with a setup sweeper that has good defensive synergy with it.
Example Offensive Stealth Rock Setters:



Notable Offensive Stealth Rock Cores

+

+

+
Trick Room
: The first slot features a Pokemon that can set Trick Room and often has a way to safely bring in a Trick Room sweeper, followed by the sweeper itself, a Pokemon that is slower than a majority of the metagame and is favored to beat the opposing team under Trick Room. The final Pokemon is designed to effectively trade one for one with an opposing Pokemon, narrowing the options a foe has to combat Trick Room or defeating the final Pokemon remaining after Trick Room expires. This Pokemon is often a Focus Sash user or Mimikyu.
Example Trick Room Setters:





Example Trick Room Sweeper:




Example 1v1 Traders:



Notable Trick Room Cores

+

+


+

+


+

OR

+

Dual Screens Lead:
The lead sets Light Screen + Reflect OR Aurora Veil, and the second slot is a setup sweeper. Most combinations can work but try and choose a lead and an abuser that have typing synergy.
Screens Setters:




Screens Abusers:










Notable Dual Screens Cores

+

OR

OR


+

OR

OR


+
+


+

Bulky Offense Cores
Zapdos Offensive Cores
: Relies on the phenomenal bulk and offensive presence of Zapdos in order to stabilize the rest of the core. Zapdos' teammates beat threats to Zapdos and have high damage impact whenever they attack.
Notable Zapdos Offensive Cores

+

+


+

+

OR

+

+

OR


+

+


+

+


+

+


+

+


+

+
FWG Cores
: Uses the defensive synergy from the basic elemental types (Fire, Water, Grass) to attempt to take advantage of typing, while slowly wearing down opponents.
Example Fire Teammates:



Example Water Teammates:



Example Grass Teammates:


Notable FWG Cores

+

+


+

+


+

OR

+

OR
DSF Core
: Uses the "Fantasy" typings (Dragon, Steel, Fairy) that together resist almost every type in the game to gain flexibility when switching. These Pokemon also tend to naturally be amongst the strongest in the game on their own.
Example Dragon Teammates:




Example Steel Teammates:






Example Fairy Teammates:



Notable DSF Cores

+

+

OR


+

OR

+


+

+


+

+


+

+


+

+

Stall Cores
Stall: uses a combination of status, passive damage, and hard walls to slowly wear down opposing win conditions, until one Pokemon in the stall core has no answers and wins the game outright.
Example Stall Pokemon:










Notable Stall Cores

+

+

OR


+

+

OR


OR

+

+

OR


OR

+

+

Other Cores
Baton Pass
: The lead sets up boosting moves and passes to a Stored Power user to sweep.
Example Baton Passers:

Example Baton Pass Recipients:



Notable Baton Pass Core
+

Weather (Lower Viability)
: The weather set by the lead gives the weather abuser doubled speed or another added benefit.
Weather Cores

+


+

OR


OR

+

OR

OR


+

Last edited: