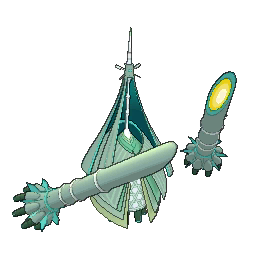 Name:
Celesteela
Type:
Steel / Flying
Pokedex #:
797
Ability:
Beast Boost: This Pokemon's highest stat is raised by 1 if it attacks and KOes another Pokemon.
Stats: 97/101/103/107/101/61
Level Up Movepool:
L1: Absorb
L1: Harden
L1: Ingrain
L1: Tackle
L1: Wide Guard
L1: Air Slash
L7: Smack Down
L13: Mega Drain
L19: Leech Seed
L23: Metal Sound
L29: Iron Head
L31: Giga Drain
L37: Flash Cannon
L43: Autotomize
L47: Seed Bomb
L53: Skull Bash
L59: Iron Defense
L67: Heavy Slam
L73: Double-Edge
TM Compatibility:
TM 06 | Toxic
TM 10 | Hidden Power
TM 15 | Hyper Beam
TM 17 | Protect
TM 21 | Frustration
TM 22 | Solarbeam
TM 23 | Smack Down
TM 26 | Earthquake
TM 27 | Return
TM 32 | Double Team
TM 35 | Flamethrower
TM 38 | Fire Blast
TM 42 | Facade
TM 43 | Flame Charge
TM 44 | Rest
TM 48 | Round
TM 53 | Energy Ball
TM 59 | Brutal Swing
TM 62 | Acrobatics
TM 64 | Explosion
TM 67 | Smart Strike
TM 68 | Giga Impact
TM 71 | Stone Edge
TM 74 | Gyro Ball
TM 76 | Fly
TM 78 | Bulldoze
TM 80 | Rock Slide
TM 86 | Grass Knot
TM 87 | Swagger
TM 88 | Sleep Talk
TM 90 | Substitute
TM 91 | Flash Cannon
TM 100 | Confide
Celesteela has huge potential to become one of OU's top threats. It can either become a top tier defensive threat with its great defensive typing and moves such as Leech Seed, and Toxic. It can also serve as a potential late game cleaner with a wide variety of moves such as Flash Cannon, Flamethrower, and Air Slash alongside Autotomize to boost its speed to be able to outspeed top offensive threats like Pheromosa.
Potential Sets

Celesteela @ Leftovers
Ability: Beast Boost
EVs: 252 HP / 4 Def / 252 SpD
Careful Nature
- Leech Seed
- Protect
- Heavy Slam
- Flamethrower / Toxic

This set allows Celesteela to be able to handle a variety of special attackers and be able to heal itself over time. Heavy Slam provides nice damage as Celesteela is a heavy Pokemon, giving it 120 base power. Flamethrower is there so it don't become set up fodder for Pokemon such as Mega Scizor, Ferrothorn, Kartana, and Genesect. This set can also run Toxic if you look to ware down more bulkier targets like Landorus-Therian, Slowbro, and Hippowdon as they can easily tank anything Celesteela has, and two of the three Pokemon having reliable recovery as well.
Celesteela @ Leftovers / Life Orb
Ability: Beast Boost
EVs: 252 SpA / 4 SpD / 252 Spe
Modest Nature
IVs: 0 Atk
- Autotomize
- Flamethrower
- Flash Cannon
- Air Slash

With this set, Celesteela becomes a offensive threat possessing good coverage and being able to double its speed with Autotomize, allowing it to outspeed offensive threats such as Pheromosa and Mega Alakazam. Because of Beast Boost, you will also raise your Special Attack as that is the highest stat. Flamethrower allows it to hit Steel-types, while Flash Cannon and Air Slash are both reliable STABs.
Conclusion

Celesteela has potential to be a top OU threat because of its wide movepool and versatility as it can fill distinct roles on different teams. Celesteela is a good example of a Pokemon that can be great defensively, while still having a strong offensive presence.
cya later skarmory