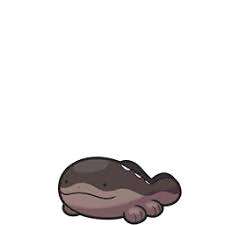 Poison
/
Ground
Base Stats
: 130/75/60/45/100/20
Abilties:
Poison Point/Water Absorb(Unaware)
Notable Moves:
Earthquake
Toxic
Recover
Spikes
Stealth Rock
Toxic Spikes
Chilling Water
Gunk Shot
Level Up:
1-Poison Sting
1-Tail Whip
4-Toxic Spikes
8-Mud Shot
12-Poison Tail
16-Slam
21-Yawn
24-Poison Jab
30-Sludge Wave
36-Megahorn
40-Toxic
48-Earthquake
Evolution:
-Amnesia
Egg Moves:
TM Moves:
01-Take Down
05-Mud Slap
07-Protect
11-Water Pulse
12-Low Kick
13-Acid Spray
20-Trailblaze
25-Facade
26-Poison Tail
28-Bulldoze
35-Mud Shot
36-Rock Tomb
45-Venoshock
47-Endure
50-Rain Dance
51-Sandstorm
55-Dig
59-Zen Headbutt
66-Body Slam
70-Sleep Talk
77-Waterfall
83-Poison Jab
84-Stomping Tantrum
85-Rest
86-Rock Slide
89-Body Press
90-Spikes
91-Toxic Spikes
99-Iron Head
102-Gunk Shot
103-Substitute
110-Liquidation
116-Stealth Rock
121-Heavy Slam
123-Surf
128-Amnesia
130-Helping Hand
133-Earth Power
142-Hydro Pump
148-Sludge Bomb
149-Earthquake
150-Stone Edge
152-Giga Impact
163-Hyper Beam
171-Tera Blast
Pros:
-Great 130/100 Special Bulk
-Typing gives it notable resistances to Fairy and Fighting, and an Electric immunity
-Unaware is a great ability for stopping special setup sweepers
-Water Absorb is an option to get rid of a weakness and potentially pull off a very nice bait
-Access to Spikes, Stealth Rock, and Toxic Spikes which it can slap on a set to its liking
-It choco bread :D
Cons:
-60 Defense isn't great, even with the HP
-Defensive typing leaves it weak to common offensive types like Water and Ice
-75/45 offenses make it very passive
Terastalize Potential
It probably isn't a great user of Tera considering the opportunity cost, however Terastalizing to a better defensive typing like Steel could have some merit.
Potential Sets:
Special Unaware Wall
Clodsire @ Leftovers
Ability: Unaware
EVs: 248 HP / 8 Atk / 252 SpD
Careful Nature
- Earthquake
- Spikes/Stealth Rock
- Toxic
- Recover
Uses its great special bulk and Unaware to act as a pretty nice special wall.
Bulky Water Absorb
Clodsire @ Leftovers
Ability: Water Absorb
EVs: 248 HP / 8 Atk / 252 SpD
Careful Nature
- Earthquake
- Spikes/Stealth Rock
- Toxic
- Recover
As you can see, this set is entirely different, because it has Water Absorb instead of Unaware.
Toxic Spikes can be run over the other hazards, but it's just a bit more niche usually.
Chilling Water does things, probably.
Last edited: