It all started a few days ago. If you had red the Shiny experiences thread, you may remember that I wanted to give Ho-oh every available gen 4 and ownward ribbon. Sadly I did soon realize that this was impossible, because Ho-oh isn´t allowed to Battle tower. So I had to choose another. But what pokemon? I didn´t want something super-popular, like Charizard, but still something that is good competetively, especially in Battle spot doubles, as it is my favorite format. So the search began.
In the end I decided on Heartan, for several reasons. One, he is pretty good at BSD, second, he isn´t exactly popular, and third, I had uncatched Heartan waiting on Stark mountain in my Diamond game. Well, if I said "waited", I mean he wasn´t summoned. I played my Diamond to the point where i beat the E4 and got National dex, so I could transfer my poke to the other games. That of course means I didn´t set a foot on Battle resort.
It took me several hours, even with avoiding every trainer possible, till I got to the Stark mountain on Bucky escort mission. As Heartan was at level 70, I used this opportunity to train, and abused it heavily. My Uxie (who would be Yawning Heartan to sleep) went from level 53 to level 65 by the time I was done. Next step was of course synchronizer Abra. Luckily I had several Abras already, so I bred two of them till I got the nature and ability I wanted. I decided on Timid, as from my experiences with battling other Heatrans would fit better my playstyle. That done, I went back on the long journey from Survival area to the bottom of Stark mountain (why does the name reminds me of Tony Stark? And now that I think about it, Heatran IS part steel, and is red...). Finally settled, game saved, the process of Soft resseting for either shiny/female with good EVs began. Tough the IVs aren´t that important with Hyper training, but still, I HAVE to defeat battle tower somehow.
In the end, I settled on this girl.
According to Serebii gen 4 IV calculator, she has 28 IV in Special attack and everything else (bar Speed) around 23-25, Speed being 17. Nice catch, I should say.
Now I need a name. I decided on Jaroslava, which means Celebration of spring in my language. I chose this because she is a fire type, who doesn´t like cold (I mean, she lives in the volcano, for Arceus´s sake!) and I caught her in the time when even the last touches of winter are behind us.
Here is she with her brand new name:
Well, that´s all fine and dandy, but she can´t storm the Battle tower by herself. So I needed a supporting cast. First that came to mind was Starmie. Easy enough to catch, strong, fast, with acces to Psychic and BoltBeam combo. Plus her typing complements Jaroslava nicely. As it is only for Battle tower, I didn´t concern myself with IVs. Just catching one with the right nature. Synchronizer helped and the first Staryu I found was the one I was looking for.
Now that I have two members of my team, I tought it would be good idea to complete the fire/water/grass core. Sadly, Turtwig was out as I started with Piplup. In the end I settled on Roserade, as she is solid enough and the best available choice. Here the synchronizer was messing with me, as the fifth Budew had the nature I wanted (and yes, I wanted to raise my Roserade from Budew). In the end, I ended up with this.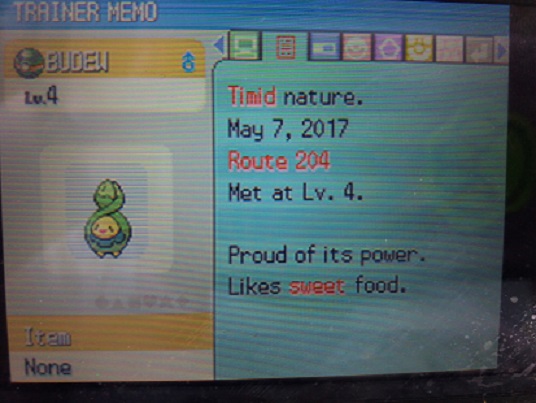 Well, it isn´t SHE evidentely (not that it matters), but has Poision Point as ability. I would have preffered Natural Cure, but this can help me hopefully get some lucky poisioning here and there.
The core completed, I couldn´t help but notice the strong lack of physical attackers. Well, there is one, arguably one of the best poke in the game, Garchomp. This was an easy catch. It was third or fourth encounter, and took only two Dusk balls (without weakening).
Well, I have simply luck for girls with Garchomps. First my Rough skin Garchomp in the Sun, then Cynthias Garchomp (though this one was maybe presetted to be girl) and now this one... well, I hope she will do well.
Now, who could complement Garchomp and support him? And be good at his own right? As I play Diamond, there is only one answer - Tyranitar! Strong, bulky, but more importantly raises Sandstorm, which not only boosts Special Defense of Garchomp, but also activates his Sand stream ability. Plus, Jaroslava is immune to Sandstorm and can be used to cancel other weathers. That´s nice and all, but Larvitar in Diamond is Poke Radar encounter, and rare one at that. It took me quite some time before I found one. It was this little girl:
Now with my support cast almost completed, I decided that the last member should be a wall. Not just any wall, mind you, but the greatest gen 4 wall, Blissey. I tried to hatch the Happiny egg, but didn´t have the right nature. So, taking my synchronizer, I went to hunt. It couldn´t be that bad, now could it?
Yes, it could. Chansey is very rare encounter, so chance of runnin into one are slim. Plus, it has quite low catch rate. Plus, it´s damn wall with softboiled. And another plus, it can have two abilities, one of which (Serene grace) is useless on her (at least compared to natural cure). In the end, it took me seven tries before I found one with the right combination of nature and ability. And every single one of them was pain to catch. In the process, I also got one with 31 IVs in HP. Yay! With Adamant nature. In the end, I managed to found one.
Oh, did I mention NONE of those Chanseys had lucky egg?
Now with my Avengers Assembled, it´s time to grind... I mean EV train while I plant berries that would be later used for PokeBread. Now, thanks to VS Seeker, Fisherman Andrew is my best buddy right now. I never imagined I would one day be glad for those six-magicarps fisherman, but here it is.
So for now it is gathering daily ribbons and effort ribbon (once I finish EV training), while I am preparing for Battle tower and contest, gathering Accesories (poor Jaroslava, I pity her) and giving Budew his daily massages.
Seriously, I dread those contest and the baking of the bread. I am not even good cook IRL (I know, girl who can´t cook, what a shocker), but this berry mixing is pretty confusing to me.
Next time, we hopefully will make some progress towards our goal of getting every available ribbon from gen 4 ownwards to Jaroslava. One thing i already know - she will be looking fabulous!
See ya and thanks for joining me for the ride!
Last edited: