Greetings nerds, you may have heard I have given up on UU.
That was a lie to myself
Anyways forgive my shitty UU Rmt's, like seriously they've all been bad.
Like...
All of them, especially that one with banded ninjask and Gastrodon, uggghhh.
This is actually a team I created alongside beppityboopbop and ooh keil em (how TF do I tag), and it's pretty solid despite the fact we made it in like four minutes.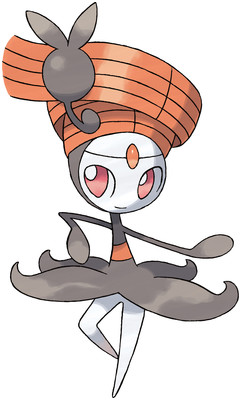 LeaveBritneyAlone (Meloetta) @ Life Orb
Ability: Serene Grace
Shiny: Yes
EVs: 252 Atk / 252 Spe / 4 SpA
Jolly Nature
- Close Combat
- Knock Off
- Return
- Relic Song
Reason for Choosing:
The Pokemon we settled to build around was Meloetta in her Pirouette-Forme. It is a fun Pokemon to use as not many people expect and are usually unprepared.
Moveset:
The Meloetta-P all out attacker set with Life Orb was the desired set we chose. Close Combat is an obvious choice, as it is the best fighting type STAB Meloetta has access to (it's the only one she has access to). Return is also an obligatory choice on Meloetta-P, as it has solid damage which makes it desirable. Knock Off is the greatest coverage move she has access to, as it easily takes things out such as non-scarf Chandelure after Stealth Rock. Relic Song allows Meloetta to freely switch forms, and the 20% likelihood of sleep is a nice bonus.
Alternative Options:
Meloetta has a surisingly large physical movepool, this includes U-Turn, the elemental punches, even Stone Edge. Any of these can be used against common Pokemon, Fire Punch for Forrtress, Stone Edge for Salamence etc;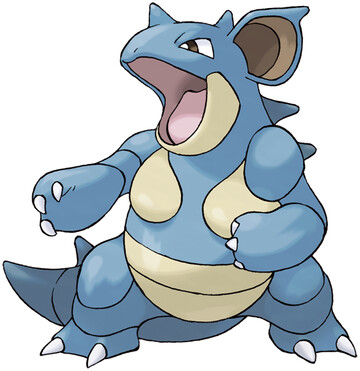 CARL (Nidoqueen) (F) @ Life Orb
Ability: Sheer Force
EVs: 4 HP / 252 SpA / 252 Spe <--
NASCAR QUEEN
Modest Nature
- Ice Beam
- Earth Power
- Stealth Rock
- Toxic Spikes
Reason for Choosing:
A hazard-setter is important for any team, and in Meloetta's case, she needs to have Pokemon weakened slightly so she can move in for the kill.
Moveset:
A lead Toxic Spike set seemed the most appealing, as Meloettai in her alternate form forces many switches, because no one wants to take a CC or a Return from a Pokemon with base 128 attack. Stealth Rock and Toxic Spikes are moves for the reason previously stated, to make your opponent pay for switching constantly. Ice Beam is for a predictable Salamence/Gligar switch in, as Salamence thinks it can set up if they believe you don't have Ice Beam, and Gligar thinks it can hard wall you. Earth Power is an obvious choice for any Nido, it's power is impeccable from the combination of Life Orb and Sheer Force.
Alternative Options:
If you believe Sludge Wave is an absolute mandate for any and all Nidoqueen sets, by all means use it, but please note that anything that Slidge Wave hits is dealt with by the rest of the team.
Cressmelia (Cresselia) @ Leftovers
Ability: Levitate
Shiny: Yes
EVs: 168 HP / 252 Def / 88 Spe
Bold Nature
- Substitute
- Calm Mind
- Moonblast
- Psyshock
Reason for Choosing:
Look at the team, look at the opposing Mamoswine, then back to the team, this is our only check. Since Mamoswine loves to shit all over any and all teams in UU we needed some sort of check.
Moveset:
The Substitute + Calm Mind set is a great set for Cresselia, as it's absurd bulk allows it to set up on almost anything that doesn't pack a super-effective move. Moonblast is for hitting pesky dark types who may try to switch in to take you down. Psyshock is an obvious choice for any psychic type, and it really doesn't need explanation.
Alternative Options:
Cresselia has access to Moonlight, so if you feel as if you need recovery, by all means use it.
PeeWee Sherman (Blastoise-Mega) (M) @ Blastoisinite
Ability: Mega Launcher
EVs: 196 HP / 252 SpA / 60 Spe
Modest Nature
- Scald
- Rapid Spin
- Aura Sphere
- Dark Pulse
Reason for Choosing:
A Rapid Spin user is a mandate for any offensive team, as there may be many switches involved.
Moveset:
Rapid Spin, as stated before, is essential for many offensive teams especially this one, as Pokemon such as Meloetta don't like constant spikes damage, nor does she like being poisoned. Scald is a nice utility move due to it's chance to burn, your opponent's will cringe every time they await the results of whether or not their mvp was burned or not. Ice Beam hits Salamence as well as Gilgar for bonus damage. Dark Pulse hits spinblockers who will try to wall your Rapid Spin.
Alternative Options:
I have had much personal debate on whether or not I should run Ice Beam over Aura Sphere, I seem to often switch between both options from time to time. In my experience Aura Sphere works out better, but if you fell the need to use the former, go for it.
What I Spit (Entei) @ Choice Band
Ability: Pressure
EVs: 252 Atk / 4 SpD / 252 Spe
Adamant Nature
- Sacred Fire
- Flare Blitz
- Stone Edge
- Extreme Speed
Reason for Choosing:
Something to eviscerate special walls seemed like a mandate, as this team consists of only two physical attackers including Entei.
Moveset:
Sacred Fire is that donked ass move with the 50% burn chance if it lands, making Entei one of the most condemned UU Pokemon. Flare Blotz is the back-up fire move, in the cases Sacred Fire runs out due to PP stall or maybe you spammed it too much. Stone Edge love to hit the likes of Aero and Salamence, that is if the damn move lands. Extreme Speed is for nice and powerful priority which comes in handy a lot.
Alternative Options:
There's literally nothing else
Sanic Da HadjHorg (Shaymin) @ Life Orb
Ability: Natural Cure
Shiny: Yes
EVs: 252 SpA / 4 SpD / 252 Spe
Timid Nature
- Dazzling Gleam
- Air Slash
- Seed Flare
- Earth Power
Reason for Choosing:
Shaymin seemed to be a good option, as the addition of her makes a F/W/G core.
Moveset:
This may seem like an obscure set, but bear with me. Dazzling Gleam hits Hydreigon and OHKO's it. Now, I want you to look at the team, do you see any Hydreigon switch ins? No, of course you don't, that's why I pack Dazzling Gleam, as it is an unpleasant surprise to many players. Air Slash hits other Grass types, more specifically Roserade, whom walls this set. Seed Flare is a great move that has a 40% chance to lower the SpD of any target, which may result in a kill which you otherwise would not get. Earth Power hits steel types, who may switch in to absorb your attacks whom would otherwise be problematic.
Alternative Options:
There isn't much else to run, but the Sub + Leech Seed set works out well sometimes.
Ok so can we just talk about how cute Meloetta is?
She may be one of the cutest things ever conceived by humankind
The Importable
http://pastebin.com/hQt04YGi

Be Advised: The importable contains the team with 0 attack IV's for the special attacking Pokemon.
​
Last edited: