Heheh, not a Silph worker...

Hello all,
I wanted to figure out the shiny rate of the friend safari, so I used an automated encounter bot to run around in the friend safari, tally the number of total encounters and the number of shinies encountered. In addition, dekuNukem helped by providing data for over 40 shiny Pokémon. So far, we have tallied 157 shinies over 74,540 encounters. The average number of encounters per shiny is 475 with a standard deviation of 445. The 95% confidence interval is 405-545. The smallest number of encounters until a shiny was found was 1, and the largest number was 2691.
A few strongly influential observations (i.e. when it took more than 2500 encounters to find a shiny) may be skewing the data. I'm not confident that it's statistically justifiable to remove these outliers, but if they are removed, the average number of encounters per shiny is 411.31 and the standard deviation is 359.41. The confidence interval is 351-471.
I attached a few graphs of the data. The first one shows how the data are distributed. For example, there were 31 shinies found in 1-100 encounters, 25 shinies in 101-200 encounters, etc. So if it took 340 encounters until a shiny was found, I tallied it for the 301-400 group.
The second graph shows the probability of finding shiny within 100 encounters, 200 encounters, 300, etc.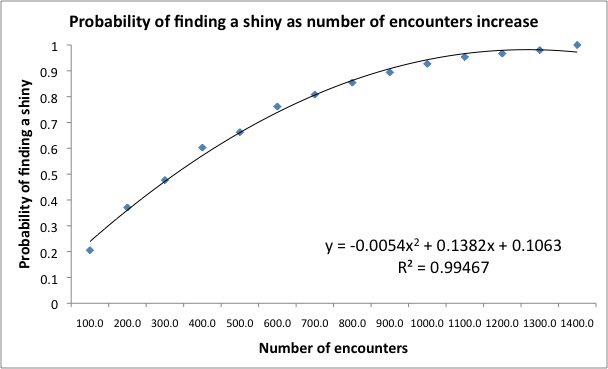 In conclusion, if I were being conservative and including the outliers, I would guess the shiny rate is either 1/512 or 1/455. I will provide an update after another 100 shinies. If anyone can provide any statistical advice or criticism, I'd like to open some discussion about it.
As a disclaimer, I have the shiny charm, although currently the data from other people testing the effect of the shiny charm on the shiny rate in the friend safari suggest that the shiny charm has no effect.
I'm thinking of testing a couple variables that are rumored to affect the shiny rate. For example, some people say tipping improves the shiny rate; it's been suggested that the shiny rate is different in different safaris; and perhaps your friend being online/offline affects the shiny rate. Incidentally, one of the shinies I caught and dekuNukem caught had Pokérus. It would be difficult to test, but perhaps the Pokérus rate is also increased in the friend safari? Anyone have ideas about the best way to test that?
Best,
The Scientist
Last edited: