Pokemon Deposited: Female Lvl 15 Wingull
Pokemon Requested: Giratina
IGN: Zeno
Message: Zeno

Thanks for another innovative giveaway! I enjoy seeing the fruits of your labour! Glad to see you do another one!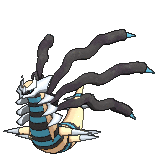 Ivs: 31/31/31/24/31/31
Ability: Pressure; Nature: Adamant
Moves: Defog, Dragon Breath, Scary Face
Note: RNG abused on SS (retail cart) Lv.1 giratina from the HG/SS arceus event.
Last edited: