the grand master of all the things bad!



logo by zeno
Hi everyone, Smogon!
This is the 4th RMT I post here and I sincerely hope it will have the same success as the previous ones! The team I want to propose you it's a Balanced that allowed me to finish Aegislash's suspect with incredible easiness and with a respectable win rate, allowing me to reach the top 5 in ladder! (
From a Chandelier
)
As usual of my teams, I added even this time a more "funny" but not less competitive part. It's been a while I wanted to try a core I consider really functional! The core is
Weavile
+
Shaymin
. What do they do togheter? Common switch ins on Shaymin mostly include Zapdos, Togekiss, Latios, Latias, Tornadus-T...All of these pokemon are really weak to Weavile. But even Weavile gains advantage from the presence of Shaymin since this one eliminates bulky waters like Rotom, Suicune, Gastrodon, Alomomola and so on. The good sweeping sinergy between these 2 needs good support, expecially defensively. First of all, I decided to add
Rotom-W
since it protects me from Talonflame and it's a secondary Check to Keldeo. Rotom-W it's also a respectable switch-in to Azumarill and it is capable to deal with the most furious bulky SD MegaZors. I also decided to add
Mega Metagross
, because of the weakness to the Fairy Spam, who supports me offensively and gains advantage from Shaymin's grass spam. I needed at that point a core able to switch onto the most dangerous physical threats, like Lopunny for example..so I added a
Bulky Garchomp
as Setter and a
Magic Guard Clefable
who is able to deal with the best built stalls by gaining advantage from the pressure that the rest of the team puts onto Heatran.
PREVIEW
​


Weavile (M) @ Life Orb

Ability: Pressure
EVs: 252 Atk / 4 Def / 252 Spe
Jolly Nature
- Icicle Crash
- Ice Shard
- Knock Off
- Low Kick

W
eavile is one of the stars of the team alongside with the flowered porcupine. I must say that I couldn't appreciate its magnificence before trying it first. One of the fastest megaless mons of this metagame, respectable coverage and discretely wide movepool combined with one of the strongest types of the whole metagame. The unpredictability of this set forces usually the opponent to lose important pokemon like Latias or Latios, fearing the pursuit or also Heatran, hoping Weavile doesn't have Low Kick. And this last move is the strong point of Weavile, since it is capable to hit hard Tyranitar, Magnezone and Heatran. Ice Shard is the only priority of the team, which is often a winning move in the lategame sweep. The undecision was for "Crash or Punch?" At the end I opted for the power of Icicle Crash, which sometimes helped me with random flinches.
Shaymin @ Life Orb

Ability: Natural Cure
EVs: 252 SpA / 4 SpD / 252 Spe
Modest Nature
IVs: 0 Atk / 30 SpA / 30 Spe
- Earth Power
- Seed Flare
- Hidden Power [Fire]
- Rest


S
haymin! DON'T YOU FIND IT SO DAMN ADORABLE? *____* And yet this delicated cute porcupine is a monstrous weapon. With its not so bad special attack, and a very useful trait considering the fact that it could become serious problem, Shaymin spams its powerful stab with a 50% chance to deal double of the damge in the next turn, or to send even the bulkiest grasses on Hidden Power Fire range. I chose Hidden Power Fire essentially to get rid of Scizor, who can become annoying for Weavile and also to get rid in an easy way of balanced with Gliscor/Slowbro/Ferro/Heatran/Hippowdon which are commonly seen. This Shaymin is able to win almost alone against these kind of teams or at least it can punch huge holes, allowing Weavile or Mega Metagross to clean the field!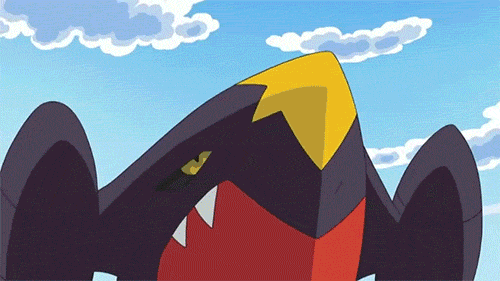 Garchomp (M) @ Rocky Helmet

Ability: Rough Skin
EVs: 248 HP /

168 Def / 92 Spe


Impish Nature
-

Endure


- Earthquake
- Stealth Rock
- Dragon Tail



B

ulky Garchomp is one of these pokemon that the team made me appreciate. By skipiping its not so cute aspect, a well played Garchomp helmet can tears consistent holes through the opponent's team, expecially if it is sent to tank the most useless priorities, like fake outs, or some random quick attack. The opponent will immediately regret of doing so and will try to hit hard, and chomp will tank also this with high probability, finishing the opponent with a dtail. Toxic was preferrred over Fire Blast because I already got fire moves in the team, from fable and shaymin to rotom's wow, so I preferred Toxic in order to clearly invalidate pokemon like Rotom-W, Slowbro or Unaware Fable...and I must say that it works particulary good! Really one of the best existing SR setter of these days!
Clefable (F) @ Leftovers

Ability: Magic Guard
EVs: 216 HP / 252 Def / 32 SpD / 8 Spe
Bold Nature
IVs: 0 Atk
- Calm Mind
- Moonblast
- Flamethrower
- Soft-Boiled


A
bout clefable I doubt there's something particular to say. Clefable became in Oras one of the most versatile pokemon of the metagame, capable of doing comebacks even against the most difficult matchups and it becomes very often the only(if not the simpliest) win condition in certain matches. Magic Guard preferred over Unaware since I play with no defoggers or spinners, and because its often forced to switch onto pokemon like Lopunny, who counters it only if at perfect health. Flamethrower hits basically Bisharp, Excadrill, Ferrothorn, Scizor. But you already know these things, so why am I saying them?
Rotom-Wash @ Leftovers

Ability: Levitate
EVs: 248 HP / 216 Def / 44 Spe
Bold Nature
IVs: 0 Atk
- Volt Switch
- Will-O-Wisp
- Pain Split
- Hydro Pump


S
ince the BW times, Rotom-W covers an important role in this metagame. Despite it recently dropped in usage, it's not obviously to despreciate. It still continues to become an important member for most of my teams thanks to it I managed to win games who I already considered lost. It is important to attract many switch ins who aren't really good for my opponent if I send Weavile or Shaymin, like the latwins, Ferrothorn, ground water mons.
Metagross @ Metagrossite

Ability: Clear Body
Shiny: Yes
EVs: 252 Atk / 4 SpD / 252 Spe
Jolly Nature
- Meteor Mash
- Zen Headbutt
- Earthquake
-
Bullet Punch
M
etagross is probabily one of the most powerful mega evolutions that ORAS ever gave us! It seriously risked to go into ubers, where it could have gone into a bad end, but however he stayed in OU, where he is an undiscussed lord. Despite its stocky aspect, Mega Metagross is really fast, able to tie with Gengar, Latios and Latias! I decided to use this classic set because it was the most fitting one for the team, with Ice Punch which is a great move against Special Defense Scor who could otherwise be annoying.
​
So heres the finished team! I really hope you liked it and obviously feel free to try it besides it is not really simple to use! Special Thanks to Amber Lamps for the support! On the next time, Smogon!
E.T.T.
Garchomp (M) @ Rocky Helmet
Ability: Rough Skin
EVs: 248 HP / 236 Def / 24 Spe
Impish Nature
- Toxic
- Earthquake
- Stealth Rock
- Dragon Tail

Rotom-Wash @ Leftovers
Ability: Levitate
EVs: 248 HP / 216 Def / 44 Spe
Bold Nature
IVs: 0 Atk
- Volt Switch
- Will-O-Wisp
- Pain Split
- Hydro Pump

Shaymin @ Life Orb
Ability: Natural Cure
EVs: 252 SpA / 4 SpD / 252 Spe
Modest Nature
IVs: 0 Atk / 30 SpA / 30 Spe
- Earth Power
- Seed Flare
- Hidden Power [Fire]
- Rest

Clefable (F) @ Leftovers
Ability: Magic Guard
EVs: 216 HP / 252 Def / 32 SpD / 8 Spe
Bold Nature
IVs: 0 Atk
- Calm Mind
- Moonblast
- Flamethrower
- Soft-Boiled

Weavile (M) @ Life Orb
Ability: Pressure
EVs: 252 Atk / 4 Def / 252 Spe
Jolly Nature
- Icicle Crash
- Ice Shard
- Knock Off
- Low Kick

Metagross @ Metagrossite
Ability: Clear Body
Shiny: Yes
EVs: 252 Atk / 4 SpD / 252 Spe
Jolly Nature
- Meteor Mash
- Zen Headbutt
- Earthquake
- Ice Punch
​
Last edited: