So I've been very experimental with some of my teams lately. I saw a fire spin Volcanion set online and just thought why the hell not? I'm just sharing this here because I want feedback on what needs to be changed.
Team link:
https://pokepast.es/5b8e83f7094f23fa
Blacephalon @ Choice Scarf
Ability: Beast Boost
EVs: 252 SpA / 4 SpD / 252 Spe
Timid Nature
IVs: 0 Atk
- Flamethrower
- Shadow Ball
- Psychic
- Trick
This is pretty much the standard Blacephalon set. Scarfed to outspeed scarfed Tapu Lele, Dragapult, and every other revenge killers that would outspeed Blacephalon normally. Scarfed Blacephalon is basically required in a ghost spam team. It's my main revenge killer on the team with trick to deal with defensive walls like Blissey, and psychic because I genuinely don't know what other move to give it.

Dragapult @ Choice Specs
Ability: Cursed Body
EVs: 252 SpA / 4 SpD / 252 Spe
Timid Nature
- Draco Meteor
- Shadow Ball
- Flamethrower
- U-turn
Specs Dragapult is a pretty fun wallbreaker. Like Blacephalon, Dragapult is kinda mandatory for ghost spam teams. I don't find myself taking advantage of it's other 2 abilities much so I decided to run cursed body here. Draco meteor is it's main dragon stab, dealing a ton of damage to unresisted pokemon. Flamethrower is there to deal with bulky steel types like Ferrothorn and Melmetal, while U-turn is for momentum.

Volcanion @ Heavy-Duty Boots
Ability: Water Absorb
EVs: 252 SpA / 4 SpD / 252 Spe
Timid Nature
IVs: 0 Atk
- Fire Spin
- Steam Eruption
- Sludge Wave
- Earth Power
Thanks
dex
for the Volcanion set. The premise of this set is to trap bulky water types with fire spin. I paired it with a ghost spam team because Blacephalon and Dragapult appreciate bulky water types like Tapu Fini and Toxapex being removed. Ferrothorn still gets 2hko'd by fire spin and Weavile takes quite a lot from steam eruption so Volcanion isn't losing too much from not running flamethrower.
Edit: I've replaced sludge wave with flamethrower. I still win the 1v1 against Tapu Fini and I can actually OHKO Ferrothorn and Weavile now.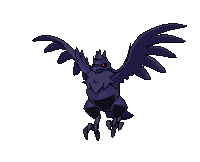 Corviknight @ Rocky Helmet
Ability: Pressure
EVs: 252 HP / 168 Def / 88 SpD
Relaxed Nature
IVs: 0 Spe
- Body Press
- U-turn
- Defog
- Roost
I needed hazard removal for this team and Corviknight seemed like a good option. It counters Landorus and Garchomp, the tier's common ground types while helping stronger wallbreakers getting on the field. Rocky helmet is for punishing Weavile's triple axel. This ev spread gives enough bulk to survive special wallbreakers while still being tanky enough on the physical side to deal decent damage with body press. I'm also running minimum speed so I can get a slow u-turn more consistently.

Garchomp @ Leftovers
Ability: Rough Skin
EVs: 252 Atk / 4 SpD / 252 Spe
Jolly Nature
- Scale Shot
- Earthquake
- Fire Fang
- Swords Dance
Garchomp is a pretty threatening set up sweeper that helps this team a lot. I definitely need a ground type to help deal with electric types like Regieleki or Zapdos and Garchomp fulfills that role well. Swords dance, scale shot and earthquake are obvious picks since earthquake is your main stab move, while scale shot and swords dance are for setting up. Fire fang is for hitting bulky steels like Ferrothorn and Corviknight.
Edit: I've replaced Garchomp with double dance Landorus. It has a better matchup against Tapu Koko and other Landorus and I find it more fun to use.

Tyranitar @ Leftovers
Ability: Sand Stream
EVs: 252 HP / 4 Def / 252 SpD
Careful Nature
- Stone Edge
- Crunch
- Ice Punch
- Stealth Rock
For a Bulky Offense team I should probably have a specially defensive mon along with my physically defensive mon. And ironically, I'm weak to ghost types. Tyranitar serves as a good ghost resist and special tank, being able to take hits from pokemon like Dragapult and set up stealth rocks. I have dual stab along with ice punch to deal with Garchomp and Landorus switching in. It also does a good job at checking Weavile.
Teambuilding
I got bored and decided to build around fire spin Volcanion. It removes bulky water types, which would benefit a lot of pokemon.


I decided on a ghost spam team because Blacephalon and Dragapult could do really well without bulky water types in the way. Also I haven't built a ghost spam team before and it seemed pretty fun.



Spdef Lando seemed like a threat so I added a Corviknight to my team. It also functions as a defogger and a defensive pivot.




I knew I'd get destroyed by Regieleki and Zapdos if I didn't have a ground type. Garchomp is a fun offensive sweeper that can deal with them well.





At first, I was really afraid of Weavile and Landorus so I figured a Buzzwole to counter them both would be a good idea.





After a bit of playtesting, I replaced Buzzwole with Tyranitar. With Buzzwole, I was really weak to Hydreigon and Dragapult. Tyranitar fixes this issue while providing me with an actual ghost resist.
​
Threats:

Nidoking can be really annoying against this team. I can't really switch into it so I can only revenge kill it with Blacephalon, Dragapult or Garchomp.

Tapu Koko outspeeds most of my team while hitting a ton of them super effectively. I guess you can revenge kill it with Dragapult and Blacephalon.

Satan is really annoying for my ghost spam core. With teleport, toxic and thunder wave, Satan is probably the simplest way to counter my team.



Rain teams can be really tough to deal with. I think the best way to shut them down is to try to kill Pelipper as soon as possible then go into Tyranitar to remove the rain immediately.
If you've made it this far, please give feedback on this team if you can. I'm having a ton of fun using this team so far and I'd like to know how it can be improved.
Last edited: