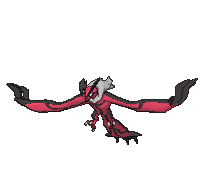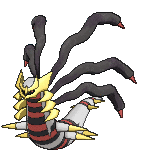 Introduction
Hey! As the title says, this is my first go at Ubers. I mostly mess around in Monotype and I'm definitely very inexperienced in competitive battling, but I like to think I'm muddling along alright. I pretty much made this team because I realised Xerneas was banned in Mono, and I wanted to try a Geo set; that's sort of what I built this team around. I've been playing with it over the last few days and it's quite fun, but there are definitely some areas for improvement where I'd appreciate a more experienced eye looking over things :D
I've basically just used the premade sets from the Smogon strategy dex (with a few tweaks here and there), and used the strategy guides and team options to try to pick teammates and roles that complement each other. Some areas I'd especially appreciate advice would be in checking Ho-oh, Groudon, and Kyogre (though the latter I can usually manage with Ferrothorn), as well as any advice/changes i could make to more efficiently manage my team's health in terms of working around status effects, chipped/lower HP (mainly for Giratina-O, Groudon, and Xerneas), and handling especially fast opposing threats (as my team has a bit of bulk, but is kind of lacking in the Spe department).
The Team

Xerneas @ Power Herb
Ability: Fairy Aura
EVs: 168 Def / 252 SpA / 88 Spe
Modest Nature
- Geomancy
- Moonblast
- Thunder
- Focus Blast
Xerneas is the Pokemon I chose to base the team around, as the concept of Power Herb-ed Geomancy really appealed to me. So far it's worked well for me as both a powerful setup sweeper and a good check for most Dragon & Dark types. Even without Geo, it still hits pretty hard, and Moonblast has great neutral coverage, with Thunder and Focus Blast for coverage. However, I find the lack of accuracy in Thunder and FB can really cost me at some important moments, forcing me to switch out of my boosted stats or lose Xerneas entirely. I've also found that statuses can really hinder its efficacy, and after a bit of chip damage from burn, tox/poison, or hazards, it feels a little frail. That being said, it's pretty fun to use, and has a good bit of versatility.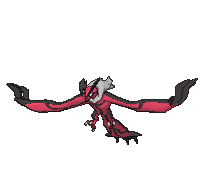 Yveltal @ Life Orb
Ability: Dark Aura
EVs: 4 Atk / 252 SpA / 252 Spe
Mild Nature
- Dark Pulse
- Oblivion Wing
- Taunt
- Sucker Punch
Yveltal puts in good work as a hard-hitting answer to Ghost and Psychic types, as well as helping me deal with support mons and status users. I frequently use Yveltal as my lead, since I value Taunt to stop hazard setters. Its speed helps a lot as an anti-lead(? I think that's the terminology), though even so it does get outsped a fair bit, forcing me to switch in Giratina-O to Defog and having it take chip damage/opening it up to status as the Taunt wears off. I opted for Sucker Punch over U-Turn as I really value the priority move against faster offensive threats, and the boosts from both Life Orb and Dark Aura mean it hits hard. It also works well with Taunt, since Taunt often forces the opponent to attack if they don't switch out immediately. I considered swapping SP to Pursuit for more power, but like I said, I value the priority. I find that I mostly use Oblivion Wing for sustain more than for dealing damage, but it's pretty valuable just for that. I prefer to only keep Yveltal in for a few turns, since it can rack up damage quite easily.

Groudon @ Red Orb
Ability: Drought
EVs: 252 HP / 56 Def / 200 SpD
Relaxed Nature
- Roar
- Precipice Blades
- Overheat
- Toxic
Groudon acts well as a check to Steel and Poison types that can threaten Xerneas, and I opted for a more defensive, bulky build and set recommended by the strategy dex so it can take a good few hits for other mons on my team, while dealing good mixed damage with either Precipice Blades or Overheat. I value the combination of its bulk and Roar which enables it to switch in, weather a few hits from a boosted opponent, and force them out. Currently, it's my main check for opposing Fire types, which includes enemy Groudons. Depending on the opposing Groudon's set, it can tear through mine in a few turns with Ground-type moves. I'm not sure what the best strategy around this is - whether I should change some EVs, or add a Water coverage move to it or another mon on my team?

Necrozma-Dusk-Mane @ Leftovers
Ability: Prism Armor
EVs: 252 HP / 4 Def / 252 SpD
Careful Nature
- Stealth Rock
- Toxic
- Sunsteel Strike
- Morning Sun
Necrozma-DM has been working well for me as a special wall and a sort-of Toxic staller. I find that I don't bring it in to set up Stealth Rock as often as I probably should, since its weakness to Fire can be a bit of a pain, but even having it set up later in games once its threats have been dealt with can be really helpful with cleaning up. I'm not amazed with Sunsteel Strike's damage, but I find it handy for bypassing Mimikyu's Disguise, since it's a good Fairy check. The combination of Morning Sun and Leftovers recovery mean I can kind of stall out ongoing damage on some Toxic'ed opponents, and it works well with Ferrothorn's Leech Seed for even more ongoing damage + recovery.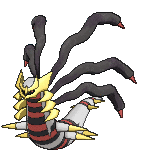 Giratina-Origin @ Griseous Orb
Ability: Levitate
EVs: 252 Def / 252 SpA / 4 SpD
Modest Nature
- Defog
- Hex
- Dragon Pulse
- Thunder Wave
Giratina-O is my Defogger, primarily, and I appreciate having a Levitate Defog user that's not Flying type, so it takes less damage from rocks and no damage from Spikes or T-Spikes - which is good, because I've found this thing is susceptible to being worn down or statused, given its lack of recovery and my team's lack of a Heal Bell/Aromatherapy user. Thunder Wave is invaluable for my team both to slow down fast threats and give my mons an occasional free turn, and combined with Griseous-boosted Hex, Giratina can deal a chunk of damage to statused opponents - provided they don't switch out after being statused, that is. Dragon Pulse hits a good number of things, and again, the boost from the Orb means it hits hard. I find that my team can struggle with Dark types occasionally, which can put Giratina on the back foot a little, but I think that's more due to my inexperience than it is to a fault in my team. While it resists Fire, it can't deal with Groudon super well as its SpD is fairly average and I can't usually use Hex due to Groudon's T-Wave immunity.
Chonk (Ferrothorn) @ Leftovers
Ability: Iron Barbs
EVs: 252 HP / 4 Def / 252 SpD
Sassy Nature
IVs: 0 Spe
- Protect
- Spikes
- Leech Seed
- Gyro Ball
This Ferrothorn has been described by my friend as "degenerate" and "disgusting", and I adore it. I really value its ability to stall and wear down opponents through a combination of Protect, Leech Seed, Leftovers recovery, and bulk. I can switch it in on most opposing mons it takes neutral damage from, and (especially if they're already affected with paralysis or toxic), throw out Leech Seed, spam Protect every other turn, and set up Spikes or use Gyro Ball for an extra bit of chip damage as I go, or a straight-up KO on some especially fast Fairy types. Its weakness to Fire can be a pain sometimes, especially since Groudon is really my best Fire check and that can struggle with an opposing Fire-user's coverage moves. However, given that Ferrothorn can handle Kyogre with relative ease and whittle away enemy teams' HP like a champ, it's probably the mon I'm most satisfied with on this team.
Conclusion
I think I tend towards a more defensive/stalling approach over full offense, which I like my bulky/defensive mons for, but that can leave me weak to setup sweepers since my only real way of dealing with that is forcing them out with Roar Groudon. It can also make me easy to set up hazards on, which negatively impacts my ability to switch around to deal with threats. My need to switch between threats also means that setting up my Geo Xerneas can be a problem, to the point that I'm considering changing it to Specs and abandoning my original Geo concept altogether, which would be a shame. I'm unsure if it would benefit me more to try to change my strategy/team around to be more offensive, or if I should lean into a slower/stall team. Either way, I imagine it will require a bit of research on my part :D
I've outlined my main concerns in the introduction (sustain, status, and faster opponents) but anything else you think could be useful - any glaringly obvious flaws, or any holes I could fill by tweaking a few stats or moves, or even a change in how I use a mon while battling - I'd really appreciate hearing it!
This is also my first time posting on any of the Smogon forums, so I apologise for any errors in formatting or ettiquette I may have made! I used the standard vers. 1 format from
this thread
, and got the sprite gifs from
here
.
Edit:
I forgot to add these replays of me using the team.
one of my first attempts
|
from today
Last edited: