Better Late Than Never: A Trick Room Team
Introduction
(AKA that part of the RMT where I talk about myself that you'll probably skip)
​
Allow me to introduce myself: I've been a unregistered lurker on the Smogon forums since the DPPt days and through most of BW. I finally joined a few weeks ago, and I've really enjoyed myself so far. With the advent of Pokémon XY, I decided that I'd try my hand at teambuilding for the new gen. So, this here is my very first RMT (and one of my rare excursions out of the wonderful world of Uncharted Territory and into, well... uncharted territory, I guess).

Originally, I planned on making some sort of really fun hyper-offensive singles team with Mega-Blaziken, like what I've been using in the Battle Maison, but then he got sent up into the viciously powerful world of Ubers, just like last Gen (sigh...). It's fair to say, then, that this team is quite a bit of a shift from my original idea. Well, I was browsing some editions of The Smog when I stumbled upon lucariojr's wonderful article in Issue 30, "A Beginner's Guide to Trick Room". (*cue dramatic pause in monologue*)

Now, I had always held a fondness for Trick Room teams and their users; it's a really unique playstyle and more than a bit tricky to pull off at times, and I admire that. However, I had never thought about using one myself. When I saw lucariojr's unabashed love of Gallade, though (you're not the only one, man), I decided to instead go a different route from my flaming-chicken-abusing offensive team, and here we are.

Also, a disclaimer: I interchange the Pokémon, their nicknames, and abbreviations for their names throughout this RMT (e.g. Mega-Kangaskhan, Big Momma, M-Kang, respectively). I'm sorry if that drives you insane.

The Team
(Better late than never, right? Heh. Heh. Heheheheh.)
​
Big Momma (Mega-Kangaskhan) (F) @ Kangaskhanite
Ability: Scrappy -> Parental Bond
EV's: 252 HP, 252 Atk, 4 Def
Nature: Brave (+Atk, -Spd)
IV's: 0 Spd
- Fake Out /Power-Up Punch (damn decisions...)
- Rock Slide Return
- Drain Punch
- Sucker Punch

This here is perhaps my personal favorite Pokémon of the team: Mega-Kangaskhan. She is probably the MVP of the set, acting as both a Fake-Out wielder to help get Trick Room set up from the get-go, and as a potent and bulky offensive 'mon, both in and out of Trick Room.

First, the EV's are fairly simple: fully-invested Attack to hit targets hard (even more so with Parental Bond giving all my moves a pseudo-STAB that can break sashes and subs), max HP to provide some bulk, and the remaining 4 in Defense, as Fighting-types are generally physical. The Brave nature is to beef up M-Kang's offensive potency even more, and to bring down her (admittedly high for TR) base 100 Speed.

Now, to the fun part of the set: the moves*.

As suggested below, I decided to swap out Fake Out with something a bit more offensive - Power-Up Punch. Yes, sometimes, I do somewhat miss the Fake Out support to get Trick Room up, but if I predict hits on Chandy, I can just use Protect. Anyway, as long as I'm careful with the opponent switching into Ghost-types, PuP allows Big Momma to set-up for a wrecking spree.
Another replacement here: I swapped out Rock Slide for some lovely Normal-STAB in Return. Originally, I desired utility over sheer power, but things change. Return provides great neutral coverage. 102 base power + STAB + Parental Bond + potential boosts from Power-Up Punch = a motherly rampage.

Drain Punch serves to further improve Big Momma's bulk and attacking prowess, providing both coverage and recovery, the latter of which is complimented by Parental Bond (goddamn that's one nifty ability).

Lastly, Sucker Punch provides Big Momma with some priority, alleviating her low Speed outside of Trick Room (and her relatively high Speed within it). Sucker Punch laughs in the face of many powerful threats like Mega-Gengar just plain ole' regular, unbanned Gengar and Mega-Alakazam, slamming them with tons of damage with the proper prediction.

Crock Pot ®* (Chandelure) (M) @ Focus Sash
*(A. Get it? Because he's slow. And a Fire-type. Hahaha... B. Yes you need the registered symbol, don't even think about removing it you register-infringing criminal)
Ability: Flash Fire
EV's: 252 HP, 252 SAtk, 4 SDef
Nature: Quiet (+SAtk, -Spd)
IV's: 0 Spd
- Trick Room
- Heat Wave
- Shadow Ball
- Protect
Introducing the other half of my (patent-pending!) M-Kang/Chandy doubles lead: Chandelure (AKA Crock Pot ®), my main Trick Room setter and Special powerhouse under its effects. This guy, along with his lead partner M-Kang (sounds like a Mortal Kombat character), has decimated many a team and forced many a ragequit.

The EV's are essentially a Special-equivalent of Mega-Kangaskhan, with 252 EV's in HP for bulk and 252 in Special Attack, and 4 in Special Defense. This optimizes Chandelure's incredible base 145 Special Attack and allows my lead pair to hit hard from both sides of the spectrum, while adding to its less-than-stellar bulk. A Quiet nature beefs his outstanding Special Attack even more, and allows him to outspeed many threats in Trick Room, and several opposing Trick Room setters outside of it (lookin' at you, Cressalia) to put on the hurt from the get-go and leave the Trick Room-ing to the opponent.

I decided to go with a Focus Sash on Chandy, as this (along with Big Momma's Fake Out support) allows him to set up.

This particular Chandelure has a fairly-regular (at least by BW doubles standards) moveset, but explanations are still in order.

Trick Room is absolutely the biggest part of the set. With support from Mega-Kangaskhan, Chandelure is able to set up Trick Room nearly 100% of the time, and with Crock Pot ® one of only two Trick Room setters on the team, this is huge.

Heat Wave is standard on Chandelure in doubles, and it's not hard to see why. A base 95 STAB spread move with 90% accuracy? Yes please. The 10% burn chance is icing on the cake, potentially crippling physical attackers.

Shadow Ball is another standard move on Chandelure, and provides him with another STAB, forming great coverage with Heat Wave. The 10% chance of lowering the opponent's Special Defense is extra, softening up the opposition to his STAB's.

Protect is a necessary part of almost any doubles set, and it serves to protect (hue hue hue) Chandelure from any predicted attacks. It also defends Chandy from any spread moves from the team (which is only an issue with Earthquake - seriously, we'll get there) and preserves his Sash if I don't find the lead situation favorable enough for setting up Trick Room.
Psilocybinny (Amoonguss) (M) @ Sitrus Berry
Ability: Effect Spore
EV's: 252 HP, 4 Def, 252 SDef
Nature: Sassy (+SDef, -Spd)
IV's: 0 Spd
- Spore
- Rage Powder
- Giga Drain
- Sludge Bomb
Now, before I begin, I believe an explanation is in order: what the hell is up with this guy's name? Well, here: shrooms. Really, the name is a perfect fit; like psychedelic mushrooms, Amoonguss is strange, fun to use (from what I've heard), and generally a fungi (I'm so sorry you guys). However, I digress.

Amoonguss is here to act as support for the rest of my team, putting to sleep key threats and tanking many hits meant for other 'mons through Rage Powder. In order to best fulfill this role, Psilocybinny has maxed bulk, with full investment in HP and Special Defense, and the remainder is delegated to Defense. A Sassy nature increases his already-high bulk, while slowing him so that he can quickly incapacitate threats with Spore in Trick Room.

As for Psilocybinny's item, I opted for a Sitrus Berry for its relatively large boost in HP upon use. I was tossing around the idea of using either Leftovers or Black Sludge, but with the former already being put to use by another teammate and the latter being detrimental to the rest of my team if Tricked onto them, I went ahead and chose a berry.

Ability-wise, I went with Effect Spore over Regenerator, as Amoonguss wasn't going to be switching in and out enough to make good use of the healing, and Effect Spore's potentially crippling effects on physical attackers are much appreciated when they crop up, seeing as I have no totally dedicated status spreader (though Amoonguss is decent in that role here). Not that I necessarily need one, but still.

Amoonguss, like Chandelure, runs a fairly standard set here - obviously there must be a reason they're standard, then.

Spore
has been known as a devastating tool in the hands of Breloom, seeing as it's the only 100% accurate Sleep move thus far, it's not hard to see why. Under the effects of Trick Room, Amoonguss will almost always go first, barring priority. This allows Psilocybinny to incapacitate threats before they have a chance to attack. Although Amoonguss's ability Effect Spore's random statuses can sometimes ruin the chance to put an opponent to sleep with Spore, they can also just as easily take out a Lum Berry to clear the way for sleep on occasion.

Rage Powder
is the key move of the set, letting Psilocybinny draw in attacks and tank them easily with his considerable bulk so that my setters can get Trick Room up successfully. Rage Powder's +2 priority allows Amoonguss to sponge most moves to protect his teammate. The only attacking moves with a priority greater than +2 are Pursuit and Fake Out, so unfortunately, Rage Powder does not protect switches or prevent Fake Out's (though with prediction, I can probably Spore something that tries to do so to a teammate).

Giga Drain is a nice STAB move for Psilocybinny, as it provides him with a form of recovery outside of a one-time-use item. It also prevents Amoonguss from being total Taunt bait.

Sludge Bomb is another STAB move, and its main use is its decent 30% poison chance to weather walls, as well as hitting Grass- and Fairy-types, or those who resist Amoonguss's Grass attacks.

Krang (Reuniclus) (M) @ Life Orb Mental Herb
Ability: Magic Guard
Shiny: Hell yes
EV's: 172 HP, 28 Def, 252 SAtk, 56 SDef
Nature: Quiet (+SAtk, -Spd)
IV's: 0 Spd
- Psyshock
- Trick Room
- Focus Blast
- Protect/Recover/Shadow Ball

This guy should be familiar to every Trick Room player, and most anyone involved in OU last gen. This Psychic powerhouse serves as my other Trick Room setter, and is an incredible attacker within it.

The EV spread is, for now, what Reuniclus primarily used in BW Doubles. Max Special Attack to hit incredibly hard, with a bit of investment in both defenses and the rest in his HP stat. A Quiet nature further boosts his offenses while lowering his Speed - something of great use in Trick Room.



Here, I originally had a Life Orb for its power and how well it synergized with Magic Guard. However, with the suggestion below and experience being Taunted, Attracted, and Confused (once all three in one turn, no less), I chose to switch to a Mental Herb, primarily to prevent Taunt from ruining my Trick Room setup.



Reuniclus's amazing ability Magic Guard allows him to only take damage from direct attacks. Not status, not weather, not entry hazards -
just
head-on attacks. A slow Trick Room setter/abuser with a good offense that's immune to weather and hazards and difficult to kill? I'll take three.

Now, bear with me here: this is the one set that I've still yet to nail down entirely. Most of it's set in stone, though.

Psyshock is a decent base 80 power move that serves as Krang's STAB. I forwent
(yes that is the past tense of forgo, you uneducated swine)
Psychic on this set, for although it has a slightly higher base power and a chance to lower Special Defense, I wanted Krang to be able to hit from both sides, as well as to pry his way through the ubiquitous pink blobs, if need be. That being said, however, many 'mons hit super-effectively by Psychic attacks are weaker on the Special side, so I'd be more than willing to swap for Psychic is there is good reason to.

Trick Room is absolutely mandatory on Krang, who loves to abuse his low Speed to wreck faster Pokémon. Being one of only two TR setters on my team, Krang really needs Fake Out or Rage Powder support.

Focus Blast is unfortunately a huge gamble with its low 70%, but one that is well worth the risk on Reuniclus, as it provides powerful coverage against all the Steel- and Dark-types who otherwise mock his STAB.

Now, here's where we reach a bit of an choice. I've been running Protect on Krang very well, allowing him to dodge predicted attacks while the threat is neutralized. However, Recover is an option that I've been tossing around a lot lately, complimenting Krang's ability and bulk quite well. Occasionally, I'll find myself wishing for more coverage, which is why I'm still tempted to use Shadow Ball. Unless a legitimate reason is brought up for me to switch, I think I'll be sticking with Protect for a while though.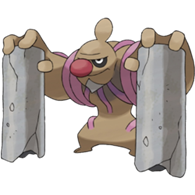 Cassius (Conkeldurr) (M) @ Flame Orb*
Ability: Guts*
EV's: 252 HP, 252 Atk, 4 SDef
Nature: Brave (+Atk, -Spd)
IV's: 0 Spd
- Mach Punch
- Rock Slide
- Drain Punch
- Detect
In this corner, weighing in at 191.8 lbs, we have the heavyweight behemoth Cassius! Offensively, this guy is absolutely nuts, albeit more than a bit slow. Inside of Trick Room, however, Cassius floats like a butterfly and stings like a bee.

(yes I know I could have said Butterfree and Beedrill, respectively, but I'm trying to spare you guys, ok?)

Anyway, the EV's are fairly straightforward: max investment in Attack for max damage, and another 252 EV's in HP and 4 in Special Defense for bulk. A Brave nature further buffs Cassius's massive Attack stat, while optimizing his Speed for Trick Room.

Unlike the popular Bulk-Up Conkeldurr, this set focuses more upon hitting as hard as possible while Trick Room is up; thus, I chose to go with a Flame Orb along with the ability Guts. This makes Cassius effectively status-proof, and provides a x1.5 boost to all of his attacks. Yes, the burn does damage him each turn, but this is alleviated with Drain Punch.

Cassius throws a heavy overhand right, nailing the opposition square in the jaw! And... He launches a quick left jab to the neck! His opponent is down for the count! Ladies and gentlemen, this may be it! . . .

Mach Punch is Cassius's "quick jab to the neck", and backed by STAB and Guts, is actually stronger than Breloom's Technician own Mach Punch. Although Cassius will generally be going first in Trick Room, Mach Punch's priority allows him to pick off opponents with a debated KO punch whose controversy still plagues the sport of boxing today a power priority attack.

Rock Slide is a powerful move in Cassius's arsenal, smashing through his Flying-type weakness and providing him with a way to hit both opponents for killer damage. Fighting+Rock is also a decent type coverage pairing, hitting all but 17 Pokémon for at least neutral damage. Additionally, the flinch chance on Rock Slide is a nice bonus, and as he generally goes first in Trick Room, can abuse this to try to stop an attacker.

Drain Punch serves as Cassius's main STAB, and with a decent 70 base power and a boost from Guts, doles out hefty damage to any 'mon that doesn't resist it (and to some that do). More importantly, it provides a form of recovery to Conkeldurr, offsetting the effects of his burn and prolonging his career until he eventually succumbs to Parkinson's his burn damage.

Detect is a little unorthodox choice on a Pokémon that has access to the usually-superior Protect, given Protect's higher PP. However, Cassius's role is to pummel the opponent while under the effects of Trick Room, and should not have to Protect-stall, which makes the move's PP a moot point. Detect has a slight advantage in its obscurity, as it is less likely to be Imprisoned. It's a small benefit, but helpful nonetheless. Detect also allows Cassius to dodge KO's for the threat to be eliminated and to guard himself from his unofficial partner's Earthquake.

*Although Status+Guts Conkeldurr has been working out well enough for my liking, I must ask: would an all-out attacking set with Sheer Force/Iron Fist, a Life Orb, and Drain Punch/Mach Punch/Ice Punch/Thunder Punch be more effective? I think that although he would have a slightly lower damage output on his STAB's, the additional coverage of these moves would allow him to take advantage of his limited amount of time under Trick Room much more efficiently.

Clay (Landorus-T) (M) @ Leftovers Yache Berry
Ability: Intimidate
EV's: 168 HP, 252 Atk, 88 Spd
Nature: Lonely (+Atk, -Def)
- U-turn
- Protect
- Earthquake
- Hidden Power Ice

...and in this corner, weighing in at 149.9 lbs, we have the bulky offensive pivot, Clay!
(ohohoho double entendre with the name there)
This here is an interesting Pokémon - not quite offensive, per say, but not defensive either. At first glance, his base 91 Speed with a Speed-neutral and (heaven forbid) investment in the stat seems both a bit too slow for a regular team and too fast for Trick Room. I have some explaining to do, trust me.

The EV's are a strange hybrid of his sets last gen, as well as a bit of my own tinkering. Max Attack investment isn't too strange, nor is 168 HP. Sure, 168 is a bit strange of a number, but this is all due to Clay's Speed investment. Clay is optimized to try to perform well both inside and outside of Trick Room, and thus he has a partial investment in Speed. Outside of Trick Room, 88 Speed EV's allow Clay to outspeed threats such as Adamant Dragonite, Modest Heatran, Jolly Breloom, and Tentacruel, all of whom (according to Smogon's Gen V analysis) have a bone to pick with him. Inside Trick Room, however, Clay can outspeed and U-turn threats like Starmie and Greninja (both of which usually carry Ice Beam, a sure OHKO). A Lonely nature is to support Landorus-T's fantastic base 145 Attack while not sacrificing damage on Hidden Power Ice. I opted for Lonely as opposed to Naive, as his Physical bulk with Intimidate is still higher than that of his Special, and many of the types and moves that threaten Landorus-T most are Special.



Leftovers were originally the item of choice here, but I've been told it'd be better to switch to a Yache Berry, and tired of even the weakest Ice moves KO'ing Clay, I made the change.



U-turn is what makes Clay into the great offensive pivot he is. Simply U-turn into a resisting teammate for a predicted attack, and switch back in next turn if needed. Otherwise annoying Pokémon like Celebi are wrecked by U-turn, gaining me advantage both in number of Pokémon and in momentum.

Protect, if you haven't noticed by now, is a critical part of most of my sets on this team, especially so on this guy; its applications are innumerable. The most obvious ones are to defend against a predicted Ice attack while a teammate takes out its user or to scout moves. Sometimes, however, I've found that, depending on the threat at hand, it can actually be advantageous to use Protect to stall the last of Trick Room to outspeed and KO certain Pokémon once it ends. This is very situational, but definitely an excellent tactic when necessary.

Earthquake. Seriously, 'nuff said right there. Base 100 power STAB spread move coming off of base 145 Attack is incredibly powerful, and one of the main reasons some of my other Pokémon run Protect; no one wants to take that kind of move, especially not my own Pokémon.

Originally Rock Slide, Hidden Power Ice has proven itself to be worth running a -Def nature in place of Adamant. With no other way to truly counter things like Dragon-types and Gliscor except to try to overwhelm them with STAB, an Ice move has made things a lot easier. Although an un-STAB base 60 move is definitely not the ideal, it's worth it against several x4 weak Pokémon such as Rough Skin + Rocky Helmet Garchomp
(YOUR CONTACT-PUNISHING SHENANIGANS HAVE NO PLACE HERE, LANDSHARK)
, Dragonite (once Multiscale's been broken)
, and Gliscor.
Threats/Weaknesses
(Will be updated as new ones are brought to light by you, the raters)
​
Hail Teams (and more specifically, [Mega-] Abomasnow)
With either form of Abomasnow outspeeding my leads in Trick Room, it's important to be able to handle this guy. The easiest way to dispatch him is to just forgo a turn of Trick Room and instead opt for a Heat Wave, which will surely OHKO (so long as the move connects). However, the last thing any team needs is residual damage from weather, and my team is no different.



Another thing about hail that nails my team: Blizzard-spamming. This totally eliminates the point of Rage Powder support from Psilocybinny, as Blizzard just hits both of my Pokémon. That, coupled with Blizzard's base 110 power, STAB, and 10% freeze chance, really hurts. Weather has declined in usage with the nerf of inducers, but it's still out there.



Baton Pass and Setup Sweepers
This is a fairly self-explanatory point: without any sort of phazer, setup Pokémon can easily try to boost up (and pass those boosts); I remember a critical move of mine missed, allowing for a Swords Dance to be passed Mega-Lucario (along with a Cosmic Power, for some reason). That nearly wrecked me. If necessary, I may have to give Mega-Kangaskhan Dragon Tail over one of her other moves.
Other Trick Room Teams
Another fairly-straightforward point: other Trick Room teams can either abuse the Trick Room I set up or potentially go for their own and cancel mine out. I've fared pretty well against like-minded teams thus far, but this is still something to consider.

Entry Hazards
I have no Defog/Rapid Spin user. Let that sink in for a moment. I can't handle entry hazards. This hasn't been too big of an issue, as I don't really have any Pokémon weak to Stealth Rock that will be switching in and no Sashes to be broken, but it's still definitely an issue.

I've been tossing around the idea of replacing Big Momma the Mega-Kangaskhan with a Mega-Blastoise. Blastoise has access to both Fake-Out and Rapid Spin, and the Water coverage and nice defensive typing are also boons. However, with my other lead being Specially-based, I'm unsure of how effective a lead he would be.

"Goodstuff" Teams and Incredible Offensive Pressure
My team isn't so good when it comes to handling these types of teams. Sure, Trick Room turns speedy sweepers on their heads, but a balanced team isn't going to be
just
fast Pokémon. They prepare for the threat of Trick Room, and that can spell doom (and inadvertent rhymes in my RMT) for my team.

Status (i.e., "You got Burn all over my physical attacker!")
Although it is not always seen on Doubles teams, a cleric is helpful to rid Pokémon of any status effects that may be crippling. Like with Defogers/Rapid Spinners, I don't have one.
Big Momma (Kangaskhan-Mega) (F) @ Kangaskhanite
Ability: Parental Bond
EVs: 252 HP / 252 Atk / 4 Def
Brave Nature
IVs: 0 Spd
- Power-Up Punch
- Sucker Punch
- Drain Punch
- Return

Crock-Pot ® (Chandelure) (M) @ Focus Sash
Ability: Flash Fire
EVs: 252 HP / 252 SAtk / 4 SDef
Quiet Nature
IVs: 0 Spd
- Trick Room
- Heat Wave
- Shadow Ball
- Protect

Psilocybinny (Amoonguss) (M) @ Sitrus Berry
Ability: Effect Spore
EVs: 252 HP / 4 Def / 252 SDef
Sassy Nature
IVs: 0 Spd
- Spore
- Rage Powder
- Giga Drain
- Sludge Bomb

Krang (Reuniclus) (M) @ Mental Herb
Ability: Magic Guard
Shiny: Yes
EVs: 172 HP / 28 Def / 252 SAtk / 56 SDef
Quiet Nature
IVs: 0 Spd
- Psyshock
- Trick Room
- Focus Blast
- Protect

Cassius (Conkeldurr) (M) @ Flame Orb
Ability: Guts
EVs: 252 HP / 252 Atk / 4 SDef
Brave Nature
IVs: 0 Spd
- Mach Punch
- Rock Slide
- Drain Punch
- Detect

Clay (Landorus-Therian) @ Yache Berry
Ability: Intimidate
EVs: 168 HP / 252 Atk / 88 Spd
Lonely Nature
- U-turn
- Protect
- Earthquake
- Hidden Power [Ice]
And here is where I'll be keeping any suggested changes to the team that I've found to work pretty well and at least deserving of mention. If I find that they're better than the original, I'll make 'em a funky color in the hide box and apply them above.
Swap out Conkeldurr for a Thick Fat Assault Vest Hariyama in order to better handle my potential hail/Blizzard-spam issues (which admittedly haven't been a huge deal), as per the below set:
Cassius (Hariyama) (M) @ Assault Vest
Ability: Thick Fat
Evs: 252 HP / 252 Atk / 4 SDef
Brave Nature
IVs: 0 Spd
- Close Combat
- Ice Punch
- Fake Out
- Bullet Punch
Give Reuniclus a Mental Herb to prevent Taunt

Change Mega-Kangaskhan's set to something a bit more offensive without Fake Out

Give Landorus a Yache Berry

Put Fake Out back on Mega-Kangaskhan
So, what do you think?
Last edited: