Floral Fury
Hey all! I'm back with another team I've absolutely loved using.
With the Cuphead DLC Recently coming out, and me getting obsessed with the music again, along with seeing potential in bringing Tapu Bulu back in the spotlight, I started to think. "Maybe I'll give it a shot." and it's worked to great effect! Tapu Bulu is easily my favorite of the Island Guardians of Alola, so it was super fun messing around with this on ladder.
Anyway, without further ado, I suppose I should stop hyping it up and get into the actual team itself.
The Paste:
https://pokepast.es/457f32c6a2357333

THE SQUAD
​
"C+ Is Bull" (Tapu Bulu)
Ability: Grassy Surge
Item: Choice Band
Nature: Adamant
EVs:
32 HP
/
252 Atk
/
224 Spe
Moves:
-
Horn Leech
-
Close Combat
-
Stone Edge
-
Zen Headbutt
Tapu Bulu is a great wallbreaker that sets itself apart from Rillaboom by succeeding exactly where Rillaboom's Choice Band failed. Having the coverage to pressure its checks to great effect, and can sometimes win on its own if they can't outdamage Horn Leech!
The EVs for Tapu Bulu allow for Tapu Bulu to gain an extra point of Recovery from Grassy Terrain, while still outspeeding Base 60's, and one extra point to outpace Pokemon trying to also creep those Base 60's.
Zen Headbutt is chosen over Wood Hammer, as to my knowledge Wood Hammer does not pick up any notable KOs Tapu Bulu's other moves don't already, and Zen Headbutt allows Bulu to Snipe and Pressure Buzzwole on the switch
252+ Atk Choice Band Tapu Bulu Zen Headbutt vs. 152 HP / 0 Def Buzzwole: 216-256 (54.9 - 65.1%) -- guaranteed 2HKO after Grassy Terrain recovery
Tapu Bulu's defensive utility also allows it to find a surprising amount of oppertunities to switch in on common threats and turn the tables on them.
+2 252 Atk Garchomp Aqua Tail vs. 32 HP / 0 Def Tapu Bulu: 87-103 (30.1 - 35.6%) -- guaranteed 4HKO after Grassy Terrain recovery (I am aware Garchomp can run Fire Fang, though to my knowledge it prefers Aqua Tail to deal with Lando.)

252 Atk Zeraora Plasma Fists vs. 32 HP / 0 Def Tapu Bulu: 66-78 (22.8 - 26.9%) -- possible 5HKO after Grassy Terrain recovery

252 Atk Urshifu-Rapid-Strike Close Combat vs. 32 HP / 0 Def Tapu Bulu: 87-103 (30.1 - 35.6%) -- guaranteed 4HKO after Grassy Terrain recovery

252 Atk Choice Band Urshifu-Rapid-Strike Close Combat vs. 32 HP / 0 Def Tapu Bulu: 130-153 (44.9 - 52.9%) -- guaranteed 3HKO after Grassy Terrain recovery

0 Atk Landorus-Therian Earthquake vs. 32 HP / 0 Def Tapu Bulu in Grassy Terrain: 33-39 (11.4 - 13.4%) -- possibly the worst move ever

0 Atk Ferrothorn Power Whip vs. 32 HP / 0 Def Tapu Bulu in Grassy Terrain: 71-84 (24.5 - 29%) -- possible 5HKO after Grassy Terrain recovery

0 SpA Gastrodon Clear Smog vs. 32 HP / 0 SpD Tapu Bulu: 140-168 (48.4 - 58.1%) -- 53.1% chance to 2HKO after Grassy Terrain recovery

8 Atk Hippowdon Earthquake vs. 32 HP / 0 Def Tapu Bulu in Grassy Terrain: 27-32 (9.3 - 11%) -- possibly the worst move ever
"Olly" (Kartana)
Ability: Beast Boost
Item: Choice Scarf
Nature: Jolly
EVs:
252 Atk
/
4 SpD
/
252 Spe
Moves:
-
Leaf Blade
-
Knock Off
-
Sacred Sword
-
Smart Strike
Extremely Standard Kartana Set, synergizes very well with Tapu Bulu, as it is able to knock off boots from flying types that may try to check Kartana, and appreciates the boost to Leaf Blade Grassy Terrain Provides, not only can it function as a revenge killer with Scarf, but Grassy Terrain Boosted Leaf Blade allows Kartana to have much higher cleaning potential that can force the opponent to play much more aggressively to try and keep it at bay.
"A Real Shocker" (Zapdos)
Ability: Static
Item: Heavy Duty Boots
Nature: Timid
EVs:
4 HP
/
252 SpA
/
252 Spe
Moves:
-
Thunderbolt
-
Hurricane
-
Heat Wave
-
Roost
Offensive Zapdos has very natural syenergy with Grass Spam, and is a devastating wallbreaker here because of it. It appreciates Kartana and Tapu Bulu pressuring the bulkier ground types popping up in Hippowdon, and Gastrodon, and Zapdos is able to break through other Flying types, and opposing Grass Types if all else fails. Roost also allows Zapdos to stick around for a while, and be a looming threat constantly throughout the game.
"Why he Ourple" (Slowbro)
Ability: Regenerator
Item: Colbur Berry
Nature: Relaxed
EVs:
252 HP
/
200 Def
/
56 SpD
Moves:
-
Future Sight
-
Body Press
- Slack Off
-
Teleport
A very standard Slowbro. Colbur Berry and Body Press lets it check Weavile for this team, and the Extra Sp. Def allows for Slowbro to help pivot around Volcanion and Tapu Lele. Future Sight is especially helpful on this team, as it can sometimes force scenarios where it can force a KO, especially if their main Grass Check is Buzzwole or Tangrowth. Between the two Grasses, Knock Off, Bulu's Coverage, and Future Sight, it becomes extremely difficult for the opponent to keep their check healthy enough to check both, so Slowbro's presence is appreciated greatly.
Ironclad (Heatran)
Ability: Flash Fire
Item: Leftovers
Nature: Careful
EVs:
252 HP
/
4 Def
/
252 SpD
Moves:
-
Magma Storm
-
Earth Power
-
Stealth Rock
- Protect
Possibly the best defensive Pokemon to possibly use in tandem with Grassy Terrain. With the Extra recovery making it a much more sturdy check to what it's supposed to, and the earthquake weakening being great for clutching late game scenarios. It seems like this Pokemon was almost Tailor Made for Grass Spam. Walling things like Blacephalon, Dragapult, Volcarona, Galarian Slowking, and Tapu Lele all day, while also Providing Stealth Rock to make the job of flying types way harder, since Kartana is able to easily knock their boots off.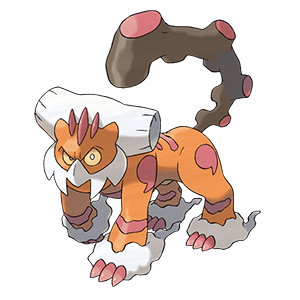 Calrissian (Landorus-Therian)
Ability: Intimidate
Item: Leftovers
Nature: Careful
EVs:
252 HP
/
56 Def
/
184 SpD
/
16 Spe
Moves:
-
Earthquake
-
U-Turn
-
Toxic
-
Defog
aaaaaaaand there's the obligatory Landorus.
Can you blame me though? It's no secret it's such a good glue Pokemon for a good majority of teams. 56 Defense lets it avoid an OHKO from a +2 Aqua Tail from Garchomp after Intimidate, and 16 Speed EVs enables Landorus to Outspeed Adamant Choice Band Tyranitar. Its ability to provide defog, and apply further pressure to the opponent with U-Turn and Toxic makes it great at keeping up Momentum, and helps with positioning Tapu Bulu and Kartana greatly, and Landorus finds itself very often luring in Pokemon for those two to take Advantage of.
OVERVIEW + WEAKNESSES
​
Overall, this is a team I'm extremely proud of! It's one of my most fun teams I've created in a good while (at least to me) and takes advantage of a lot of common defensive cores incredibly well. Though, that's not to say this team is Flawless, there are still some issues I would like to try and Iron Out if possible.
NIDOKING
Nidoking is absolutely relentless into this team, while it struggles to find oppertunities to switch in, when it does, it's very hard to scare it out after the fact. Nidoking does have to play extremely aggressively though, lest it end up being Beast Boost Fodder later in the game.
TYRANITAR
Like Nidoking, it struggles to find switch in oppertunites, but can very easily wreck house if it does. Also like Nidoking, it has to play extremely aggressively, and have the guts to do some incredibly risky double switches, unless it wants Kartana to completely run it over later in the game.
VICTINI
V-Create Button Clicks V-Create, what a Surprise. Jokes aside, forces extreme mind games, that the team may struggle to play around if it's positioned correctly.
Anyway, that about wraps it up I think, thanks for going through all this, any sorta feedback is appreciated, and I will try to get back to responses in this thread ASAP. Again, thank you for reading through this, and I'll see you guys around!
Last edited: