I've continued my Battle Pyramid streak to a new record of
280 floors
. I also recorded the last 7 floors and the fight against Brendan's gold symbol team.
Edit: Not sure what's going on at the beginning when it looks like a rewind. I cut the footage at about that mark to have 2x speed for the team summary and 4x for the gameplay, so it's most likely an editing error. I absolutely do not use rewinds or save states on my main save file.
Here's a re-upload with no editing.
"monke"
Slaking @ Choice Band (Jolly)
Double-Edge / Shadow Ball / Earthquake / Hyper Beam
EVs: 4 HP/ 252 Atk / 252 Spe [167 Speed]
IVs: Perfect
"Latios-Z"
Latios @ Lum Berry (Timid)
Psychic / Dragon Claw / Thunderbolt / Calm Mind
EVs: 36 Def / 252 SpA / 220 Spe [173 Speed]
IVs: Perfect (from R/S battle tower)
Blissey
@ Leftovers (Bold)
Seismic Toss / Toxic / Soft-boiled / Aromatherapy
EVs: 172 HP / 252 Def / 84 Spe [86 Speed]
IVs: 0 Atk
Credits: BIG thanks to the Bank of Hoenn for providing this Blissey, and to @
Runeblade14
's
Pike Blissey
for the EVs.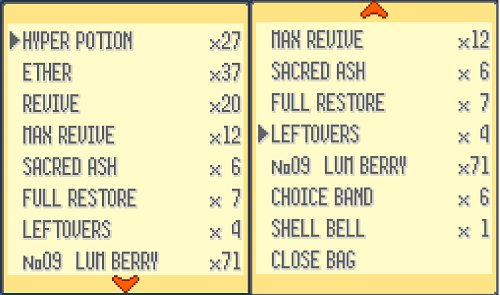 The Slaking and Latios from my
previous team
were both swapped out for +Speed nature versions. I think the tradeoff in power is well worth it, and for Slaking I've fully invested in speed to get the chance for speed ties in the 167 tier. I tried switching out Latios for a timid Gengar with Psychic/Fire punch / Thunderbolt / Ice punch for a steel round but Gengar ate up a LOT of resources and just wasn't worth it.
As for changes in technique: I started having Blissey heal herself in a wild battle instead of using hyper potions on her. It's kind of an obvious strategy but it took me a while to trust her to survive. I also relied on running from battle a lot more, despite posting a while back about how unreliable it is. Failing to flee gives a decent bonus to future flee chances. With Slaking as lead I'll often try for the OHKO and flee on every turn afterward (unless the wild Pokémon isn't a huge threat).
I dumped my max elixirs for fluffy tails, then swapped fluffy tails for a shell bell. I'm still not really sure how to fill that last item slot since the shell bell isn't very useful. Hyper potions and Blissey cover my HP-restoring needs. Ethers and good teambuilding keep PP in good shape. Lum berries and Blissey cover status ailments. Full restores, revives, max revives, and sacred ashes cover my worst case scenarios. Choice band and leftovers are vital held items. Then one extra slot. Maybe I should switch to leppa berries or a boost item? X-defends could help Latios and Blissey in 2v2 battles.
Overall I'm pretty happy with this team. It certainly works! Steel and self-destruct rounds are still a pain but it's a manageable pain.
Last edited: