CLOSED! Thanks for your participation everybody!
Hi all,
All the pokemon I'm currently offering have Pokerus.
Right now you can get Lunala, which is nicknameable, Solgaelo, and shiny Tsareena.
All of their moves are pp maxed.
Rules:
1)You can deposit anything other than Yungoos, Abra, Rattata and starters. (Breedjects are always welcome :))
2) List your IGN (in-game name), the level and gender and the species of pokemon you're depositing, obviously.
3) Your message must be "I want to trade for a Pokemon that is strong in Battles."(credit to Psiana for some of these rules).
4)Make sure to request for 91 or higher to avoid snipes.
5) Not really a rule but you're likely to get your pokemon faster on the weekend because of my schedule.
Please, no more Vulpix's or Gible's! The GTS is flooded with them.
Please read: If you don't get your Pokémon within 3 days, I strongly advise you remove and redeposit with something higher leveled and/or less common. Thanks.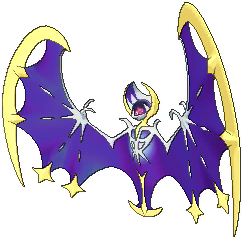 Level 100 Lunala@ Lucky Egg
Dive Ball
Modest Nature
Hyper Trained
252 spa 252 spe 4 hp
Pokerus? Yes
Nicknameable? Yes
Moongeist Beam
Moonblast
Psyshock
Calm Mind
Level 100 Solgaleo @ Gold Bottle Cap
Ultra Ball
Jolly Nature
Hyper Trained
252 att 252 spe 4 hp
Pokerus? Yes
Nicknameable? No
Sunsteel Strike
Earthquake
Flare Blitz
Zen Headbutt

Level 100 Tsareena @ Gold Bottle Cap
Standard Pokeball
Jolly Nature
Hyper Trained
Female
Ability: Queenly Majesty
252 att 252 spe 4 hp
Pokerus? Yes
Nicknameable? No
Rapid Spin
Aromatherapy
Trop Kick
High Jump Kick
Level 100 Politoed @ Destiny Knot
Beast Ball
Calm Nature
6iv
Male
Ability: Drizzle
252 hp 252 spD 4 Def
Pokerus? Yes
Nicknameable? No
Scald
Rest
Toxic
Encore
Last edited: