Hello everyone, welcome to my very first RMT. It's a UU team I've made, and at the moment it's hovering between 1550 and 1600. I wanted to use some Pokémon I felt were under utilised in UU, namely Moltres and Durant. The team in general is offensive, although it's slower and bulkier than most teams I make. So without further ado, let's-a go!
My Main Sweeper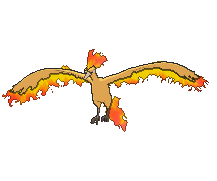 Moltres @ Life Orb
Ability: Flame Body
EVs: 4 Def / 252 SpA / 252 Spe
Modest Nature
- Agility
- Flamethrower
- Hurricane
- Roost
Late game, this thing is awesome. If it gets the chance to set up, it can end games there and then, as beyond Special walls like Blissey there's virtually nothing it can't 2HKO. Agility doubles Moltres's Speed, letting it outrun absolutely everthing. Flamethrower serves as Moltres's reliable STAB, and works when I don't want to risk a Hurricane miss. Hurricane is the more powerful STAB, although its accuracy does make it somewhat risky to use. Roost means Stealth Rock doesn't completely cripple Moltres - it also means I can dodge Sucker Punches. EVs maximise Speed and power - Life Orb gives Moltres some more power. Flame Body is Moltres's best ability, and can also let it cripple physical attackers if they use a contact move.
My Wallbreaker / Revenge Killer
Durant @ Life Orb
Ability: Hustle
EVs: 252 Atk / 4 Def / 252 Spe
Jolly Nature
- Iron Head
- X-Scissor
- Superpower
- Rock Slide
Another BL2 Pokémon, Durant is pretty fast and hits very hard thanks to Husle. Iron Head and X-Scissor get STAB, and 2HKO most things that doesn't resist them. Superpower deals with the Steel types that do, although it still doesn't 2HKO Mega Aggron. Rock Slide hits Fire types on the switch like Chandelure and Entei, although I still don't leave Durant in on them. The EVs maximise Speed and power. Hustle is the only useful ability Durant has.
While Durant's a solid Pokémon, I may or may not switch it out for Life Orb Alakazam or Azelf as they're even faster and won't miss nearly as often.
My Secondary Sweeper / Wallbreaker

Toxicroak @ Life Orb
Ability: Dry Skin
EVs: 252 Atk / 4 Def / 252 Spe
Jolly Nature
- Swords Dance
- Gunk Shot
- Drain Punch
- Sucker Punch
Toxicroak can deal with just about all the Pokémon Moltres struggles with - Suicune, Sylveon, Empoleon, Mega Blastoise and Umbreon. Swords Dance gives Toxicroak great power. Gunk Shot wrecks Grass and Fairy types, and hits incredibly hard at +2. Drain Punch is the reliable STAB, which also help heal Life Orb recoil. Sucker Punch makes up for Toxicroak's middling Speed and lets it revenge kill fast frail Pokémon like Alakazam and Azelf. The EVs maximise Speed and power - Dry Skin lets me set up on CroCune, Vaporeon and Mega Blastoise. Life Orb is needed as Toxicroak's quite weak without it.
My Rapid Spinner

Blastoise @ Blastoisinite
Ability: Torrent
EVs: 196 HP / 252 SpA / 60 Spe
Modest Nature
- Rapid Spin
- Scald
- Dark Pulse
- Aura Sphere
If you're running Moltres, you need Rapid Spin or Defog support. Mega Blastoise is the best Spinner in the tier, and one of the only ones that can pull its weight offensively. Rapid Spin is the crux of this set, and Blastoise can nearly always pull it off. Scald gets STAB and has a handy chance to burn. Dark Pulse means any Ghost type that switches in is soon forced out (Sableye takes heavy damage from Scald). I chose Aura Sphere as my coverage move as Mega Blastoise often lures in Umbreon, Empoleon and Porygon2 - Aura Sphere 2HKOes all of them (after Stealth Rock for P2). The EVs let it outrun uninvested Cresselia so I can 2HKO it with Dark Pulse. Special Attack is maximised for optimum power, with the remainder in HP for bulk.
My Stealth Rock setter
Rhyperior @ Leftovers
Ability: Solid Rock
EVs: 244 HP / 16 Atk / 248 SpD
Adamant Nature
- Stealth Rock
- Earthquake
- Rock Blast
- Toxic
Honestly, this is probably the weak link of my team. It's not a bad mon by any means, but it's hardly brilliant either. Stealth Rock is needed on pretty much any team. Earthquake is the main STAB. Rock Blast breaks through Substitute, as well as hitting the likes of Mega Aerodactyl super effectively. Toxic is used to cripple Pokémon Rhyperior can't break through. As for the EVs, I went with Smogon's listed spread. Solid Rock is the only useful ability Rhyperior has, although it still helps it take just about any physical hit. Leftovers provide it with the only recovery it can have.
My Tank


Goodra @ Assault Vest
Ability: Sap Sipper
EVs: 248 HP / 252 SpA / 8 SpD
Modest Nature
- Draco Meteor
- Fire Blast
- Sludge Bomb
- Dragon Tail
Goodra's been my other big surprise for my team. I've never used it before, but this thing is one of the best special tanks in the tier. It can take just about any special attack that isn't super effective. Draco Meteor is Goodra's STAB, and still hits pretty hard thanks to Goodra's solid base 110 Special Attack. Fire Blast is the alternate STAB, toasting the Steel types that think they can switch into Goodra. Sludge Bomb hits Fairy-types - I chose it over Sludge Wave as it has virtually the same power but with a much higher chance to Poison. Dragon Tail stops opponents setting on me.
Threats
Dragon Dance Feraligatr and Gyrarados


If they set up, there's not much I can do to stop them. Mega Blastoise can somewhat check them, but if they grab more than 1 boost I'm screwed.
Life Orb Hydreigon

What UU team isn't threatened by this thing? Well if it gets a clean switch in, I'm pretty much forced to sack something, as nothing on my team can reliably switch into it.
Importable:
Moltres @ Life Orb
Ability: Flame Body
EVs: 252 SpA / 252 Spe
Modest Nature
IVs: 0 Atk
- Agility
- Flamethrower
- Hurricane
- Roost

Durant @ Life Orb
Ability: Hustle
EVs: 252 Atk / 4 Def / 252 Spe
Jolly Nature
- Iron Head
- X-Scissor
- Superpower
- Rock Slide

Toxicroak @ Life Orb
Ability: Dry Skin
EVs: 252 Atk / 4 SpD / 252 Spe
Jolly Nature
- Swords Dance
- Drain Punch
- Sucker Punch
- Gunk Shot

Blastoise-Mega @ Blastoisinite
Ability: Mega Launcher
EVs: 196 HP / 252 SpA / 60 Spe
Modest Nature
IVs: 0 Atk
- Scald
- Rapid Spin
- Aura Sphere
- Dark Pulse

Rhyperior @ Leftovers
Ability: Solid Rock
EVs: 244 HP / 16 Atk / 248 SpD
Adamant Nature
- Stealth Rock
- Earthquake
- Rock Blast
- Toxic

Goodra @ Assault Vest
Ability: Sap Sipper
EVs: 248 HP / 252 SpA / 8 Spe
Modest Nature
- Draco Meteor
- Fire Blast
- Sludge Bomb
- Dragon Tail
Last edited: