Hello people. I need some help making this team the best way i could. I could use some suggestions...
At A Glance





------------
Brief History:
I have spent alot of time making this time. Always making constant changes and what not. This team orginally came from a core of kecleon and eviolite haunter. But i realized it wasn't that good for the UU tier. I needed drastic changes if i ever was to become sucessfull at the uu tier. New, i decided to post here, where some pro's could suggest stuff to me.However if your wondering if this team is any good, it goes up and down on the ladder. The lowest point i got to with it was 890 and the highest i got to was 1330. So yeah, it is very potent and viable in most situations.
~Members~​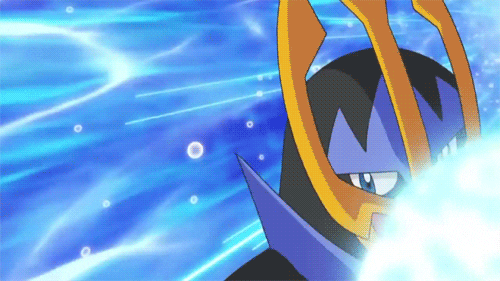 "Intro" (Empoleon) @ leftovers
Trait: Torrent
EVs: 252 HP / 4 SAtk / 252 SDef
Calm Nature (+SDef, -Atk)
- Hydro Pump
- Ice Beam
- Roar
- Stealth Rock​
Really bulky pokemon that is a good reliable stealth rocker. Nearly of all games i have with this thing, i end up having rocks. This thing loves to eat special attacks.... I honestly think empoleon is a great pokemon capable of sponging some hit's from kingdra. And it did shock me when i found out barely any other rmt's have empoleon in it. So here goes...
"Back Story" (Vileplume) @ Black Sludge
Trait: Effect Spore
EVs: 136 HP / 140 Def / 32 SAtk / 200 SDef
Calm Nature (+SDef, -Atk)
- Aromatherapy
- Giga Drain
- Sludge Bomb
- Stun Spore​
You might wonder why i use this over pokemon like roserade or even amoongus. Well one i like being unique. And you'd be surprised at how many times it puts fake out and mach punch users to sleep. It is also incredbly bulky (more so than you might think). I also like to spam stun spore. Slude Bomb is there so it can poison that ever so annoying Xatu.
"Chorus" (Hitmontop) @ Leftovers
EVs: 92 HP / 252 Atk / 152 Def / 12 SDef
Adamant Nature (+Atk, -SAtk)
- Mach Punch
- Rapid Spin
- Fake Out
- Toxic​
I prefer top over toise as my spinner. People expect me to run Foresight.... But i don't.. So.. yeah. Straight Forward set... I also love to to fake out/mach punch combo scary things like weavile and bisharp. Although defiant on bisharp followed by a sucker punch would make it more worst than it already is.
"Awakening" (Raikou) @ Leftovers
Trait: Pressure
EVs: 4 HP / 252 SDef / 252 Spd
Timid Nature (+Spd, -Atk)
- Substitute
- Calm Mind
- Thunderbolt
- Hidden Power [Ice]​
This thing scares out many things. It also outspeeds many things. So it get's up sub's incredibly easy. I run max ev's in special defence to make it able to take a hit or two.. Then with calm mind, Raikou is incredbly more hard to take down. It set's up on so much stuff, it's not even funny >.>
"Antagonist" (Swellow) @ Flame Orb
Trait: Guts
EVs: 252 Atk / 252 Spd
Adamant Nature (+Atk, -SAtk)
- U-turn
- Protect
- Brave Bird
- Facade​
This is a member of the gang i don't mind getting the boot. This spot was once many pokemon ranging from Mandibuzz to even bisharp. I wasn't sure what i needed for this spot. So i chose swellow and it's able to pull it's weight effectively. However if this pokemon is outclassed tell me. I'll change it.
I sweeped with this late game quite a few times.
"Endgame" (Slowbro) @ Brightpowder
Trait: Regenerator
EVs: 252 HP / 252 Def / 4 SAtk
Bold Nature (+Def, -Atk)
- Scald
- Psychic
- Slack Off
- Ice Beam​
I wish i had a penny for how many times U-Turn and other moves miss on this little derpy guy. Brightpowder isn't reliable i know, but slowbro can totally use the extra turn or two to burn with scald. I noticed flygon was a issue to the team so ice beam was added. Anyway, overal this is my answer to Band Victini and Darmintan.
Importable:
Intro (Empoleon) (F) @ Leftovers
Trait: Torrent
EVs: 252 HP / 252 SDef
Bold Nature (+Def, -Atk)
- Stealth Rock
- Roar
- Hydro Pump
- Ice Beam

Chorus (Hitmontop) (M) @ Leftovers
Trait: Intimidate
EVs: 92 HP / 252 Atk / 152 Def / 12 SDef
Adamant Nature (+Atk, -SAtk)
- Mach Punch
- Rapid Spin
- Fake Out
- Toxic

Antagonist (Swellow) (F) @ Flame Orb
Trait: Guts
EVs: 252 Atk / 252 Spd
Adamant Nature (+Atk, -SAtk)
- U-turn
- Protect
- Brave Bird
- Facade

Back Story (Vileplume) (F) @ Black Sludge
Trait: Effect Spore
EVs: 136 HP / 140 Def / 32 SAtk / 200 SDef
Calm Nature (+SDef, -Atk)
- Aromatherapy
- Giga Drain
- Sludge Bomb
- Stun Spore

Awakening (Raikou) @ Leftovers
Trait: Pressure
EVs: 4 HP / 252 SDef / 252 Spd
Timid Nature (+Spd, -Atk)
- Substitute
- Calm Mind
- Thunderbolt
- Hidden Power [Ice]

Endgame (Slowbro) (F) @ BrightPowder
Trait: Regenerator
EVs: 252 HP / 252 Def / 4 SAtk
Bold Nature (+Def, -Atk)
- Scald
- Psychic
- Slack Off
- Ice Beam