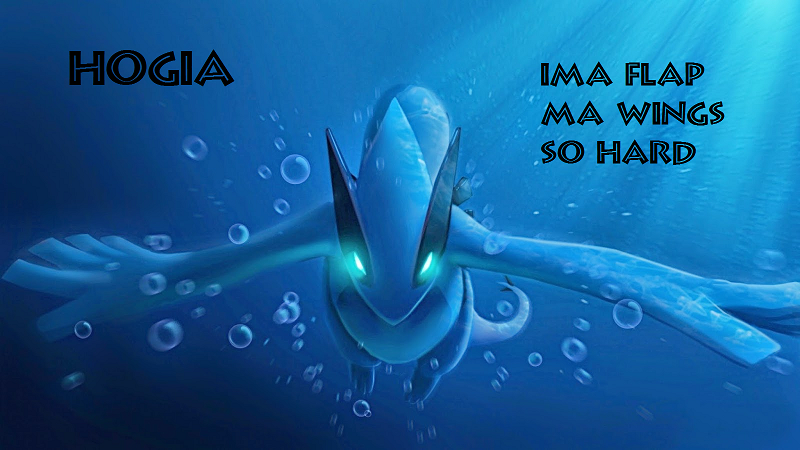 ---------------------------------------------------------------------------------------------------
Seriously, an offensive Lugia? Is that a Calm Mind Lugia? Nope. That's HOgia, best Lugia ever.
----------------------------------------------------------------------------------------------------
Music:
(nice video from my friend James)
----------------------------------------------------------------------------------------------------
Heyyy everyone!! Antacool here, back after a long moment for a new RMT!
I'm proud to show you a (not that) new team, which I use since a couple of months ago. Yup, another original one, which is my really fun and more than effective Lugia HO team. Or yeah, HOgia, if you prefer!
Several friend mates and players ask for me to make this team appear in other RMT section, so here it is!
"What's the hell" you will think. Using a Lugia in a Hyper Offense team seems to be bad. It's passive, gets owned by opposing Taunts, Mega Gengar, and any boosted sweepers with stealth rocks up. To add, since it has very high defenses, Toxic Stall sets are quite obvious on this Pokemon.
One time the Ubers Room talked about the viability of Lugia using another set that its classic one, the toxic stall set; and yep Calm Mind is bad, CroGia as well, I admit. Then my idea is to create a team still around an offensive Lugia, since it has got a very good offensive movepool and it's really a shame to not at least give it a try.
And surprise.... Offensive Modest Lugia works very nicely, since it catches many people off guard and, while still very bulky, can hit very hard thanks to my little build around it.
I got 1650 on old ladder and more than 1500 on the new one with the team, which is not bad since I don't have a lot of time to play atm, and I also beat several high ranked players with it. But anyway! I just wanted to share my ideas and innovations through the RMTs and prove that to be creative in Ubers teambuilding is still possible nowadays.
By the way, I have also an ORAS Rain team, a Kricketune sticky Web team, a Golduck offense team, a sub Hone Claws Zekrom team, a Perish stall Sand team,... well so many teams I still ladd with. If you like to see one of them in a next RMT tell me in comments please :)
~~ Teambuilding ! ~~
Toxic, whirlwind. Roost, Toxic. Roost. Substitute. Whirlwind. Roost....
STOP. This monster is gonna be offensive. Cause yeah, my name is Antacool, and I wanted to show you that Lugia has a niche to be a good offensive Pokemon. You are probably bored of seeing the white Bird Toxic stall like a Chansey during 300 turns. The See Lord has an hilariously good offensive movepool, and has Multiscale to help Him sweep longer in the field...
YEAHH BUT ANTACOOL LUGIA'S SPATTACK SUCKS
Don't worry, I opted for an original strat, which is a Tail Glow pass. This role is ensured by Smeargle, he can Spore a threat and give very quickly a nice boost in special attack to Lugia, to make it a real Flapping Wings Monster!!
With a Multiscale Flying type and a Sash Pokemon, you obviously need to prevent Stealth Rocks to be on the field. This is why I added Mega-Diancie thanks to its very nice Magic Bounce ability. It also helps the teammates to check Dark Types and Taunt, and can also place the Stealth Rock to get more chances to sweep.
Xerneas, Ferrothorn, and Kyogre are threats so I need an effective offensive check to them. That's too easy. The S+ Rank Ubers, Groudon-Primal.
In case I can't Baton pass a Tail Glow to Lugia, I added another special sweeper who can really benefit this boost. Xerneas is just an amazing Pokemon in the meta, and is another Dark resist so that's great for my team.
I finish the team with E-Killer Arceus since I lack a priority user in my team. And it completes the classic but still really effective Pdon / Xern / Ekiller offensive core.
~~ HOgia! ~~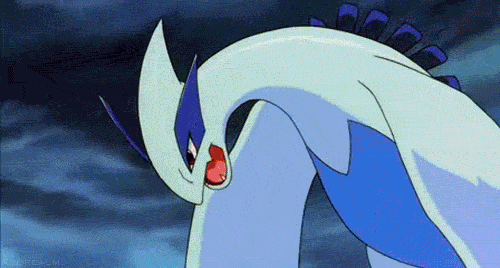 Read the pokedex (Lugia) @ Lum Berry
Ability: Multiscale
EVs: 252 SpA / 4 SpD / 252 Spe
Modest Nature
IVs: 0 Atk
- Aeroblast
- Psyshock
- Earth Power
- Tailwind
"
Lugia live quietly in the deepest ocean trenches for one very good reason: its combined aerial and psychic powers are so strong as to be extremely dangerous. The special moves of this gargantuan creature include the destructive wind assault known as Aeroblast." Bulbapedia

The BASED Spread. This Lugia isn't joke and rapes easily at least 2 or 3 Pokemon, once it gets a +3 boost in Special Attack from Smeargle. And if Smeargle managed to baton pass 2 Tail Glows... hmmm GG?
Anyway, Lugia scores a 306 special attack thanks to the spread, which means it has an usable power at the least (Not that far from Jolly Ekiller which has 339 Attack). A single Tail Glow pass boosts its SpA up to... 765. Wow, just Wow, coming from a "stally" Pokemon?
Offensive Lugia has got huge advantages which are an insane natural bulk, powered up by Multiscale, and the Lum Berry as an item which make it very, very hard to Revenge Kill: it can cure for example an incoming Thunder Wave from Klefki, and destroy it in return with Earth Power. Or place a Tailwind after a Dark Void from Darkrai. Multiscale prevents him to be Revenge Killed by Ditto or be OHKO by boosted GeoXern. True Ubers Sweepers' Dream!! but yeah it's possible.
The Moveset is just perfect. The Psychic / Ground / Flying combo is unresisted in Ubers (bar Solrock of course, not surprising lol). Aeroblast is its main STAB which has a high crit ratio, has 100 BP with an okey 95% accuracy. Bad PP number isn't that a problem there, since Lugia is boosted most of the time and doesn't need to spam this move. Psyshock is the second STAB which hit through Specially Defensive walls such as Ho-Oh, Blissey / Chansey, Primal-Kyogre and other threats such as Calm Minders and boosted GeoXerneas. Earth Power is chosen for coverage for Rock, Steel and Electric types. It also OHKOes Pdon at +3 before it can Roar, which is just superb.
Psycho Boost is another option for Nuke power (yup Lugia learns it lmao) but it's somewhat counterproductive with glow pass, and is incompatible with Multiscale.
Tailwind is the last key move. Lugia has already a very nice speed stat which reaches 319. But in case you want more speed to take out faster threats, use Tailwind to double its speed, while still surviving a powerful hit thanks to Multiscale. Finally, this move helps the entire team despite the very short 3 turns, if you decide to sack Lugia after using this move.
and yeah, Offensive Lugia 6-0ed teams, see replays at the end!
A few calcs after a Tail Glow:
+3 252+ SpA Lugia Aeroblast vs. 0 HP / 0 SpD Arceus: 297-351 (77.9 - 92.1%) -- 31.3% chance to OHKO after Stealth Rock
+3 252+ SpA Lugia Earth Power vs. 252 HP / 200 SpD Primal Groudon: 372-438 (92 - 108.4%) -- 50% chance to OHKO (with Rocks it's an OHKO bar a min roll)
+3 252+ SpA Lugia Earth Power vs. 248 HP / 252+ SpD Klefki: 328-388 (103.4 - 122.3%) -- guaranteed OHKO
+3 252+ SpA Lugia Psyshock vs. 248 HP / 0 Def Ho-Oh: 306-360 (73.7 - 86.7%) -- guaranteed 2HKO
+3 252+ SpA Lugia Aeroblast vs. 252 HP / 252+ SpD Ferrothorn: 226-267 (64.2 - 75.8%) -- guaranteed 2HKO after Leftovers recovery
+3 252+ SpA Lugia Aeroblast vs. 184 HP / 0 SpD Xerneas: 354-417 (80.6 - 94.9%) -- 50% chance to OHKO after Stealth Rock
+3 252+ SpA Lugia Psyshock vs. 184 HP / 28 Def Xerneas: 282-333 (64.2 - 75.8%) -- guaranteed 2HKO after Stealth Rock
Do I need to post calcs at +6? Even Hard Stall teams can't check this Lugia at this range.
+6 252+ SpA Lugia Earth Power vs. 252 HP / 252+ SpD Tyranitar in Sand: 322-380 (79.7 - 94%) -- 43.8% chance to OHKO after Stealth Rock
+6 252+ SpA Lugia Psyshock vs. 4 HP / 252+ Def Eviolite Chansey: 591-696 (92 - 108.4%) -- guaranteed OHKO after Stealth Rock
Sticky situation (Smeargle) @ Focus Sash
Ability: Own Tempo
EVs: 248 HP / 8 Def / 252 Spe
Timid Nature
IVs: 0 Atk
- Tail Glow
- Spore
- Ingrain
- Baton Pass
Smeargle is a true artist. Using its tail as a paintbrush, but there even better, to make it Glow.
This set is dedicated for Lugia. Smeargle's goal is to place Tail Glow as many times as possible, then Baton Pass to Lugia. To prevent being easily stopped, I added a Focus Sash and Spore to make the opponent asleep. Smeargle can anti-lead as well opposing support Pdonners, who may trouble Diancie, thanks to a fast Spore and Ingrain which prevents Phazing. Diancie helps Smeargle in return by reducing opponents' speed thanks to Rock Tomb, so Smeargle can outspeed the threat to Spore it, after it took out Diancie, and sometimes force a switch.
Tail Glow can be Baton Pass as well for Xerneas, to make it a sweeping machine after Geomancy, or Diancie to power up its STAB Moonblast, even if the last case is more than situational.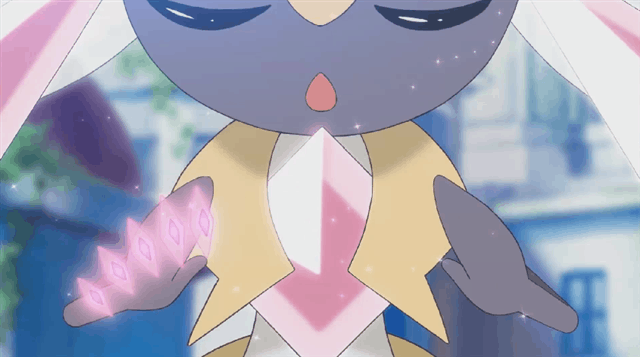 Only Luck (Diancie-Mega) @ Diancite
Ability: Magic Bounce
EVs: 8 Atk / 248 SpA / 252 Spe
Hasty Nature
- Stealth Rock
- Rock Tomb
- Moonblast
- Protect
YAY another innovative set!! Rock Tomb Mega-Diancie. It's a really underrated lead who needs a bit predicting to work nicely.
Main Diancie goals is to put early pressure on opposing HO teams, and place Stealth Rock. But also, prevent opposing Rocks in our field, to keep Smeargle's Sash and Lugia's Multiscale, at the cost of Diancie's KO. The main idea is to survive a fast sweeper hit before mega, and Rock Tomb the threat to drop by 1 its speed. Then, use Protect and Mega, then outspeed the threat to hit him with STAB Moonblast or place Stealth Rocks. It works pretty nicely against leads such as Greninja, who doesn't OHKO regular Diancie with Hydro Pump, or Taunt Mewtwo. You can also directly Mega, if you face things such as Darkrai and Deoxys-Speed. It's all about you feel the predicts but you really often manage to setup Rocks. Rock Tomb's speed drop helps as well Smeargle, for example to outspeed max Speed Arceus Forms or Mewtwo (not Mega-Y) after a drop.
Moonblast is its obligatory STAB since it hits super effectively Dark types, such as Yveltal who is really threatening to both Lugia and Smeargle. It also hits Dragon type Defoggers, and Mega-Sableye which improves a lot its effectiveness at placing Stealth Rocks.
"Only Luck". Based Nickname, coming from a rage quiting opponent :p
Archy (Arceus) @ Life Orb
Ability: Multitype
EVs: 252 Atk / 4 Def / 252 Spe
Jolly Nature
- Swords Dance
- Extreme Speed
- Earthquake
- Shadow Force
Life Orb Ekiller is one of the best physical Sweeper in Ubers. Its ability to hit hard through a STAB priority move makes him really effective but yep, standard. In this team it helps against very fast threats such as Blaziken, Shymin-S, or Deoxys-A, and revenge kills boosted Xerneas if it won against Lugia. Swords Dance boosts its Attack to 678, Extreme Speed for that STAB +2 priority, Shadow Force because I see some Giratina-A back on the ladder (lol) and for Arceus-Ghost who is quite annoying for my team. Earthquake, welp, for Rocks, Steel, Bastiodon, Probopass, oops. For Groudon-Primal, Dialga, and Excadrill who are greatest Mega-Diancie's ennemies.
I used to run a Magic Coat set instead of the classic one in order to improve my match up against hyper offense and hazard stacking teams, but I needed the coverage providing by its 3 moves to hit the main team's threats.
Geo OP dude (Xerneas) @ Power Herb
Ability: Fairy Aura
EVs: 56 HP / 28 Def / 236 SpA / 188 Spe
Modest Nature
IVs: 0 Atk
- Geomancy
- Moonblast
- Focus Blast
- Hidden Power [Rock]
Ahhhh GeoXern. The beauty and brillant Legendary who is the top 1 Ubers special Sweeper
after specs Glaceon
. Anyway a very standard set, you setup a 1-turn Geomancy thanks to the Power Herb, and you sweep with Fairy Aura STAB Geomancied Moonblast. Focus Blast and HP Rock are chosen for coverage, Focus Blast hits Ferrothorn mainly, and Steels in general, provided it doesn't miss. Provided... it doesn't miss. Antacool's playing:
Geo OP dude uses Focus Blast! Ferrothorn avoids the attack!
Welp, Hidden Power Rock is the last Xern tool which help him take out Ho-Oh, another threat I can't deal with well otherwise, once Diancie is gone.
Xerneas greatly appreciate the Tail Glow boost from Smeargle. If you manage to give him a single boost then place Geomancy, Xern will reach +5 in SpAttack, +2 in Speed, and +2 in special defense which make him really hard to stop. Choice Scarf can work as well here as another option.
188 Speed to speed creep other Xern, and outspeed +1 Jolly Megamence with Tailwind up.
what's scarf ogre (Groudon-Primal) @ Red Orb
Ability: Desolate Land
EVs: 224 HP / 252 Atk / 8 SpD / 24 Spe
Adamant Nature
- Thunder Wave
- Earthquake
- Fire Punch
- Swords Dance
Paradance Groudon-Primal completes the team. It's probably my fav Pdon set, which is effective against both offense and stall oriented teams. Since I'm using Stealth Rock on Diancie, I choose Thunder Wave to cripple threats, in order to help my other sweepers to boost up or Smeargle to BP another Tail Glow. Swords Dance boosts its attack to fearsome levels which make him a powerful Wallbreaker. Earthquake is the needed Ground STAB, Fire Punch is a move I like to use on Pdon since it's consistent and very powerful under Desolate Land, and it's really useful for Ferrothorn, Sub Whimsicott, Skymin, Skarmory, and other things like that you face on the ladder.
Plus I never hit anything with Stone Edge
This monster outspeeds Naive Deoxys-A and everything slower with Tailwind up, which is a good point for Revenge Killing abilities. You can invest more to speed creep, or RK Rock Polish Pdon with Tailwind but it's not the biggest threat of the team anyway.
~~~~~~~~~~~~~~~~~~~~~~~~~~~~~~~~~~~~~~~~~~~~~~~~~~~~~~~~~~~~
~~ Threatlist ~~
All the difficulty is to predict the
Mega-Salamence
variant, is that a Jolly DD one or Bulky DD one? Refresh or not? EQ or not? Substitute or not? If I miss predict, this thing can place a couple of Dragon Dances and sweep my whole team when SR up. If not, Lugia can still place a Tailwind to make it Revenge Killable with Xerneas if it's at +1.
If I didn't manage to place Stealth Rocks and lost Diancie,
Lugia
walls my entire team. Ingrain Smeargle may help but doesn't outspeed it, and take huge damage from neutral hits, even from Ice Beam. Multiscaled Lugia is probably the best response of my own offensive Lugia, and can Whirlwind it easily.
Yeah
Ferrothorn
is a top 3 threat. It can wall Mega-Diancie, it absorbs Spore from Smeargle, and can place Stealth Rock very easily on those. It can Leech Seed Lugia which is also an annoyance,
and it avoids Xern's Focus Blast like a ninja thanks to its blazing speed
Mega-Mewtwo-Y
can also prevent the Smeargle's Baton Pass with Insomnia and Taunt, so be also careful against this threat.
Finally,
Primal-Kyogre
. Gets a kill everytime he comes on Pdon. But yeah that's all ogre.
~~~~~~~~~~~~~~~~~~~~~~~~~~~~~~~~~~~~~~~~~~~~~~~~~~~~~~~~~~~~~~
~~ Replays ~~
New ladder:
http://replay.pokemonshowdown.com/ubers-300555244
(Prove of peak, 1500)
http://replay.pokemonshowdown.com/ubers-300554010
(Won despite MMY preventing my strat)
http://replay.pokemonshowdown.com/ubers-300551697
(Turns 10-11 are hilarious)
http://replay.pokemonshowdown.com/ubers-300171648
(Against Mega Sab team)
Old ladder:

http://replay.pokemonshowdown.com/ubers-290309224
(Against Dilwar's HO with 1700 score! ONLY LUCK)
http://replay.pokemonshowdown.com/ubers-291306338
(Classic HO vs. HOgia)
http://replay.pokemonshowdown.com/ubers-290762802
(Great match with hilarious Turn 12)
http://replay.pokemonshowdown.com/ubers-290754464
(Close defeat against unexpected Stall)
http://replay.pokemonshowdown.com/ubers-290751241
(Nice Taunt)
http://replay.pokemonshowdown.com/ubers-290298813
(Sleep Sleep SLEEEEEP)
http://replay.pokemonshowdown.com/ubers-290748046
(Stall team, 5-0 rage quit)
http://replay.pokemonshowdown.com/ubers-290334252
( " " " " " )
http://replay.pokemonshowdown.com/ubers-290325021
( " " " " " )
http://replay.pokemonshowdown.com/ubers-290303512
http://replay.pokemonshowdown.com/ubers-290295049
http://replay.pokemonshowdown.com/ubers-290300428
(Lugia was sleeping in this battle, too OP says the Pokedex)
~~~~~~~~~~~~~~~~~~~~~~~~~~~~~~~~~~~~~~~~~~~~~~~~~~~~~~~~~~~~~~
~~ Shoutouts ~~
Ubers Room, Followers on Smogon, Smogon Staff
Specially dedicace to James Jimmy who helps me a lot to build my teams
LITTLE BONUS:
A new PU team replay because for likes in previous RMTs, I love you all friends haha :]
http://replay.pokemonshowdown.com/ubers-288936673
~~~~~~~~~~~~~~~~~~~~~~~~~~~~~~~~~~~~~~~~~~~~~~~~~~~~~~~~~~~~~~
~~ Conclusion ~~
Never, never, never overpredict Lugia using a Toxic Stall set
Once it is woke up, it creates chaos, destruction with His Huge Wings.
HOgia. High 5 to this beast :]
Thanks for reading my RMT! I really appreciate that, as well as any comments!
AEROBLAST EVERYTHINGGG
Last edited: