What?.. antacool RMTing with Hoopa-U?...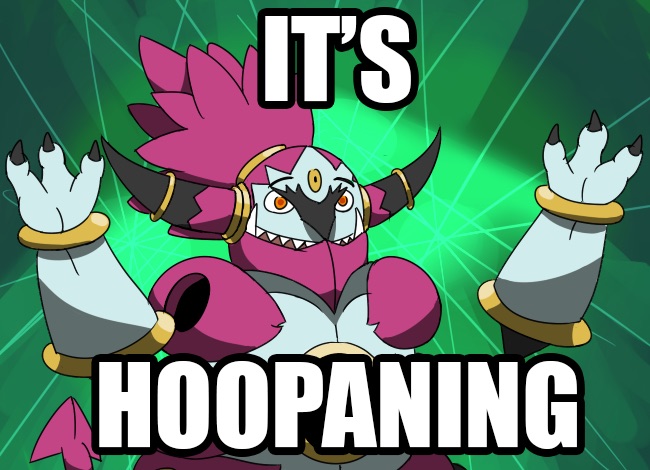 ~~~~~~~~~~~~~~~~~~~~~~~~~~~~~~~~~~~~~~~~~~~~~~~~~~~~~~~~~~~~~~~~
DI-LELELELELE HOOP!!
~~~~~~~~~~~~~~~~~~~~~~~~~~~~~~~~~~~~~~~~~~~~~~~~~~~~~~~~~~~~~~~~
Hello Everyone! The old Ubers player guy here,
antacool
, back on Smogon.
I'm very pleased to share you, after many,
many
,
many
asks, a very interesting and fun to use Ubers Hoopa-U Team (cancer for some :p). Not ORAS but SM Team. I guess, why not?
As you may guess, I'm not in PS very frequently anymore, this is life but yeah, I'm still around. I still enjoy playing sometimes Pokemon. Also seeing good frens back on PS.
First of all big shoutout to all people encouraging me RMT with Hoopa-U, the demoniac and at the same time genious Pokemon who has been subject to Ubers viability ranking for a long time in ORAS.
This is probably one of the best SM Ubers Team you can do with, inspired from an older version I used and posted in ORAS Teambuilding Competition thread (that won btw).
My strategy here is to couple both Trick Room and "Psychic Spam". More or less using a powerful Psychic type under Psychic Terrain, and unpredictable Pokemon under TR able to break through opponent's Team, with heavy support.
You guessed it, Hoopa-U with Psychium-Z paired with Tapu Lele (hello Gen 7!)
This Team has a good success when I laddered with, I faced a couple of solid opposing Teams (see replays below). But sadly as I said I lack the time to ladder even more. Furthermore many people asked me share the team so, here it is.
Finally I really wanted to show you that Trick Room could be nowadays a very solid and enjoyable strategy in Ubers, thanks to this RMT.
Enjoy reading
and seeing memes
:)
Teambuilding
What is an Ubers Hoopa-U Team without Hoopa-U?... It's the Pokemon on which the Team is based around. Z-Physical sweeper Hoopa-U!!
Next is Tapu Lele, which is a powerful threat and the infamous Psychic Surge Pokemon.
For reliable and various utilities, a Focus Sash set is chosen here.
I needed a solid Trick Room user who can check XY Gods, Yveltal and Xerneas. Say hello to Lord Magearna, a very powerful new SM Pokemon.
RIP Klefki haha
We need Stealth Rocks, and a check to opposing Primal-Kyogre and Magearna. Say hello to
Magsyy
's favourite Pokemon, P-Donner.
Something that can check opposing Primal-Groudon and Defog is really appreciated. Arceus-Dragon can not only do all these jobs well, but also soft check Zygarde-C and Z-Splash Solgaleo, and set up Trick Room!
Extreme Killer is still a thing, and a Lunala check could be really welcome here. Last member is CB Tyranitar, a set I enjoy a lot in Trick Room based Teams. Pursuit is so useful, nothing else to say.
*Shattered Psychedelic Presentation!*

BACK (Hoopa-Unbound) @ Psychium Z
Ability: Magician
EVs: 248 HP / 252 Atk / 8 SpD
Brave Nature
IVs: 0 Spe
- Zen Headbutt
- Hyperspace Fury
- Destiny Bond / Fire Punch
- Trick Room
The based Lord. Finally, Hoopa-U get some interest in Ubers with Sun and Moon!
A new Gen 7 tool is chosen here : Z-Move. Hoopa-U is a great Physical Attacker under Trick Room, for several reasons.
1st: Immediate big power, no need of any boosts.
Zen Headbutt coupled with Psychium-Z lets you use for 1 turn a very powerful 160 BP Shattered Psyche. Just imagine the power of this move coming from Brave Hoopa-U with the boost of STAB and Tapu Lele's Psychic Terrain. This, is, mad, POWER.
252+ Atk Hoopa-Unbound Shattered Psyche vs. 248 HP / 8 Def Groudon-Primal: 331-391 (82.1 - 97%) -- 62.5% chance to OHKO after Stealth Rock
252+ Atk Hoopa-Unbound Shattered Psyche vs. 4 HP / 0 Def Arceus: 432-508 (113 - 132.9%) -- guaranteed OHKO
252+ Atk Hoopa-Unbound Shattered Psyche vs. 248 HP / 252+ Def Xerneas: 375-442 (82.4 - 97.1%) -- 62.5% chance to OHKO after Stealth Rock
252+ Atk Hoopa-Unbound Shattered Psyche vs. 252 HP / 240+ Def Arceus-Water: 322-379 (72.5 - 85.3%) -- guaranteed 2HKO after Stealth Rock
252+ Atk Hoopa-Unbound Shattered Psyche vs. 252 HP / 0 Def Magearna: 223-263 (61.2 - 72.2%) -- guaranteed 2HKO after Stealth Rock
Hoopa-U can Wallbreak a Threat when correctly used, or take out opposing Primal-Groudon, or Revenge Kill a boosted Threat such as Geomancy Xerneas. And even Extreme Killer Arceus! Thanks to Psychic Terrain giving a so cool priorities Immunity and patching Hoopa-U's low Physical Defense problems, making Him even more frightening.
2nd: Hyperspace Fury.
Its powerful Dark STAB which ignores the effects of Protect. Protecting moves are one of TR teams annoyances, because they just waste precious TR Turns. So Hyperspace Fury is a very viable move to spam when TR's up. This move also hits Ghost and Psychic hard, the latter resisting to Zen Headbutt.
3rd: Surprise factor.
Hoopa-U has its checks depending on the chosen Moveset. Destiny Bond is a really viable option to take down something like CM Arceus, Magearna or Yveltal, especially after the Z-move used. You can manage to get an extra surprise KO thanks to this move under TR. Also, D-bond goes very well in pair with Trick Room. You can use Destiny Bond on last Turn of TR, forcing opponent to not attack you for 2 turns, unless he wants to sack. You can then setup another Trick Room and continue the sweep.
Fire Punch can be used instead and lets you hit Ferrothorn and Magearna, if they annoy you too much (with or without Firium-Z, up to you)
4th: oh yeah Trick Room!
Just setup vs Mewtwo, Nasty Plot Deoxys-A (if it still exists), a bulky Pokemon, or an opposing turn of setup. By the way, Z-Trick Room can be used as well if you don't want to miss Zen Headbutt in the right occasional moments, if the raw Power of Shattered Psyche isn't needed.
The most effective set I did with Hoopa-Unbound in Ubers until yet, despite the useless Magician ability here.
Je tape où? (Tapu Lele) @ Focus Sash
Ability: Psychic Surge
EVs: 252 SpA / 4 SpD / 252 Spe
Timid Nature
IVs: 0 Atk
- Psychic
- Moonblast
- Taunt
- Psyshock
The perfect member for any Psychic-Type powerhouse. Tapu Lele offers a 5 Turn Psychic Terrain which support so greatly Hoopa-Unbound, when He comes in the field. I decided to make a polyvalent set with Focus Sash, which can Anti-Lead and Stallbreak a bit thanks to Taunt, or Revenge Kill an opposing threat like Rayquaza or Yveltal if TR isn't up anymore especially if the field has no Hazards. Tapu-Lele doesn't have access to Trick Room sadly, but it still does its job very well. After Focus Sash consumed, I usually withdraw Tapu Lele as a sack for later, getting Psychic Terrain up then replacing it with Hoopa-Unbound the next turn of Lele's KO.
Max Speed helps him outspeed base 90's and most 95's - 99's which rarely invest full Speed.
Psychic needs no explanation, that's big power with Psychic Surge and its 50% Boost. Moonblast covers Dark and Dragon Types who are common in Ubers. Taunt shatters Lead Pdon, Support Arceus, Lugia but also Aegislash on the switch allowing me to trap him with CB Tyranitar (Taunt preventing King's Shield). Psyshock helps greatly vs a boosted Xerneas, CM Primal-Kyogre or Ho-Oh if again you're not lucky and / or Trick Room isn't up.
Torment was an option I used before using Shucca Berry on Magearna, and this is something to consider since it saved me from many unexpected sweeps. (see a really nice Replay below with Torment Tapu Lele counterteams Double Dance Pdon)
Tapu Lele is definitely a great offensive support Pokemon, which I call Him sometimes the
young amanita
Team saver.
Marge? or nah? (Magearna) @ Shuca Berry
Ability: Soul-Heart
EVs: 248 HP / 192 SpA / 68 SpD
Quiet Nature
IVs: 0 Atk / 0 Spe
- Trick Room
- Flash Cannon
- Fleur Cannon
- Volt Switch
The mechanical Flower Power was an obvious choice here. Stats, Typing, ability, Movepool... everything is great on this Pokemon. Magearna is awesome. It is my main Xerneas, Dragon and Dark Types check. Trick Room is the support move that every member in my Team needs, including Magearna Himself. With a great overall Bulk and a Shucca Berry as an item, many opportunities are up for setting up a Trick Room. Flash Cannon is a powerful and consistent STAB, which hits stuff like Fairies and Arceus-Rock. Fleur Cannon is THE FLOWA POWA move which acts like Psycho Boost. Immediate Raw power that even weaken Primal Groudon nicely (35-40%) thanks to the Quiet nature. Volt Switch is so you can send a Teammate under Trick Room, who can replace Him vs a Threat such as Primal-Kyogre or Ho-Oh.
Its great ability Soul-Heart can also transform Marge into a powerful End-game cleaner, making Him as well very versatile. Soul-Heart gives you that great +1 Spa boost even if the opponent's Pokemon dies to passive damage.
Poor pogre (Groudon-Primal) @ Red Orb
Ability: Desolate Land
EVs: 248 HP / 64 Def / 196 SpD
IVs: 0 Spe
Sassy Nature
- Stealth Rock
- Precipice Blades
- Lava Plume
- Toxic
May I really comment? :d This is standard SR Groudon-Primal as you can see. It's just the even more common Stealth Rock set with some adjustments, that I will present to you.
I think that Primal-Groudon will stay the best Stealth Rock setter in SM, like He was in ORAS. Stealth Rock is mandatory to weaken stuff on the switch and helps pressure threats such as Ho-Oh, Yveltal or Salamence on the switch. Precipice Blades and Lava Plume are powerful STABs even without investment in EVs, making P-don an antidote vs annoying Steel Types. Under Trick Room, you can outspeed lots of Pokemon and Revenge Kill them, or even go for Suicide Stealth Rock when Primal-Groudon is at low health.
Toxic as a last move is my preference since nothing in my Team has this move. I think that it is a viable option to weaken main Switch-ins that try to break my momentum, such as Support Arceus, Lugia, Giratina, non Rest Zygarde-C (we never know), and fast other Primal-Groudon.
dinglinglgingnglig (Arceus-Dragon) @ Draco Plate
Ability: Multitype
EVs: 248 HP / 252 Def / 8 SpD
Bold Nature
IVs: 0 Atk
- Trick Room
- Judgment
- Defog
- Recover
My hard check to stuff like Zygarde-Complete, Primal-Groudon, Blaziken,... This Arceus with Sky High physical Defense helps me vs most Physical Sweepers in the entire metagame. Dragon Claw and Outrage are quite rare, so...! That's cool right? Just survive one hit and Setup Trick Room. Either Revenge Kill the Threat with Draco Plate Judgment or Stall with Recover. Defog so the team has a way of removing entry hazards, which supports nicely my other members and especially Sash Tapu Lele.
The only constraint of this set is to guess if opponent's Groudon-Primal is slower or faster than this Arceus, once you know that you can play around outside and inside Trick Room without any big problem. EVs and IVs makes Arceus' Speed at 276, which outspeed defensive 90's and bulky Zygarde-C but underspeed offensive 90's.
GTFO Mgar (Tyranitar) @ Choice Band
Ability: Sand Stream
EVs: 248 HP / 252 Atk / 8 SpD
Brave Nature
IVs: 0 Spe
- Stone Edge
- Low Kick / Earthquake
- Crunch
- Pursuit
Sweep
's stuff, never forget you man.
Choice Band Tyranitar is my Pursuit Trapper and Birds' Antidote. Despite risks of misses, Banded Stone Edges really hurts. My best tool for Stall based Teams, cause rare are the Pokemon who are able to tank 2 Stone Edge from this Monster. Pursuit is obvious but so nice vs weakened Stuff, in order to not making them at death fodders. Pursuit is also perfect for Lunala, a big threat otherwise, and Sandstorm can break its Shield permitting Pursuit to score a nice OHKO. Under TR, Pursuit is also great for Deoxys-A and especially Mega-Gengar, because it threatens trapping my other Teammates and can burn Hoopa-U.
Crunch is helpful vs Lead Deoxys-S; SD Ghostceus and Giratina when Trick Room is up, and Low Kick is my favourite last move hitting Ferrothorn, support Darkceus and Extreme Killer Arceus very hard (Extreme Speed is resisted under Trick Room, and that's if Psychic Terrain isn't up). Problem is that it's completely walled by Magearna then, you can opt for Earthquake somewhere as an option.
Some players chose a Flying type instead of CB Ttar for good reasons (mainly because of the Ground weaknesses); but with the top threats like Mega Gengar, Ekiller and Yveltal all around, I think that Tyranitar is still too valuable in this Team to be replaced.
Threatlist:
Ground Spam:
I didn't face these kind of teams yet (Pdon + Landorus-T) but too many Ground types can be tricky to play around. Shucca Berry Magearna, Dragonceus, and Sash Tapu-Lele are sufficient to deal correctly with opposing Primal Groudon, though.
Bulky Steel-Types:
Especially Ferrothorn and Magearna. They are able to stall Trick Room turns and wall a good portion of my Team. They can weaken my Primal-Groudon on the switch with multiple Leech Seeds and Fleur Cannons, respectively.
Never Ending Nightmare / Brick Break SD Ghostceus
(if not under Trick Room):
+2 252 Atk Arceus-Ghost Never-Ending Nightmare vs. 248 HP / 252+ Def Arceus-Dragon: 372-438 (83.9 - 98.8%) -- 75% chance to OHKO after Stealth Rock
My best response to this Monster has a good chance of getting OHKOed after Stealth Rock.
Make you sure TR is up and if you couldn't setup, try sacking something for a predicted Never Ending Nightmare. Place emergency Trick Room on next incoming Shadow Force's Turn 1.
Stall Teams:
Maybe least Match-up. A well used Shattered Psyche, Tapu-Lele and CB Tyranitar are your best hope for having a chance to win. Be careful with Pressure + Stone Edge 8 PPs.
Haxx:
God bless the nerf of Thunder Wave in Gen 7, but this move still exists. Yellow magic, Crits or Flinch on mattered Trick Room turns can sometimes end the game very badly in opponent's favor. Stone misses are terrible as well.
Yveltal:
Be careful of Banded U-Turn hurting Tyranitar a lot, and its Psychic Immunity. Try to scout His set and beware of Dark Pulse Flinches.
Z-Splash Solgaleo:
Make sure that Dragon Arceus has good health or Trick Room is up and you won't have too many problems (Z-Splash can be used only once), remember that Tapu-Lele won't do anything to this threat unless you run Torment.
Fighting Types:
Mega-Lucario, SD Blaziken. Those are frail but very powerful, be careful. Don't forget that Psychic Terrain stops Bullet Punch.
Replays:
Vs Fixdswine
http://replay.pokemonshowdown.com/gen7pokebankubers-510434479
Vs Funbot28, Extreme Evopass Team
http://replay.pokemonshowdown.com/gen7pokebankubers-510424134
Vs ygo, Sand Team (had to lose this one, but...)
http://replay.pokemonshowdown.com/gen7pokebankubers-510400141
Vs Eaglhawk, Mega-Luke HO. One of my fav replay.
Tapu Lele rules!!!!
http://replay.pokemonshowdown.com/gen7pokebankubers-489094468
Vs Weedatron
http://replay.pokemonshowdown.com/gen7pokebankubers-489048320
Vs GoodGame1324, an excellent game with a couple sets changes
http://replay.pokemonshowdown.com/gen7pokebankubers-488851595
Vs The GoodDugtrio, Spa Hoopa-U again
http://replay.pokemonshowdown.com/gen7pokebankubers-488786265
BONUS :
Vs BENBE, with another based TR Team of mine gg :-p
http://replay.pokemonshowdown.com/gen7pokebankubers-479748382
Conclusion:
What is weirdest than a Trick Roomed Psychic Terrain?
...
(I just hear through your screen "antacool's teams")
Thank you a lot for reading my RMT, and I hope you will appreciate one more time my Trick Room based teams! Have fun with Hoopa-U and see you later maybe :]
Don't hesitate to comment and like !
and vote your fave meme
Antacool