But I guess your wish has come true!​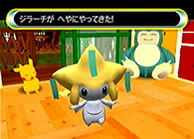 O hi.
You are probably wondering what I am going to give away, since this picture hasn't seen many people. (I guess...)
But if you do, that's right, it's Pokémon Channel Jirachi. Channel Jirachi is one of the two ways (iirc) to get with Body Slam. And, guess what, the Jirachi I am going to give away has Body Slam! And Mimic for the lulz! And, oh, it's not one, but there are two of them!​
Why did you started this Give Away with this kind of ''unique'' Pokémon?!
It was just another boring day at school and I couldn't wait to go to my boyfriend. To get to my boyfriend, I have to travel by train. I wanted to migrate these Jirachi's while I was sitting two hours in the train. Before I entered the central station, I noticed there where a lot of people just walking and asking about the busses. It was like an ant nest! I went straight to the station and BANG! Nobody could travel by train, because there was a interruption. And that happened on the biggest central station of the Netherlands. Now go, go taxidrivers!!! (They are lucky now as well.)
So I went back home by bus. I migrated the Jirachi's in the bus and I thought: ''I might start a Give Away with them, because I don't play competive anyway. They should shine in battle!''​
I don't care about your story, just tell me how these Jirachi's look like!
Jirachi
Adamant
Serene Grace
21 / 25 / 24 /
14
/ 19 / 27
Moves: Wish, Body Slam, Rest and Mimic.
OT:
CHANNEL
ID: 40122​
Jirachi
Impish
Serene Grace
27 / 21 / 27 /
15 - 16
/ 19 / 25
Moves: Wish, Body Slam, Rest and Mimic.
OT:
CHANNEL
ID: 40122​
Wow, so how do I win?
As I may not be a competive player, I still want to EV train them. The problem is that I suck at thinking of a good EV spread for these kind of Pokémon. I want to hear from you a good EV spread for one or both of these Jirachi's. Also, you have to tell me why.​
Notes:
-I'll only trade one Adamant Jirachi and one Impish Jirachi.
-If you are a winner, you may choose which one you want.
-I will trade the Jirachi on 4th gen.
-I would appreciate it if you don't trade these Jirachi's to anyone else, thanks.
-Yes, I got these Jirachi's from my own Pokémon Channel game, one of the most easiest and dullest Pokémon game I've ever played. I can get multiple of different Jirachi's.​
All right, I hope I didn't broke any rule. Let the give away start!​
Unimportant notes:
-This is my first thread I started on Smogon.
-I have never thought I would ever start a Give Away.
-I've to switch from computer and internet cable to get on Wi Fi.
-My English isn't that good as it is not my native language.
​