introduction
The dragons have returned, whose rule was once ended by the fairies 3 generations ago. All of them dominate the ou landscape, each quite fierce ie
they are all either A or above in the viability rankings.
How did this happen though? maybe the dissapearance of the tapus, maybe the terrastal phenomenon or its simple, a lot of good dragons were introduced.
so taking advantage of the fewer fairies, more dragons ie more than double the amount of last gen in the tier and terra that makes it even easier to stream roll past their common check,
we of the dark side
came up with this dragon spam.
In depth
Hydreigon @ Leftovers
Ability: Levitate
Tera Type: Steel
EVs: 252 SpA / 4 SpD / 252 Spe
Timid Nature
IVs: 0 Atk
- Nasty Plot
- Substitute
- Draco Meteor
- Earth Power
I can proudly say i am one of the people responsible for the rise of this demon because of how much i spammed the substitute set. The set destroys the unaware trio, the simple advantage against skeledirge, the crazy special attack against dondozo and clodsire cant even touch u after a substitue. And a +2 draco meteor just chunks any check leading to a clean volcarona sweep later.
Dragapult @ Choice Band
Ability: Infiltrator
Tera Type: Dragon
EVs: 244 Atk / 12 Def / 252 Spe
Adamant Nature
- Dragon Darts
- Double-Edge
- Sucker Punch
- U-turn
dragapult acts as an important offensive piece of the team. if positioned well it can pull off two dangerous surprise attacks, one is the strong dragon darts onto their special wall and the second, when they confidently switch in thier iron valiant only to get knocked out by a double edge. It also couples really well with kingambit in creating a double priority core in case a setup sweeper gets out of hand. (remember to increase the damage, use dragapult to sucker first, so u get a boost on the kingambit sucker). Tera dragon darts is chosen simply for the damage, to get an idea it can even slay max defense tusk in two hits.
Baxcalibur @ Loaded Dice
Ability: Thermal Exchange
Tera Type: Poison
EVs: 252 Atk / 4 Def / 252 Spe
Jolly Nature
- Dragon Dance
- Glaive Rush
- Icicle Spear
- Earthquake
The mvp of the team, most of the battles with this team can revolve around how u play your baxcalibur. This set is a breaking power house, it devours the defensive staples of the tier like nothing else. rotom-wash cant even touch it, other mons like skeledirge, garganacl, toxapex just get 2hkoed at+1 due to the enormous attack stat and super effective coverage. Unlike the sword dance set which is just even more power, the dragon dance set fits better because of how well it meshes with other fellow sweepers, ie it doesnt give a chance to the opponents offense of hitting back and creates an unstoppable barrage on the defense.
Kingambit @ Leftovers
Ability: Supreme Overlord
Tera Type: Flying
EVs: 248 HP / 56 Atk / 204 SpD
Adamant Nature
- Swords Dance
- Iron Head
- Kowtow Cleave
- Sucker Punch
Despite how offensive a team might be, u always need pokemon that can take hits. This set does the job well, it might not seem to be the case but this can 1v1 almost every special attacker in the tier, including dragapults, walking wakes and even iron moth. This pokemon glues the team together, checks a huge number a pokemon, threatens to revenge kill and still keep up the offense with sword dance and supreme lord boosted high base power moves. Tera flying is opted here because of how it allows you to change your weaknesses into resistances/immunities letting u dominate the 1v1 scenario even more.
Volcarona @ Heavy-Duty Boots
Ability: Flame Body
Tera Type: Grass
EVs: 248 HP / 108 Def / 152 Spe
Timid Nature
IVs: 0 Atk
- Quiver Dance
- Fiery Dance
- Morning Sun
- Giga Drain
Volcarona has been terrorizing ou for a while now with its infamous bulky quiver dance sets. This bug's merit comes from the advantage it has against tier staples like iron-valiant, gholdengo, kingambit, great tusk etc, giving it so many oppurtunities to switch, threaten or actually dance. The set is very standard with giga drain for coverage as well as to heal off of water/tera water pokemon. Tera grass simply because it lets us cut off our previous weaknesses and boost the power of giga drain.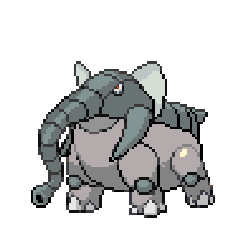 Great Tusk @ Leftovers
Ability: Protosynthesis
Tera Type: Steel
EVs: 252 HP / 252 Def / 4 SpD
Impish Nature
- Earthquake
- Stealth Rock
- Knock Off
- Rapid Spin
The only other monster keeping up with the dragons is this ancient mammoth. We go with a standard set. The Evs are just max def so that it can best do its tusk antics, ie remove hazards from our side, click rocks on theirs. click earthquake when u need to, which is chosen over headlong rush here cause its a defensive set. This mon is basically what u slap when testing the team and its turns out great... tusk.
Basic gameplay
​
The team is quite an easy to pick up and play with.
Its also not a matchup fish team like many other offensive styles and acts like a double edged sword where u have the potential to outplay and win any matchup (except stall) while also loose any matchup where u make mistakes or the opponent has no idea about what he is doing.
the team is offensive so u got to play on the front foot ie making some degree of agressive plays, predictions. But be carefull of the risk and reward, if u can loose an important pokemon but gain a little value, do not make that play.
think about the long term values of your play, but do not make a concrete plan for example if uve succeeded in killing their clodsire and are sure of a volcarona sweep, i can guarantee u they have a terra fire kingambit in the back.
also feel free to make any changes to the team to make it more comfortable for your playstyle.
And just like every other spam/offense team, overload and bait the common checks until one of our sweepers can sweep and win us the game.
the

4- attack set of iron moth

is really deadly for the team, a single feiry dance boost and it ohko's right through the entire team. The only play around it is to switch in gambit and if it hasnt gotten a fiery dance boost yet, click kowtow kleave, u live and ko back. The other is if rocks are up or moth is chipped u can use the double priority on the team to take it out.​

its no surprise that a team full of

dragons will struggle against valiant

, but its not too bad.

volcarona and kingabmit

give u good enough chances to play around it. just be carefull and dont let it come in for free.​

this thing is almost impossible to break through, yes u can play around it with kingambit and volcarona but if the opponent knows what he's doing its almost impossible to get rid of it.​

stall
importable
Hydreigon @ Leftovers
Ability: Levitate
Tera Type: Steel
EVs: 252 SpA / 4 SpD / 252 Spe
Timid Nature
IVs: 0 Atk
- Nasty Plot
- Substitute
- Draco Meteor
- Earth Power

Dragapult @ Choice Band
Ability: Infiltrator
Tera Type: Dragon
EVs: 244 Atk / 12 Def / 252 Spe
Adamant Nature
- Dragon Darts
- Double-Edge
- Sucker Punch
- U-turn

Kingambit @ Leftovers
Ability: Supreme Overlord
Tera Type: Flying
EVs: 248 HP / 56 Atk / 204 SpD
Adamant Nature
- Swords Dance
- Iron Head
- Kowtow Cleave
- Sucker Punch

Baxcalibur @ Loaded Dice
Ability: Thermal Exchange
Tera Type: Poison
EVs: 252 Atk / 4 Def / 252 Spe
Jolly Nature
- Dragon Dance
- Glaive Rush
- Icicle Spear
- Earthquake

Volcarona @ Heavy-Duty Boots
Ability: Flame Body
Tera Type: Grass
EVs: 248 HP / 108 Def / 152 Spe
Timid Nature
IVs: 0 Atk
- Quiver Dance
- Fiery Dance
- Morning Sun
- Giga Drain

Great Tusk @ Leftovers
Ability: Protosynthesis
Tera Type: Steel
EVs: 252 HP / 252 Def / 4 SpD
Impish Nature
- Earthquake
- Stealth Rock
- Knock Off
- Rapid Spin
​