With stage 18 suspect testing coming to a close, I figured I would go ahead and share the team I used to make reqs. What was funny (and sad as well) about this suspect test is that I had kind of given up going for reqs this time around due to some things that were (and still are) going on in my life that I'm having to deal with, but I ended up making a pretty fun team that got me reqs in one night at 5:30 am (deadline night for the 1st ladder) The team went through a fair few changes on the 2nd ladder as I discovered Pokemon I was weak to and playstyles that I struggled against in general (such things are issues for 5 minute late-night teams LOL) I ended up being pretty happy with the finished product, and the name for the team makes sense considering a major function of this team is punishing an opponent's impatience through the use of resist berries, Pursuit, and a set most won't see coming in general. Of course, the sword is a double-edged one since I can also be punished for my own impatience due to a lack of a true setup sweeper and the fact that my own wallbreaker is weak af to Pursuit itself, but patience is a virtue after all ;) I'll spare you the teambuilding this time considering it went through a fair few changes on the 2nd ladder (only one original Pokemon stayed on the team all the way through the 2nd ladder, and its set got changed) but here it is if you care to use it for yourself!
M. Eater (Virizion) @ Life Orb
Ability: Justified
EVs: 24 HP / 248 SpA / 236 Spe
Timid Nature
IVs: 0 Atk / 30 SpA / 30 Spe
- Giga Drain
- Focus Blast
- Hidden Power [Fire]
- Synthesis / Calm Mind
Synthesis + 3 Attacks Virizion is something I had always wanted to try out for myself considering it has good special bulk and a decent enough typing to switch into stuff. The set was originally a physical one, but I just found myself absolutely needing a way to switch into most bulky Waters, so I just turned the set special. Giga Drain and Focus Blast are pretty mandatory. Giga Drain gives secondary healing on top of the damage and Focus Blast is quite literally the only special Fighting-type STAB option Virizion has (where's my Aura Sphere?!?) Hidden Power Fire seems like a super strange option on Virizion, but considering this team has literally no reliable Escavalier switch in, it's kind of necessary. Synthesis gives Virizion a lot more staying power than it would otherwise have, and also makes it to where it's not hurt nearly as badly by Toxic or Scald burns as it comes into bulky Water-types. Due to the imperfect Speed IV, I just dropped Virizion's Speed investment down to base 105s and made HP hit a Life Orb number. The rest is pumped into Special Attack as Virizion needs all the power it can get due to a lack of a boosting move. And speaking of boosting move, I have slashed Calm Mind. Even though I haven't used it and don't fully recommend it since this is your bulky Water switch in for this team, it's still something you may want to try.
"Monadoooo... Eater!!!" - Shulk
"Way to go, Shulk!" - Number 7
M. Armour (Diancie) @ Shuca Berry
Ability: Clear Body
EVs: 248 HP / 216 SpA / 44 Spe
Modest Nature
- Stealth Rock
- Moonblast
- Earth Power
- Diamond Storm
Diancie's spot was filled by Rhyperior for most of the run, but once I made a change in how I kept Speed control for the team, I needed a Stealth Rock user that had a little better synergy and didn't make the team as weak to Ice-types. Diancie is able to still set Stealth Rock reliably while also being able to smack Dugtrio, Flygon, and EQ Drapion for heavy damage in order to give Meloetta an easier time breaking down the opposing team. As for the rest of the moveset, it's pretty simple really. Moonblast is the main STAB and it's going to be doing quite a bit of damage to most targets of the move considering the heavy investment in Special Attack. Earth Power gives Diancie a way to wear down Registeel, smack Mega Camerupt and Drapion, and to weaken opposing Diancie. Diamond Storm means that Diancie can still insta-KO Fletchinder and do a pretty solid amount to Sigilyph. The Defense boost it sometimes gives can make it harder for Flygon and Dugtrio to push through Diancie if it's weakened, but still has its Shuca Berry. Speaking of it, Shuca Berry is what makes the set work. Without a Shuca Berry, Diancie would be unable to thward the likes of Dugtrio and Flygon from not only removing it, but also putting heavy pressure on Meloetta as it tries to break through an opposing team. The Speed EVs are for Mega Camerupt + a little extra to try and make sure Diancie can outspeed opposing Registeel and Diancie if weakening them is an absolute must, or if they happen to be in KO range late-game.
"I must protect everyone" - Shulk
"Riki want to play with Monado!" - Riki
M. Shield (Slowking) (M) @ Colbur Berry
Ability: Regenerator
EVs: 248 HP / 216 Def / 44 Spe
Bold Nature
IVs: 0 Atk
- Scald
- Slack Off
- Psyshock
- Thunder Wave
Slowking wasn't on the team for the first ladder, as it was a a spot occupied by Jellicent as a way to completely trash most Alomomola teams, but Slowking became a much more necessary option on the 2nd ladder without Alomomola. While the moveset and EVs remained the same throughout the entire run up the 2nd ladder, the use of a Colbur Berry didn't come until very late and is a suggestion I'm not able to take credit for. Due to Diancie needing to hang on to its Shuca Berry often-times, it is not a very reliable answer to Sneasel. Because of this, the team needed a way to circumvent Sneasel in some way and
Kushalos
was wise enough to suggest running Colbur Berry on Slowking so that I could cripple it early with T-Wave in order to help pretty much everything on the team. It worked like a charm and was actually useful in the game that I won to make reqs on the 2nd ladder. As far as the actual moveset goes, there's not much to really go into detail about. Scald and Thunder Wave are two of the best three moves in the game, and make sure that virtually every Pokemon has to take a risk when switching into Slowking. Slack Off is a bit more important on this set than for others due to Slowking not having the passive recovery from Leftovers. Psyshock is used over Psychic to OHKO Hitmonlee and to deal significantly more damage to Virizion if it tests its luck. EVs are pretty basic with some extra Speed thrown in to catch Escavalier off-guard if they only go for 0 Speed Slowking if they're low enough on HP.
"Monado... Shield us!" - Shulk
"Love seeing the Monado in action." - Reyn
M. Cyclone (Meloetta) @ Choice Specs
Ability: Serene Grace
EVs: 4 Def / 252 SpA / 252 Spe
Timid Nature
- Hyper Voice
- Psychic
- Focus Blast
- U-turn
Meloetta arrived on the team pretty late, but I was getting to the point where I was just tired of straight up losing to Sigilyph every time I faced it because I had such a difficult time switching into it. I honestly don't really understand why more people don't use Meloetta considering it still hits ridiculously hard, even if Pursuit is on almost every team. But of course, when Colbur Berry Slowking is around to cripple the likes of Drapion and Sneasel, Meloetta's life is made easier. Hyper Voice and Psychic are pretty much mandatory. I chose Psychic over Psyshock since Bulk Up Gurdurr can be a small pain if it chooses to come in on Escavalier or Flygon and the fact that Slowking has Psyshock, meaning it can't reliably check it. Focus Blast is mainly for Registeel, but it also gets neutral damage on Escavalier, giving me a chance against it should it be Choice Banded. U-turn is kind of a necessity on Meloetta right now since Pursuit is everywhere, and being able to get some chip damage on those kind of Pokemon can be really nice. The EVs are as basic as it can get, which makes sense considering Meloetta is a pretty simplistic Pokemon in funcionality.
"I'll unleash all I've got!" - Shulk
"Ah, the power of the Monado." - Dunban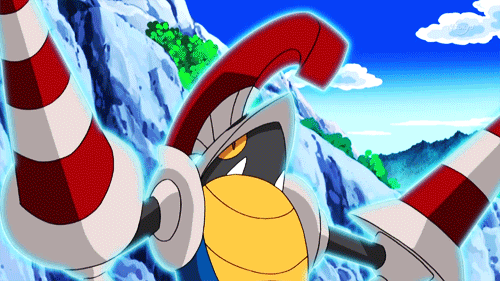 M. Purge (Escavalier) (M) @ Leftovers
Ability: Overcoat
EVs: 248 HP / 52 Atk / 208 SpD
Adamant Nature
- Megahorn
- Iron Head
- Pursuit
- Protect
Escavalier started and ended on the team, but there was a time where I replaced it with Granbull so I could have a better Hitmonlee check. Once I made the changes for Meloetta and Flygon, re-adding Escavalier was an easy call to check Venusaur, and provide Pursuit support for Virizion. It also gives the team a decent soft check to Mega Glalie considering it outspeeds Meloetta (after Mega) and OHKOes Flygon. It's also kind of the Escavalier switch in for this team as well (now you know why HP Fire Virizion LOL) As far as the moveset is concerned, it simply gives Escavalier the best chance to succeed in its role. Megahorn still hits damn hard and smacks around the bulky Psychics that aren't nearly as phased by Pursuit. Iron Head provides reliability thanks to its accuracy and makes sure that Diancie, Aromatisse, and Togetic are still pressured hard by Escavalier. Pursuit gives the set mileage as it means Meloetta doesn't have to concern itself with checking Hoopa for nearly as long, and it also happens to put opposing Meloetta in a 50 / 50 between Pursuit and Megahorn. Protect is a nice tool to have in order to stall for Leftovers recovery, and it's also just a kick in the teeth for Hitmonlee and Medicham. The EVs guarantee Escavalier can take 2 Shadow Balls from Hoopa after SR, thus allowing it to always successfully trap and KO it with Pursuit. The rest is put into Attack with an Adamant nature to still hit decently hard.
"That's ENOUGH!" - Shulk
"So this is the legendary Monado..." - Melia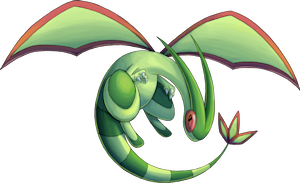 M. Speed (Flygon) (M) @ Choice Scarf
Ability: Levitate
EVs: 252 Atk / 4 SpD / 252 Spe
Jolly Nature
- Earthquake
- Outrage
- U-turn
- Defog
As strange as this sounds, I actually did not want to put Flygon on the team. I previously had LO Spikes Accelgor int his slot and it quite honestly was the reason I was able to get reqs on the 1st ladder when I did. It's crazy how few teams were ready for it. However, it got to a point where I just had to make the change so that the team wouldn't auto-lose to TSpikes and Sticky Web. Ounside of emergency Defogging, Flygon is designed to revnege kill and clean up opposing teams when the chance arises. Earthquake is obviously the reliable STAB move to go for when attempting to revenge kill targets since it doesn't force Flygon to stay in. Outrage has more power and better overall coverage, but the lock-in effect can make it undesirable at times. U-turn allows Flygon to be played as a scout lead and to just chip down opposing teams. This also gives me a way to more reliably get Meloetta in early since the opponent likely won't want their fast Pokemon weakened or outright KOed early-game. Defog is really only used against hazard stack teams, but considering how weak this team is otherwise to them, it's something I"m willing to go with. Much like Meloetta, Flygon's EV spread is pretty basic due to the simplistic nature of this set. Jolly nature lets Flygon outspeed opposing Scarf Hitmonlee (I don't count Drap since Jolly Drap is weak af)
"Monado, show me the way!" - Shulk
"This... is the power of the Monado..." - Sharla
M. Eater (Virizion) @ Life Orb
Ability: Justified
EVs: 24 HP / 248 SpA / 236 Spe
Timid Nature
IVs: 0 Atk / 30 SpA / 30 Spe
- Giga Drain
- Focus Blast
- Hidden Power [Fire]
- Synthesis

M. Armour (Diancie) @ Shuca Berry
Ability: Clear Body
EVs: 248 HP / 216 SpA / 44 Spe
Modest Nature
- Stealth Rock
- Moonblast
- Earth Power
- Diamond Storm

M. Shield (Slowking) (M) @ Colbur Berry
Ability: Regenerator
EVs: 248 HP / 216 Def / 44 Spe
Bold Nature
IVs: 0 Atk
- Scald
- Slack Off
- Psyshock
- Thunder Wave

M. Cyclone (Meloetta) @ Choice Specs
Ability: Serene Grace
EVs: 4 Def / 252 SpA / 252 Spe
Timid Nature
- Hyper Voice
- Psychic
- Focus Blast
- U-turn

M. Purge (Escavalier) (M) @ Leftovers
Ability: Overcoat
EVs: 248 HP / 52 Atk / 208 SpD
Adamant Nature
IVs: 0 SpA
- Megahorn
- Iron Head
- Pursuit
- Protect

M. Speed (Flygon) (M) @ Choice Scarf
Ability: Levitate
EVs: 252 Atk / 4 SpD / 252 Spe
Jolly Nature
IVs: 0 SpA
- Earthquake
- Outrage
- U-turn
- Defog