With Aegislash out of the way, many powerful Pokemon were made even more viable, as they no longer had to run otherwise useless coverage in order to beat it. Mega Heracross and Terrakion no longer needed to run Earthquake. Mega Medicham no longer needed to risk a 50/50 with Fire Punch. Mega Gardevoir no longer needed to run Shadow Ball (as much). Simply the extra moveslot and loss of an excellent check to all of them made them extremely powerful forces in the new metagame.
Not long ago, Mega Mawile was (very rightfully) suspect tested and banned from OU. While not as restricting on teambuilding as Aegislash, Mawile being banned gave more Mega Evolutions reason to be used, as obviously using more than 1 on a team is a bad idea.
252+ Atk Mega Heracross Pin Missile (5 hits) vs. 252 HP / 252+ Def Alomomola: 255-300 (47.7 - 56.1%) -- approx. 11.7% chance to 2HKO after Leftovers recovery
252+ Atk Huge Power Mega Mawile Play Rough vs. 252 HP / 252+ Def Alomomola: 231-273 (43.2 - 51.1%) -- guaranteed 3HKO after Leftovers recovery
(Do not use those EVs, they are only to prove a point)
As you can see,
Mega Heracross is stronger than Mega Mawile
. (obviously not as broken because lack of priority among other things like typing and whatever)
This is a team created for the Mega Mawile suspected reqs, which I ended up not getting as I was very sick at the time.

Ability: Flash Fire
EVs: 248 HP / 220 SpD / 40 Spe​
-
Lava Plume
-
Protect
-
Stealth Rock
-
Toxic
While people usually put Stealth Rock elsewhere and put Taunt on Heatran, there was no space for anyone else to have it. Not like this is a bad thing, as Heatran always finds the time to set it up reliably. Heatran is my main Talonflame check and special wall, as Heatran can always stall Talonflame out with Toxic and alternating between Protect and Lava Plume, though Stealth Rock being up before is a huge help, especially against SD Talonflame. Lava Plume hits every relevant Toxic-immune Pokemon in OU hard, can spread burns, and keeps Heatran from being Taunt bait (though unless you're preventing Stealth Rock not many Pokemon that run Taunt appreciate Lava Plume.) Toxic is very useful to wear down opposing walls, at least to the point they can be revenge killed, and of course Protect for general scouting and regaining Leftovers. EVs are for Adamant Mega Mawile, which is obviously irrelevant now. When Mega Mawile was around this thing was forced to run Will-O but good thing that broken mon is gone.
Ability: Prankster
EVs: 4 Def / 252 SpA / 252 Spe
Timid Nature
-
Thunder Wave
-
Taunt
-
Thunderbolt
-
Hidden Power [Ice]
Thunder Wave is almost like a panic button against any team and one of the most threatening things about Thundurus. Taunt prevents opposing Pokemon from setting up hazards that wear my team down, or using status, or recovering. Nothing on my team has reliable recovery, even though it has a spinner, so any bit of chip damage being removed is great. It also allows me to stop opposing Defogs, though Life Orb Latios can easily KO Thundurus, it has to take an HP Ice first. Thunderbolt is the strongest move Thundurus has, and it KOs many otherwise threatening Pokemon in 1 hit, such as Mega Gyarados. The Life Orb is unfortunately necessary as Thundurus misses several crucial KOs without it. Hidden Power Ice is the best move in the last slot as it gives Thundurus coverage against many other threats to my team, reliably revenge killing Landorus (T), weakened Latias and Latios, Garchomp, Dragonite, and Gliscor, while doing some decent damage to Pokemon I usually Taunt such as Amoonguss.
Some people have been saying Thundurus is broken due to its versatility, whether it has Focus Blast, Grass Knot, Hidden Power Ice or Flying, as well as access to Nasty Plot, or even its Prankster support moves such as Taunt and Thunder Wave. For the purpose of this RMT I'm impartial but I'm looking forward to the suspect test itself, as I expect it to be a very controversial one.

Ability: Guts > Skill Link
EVs: 32 HP / 252 Atk / 224 Spe
Adamant Nature
-
Close Combat
-
Pin Missile
-
Rock Blast
-
Swords Dance
Currently the 2nd strongest Pokemon in OU, I couldn't help but build a team with this thing. I rarely ever use Swords Dance because thankfully not many people run stall as this thing makes almost every viable Pokemon on stall a liability (Mega Gardevoir does too but this thing is better.) Close Combat is the most spammable move on this set due to its huge power and excellent coverage. Pin Missile is the strongest move Heracross has, but it has only decent coverage alongside the other moves. It's still incredibly useful and does a lot of damage without lowering its defenses though, and of course 95% accuracy can be annoying at times. Rock Blast hits nearly every relevant Pokemon in OU for a 2HKO alongside Close Combat and Pin Missile, notably Thundurus, Landorus, Dragonite, normal Gyarados, as well as Mega Charizard Y, Azumarill, Talonflame, and Mega Pinsir, among others. Swords Dance lets Heracross boost but in practice it fails to find that time against offensive teams, leaving it as a wallbreaker. Swords Dance still destroys most stall teams, so no complaints.
Ability: Justified
EVs: 252 Atk / 4 SpD / 252 Spe
Jolly Nature
-
Close Combat
-
Stone Edge
-
Iron Head
-
Rock Slide
This thing works great with Mega Heracross by cleaning up whatever it breaks. Fightspam can be compared to Birdspam in this case, weakening each others checks and counters by doing the same job. Close Combat and Stone Edge are the obvious strong STABs which make Terrakion as good as it is. While this is a revenge killer, its still most often played as a secondary wallbreaker for the times Heracross is too slow for the opposing team. The last 2 slots are filler. Rock Slide is the most useful move, and is a more reliable Rock-type STAB. It really doesn't matter what I run in the last slot, I guess Iron Head for breaking Clefable with luck, but again, it doesn't really matter.

Ability: Analytic
EVs: 4 HP / 252 SpA / 252 Spe
Timid Nature
-
Hydro Pump
-
Ice Beam
-
Thunderbolt
-
Rapid Spin

Starmie is my spinner, and on a team as offensive as this the reduced chip damage is huge, as well as having a 4x Rock weakness making a spinner necessary. While Excadrill is a viable choice, Starmie simply fit better, and Life Orb Analytic Hydro Pump huts much harder than Excadrills Earthquake. Sand Rush sets aren't usable here and the team already has a Rotom-W lure and revenge killer, so Starmie was just better. Hydro Pump is Starmies strongest STAB move, doing a ton of damage on switches, easily 2HKOing Clefable factoring the Analytic boost. Surf is simply not worth it on Starmie at all as it needs the power of Hydro Pump to set itself apart. Ice Beam and Thunderbolt give basic coverage against all Pokemon that resist Hydro Pump, the only Pokemon that resist this combination are irrelevant in OU. Rapid Spin is Rapid Spin, removing the hazards this team hates. Psyshock is usable, but I feel that the other moves are more important.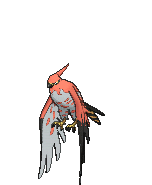 Ability: Gale Wings
EVs: 80 HP / 252 Atk / 176 Spe
Jolly Nature
-
Brave Bird
-
Flare Blitz
-
Natural Gift
-
Swords Dance
Swords Dance Natural Gift (Grass) Talonflame is my Rotom-W lure and revenge killer, the EVs outspeed Thundurus to Flare Blitz it to death after some prior damage, as well as ScarfTar. Flare Blitz and Brave Bird are the obvious STABs, Brave Bird being the obvious revenge killing tool. Swords Dance allows me to sometimes get a boost mid game and break holes in opposing teams for Terrakion to clean up. Liechi Berry makes Natural Gift Grass-type, and considering I rarely use it, gives me a boost late game occasionally. I'm considering making this CB Talonflame however.
​
​
Heatran @ Leftovers
Ability: Flash Fire
EVs: 248 HP / 220 SpD / 40 Spe
Calm Nature
- Lava Plume
- Protect
- Stealth Rock
- Toxic

Thundurus @ Life Orb
Ability: Prankster
EVs: 4 Def / 252 SpA / 252 Spe
Timid Nature
- Thunder Wave
- Taunt
- Thunderbolt
- Hidden Power [Ice]

Heracross @ Heracronite
Ability: Guts
EVs: 32 HP / 252 Atk / 224 Spe
Adamant Nature
- Close Combat
- Pin Missile
- Rock Blast
- Swords Dance

Terrakion @ Choice Scarf
Ability: Justified
EVs: 252 Atk / 4 SpD / 252 Spe
Jolly Nature
- Close Combat
- Stone Edge
- Iron Head
- Rock Slide

Starmie @ Life Orb
Ability: Analytic
EVs: 4 HP / 252 SpA / 252 Spe
Timid Nature
- Hydro Pump
- Ice Beam
- Thunderbolt
- Rapid Spin

Talonflame @ Liechi Berry
Ability: Gale Wings
EVs: 80 HP / 252 Atk / 176 Spe
Jolly Nature
- Brave Bird
- Flare Blitz
- Natural Gift
- Swords Dance
Last edited: