I've only ever played one fan project in my entire life, and this is it, and I've thought about picking it back up for this community. So let's do it.
This is actually NOT a romhack. It's developed in RPG Maker using Pokemon Essentials. This toolkit has been used for several other fangames, including Reborn, Empyrean, and Insurgence. This allows for a much wider array of features than would be available basing a game off a ROM. Some of these features are really cool. Others...not so much.
This game does have some problems with its level curve, level of mature content, and programming. Fair warning.
Two of this game's developers, lead dev thesuzerain and LunarDusk, went on to lead/help develop Insurgence, which I have not played, but would not doubt is a better game overall.
There are two versions! With cover legends! This is the opposite of Zeta Version, which has version "exclusives" and a different cover legend and evil team. Regardless, every Pokemon up through Unova plus several alternate forms and original designs can be obtained in both versions (the exclusivity dictating how and/or where).
I'll be playing with Set Mode on and minimal item use in battle (though not no items, you'll see why). Aside from that, this is a standard casual run. I will attempt to show everything there is to show, although there is a LOT.
EDITED TO ADD, 11/24/20: I also adopted what I call a "soft catch-em-all" challenge for this playthrough: I'll attempt to catch every non-rare encounter on each route (rare defined as an encounter rate of 9% or less). In-game trades and evolutions of non-team Pokemon will come at a later point.
My ability to maintain this playthrough will depend on my patience with the level curve, the level of interest in this thread, and general IRL stuff. Again, fair warning.
I refer to myself as "we" a lot, just so y'all know.
Without further ado, let's get started with...
Note: This game comes with a built-in screenshot key. Nice! Unfortunately, the screens are saved as .bmp files, which Smogon cannot handle natively, so I have to open each screen in Paint and save it as a .png. Not nice.
Anyway:
Look at that, a proper title screen with a cover legendary! We're off to a great start! Zeta Version uses Jirachi as its cover legend. I'll be using a

to note version differences.
The title screen plays a MIDI-ified version of the Gold and Silver title theme. I'll note music used in specific points whenever I know what it is.
Also, I'm trying to balance readability with these screens, so that they're big enough to be readable but not so large that they take up half a page. Let me know if they're too small.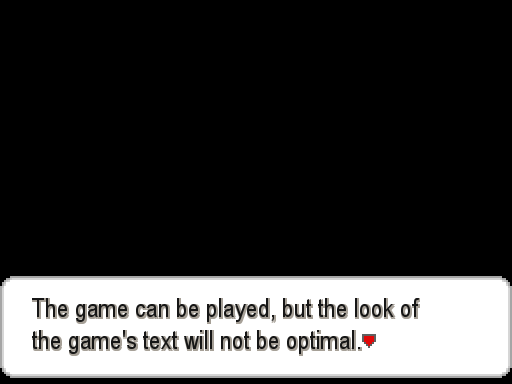 [in Control Panel.]
Okay, lemme do that real quick. When we return, even after installing the Power font and several variants thereof found in the game's filesystem, the error persists. Let's just continue.
We go into options to turn Set style on. Notable additions include an Insane text speed, the option to use any of the three Generation III font styles (Emerald [default], Ruby/Sapphire, or FR/LG), and 28 distinct Frames and 24 Speech Frames. I'm sticking to defaults unless requested otherwise.
Also, this is a thing:
We'll be using that. Save often and in different slots, y'know.
We select New Game and...
[Hello.]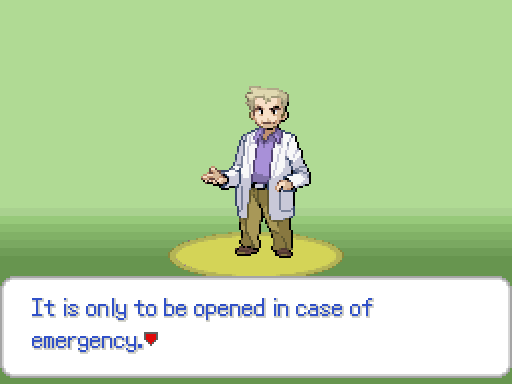 [My name is Professor Oak. People call me the Pokemon Professor.]
Well damn. I say again, we're off to a great start.
Music is the Hoenn iteration of the usual "Welcome to the World of Pokemon!" music you hear here. And, in a problem which I genuinely can't tell is a limitation of Essentials or a developer error (probably the former, I think), it does not loop. Considering I have to spend several minutes in this sequence screening, typing, and then advancing the game to get to the next screen, this is a bit of a PITA.
That's nice. A controls option exists in the main menu as well; to summarize:
We are fully optimized for computer play here. Also, the first screen resembles FRLG's controls. We're using Johto title music and either a Hoenn or Unova legendary with either Hoenn or Kanto text, Hoenn music, and Kanto's professor. This is quite the potpourri of Pokemon we have here. All we're missing is something from Sinnoh.
The "adventure" option begins a "pre-recorded message" that is similar to the FRLG blurb. Paraphrased: You're about to go on a journey! You'll meet a bunch of people "with different worldviews and beliefs". Some people are good, but some are eeeevil. Sometimes obstacles and puzzles will be in your way. Other times, you'll be challenged to battle. Most importantly, grow and learn from the opinions of others!
The extent of "different worldviews and beliefs" will be apparent shortly. Anyway, selecting "No info needed" continues the story with the usual spiel about Pokemon: We live with them, we support each other, we play with them, we battle with them...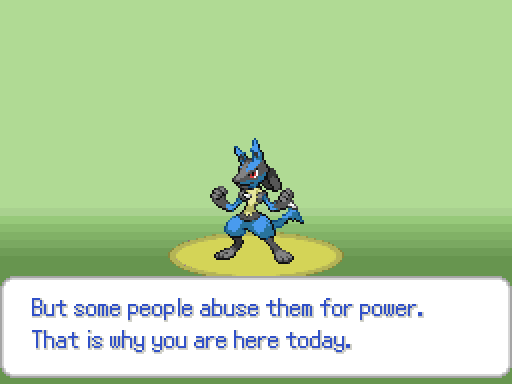 ...uh-oh.
(And there's the Sinnoh representative. We have officially included content from five different regions
in the introduction
. I love this game.)
This is how the game integrates the initial character setup. Character designs are shown here:
The FRLG designs, except in black 'cause it's e d g y or something, IDK. I am a dude IRL, but I generally like playing as a girl in Pokemon, so we'll do so here. We then get the option to name our protagonist. The advantage of having a gender-neutral name is that I can name my female characters Jordan, too, which we do:
Sure, we'll go with that.
Now
this
is a neat option (note that No is the default here). Selecting Yes brings us to this screen:
We can pick from any or all of the following challenges:
Nuzlocke: Every mon must be nicknamed, and a mon that faints can no longer be used. The "only the first mon on each route/area" rule is not enforced by the game (presumably to avoid the problem of having to program Dupes Clause or Shiny Clause).
Randomizer: Randomizes every wild and Trainer encounter from the GameFreak-created mons available in the game.
PP Challenge: Pokemon Centers won't heal PP.
Solo Run: Only one Pokemon can be used. When the time comes, you can select any first-stage, non-Legendary mon to use, and you'll also get access to several items that allow you to bypass the usual problems of solo runs (such as HMs). You can also catch mons, but they are sent directly to the PC, which is inaccessible. This option can be forfeited and also does not last the entire game; when it ends either in completion or forfeit, the PC becomes accessible.
Mystery Challenge: Mons appear as ??? sprites with hidden names until caught.
Non-Technical Challenge: TMs cannot be used (HMs still can).
Anti-Ante Challenge: Trainer battles have zero cash prizes, forcing you to rely on selling items to make money.
Bravery Challenge: You cannot run from wild Pokemon, ever. I normally play like this anyway for "natural grinding", but I do like having at least the option to run.
Pressing Cancel or OK with no boxes checked backs out and begins a normal playthrough.
We have a jerk rival in this game and the option to make him even more of a jerk. We'll turn that off, but I will try to show what swag dialogue looks like in one or two spots.
With the setup process finally complete (it is longer than a normal Pokemon game, plus the process of writing this post), we can get into the game proper:
[Escape Route.]
Yeah, it's that kind of game. We begin having
survived a terrorist attack
. We're also told we can get a Pokemon in the Escape Route if we'd like to help.

Here's the first version difference: In Omicron, we're battling the Greek-themed Team Olympus, while Zeta players will battle the Norse-themed Team Asgard.
The pre-recorded message ends, and with that, I think we've hit a good stopping point. This intro is, to put it lightly, a lot.
Next time: We run for our lives, and pick up a partner to help us along the way (or maybe more than one!).
This is my first time doing anything like this, so any and all feedback is very much appreciated.
Index
Last edited: