10/14/12 8:44 pm EST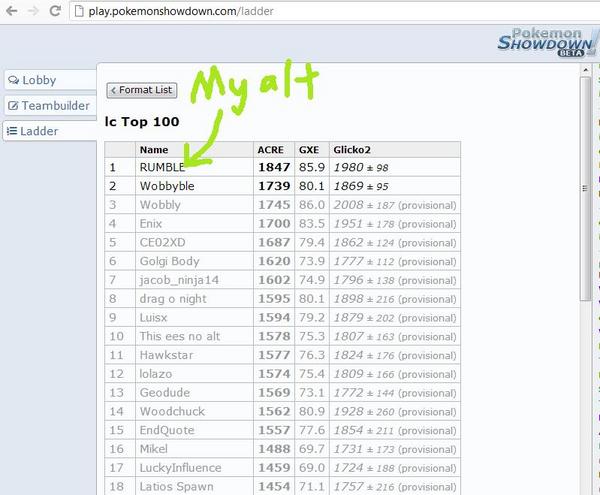 10/18/12 11:30 pm EST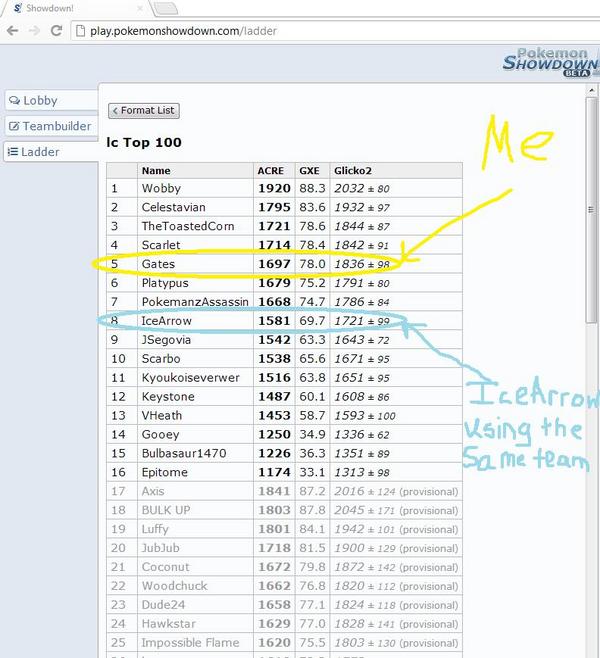 Kicking Sand in the Face of 90 Pound Weaklings - A Little Cup Sand Team
a.k.a. Charles Atlas: The Team
a.k.a. Idiot-Proof Double Rush Team​
​
by
Gates
and
IceArrow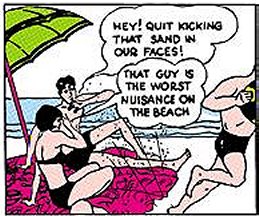 Fig. 1 - Typical LC match
​
So typically I'm an Ubers player but I've been playing a lot of LC lately under several alts and I really enjoy it. It's incredibly centralized but at the same time there's still a lot of room for creative movesets and teams despite the fact that running Top6 here is more effective than in any other format. Top6 is also the team that I ran for a long time until I started facing more and more sand teams who were running both Drilbur and the new Sand Rush Sandshrew. This strategy was surprisingly effective so I decided to try it out to very good results. I posted an earlier build of the team on another forum I frequent that my good friend IceArrow also goes to and he made a couple of really useful suggestions as well as being as successful as I was while laddering with the team. I'm posting the RMT because I feel like it could still be better.
Fig. 2 - My lyrics are bottomless
HipHopOpotamus (Hippopotas)
(M) @ Eviolite
Trait: Sand Stream
Level: 5
EVs: 20 Atk / 212 Def / 180 SDef / 20 Spd
Impish Nature
- Earthquake
- Slack Off
- Stealth Rock
- Whirlwind
Overview:
So I guess if I want to have a sand team, I need to use this guy right? Hippowdon serves 2 main purposes - get sand up and get SR up. Once both of those are done, I usually have him phaze the crap out of my opponent while tanking a few hits. Unless my opponent has Snover or something that obviously is going to use Sunny Day or Rain Dance (Horsea, Bulbasaur, etc.), I usually play fast and loose with him and generally it works out well.
Why are you using Whirlwind over Roar/Toxic/Crunch/Ice Fang/Stockpile/Swagger/Curse/Yawn/etc.?
This team can get really screwed by a couple of key threats in the format unless I phaze them out quickly. Whirlwind allows me to do that, and unlike Roar it gets around Soundproof pokemon (which are virtually nonexistent, but why take the chance?).
How does Hippowdon even learn Whirlwind?
Breeding with Shiftry apparently. Breeding is so crazy.
Fig. 3 - Middle school home economics project
Sandshrew (Drilbur)
@ Eviolite
Trait: Sand Rush
Level: 5
EVs: 236 Atk / 60 SDef / 212 Spd
Adamant Nature
- Earthquake
- Rock Slide
- Shadow Claw
- Swords Dance
Overview:
I don't really feel like I should have to explain this set in detail since it's basically every set Excadrill used before he got Iron Head. You set up and then you sweep, it's not rocket science. One thing to note here, though, is that it's unable to 2HKO a lot of bulky fighting types that use Drain Punch (read: Meinfoo) without boosting, but once it has boosted it can definitely 2HKO them and has a good chance to OHKO them. I found that out the hard way.
Would 4 attack LO Drilbur be just as good as SD Drilbur on this team?
I don't think so because Drilbur's movepool is so limited that his fourth move is usually either Rapid Spin, which this team doesn't need since it's not especially weak to hazards, or X-Scissor, which could be sort of decent against Grass types but then again so is +2 Rock Slide. Life Orb also robs me of the bulk I need to get a boost off since there are some pokemon (Meinfoo for starters) that LO Drilbur simply can't kill without a boost.
Why did you name it Sandshrew? That's so confusing!
Mindgames.
P.S. Your Drilbur and Sandshrew nicknames are a total mindfuck ;)

~Superpowerdude
Fig. 4 - Maybe if you were as fast as Drilbur he wouldn't have caught you
Drilbur (Sandshrew)
@ Eviolite
Trait: Sand Rush
Level: 5
EVs: 236 Atk / 76 SDef / 196 Spd
Adamant Nature
- Earthquake
- Night Slash
- Rock Slide
- Swords Dance
Overview:
Holy crap, Sandshrew is actually GOOD? Yes, Sandshrew now works as a respectable compliment (but
not
a replacement) to Drilbur since they both share abilities and effectively have the same movepool. Although Drilbur excels in attack and speed, Sandshrew is also notable for its considerable bulk, having very high defenses when Eviolite is attached.
Is Sandshrew's attack really high enough after an SD to sweep with?
Sometimes. Against aggressive teams I can often get away with just one SD to sweep with Sandshrew without having to even use Drilbur. Against bulkier teams, though, that's almost never an option. So yes, you will often have to boost to +4 Atk before sweeping a team with this guy but even at only +2 he can cause a lot of damage.
Why do the Double Drilbur strategy anyway instead of just incorporating Hippopotas and Drilbur into a non-sand team?
Cause I feel like it, BITCH.
Fig. 5 - I found some images that fit its nickname better but this is a SFW site
Sex Toy (Lileep)
(M) @ Eviolite
Trait: Storm Drain
Level: 5
EVs: 228 HP / 220 Def / 60 SDef
Bold Nature
- AncientPower
- Giga Drain
- Hidden Power Fire
- Recover
Overview:
Aside from Double Drilbur, Lileep is the second (third?) most feared sand threat in Little Cup. Storm Drain is a phenomenal ability that compliments the water weakness of the three ground types this team is built around very well. Lileep's extraordinary bulk in the sand combined with both Recover and Giga Drain make it a great Toxic staller.
Why use HP Fire over Toxic?
I ran Toxic on Lileep for a long time and I found that it never really did anything significant. A lot of the major threats to this team either beat Lileep outright (Mienfoo, Snover, Scraggy) or are immune to Toxic (Bronzor, Ferroseed). In particular, Lileep attracts more steel types than any other pokemon on the team. This would ordinarily be great since it would lure out steel types for Drilbur or Sandshrew to set up on, but the problem is that it most commonly attracts Ferroseed and Bronzor who are the two hardest steel types for this team to deal with since you can only hit them for neutral damage at best. Hidden Power Fire is a good solution to both of these pokemon and it gives me a reliable switch-in to Ferroseed, which I wouldn't really have had otherwise (Croagunk could work but Thunder Wave is a concern, as is Leech Seed stalling when sandstorm is up). There are a few times where I miss Toxic a little, but I still have residual damage in the form of sandstorm and running a fire attack is just too good to pass up.
Lileep doesn't look like a sex toy you sicko.
Come on, am I really the only one who thinks Lileep looks like something out of a hentai? Yes? Okay then...
Fig. 6 - Croagunk just ate a Specs Wailmer Water Spout and is really fat now
Boxing Frog (Croagunk)
(F) @ Eviolite
Trait: Dry Skin
Level: 5
EVs: 212 HP / 28 Atk / 116 Def / 116 SDef / 36 Spd
Adamant Nature
- Drain Punch
- Fake Out
- Knock Off
- Sucker Punch
Overview:
I'm a big fan of physical attacker Croagunk. Dry Skin is a good ability to have on this team since I need all the water resistance I can get, and being able to run Sucker Punch is what really separates it from Mienfoo. Fake Out is standard for leading and also helps opposing pokemon take residual sand damage. Drain Punch is standard STAB fare and is probably the best fighting-type move in the format. Knock Off is a great move since just about everything relies on Eviolite in this format, so being able to remove it helps against both walls and attacking pokemon. Finally, since Croagunk is a poison type, he can remove Toxic Spikes just by switching in, which is a big deal since it's the only entry hazard my team is really weak to.
What about Vacuum Wave and Shadow Ball?
Meh. Neither of those ever really did anything for me. Sucker Punch covers just about everything that Shadow Ball would and Vacuum Wave's low power (even after STAB) and inability to hit ghosts makes it not as good as Sucker Punch. Having Knock Off and Sucker Punch is too valuable to redo my EV spread and run an inferior move.
"Boxing Frog"?
Shut up man, thinking of jokes is hard.
Fig. 7 - Brian Ashcraft hard at work
Kotaku (Slowpoke)
@ Eviolite
Trait: Regenerator
Level: 5
EVs: 116 HP / 236 Def / 36 SAtk / 116 SDef
Bold Nature
- Fire Blast
- Scald
- Slack Off
- Thunder Wave
Overview:
So after having two water immunities and a grass resist, I decided that I needed an ice resist as well. Not only that, but I also needed something that was bulky and could hit both fighting types and opposing Drilburs for super-effective damage as well. Enter Slowpoke. Slowpoke's Regenerator gives it absurd bulk as well as resistance to things like Toxic and Will-O-Wisp. Access to Fire Blast and Scald is great too as it hits a lot of threats to this team. Thunder Wave is used here because Murkrow and Misdreavus are both common switch-ins to Slowpoke who are badly hurt by it. Despite all this, though, Slowpoke is one of the weak points of this team. One of the key problems with it is the fact that it doesn't really answer Chinchou, Porygon, or Snover, all huge threats to the team.
Fire Blast, huh? That's...interesting...
This was IceArrow's big contribution to the team and it was a really significant one. Originally part of the reason I had Slowpoke in here was to use Psychic to nail fighting types that are common in the format. IceArrow, however, pointed out that my team had a Bronzor weakness and that Slowpoke wasn't really that good against Meinfoo anyway since he could just Knock Off Slowpoke's Eviolite and U-Turn out for huge damage. Eventually I realized he was right so I reluctantly cut Psychic for Fire Blast. It's not amazingly better but it does give me much more notable resilience against Bronzor, which I need. This set does have a problem with bulky water types now, but Lileep and Croagunk help against that.
How terrible is Kotaku after Stephen Totilo became Editor-in-chief?
THE WORST (not that it was ever that good in the first place).
Major Threats
This team has four major threats. By now you've probably figured them out because I mentioned them about 50 times each but I'll go over them anyway. (Thanks to Gengan for these sprites)​
Snover
- It should be pretty obvious why this is a threat. When you build a team around a certain type of weather and there exists a pokemon that not only starts up a different type of weather but also has attacks that are super-effective against almost all of your team, that pokemon is going to be the number one threat no matter what it is. Snover forces me to play like I'm walking on thin ice (pun intended because puns are
COOL
) and save Hippowdon for later in the game while Croagunk and Slowpoke do most of the hard work. Snover is beatable if the rest of the opponents' team is not prepared for this team, but in order to beat him my playstyle has to take a complete 180 from normal.
Porygon
- If Porygon comes in on Sandshrew and Traces his Sand Rush, Drilbur is the only pokemon who can outspeed him. This is a huge issue because Porygon's movepool is so diverse and its bulk is so great that it can tank most of the hits I throw at it while firing off Tri-Attack or Ice Beam. The versions that don't carry Ice Beam aren't as threatening, but the fact that someone can make one of the bulkiest pokemon in the tier super fast just by coming in on my sweepers is a big concern. Croagunk can Knock Off Eviolite and Drain Punch it to death but it has to watch out for getting burned or paralyzed by Tri-Attack. Lileep can also try to go toe-to-toe with it, but if Porygon has Toxic or Ice Beam then Lileep will be fighting a losing battle. Slowpoke is the third line of defense, being able to paralyze Porygon, but unfortunately he can't so much else than that.
Mienfoo
- Specifically Drain Punch Mienfoo, but Fake Out+High Jump Kick does 2HKO Drilbur before he can boost and retaliate so pretty much any build is a problem to this team. IceArrow actually thinks Mienfoo is a bigger threat to this team than Snover. I disagree with him because you don't have to completely change your playstyle against Mienfoo like you do with Snover, I can't deny that Mienfoo is easily the most commonly encountered threat to this team. I'm not going to go over what Mienfoo can do to this team because I mentioned him in nearly every analysis, but basically it's a strong bulky attacker that I can't just kill outright. Croagunk is the best answer to Mienfoo because he resists all of Mienfoo's commonly used moves and has access to Knock Off. Boosting Mienfoo builds are much harder to deal with but I've never really seen any. Bulk Up Mienfoo would easily destroy this team though.
Bronzor
- While it doesn't have an enormous offensive presence like the other threats to this team do, Bronzor is one of those pokemon that just has a couple of things it can do that can really mess with my team. For starters, it has STAB Psychic, which means that I can't use Croagunk against it. It also has access to STAB Flash Cannon which doesn't do a ton of damage to Lileep in the sand but combined with Toxic it can add up fast. Finally, it levitates, which combined with its bulk means that Sandshrew and Drilbur need to actually boost against it, which basically guarantees that they will get hit by either Toxic or Psychic. Bronzor is a really good way to wall this team and I've had to do really desperate things to beat it in the past, like sacrificing Croagunk to get a Knock Off or running Fire Blast on Slowpoke.
Hippopotas @ Eviolite
Trait: Sand Stream
Level: 5
EVs: 20 Atk / 212 Def / 180 SDef / 20 Spd
Impish Nature
- Earthquake
- Slack Off
- Stealth Rock
- Whirlwind

Drilbur @ Eviolite
Trait: Sand Rush
Level: 5
EVs: 236 Atk / 60 SDef / 212 Spd
Adamant Nature
- Earthquake
- Rock Slide
- Shadow Claw
- Swords Dance

Sandshrew @ Eviolite
Trait: Sand Rush
Level: 5
EVs: 236 Atk / 76 SDef / 196 Spd
Adamant Nature
- Earthquake
- Night Slash
- Rock Slide
- Swords Dance

Slowpoke @ Eviolite
Trait: Regenerator
Level: 5
EVs: 116 HP / 236 Def / 36 SAtk / 116 SDef
Bold Nature
- Fire Blast
- Scald
- Slack Off
- Thunder Wave

Lileep @ Eviolite
Trait: Storm Drain
Level: 5
EVs: 228 HP / 220 Def / 60 SDef
Bold Nature
- AncientPower
- Giga Drain
- Recover
- Hidden Power [Fire]

Croagunk @ Eviolite
Trait: Dry Skin
Level: 5
EVs: 212 HP / 28 Atk / 116 Def / 116 SDef / 36 Spd
Adamant Nature
- Drain Punch
- Fake Out
- Knock Off
- Sucker Punch
So that's the team. Thoughts?