UU Trick Room
Hey, PDT here, and welcome, ladies and gentlemen, to my 2nd Rate My Team. This time I'm featuring a Trick Room team, which utilizes the move Trick Room to make slower Pokemon fast, allowing for the slowest, hardest hitting Pokemon to punch holes in the opposing team with raw power. I've done pretty extensive testing with this team, and the surprise factor is the team's greatest strength.


Abomasnow-Mega @ Abomasite
Ability: Snow Warning
EVs: 200 HP / 252 Atk / 56 SpA
Brave Nature
IVs: 0 Spe
- Blizzard
- Ice Shard
- Wood Hammer
- Earthquake​
A pretty standard Mixed Mega Abomasnow moveset, and the EV spread that minimizes Speed so that it out speeds almost anything under Trick Room. 56 SpA EVs guarantees an OHKO on a Physically Defensive Chesnaught and Physically Defensive Zapdos. Abomasnow's unique typing lets it Super Effectively hit pretty much anything that tries to wall this monster. Abomasnow checks Suicune, which is a really common threat, and can check Zapdos under Trick Room, but be careful of Heat Wave. Wood Hammer smacks most Bulky Waters which run rampant in UU right now. Because of this Pokemon's horrible defensive typing, it gets worn down very easily. However, because of the Lunar Dance and Healing Wish support that this team provides, it gives Mega Abomasnow two or three opportunities to come in and smack a few Pokemon, then get out.

Cresselia @ Mental Herb
Ability: Levitate
EVs: 252 HP / 252 Def / 4 SpD
Relaxed Nature
IVs: 0 Atk / 0 Spe
- Trick Room
- Lunar Dance
- Moonblast
- Moonlight​
Arguably the best Trick Room setter in UU, with ridiculous BALK and Lunar Dance support, Cresselia is a vital asset to this team. With the comfort of Lunar Dance, the player doesn't have to play around burns, poison, or paralysis when wallbreaking, and can let themselves take damage until they are restored late in the game. I went Moonblast over Psyshock because Dark Types always come in to hit Cresselia super effectively, and I wanted to not be completely walled by them. Because of the 120/120/130 BALK, this Pokemon can pretty much never be OHKO'd by unboosted Pokemon. Mental Herb is to guarantee to get off a Trick Room, so that Pokemon can waste a turn by trying to Taunt Cresselia. This Pokemon is my main switch-in to many physical threats. EVs maximize the physical bulk, and 0 IVs in Speed and Attack make Cresselia faster under Trick Room and to take less damage from Foul Play.


Gardevoir @ Leftovers
Ability: Trace
EVs: 252 HP / 4 SpA / 252 SpD
Sassy Nature
IVs: 0 Atk / 0 Spe
- Moonblast
- Healing Wish
- Will-O-Wisp
- Trick Room​
Gardevoir is my special wall and my second Healing Wish support. Will-O-Wisp is there to cripple physical attacks that try to switch in on Gardevoir, and it makes up for Gardevoir's poor physical bulk. Gardevoir sets up Trick Room on special attacks and grabs momentum for Healing Wish. The EVs maximize Special Bulk. Be careful to use Healing Wish because if you run out of Trick Room setters, it can be a big problem. The 0 IVs in Attack and Speed do the same as the reason above. Gardevoir switches in on things like Zapdos, Florges, and Dragon Attacks to absorb hits and then gain momentum with Healing Wish.

Reuniclus @ Life Orb
Ability: Magic Guard
EVs: 252 HP / 252 SpA / 4 SpD
Quiet Nature
IVs: 0 Atk / 0 Spe
- Psyshock
- Focus Blast
- Shadow Ball
- Trick Room​
Reuniclus is my main special wallbreaker under the Trick Room. With Base 30 Speed, Reuniclus can outspeed everything in UU under Trick Room barring Shuckle(pls). Reuniclus can easily beat Florges with Psyshock, so it's hard to wall this blob of greatness. Reuniclus absorbs status like Toxic and Will-O-Wisp because of Magic Guard. The set minimizes Foul Play damage and speed, and maximizes bulk and power. Reuniclus is my last Trick Room setter, using the Trick Room when you force a switch. The combination of Psyshock, Focus Blast, and Shadow Ball is hard to wall. This Pokemon is a great check to a lot of Fighting Pokemon which are in abundance in UU. If you predict right, you should be able to hit Dark Type Pokemon on the switch-in with Focus Blast.


Crawdaunt @ Life Orb
Ability: Adaptability
EVs: 252 HP / 252 Atk / 4 Def
Brave Nature
IVs: 0 Spe
- Aqua Jet
- Crabhammer
- Knock Off
- Swords Dance​
One of Crawdaunt's greatest disadvantages is how slow it is. However, under Trick Room, it becomes a monster that destroys everything. My secondary physical wallbreaker, this thing mauls everything that Abomasnow can't destroy. The set minimizes speed so that Crawdaunt can be as "fast" as possible under Trick Room. Crawdaunt 2HKOs almost every wall that doesn't resist it, and can play without the fear of being burned because of the Healing Wish support. Even without Trick Room, Crawdaunt is still a major threat that usually kills a Pokemon every time it switches in. Crawdaunt 2HKOs Suicune w/out the Scald burn, so it's usually a pretty decent check towards it. Crawdaunt checks a lot of Fire and Psychic Pokemon that Abomasnow has trouble dealing with, making it an ideal partner for Mega Abomasnow.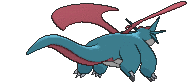 Salamence @ Leftovers
Ability: Intimidate
EVs: 248 HP / 236 Def / 24 Spe
Impish Nature
- Dragon Claw
- Roar
- Defog
- Roost​
This is a pretty standard Fatmence set, which checks Mega Beedrill and Heracross pretty easily, as well as providing Defog support. Hazards wear down this team relatively quickly. Checking Bug-Types is super important for this team because it is weak to bug. This set also checks things like Gyarados, where you can Roar and prevent the sweep. I didn't go for as slow as possible because I would rather not have to set up a Trick Room in order to just clear hazards. Roost provides longevity when stalling out Pokemon. The set is straight off of Smogon, so if you want to read more about then go check it out.
FatMence can also switch in on Pokemon like Sharpedo, absorbing the Crunch so that Cresselia doesn't have to take a huge amount of damage.
THREAT LIST​
Ok, so this team doesn't have a lot of Pokemon that just absolutely 6-0 this entire team, because most offensive threats are just neutralized by Trick Room. But, here are the few things

​
Doublade: This thing can be a problem sometimes, because of the Ghost Priority that hits some things super effectively. It's also very slow, so it out speeds Crawdaunt under Trick Room. I can Knock Off it's Eviolite not under Trick Room, but doesn't OHKO it, and it KOs me back with Sacred Sword.
Taunters: These can be a bit of a problem, because they prevent anyone other than Cresselia from getting Trick Room up. However, Cresselia can only break through Taunters one time, so multiple Taunters can shut down this team.
Heracross + M-Beedrill: Without Trick Room these guys are annoying to deal with, but a combination of Priority from attackers can usually shut it down. If Trick Room is up then it's fine. NOTE: +2 Aqua Jet OHKOs M-Beedrill, so SD on the Protect.


So that wraps up the RMT! The sets shown above ARE importable, so just copy and paste them into Showdown. I hope you guys enjoyed this RMT, and any suggestions or helpful critique would be appreciated! Thanks for your time! Now you can't leave anymore >:)